For what to serve with stuffed pork chops, take a look at this list of delicious side dishes that will help complete your meal! Any of these incredible sides will transform your pork chop dinner into a memorable meal! Whether you prefer something green, savory, indulgent, or sweet, you will be able to find the perfect recipe here!
Sides For Stuffed Pork Chops
Stuffed pork chops are a fabulous home cooked meal to share with the family but the meal isn't complete without a few sides! Read along with us as we share the best sides to serve with stuffed pork chops that everyone at the dinner table will enjoy.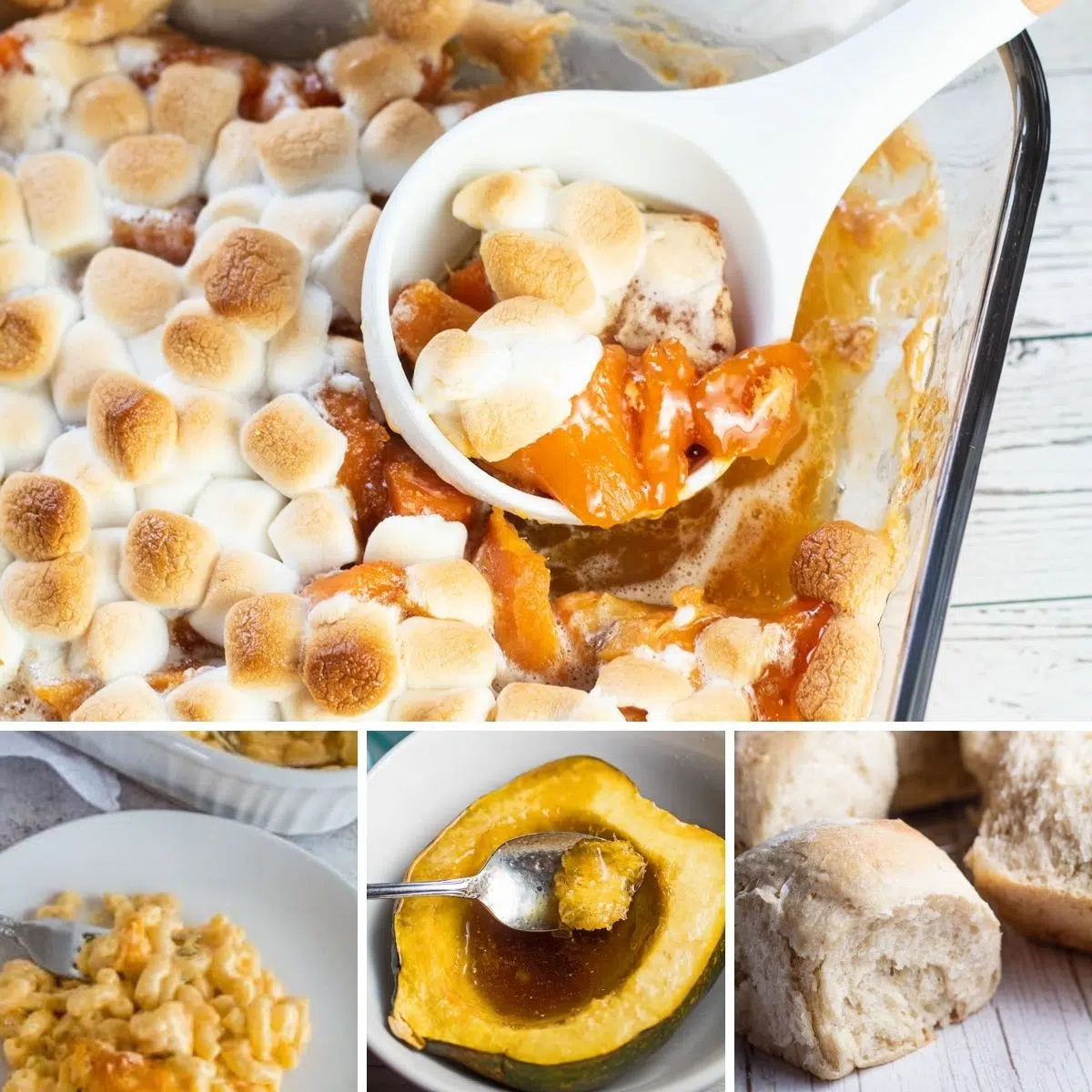 Jump to:
1. Creamy Baked Corn
Creamy baked corn is a great side dish to serve with stuffed pork chops. This recipe is made with a combination of whole kernel corn and creamed corn as well as butter, maple syrup, chili powder, garlic, and cheese!
2. Skillet Brown Sugar Glazed Carrots
Skillet brown sugar glazed carrots add the perfect amount of sweetness to round out your favorite pork-focused meal. These glazed carrots are made with garlic, olive oil, butter, brown sugar, and parley.
3. Sautéed Green Beans
Sautéed green beans are a healthy and delicious side dish that are extremely easy to make. If your looking for a green veggie that kids and adults will enjoy, green beans are a great choice!
4. Fondant Potatoes
Fondant potatoes are a unique dish that you will want to make many times once you learn the recipe. They are creamy, look great on a plate, and are surprisingly easy to make!
5. Sautéed Broccolini
Sautéed broccolini is a healthy dish that will pair perfectly with stuffed pork chops. A touch of lemon and Parmesan cheese provide all the flavor you need for this easy vegetable side!
6. Southern Baked Mac And Cheese
Southern baked Mac and cheese is never a bad choice. This rich and creamy mac and cheese is made with elbow macaroni noodles 3 different types of cheese!
7. Baked Cinnamon Apples
Baked cinnamon apples are the perfect way to add a sweet component to your stuffed pork chops. These baked apples with warm cinnamon, butter, and brown sugar can be served on the side, as dessert, or even on top of your pork chops!
8. Baked Sweet Potatoes
Baked sweet potatoes are easy to make and delicious to eat. Experiment with additional toppings like cinnamon and brown sugar for a sweeter flavor!
9. Microwave Acorn Squash
Microwave acorn squash is great for days when you need a quick and easy option. This recipe is made with acorn squash, butter, and light brown sugar.
10. Creamy Roasted Garlic Mashed Potatoes
Creamy roasted garlic mashed potatoes are a savory side dish that everyone will truly love. Pork chops and potatoes are a match made in heaven!
11. Wedge Salad
A wedge salad is a universal dish that pairs well with almost anything. More formal than a traditional salad, a wedge salad made with crisp iceberg lettuce makes any meal feel special.
12. Roasted Broccoli With Garlic And Parmesan
Oven roasted broccoli with garlic and Parmesan sounds and tastes like it's from a gourmet restaurant. This simple broccoli side dish is the perfect way to incorporate some greens.
13. Oat Rolls
Oat rolls are perfectly soft and fluffy. As opposed to traditional rolls, these oat rolls have a touch of brown sugar that helps to balance the savory flavor of stuffed pork chops.
14. Balsamic Roasted Brussel Sprouts
Balsamic roasted Brussels sprouts are a healthy way to incorporate delicious veggies into your next meal. They are fork tender and full of flavor, yet surprisingly easy to throw together!
15. Candied Yams
Candied yams are sweet and delicious! These easy candied yams are great on the holidays but also pair perfectly with pork chops!
The recipes listed above are unique and packed with many layers of flavor that will enhance your main dish to make a complete meal. Let us know which side dish you chose to pair with your stuffed pork chops in the comments below!
📋 Recipe