When you need a ricotta cheese substitute in the kitchen, there's no need to panic because there are plenty of easy ingredients to swap out for ricotta! Perhaps you're looking for an easy ricotta substitute that is dairy-free or maybe you didn't realize you were out while making cannoli's or lasagna. No matter the reason, you have LOTS of amazing options!
Best Ricotta Cheese Substitutes
There is nothing worse than going to make your favorite tasty Italian dish only to find that you are out of the key ingredient. What would your favorite lasagna be without the creamy, cheesy goodness of ricotta?
Beyond its well-known place as a standard in lasagna, ricotta is also the main ingredient in many other yummy Italian recipes. From savory to sweet dishes, this creamy cheese is an important ingredient that can't just be skipped. It can be swapped out for a substitute though!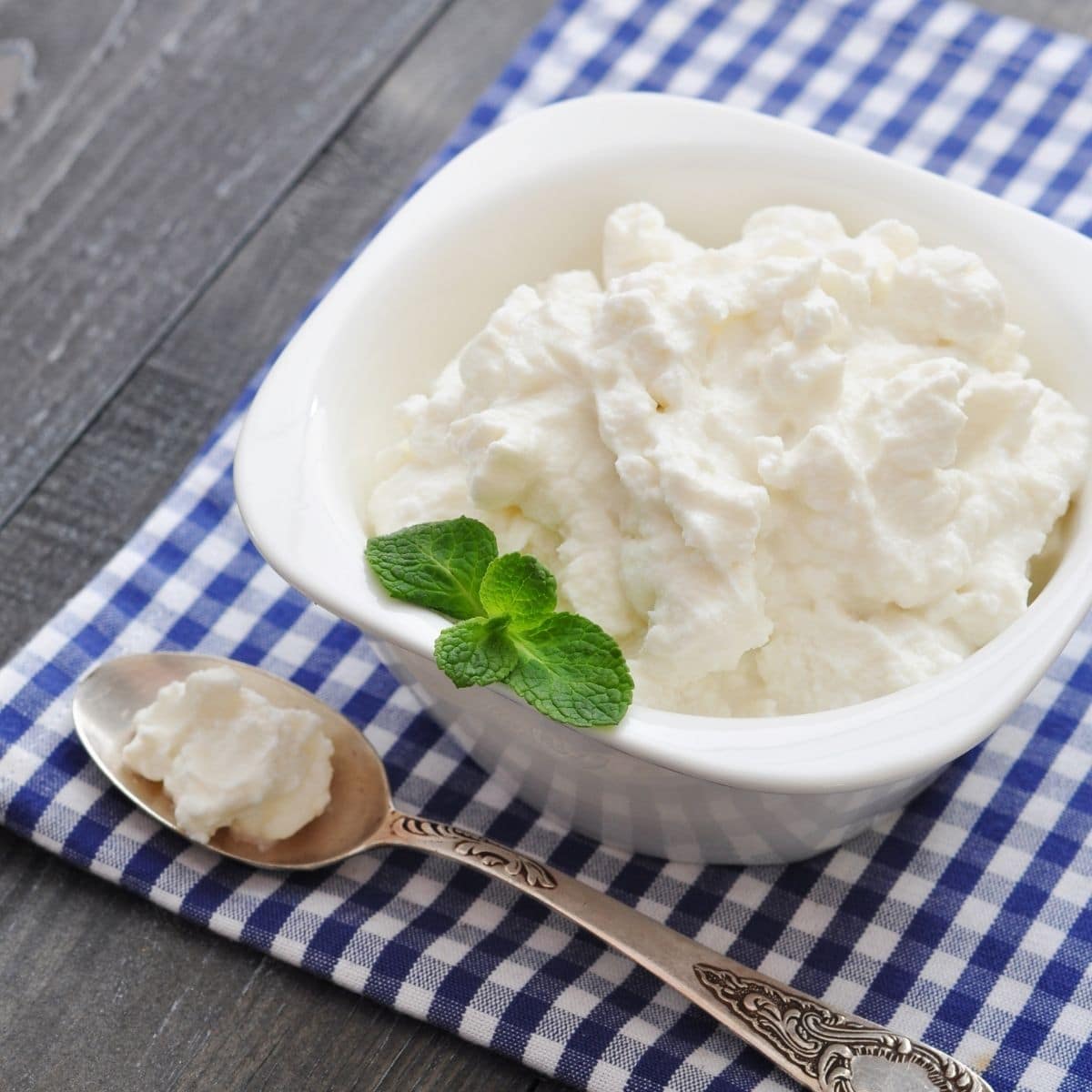 Jump to:
Easiest Ricotta Cheese Alternatives
When it comes to finding a substitute for ricotta cheese there are several that are super easy! These are great choices for those who find themselves craving an Italian dish, but don't have ricotta on hand. Moreover, some of these substitutes are simply easier to find in the store than ricotta.
In addition to the ease of these other dairy-based substitutes, there are a few that are also dairy-free. These are easy and tasty alternatives for those who want to forgo the dairy of ricotta and find a long-term alternative for all future dishes.
1. Cottage Cheese
Cottage cheese is not only easy to find in the grocery store, but a common food many people keep in their fridges. All good things when it comes to finding a quick and easy substitute.
In addition, cottage cheese has a similar taste to ricotta with its mild and somewhat salty flavor. Moreover, many people don't realize that this cheese we often use cold also melts. This makes it a wonderful alternative for ricotta in baked dishes like lasagna, or to add to sauces.
While the initial texture of this substitute is slightly different than ricotta, you can easily fix that with a quick spin in the blender. Just put your cottage cheese in the blender and pulse until you have a smoother consistency.
Cottage cheese can be used in a 1:1 ratio for ricotta cheese in most dishes. However, cottage cheese contains more water than ricotta. This can make some baked dishes a bit runny if too much is used. If you are worried about that you can always start with less.
2. Sour Cream
Sour cream is not actually cheese. Its tangy taste and creamy texture are qualities that can resemble ricotta in many dishes though. Full-fat sour cream is best, as its thick consistency is closest to that of ricotta.
While sour cream has a brighter taste than ricotta, it also easily absorbs the flavors around it. Therefore, it can be used easily without negatively impacting the flavor of the dish.
Despite these similar qualities, sour cream is not a great option for baked dishes like lasagna. It will not add the volume that the ricotta does. Instead, use sour cream to add creaminess to sauces or soups. It is also a good choice for cold ricotta dishes. Try it in dips or desserts.
Use a simple 1:1 exchange of sour cream for ricotta in your recipes.
3. Cream Cheese
A favorite for morning bagels, cream cheese is a versatile ingredient that can be used in cooking as well. When added to hot dishes like soups, sauces, or hot dips, it adds a rich creamy taste and texture. Therefore, it can act as ricotta in these same dishes.
Cream cheese can also be used to replace ricotta in sweet recipes. It will adapt the sugar and overall flavors well. You will notice some of the cream cheese flavor and texture coming through though.
Cream cheese is thicker and denser than ricotta so depending on the type of recipe it may be easier to chop it into little blocks to add while cooking. You can use a 1:1 ratio for this substitution.
4. Goat Cheese
Ricotta cheese is sometimes made with goat milk. Therefore, goat cheese is a fun alternative to use in certain dishes. Just make sure you choose fresh goat cheese and not aged. Fresh goat cheese has a lighter and fresher flavor that most resembles ricotta.
Even though goat cheese resembles ricotta, overall, it is a much stronger taste. Some people love the taste of goat cheese, while others do not like it all. If you enjoy goat cheese though, this is a wonderful substitution.
While goat cheese can be used in a 1:1 ratio, its flavor may overpower other flavors in the dish. If you are worried about this, use about ¾ of what the recipe calls for.
5. Plain Yogurt (or Greek Yogurt)
While not the best substitute, in a pinch you can use full-fat plain yogurt or plain Greek yogurt in certain dishes. This will work best for desserts or soups and sauces that call for only a little bit of ricotta.
Depending on your choice of yogurt it will slightly impact the overall flavor of your dish (such as Greek yogurt that will add a bit of a tanginess). Use in a 1:1 ratio in small amounts for soups, sauces, or dips.
The Best Italian Cheese Substitutes
If you want to stick with another Italian cheese as a substitute, there are several wonderful ones to try. You may even have some of these in your fridge.
6. Mascarpone
Another staple cheese in Italian cooking is mascarpone. This creamy soft cheese has a similar texture to ricotta, but a stronger flavor with a bit of a tang. Therefore, it is best used as a substitute in recipes with other strong flavors.
Mascarpone will adapt strong flavors like garlic and other Italian seasonings. This makes it ideal for use as a substitute for savory dishes.
Use mascarpone in a 1:1 ratio for ricotta in savory Italian dishes.
7. Mozzarella
Fresh mozzarella offers a lovely mild and salty taste that resembles ricotta. However, its overall consistency is quite different. This solid texture of mozzarella won't work for cold dishes or desserts.
However, mozzarella is great for savory dishes where the cheese will melt. This includes baked dishes, soups, sauces, and even as a topping.
The difference in texture makes it tricky to get an exact ratio exchange. Aim for a 1:1 exchange, but it is okay to make it an approximate measurement.
8. Parmesan
While looking at other Italian cheese options, Parmesan is one to consider. Like mozzarella, this is a more common one to have on hand at your house. Therefore, it would work in a pinch for certain recipes.
Parmesan is a hard cheese. It has a much stronger and more distinctive flavor than ricotta as well. However, it melts well like ricotta. This makes it a tasty option when your recipe calls for ricotta to be added to a sauce.
The ratio of Parmesan for ricotta will vary depending on the recipe and the type of Parmesan you have.
Use your own preference as a guide for how much Parmesan to add to a recipe. Remember that its stronger flavor will come through quite quickly, so too much may overpower other flavors.
9. Burrata
Burrata is an Italian cheese that has been less popular in the past. However, with viral pasta videos on Tik Tok being all the rage, burrata is popping up more and more.
This cheese has a solid outside with a creamy inside. The creamy inside is similar in taste and consistency to ricotta. However, it can be difficult to measure this cheese in an exact exchange for ricotta.
If you want to try burrata, use your best guess as to how much to use in the recipe. It will be best suited for savory dishes.
The Best Vegan Substitutes
Choosing to be vegan or follow a non-dairy diet shouldn't keep you from enjoying the tastiness of Italian cuisine. Use these alternatives below to still enjoy all your favorite ricotta-based Italian dishes.
10. Tofu
While tofu is not a type of cheese, it can be made to have a consistency that resembles ricotta cheese. In addition, its mild neutral flavor will pick up the other flavors around it.
Tofu has a lot of water in it though, so make sure to remove it before using. Wrap it in a clean dish towel and squeeze out all the water. Afterward, put the tofu in a blender and blend until almost smooth. This will give you a ricotta-like texture.
Tofu can be used in a 1:1 exchange for ricotta in any recipe.
11. Coconut Cream
Coconut cream is also not a cheese but has a thick creamy consistency that works well for replacing ricotta in certain dishes. Since coconut cream is naturally slightly sweet it is best used as a substitute in desserts.
However, it can also be used to add creaminess to savory soups and sauces. Coconut cream can be used in a 1:1 exchange but be mindful that it will add a mild coconut taste to the final dish.
12. Non-Dairy Yogurt
Overall, this alternative is best used in small quantities. For example, if you need a small amount of ricotta to add some rich texture and taste to a soup or sauce. It can also replace ricotta in cold dips.
However, be mindful that depending on the type of yogurt you choose will impact the flavor and texture of your dish.
If using in a small amount or to make a dip, you can use this in a 1:1 ratio for ricotta.
Lesser-Known Ricotta Substitutes
While a substitute is usually sought out for ease, that isn't always the case. Maybe you are seeking a substitute for ricotta that gives you a similar result but from a more unique cheese. If that is the case, these lesser-known cheeses are great choices.
13. Queso Fresco
This Mexican cheese is becoming more well-known, but you may not be familiar with it yet. It has a mild flavor and a soft crumbly texture that works well in baked dishes (like enchiladas) or as a topping. Use in 1:1 ratio.
14. Requesón
Another Mexican cheese. Has an even closer texture and taste to ricotta (than queso fresco). Can be used in any recipe in a 1:1 exchange.
15. Paneer
Paneer is like the Indian version of ricotta cheese. It doesn't melt as easily, so it needs higher temps for cooking. It can be used in a 1:1 substitution.
16. Fromage Blanc
A pricey cheese that is lesser-known but has a similar taste and texture. It can be used in cooking or even whipped to use in desserts at a 1:1 ratio.
17. Clabbor Cream
A thick and sour cream that is often used as a cold topping or spread with fruit and vegetables. Not a good choice for baking but can be used in cold dishes and desserts. The taste can be overpowering, so start with a smaller amount than called for.
18. Pot Cheese
This crumbly and soft creamy cheese is a bit drier than ricotta. It can be used as a substitute in any recipe but will benefit from being combined with a bit of yogurt or cream to add moisture. Use in a 1:1 ratio.
19. Brousse
Made from either goat or sheep milk this has a similar flavor and creamy texture to ricotta. It is best used in cooked dishes and can be used in an even 1:1 exchange.
20. Buttermilk Cheese
You won't find this in most stores, but you can make it at home. This one will take some planning though. If you have leftover buttermilk in the fridge and want to use it up this is a fun alternative to try out.
Place a cheesecloth in a colander. Then place the colander in another pot or bowl. Pour the buttermilk into the cheesecloth and place it in the fridge. Let the buttermilk slowly drain. Once it has fully drained you will be left with a consistency that resembles ricotta.
You can use this in place of ricotta in a 1:1 ratio in any dish.
What's The Best Ricotta Substitute In Lasagna?
Cottage cheese! Mostly because it works in a pinch, and also because ricotta and cottage cheese are frequently swapped out in this classic Italian recipe.
Make sure to use small curd cottage cheese when making lasagna without ricotta cheese. Or, puree the cottage cheese in a food processor or blender until it reaches a finer consistency more closely resembling ricotta.
More great substitute pages to help you out with all of your cooking and baking!
There are so many incredible ingredients that will make an easy ricotta cheese substitute! Remember to come back and let us know how your recipe turned out!
📋 Recipe
Print Recipe
Leave A Comment
Love This Recipe?
Click On A Star To Rate It!
Best Ricotta Cheese Substitute: Homemade Ricotta Cheese (+More Easy Alternatives!)
When you need a ricotta cheese substitute in the kitchen, there's no need to panic because there are plenty of easy ingredients to swap out for ricotta! Perhaps you're looking for an easy ricotta substitute that is dairy-free or maybe you didn't realize you were out while making cannoli's or lasagna. No matter the reason, you have LOTS of amazing options!
Pin Recipe
Share on Facebook
Ingredients
8

cups

whole milk

(2 liters, *see note)

½

teaspoon

salt

3

tablespoon

lemon juice

(freshly squeezed, or white vinegar)
Instructions
Take a large cheese cloth and fold it over 3-4 times. Use this to line a colander, then place the cheesecloth-lined colander over a bowl. *Be sure you are using non-reactive materials (*see note).

Add the milk to a large saucepan and heat it over medium heat. Then add salt and stir occasionally, turning the heat down slightly if needed so you don't scorch the milk.

8 cups whole milk,

½ teaspoon salt

Heat the milk to 185°F (85°C). If you don't have a thermometer handy, the milk should have a slight film with bubbles around the outside edge and a lot of steam. This usually takes about 20 minutes. Then reduce the heat to low.

Next, add your lemon juice (or vinegar). Use the wooden spoon to slowly agitate the mixture. You will see the curds of ricotta separating from the yellow liquid (whey).

Remove the pan from heat, cover the pot, and let it sit for 20 minutes untouched.

Carefully ladle the ricotta into the cheesecloth-lined colander. The consistency of your ricotta depends on how long you let it drain during this step. For creamy ricotta, only let it drain for 3-4 minutes. For drier, crumblier ricotta, you may let it drain for upwards of 20 minutes.

Use your ricotta right away or refrigerate the leftovers.
Equipment You May Need
Notes
The most common reactive materials you should avoid are aluminum or cast-iron. Stainless steel, ceramics, or enamel-coated pans are a safe choice.
For a creamier consistency, reduce the draining time.
Ultra-pasteurized milk will NOT work when making ricotta, so be sure to check the label.
Your homemade ricotta can be used right away or stored in an airtight container and refrigerated for up to 3 days.
Nutrition
Calories:
295
kcal
(15%)
|
Carbohydrates:
24
g
(8%)
|
Protein:
16
g
(32%)
|
Fat:
16
g
(25%)
|
Saturated Fat:
9
g
(56%)
|
Polyunsaturated Fat:
1
g
|
Monounsaturated Fat:
3
g
|
Cholesterol:
59
mg
(20%)
|
Sodium:
476
mg
(21%)
|
Potassium:
744
mg
(21%)
|
Fiber:
1
g
(4%)
|
Sugar:
24
g
(27%)
|
Vitamin A:
791
IU
(16%)
|
Vitamin C:
4
mg
(5%)
|
Calcium:
601
mg
(60%)
|
Iron:
1
mg
(6%)
Homemade Ricotta Cheese, Ricotta Cheese Substitute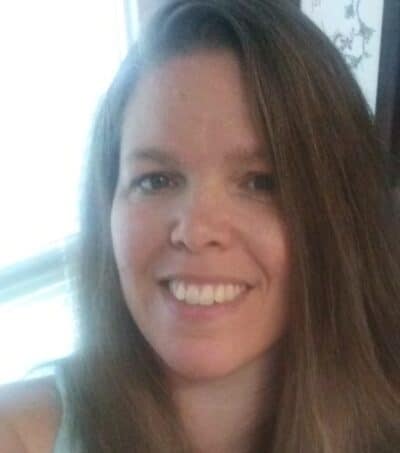 Angela is an at home chef that developed a passion for all things cooking and baking at a young age in her Grandma's kitchen. After many years in the food service industry, she now enjoys sharing all of her family favorite recipes and creating tasty dinner and amazing dessert recipes here at Bake It With Love!