What to serve with BBQ chicken, this amazing list of barbecue side dishes will help you choose the right sides for your meal! The dishes on this list are comforting, satisfying, and will be reminiscent of your best backyard BBQ memories!
15+ Best BBQ Chicken Side Dishes
Do you have a favorite BBQ chicken side dish? If you're planning a backyard barbecue for your family and friends, BBQ Chicken and some delicious side dishes will make it a success.
As far as summer barbecues are concerned, you can't go wrong with the tried and true favorites. BBQ chicken is great, but the best meals are always rounded out by a variety of complementary side dishes.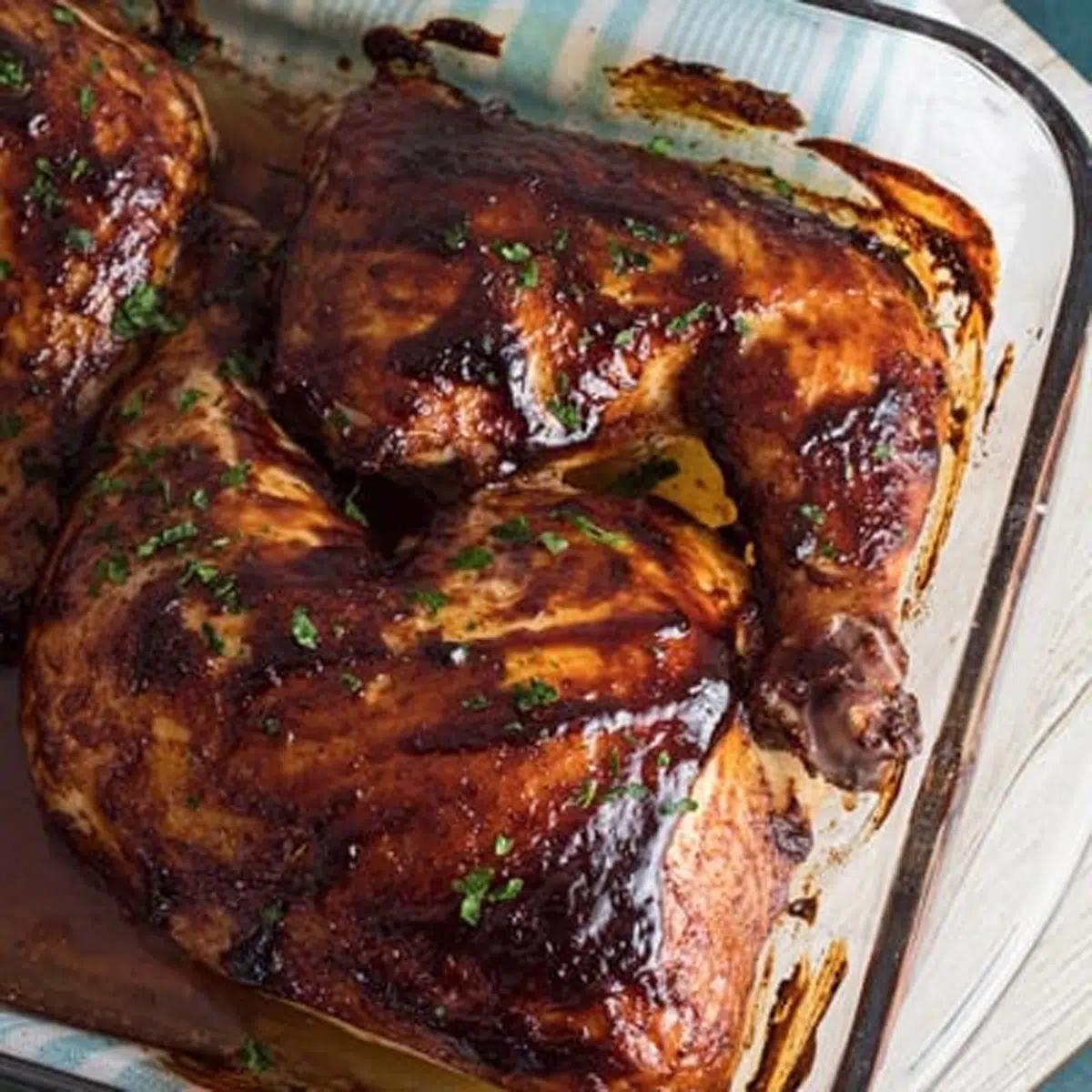 Incredibly delicious side dishes that pair perfectly with some flavorful BBQ chicken!
Jump to:
When it comes to BBQ chicken pairings, we've got you covered. These mouthwatering side dishes will make your barbecue stand out from the crowd!
1. Corn Pudding
The classic comfort food can be made with a few simple ingredients and goes well with BBQ chicken, turkey, and much more. It can be a quick and simple way to sweeten up an otherwise savory meal in a pinch.
Light and very fluffy on the inside but slightly crispy on the outside.
2. Mac & Cheese
Comfort food doesn't get much better than mac and cheese. Perfect for potlucks, parties, and get-togethers, this is also a classic side dish that complements many dishes but just goes hand-in-hand with BBQ chicken!
It's incredibly simple to make, and there are many great recipes available to take it to the next level. Making your mac and cheese is far superior to buying pre-packaged.
3. Baked Beans
Beans baked in the oven are hearty, flavorful, and so satisfying! Sweet and smoky, they're the ideal accompaniment to BBQ Chicken.
This addictive side dish does not require any special cooking skills on your part. When you serve this up at your next outdoor barbecue, your guests will be raving about it for weeks to come.
4. Collard Greens
Collard greens are very popular in the South, and you can cook them the same way as other greens like kale or mustard greens. Southern cuisine is known for its heartiness, and collard greens are no exception.
Soups and braises are common uses for sturdy leaves, which can withstand long-term cooking. Greens like collards are frequently served with various meat dishes, but they go especially well with BBQ chicken.
They're delicious, but they're also good for you.
5. Coleslaw
Salads such as coleslaw are bursting with vibrant flavors that will liven up any meal they are served with. Try it on a sandwich or with savory meats like BBQ chicken.
Alternatively, you can pile some on top of your next hot dog or hamburger. You won't believe just how simple and easy it is to make your own coleslaw.
6. Fruit Salad
You can serve fruit salad as a dessert or a side dish with BBQ chicken any day of the week. The sweet and tart flavors in this dish complement the smoky flavor of the BBQ chicken.
The perfect time to serve this dish is summertime because it's full of fruity summer flavors, and the best tart fruits are in season.
7. Biscuits
Biscuits can be served with a number of soups and stews, but they also go well with savory meat dishes. You can't go wrong with a delicious and freshly baked biscuit slathered in butter and served alongside BBQ chicken.
8. Cornbread
It's incredibly easy to make homemade cornbread from scratch, and the results are moist, fluffy, and mildly sweet in flavor. Of course, serving it with some smoky BBQ chicken is a must.
It's even better when you slather or dunk it in butter!
9. Baked Sweet Potatoes
Delicious and nutrient-dense, baked sweet potatoes are hard to beat. With a mild sweetness and a light texture, baked sweet potatoes are an excellent side dish for any meal.
If you serve them with BBQ chicken, you're sure to wow your family and guests.
10. Cajun Fries
Cajun fries are the perfect side dish or snack if you're looking for something quick and easy. The recipe calls for only three ingredients, a few minutes of preparation, and a few more of baking time.
You can also air fry them if you want a more healthy option. They are hot and crispy when they come out of the oven, and they are absolutely delicious.
11. Potato Chips
Potato chips are not only delicious and filling, but they are also fun and simple to make. People of all ages love and find it impossible to resist them.
They are ideal for game night or as a snack on their own. If you serve them with a side of BBQ chicken, your guests will keep coming back for more!
12. Fried Pickles
Fried pickles are crunchy and crispy, and they're packed with that scrumptious dill pickle flavor that we all love. This side dish has the appearance of being something that can only be found at the County Fair in the summer.
It's truly hard to believe how easy it is to make these. On top of all that, they pair exceptionally well with a variety of other delectable dishes, such as BBQ chicken. This is a must-try dish!
13. Corn on the Cob
Corn on the cob is the simplest side dish to prepare and one of the most delicious. Everybody loves corn!
Some people like to boil the corn and eat it plain, while others enjoy putting toppings on it, and there are so many toppings to choose from!
You always see it paired with barbecued chicken because it goes so well together.
14. Baked Potatoes
Baked potatoes are a simple and absolutely delicious side dish with crisp skins and a soft, fluffy interior. If you make them ahead of time, you can freeze them then bake them while your BBQ chicken cooks on the grill.
They're the ideal side dish to serve if you're a little short on time and looking for a quick but delicious meal.
15. Green Beans With Bacon
Green beans with bacon are a simple and flavorful side dish that can be prepared in a matter of minutes. Seasoned to perfection, fresh green beans are sautéed with bacon and garlic until they are tender and crisp.
Our favorite side dishes and vegetables are those that are simple and don't require a long list of ingredients, like green beans with bacon!
We hope our list helps guide you as you plan your next backyard barbecue or even for a regular weeknight dinner. Let us know what you think about these pairings by leaving a comment below!
📋 Recipe