These delicious egg breakfast recipes are the perfect way to start your morning routine any day of the week! I have so many different and unique egg-filled breakfast options to look at! From omelets and scrambled eggs to casseroles and sandwiches, there is an egg breakfast recipe here for everyone!
The Best Egg Breakfast Recipes
Eggs are hands-down one of the most versatile ingredients out there. They can be used for a wide variety of things from sweet desserts to savory casseroles. However, nothing is more classic than having eggs for breakfast!
Even within the breakfast category, eggs can be used in so many different ways. So pick one of these egg breakfast recipes that catches your eye and get ready to have a delicious start to your day!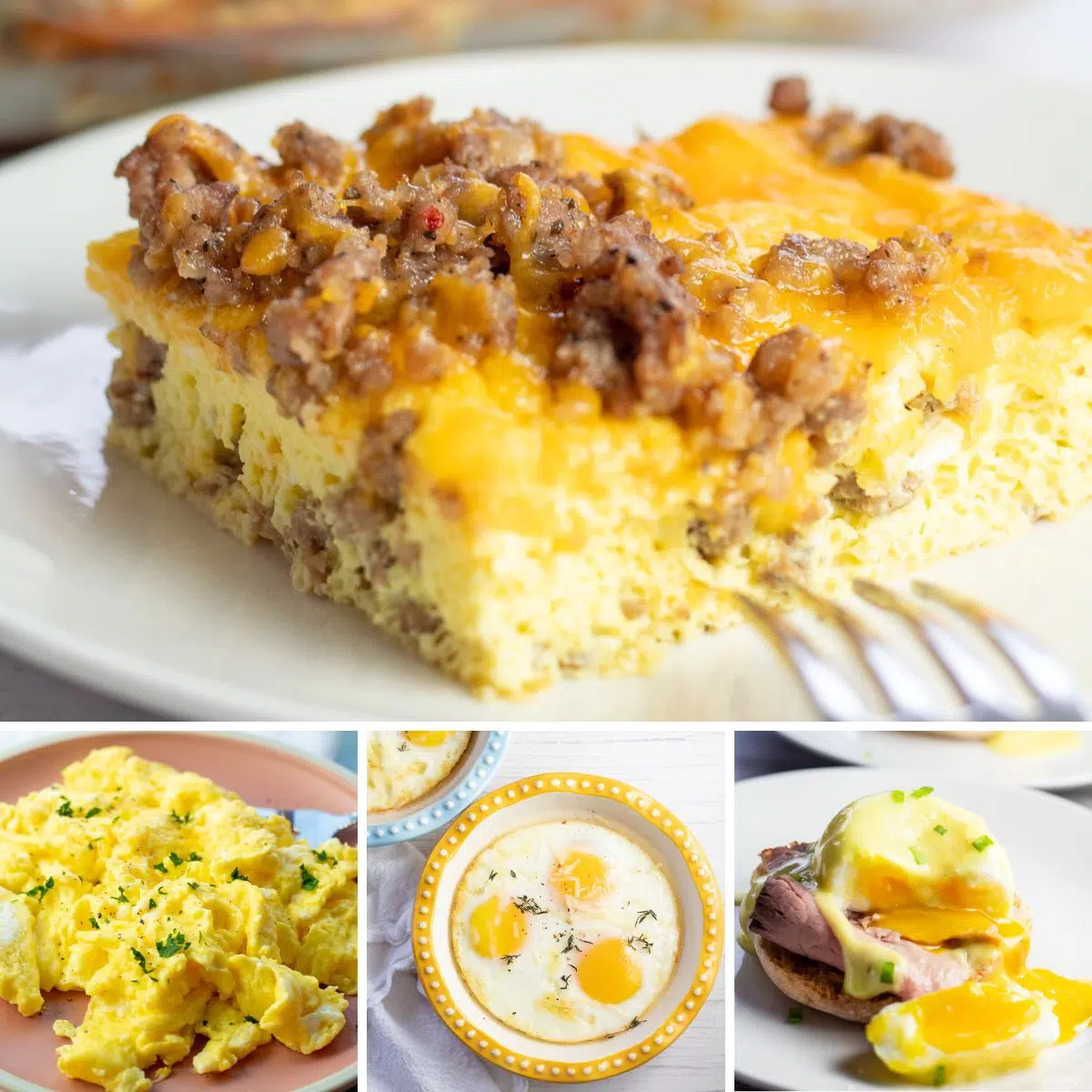 Jump to:
1. Baked Eggs
This recipe is so quick and easy as the eggs are just baked in the oven with a touch of thyme and Parmesan! It's a time-saving recipe that's great for any day of the week!
2. Scrambled Eggs
There is no breakfast more classic than some old-fashioned scrambled eggs. These eggs have half & half and butter added to them to make them extra creamy and delicious!
3. Chorizo and Eggs
This quick and easy breakfast is loaded with savory flavor and protein! You can even customize it and use this recipe to make tacos, burritos, sandwiches, or just eat it as-is!
4. Kielbasa Swiss Omelet
This delicious omelet is filled with savory kielbasa slices smothered with fluffy, cheesy eggs! It will please your whole family in a low-effort and easy way!
5. Sausage Egg and Cheese Breakfast Casserole
This hearty and comforting breakfast casserole is a great way to start the morning on a special day! Whether it be a birthday, anniversary, or just because, this delicious meal will be loved by both kids and adults!
6. Prime Rib Eggs Benedict
This recipe is a sophisticated twist on a classic eggs benedict and would be delicious for breakfast or brunch! This is a great way to reuse some leftover prime rib!
7. Sour Cream Scrambled Eggs
Sour cream is the magic ingredient that can bring your scrambled eggs from plain to extraordinary! These fluffy and easy eggs will be on your table in 10 minutes!
8. Fried Bologna and Egg Sandwich
If you're needing something more from your typical morning breakfast, how about throwing together this super quick bologna and egg sandwich? The browned bologna combined with the fried eggs and melty cheese is so delicious that you'll want to make it every day of the week!
9. Hash Brown Egg Cups
Hash browns are such a tasty breakfast staple, why not combine them with some baked eggs to create an on-the-go breakfast? Customize them to your specific tastes by adding toppings such as bacon or ham!
10. Mushroom Swiss Omelet
This versatile recipe is a quick way to switch up your traditional omelet in the mornings! It's a healthy breakfast that is a great way to get some extra protein in at the beginning of the day!
11. Avocado Egg Bake
Did you know that avocado is a superfood? This healthy and easy breakfast is a staple breakfast because of its ability to be easily customized with everyone's favorite toppings while still being loaded with nutrients!
12. Lobster Breakfast Sandwich
This elegant and rich sandwich is a wonderful way to make someone's day start great. The lobster, brioche buns, creamy eggs, and asparagus make this recipe an absolute masterpiece!
13. Sausage Hash Brown Breakfast Casserole
This easy casserole takes all of your favorite breakfast flavors and turns them into a hearty and savory dish that your whole family will enjoy! This recipe is so simple yet so flavorful!
14. Ham Egg Cups
This low-carb, quick breakfast is enjoyed by both kids and adults! The crispy edges of the ham combined with the cheesy eggs are sure to satisfy anyone's appetite!
15. Cheese Omelet
Gooey, melty cheese has to be the best way to get your morning started. This recipe is such a classic, you can add any toppings you like to turn it into the omelet of your dreams!
16. Gordon Ramsay Scrambled Eggs
This dish will become your new go-to recipe for any time you need scrambled eggs! These eggs use butter and sour cream to make them extra creamy and flavorful!
17. Ham and Cheese Omelet
This simple and easy breakfast will be on your table and ready to eat in 10 minutes! It's a classic recipe that is great to make any day of the week!
18. Baked Denver Omelet
This loaded omelet brings together some delicious onions and peppers with a creamy ham and cheese omelet. It's surprisingly simple yet extremely satisfying!
19. Omelet Roll
This rich breakfast dish uses cream cheese to make the eggs extra decadent before stuffing them with savory ham and cheese! Add some hollandaise sauce to make it even more extravagant!
20. Breakfast Sandwich
This homemade meal is better than anything you could find in the morning drive-thru! This classic sandwich is perfect for those mornings when you're short on time and breakfast just needs to be on the go.
21. California Omelet
The California-based toppings are what make this omelet extra special. Give it a try and watch it become your new favorite egg breakfast recipes!
22. Quiche Lorraine
This delicious recipe is great for not just breakfast, but any meal of the day! This is a dish that will be sure to wow all of your guests!
23. Leftover Prime Rib Hash
This prime rib hash recipe is one of my absolute favorites because of how savory and hearty it is! It's a great way to use up those leftovers after the holidays!
Get your day started off right by making any of these incredible egg breakfast recipes! Did we fail to mention one of your all-time favorite egg recipes? Tell us what it is in the comments below!
📋 Recipe