An easy mushroom Swiss omelet is the perfect way to elevate your breakfast or lunch, and it's low carb and gluten-free! With a few simple ingredients, you can have a healthy, protein-packed meal in minutes!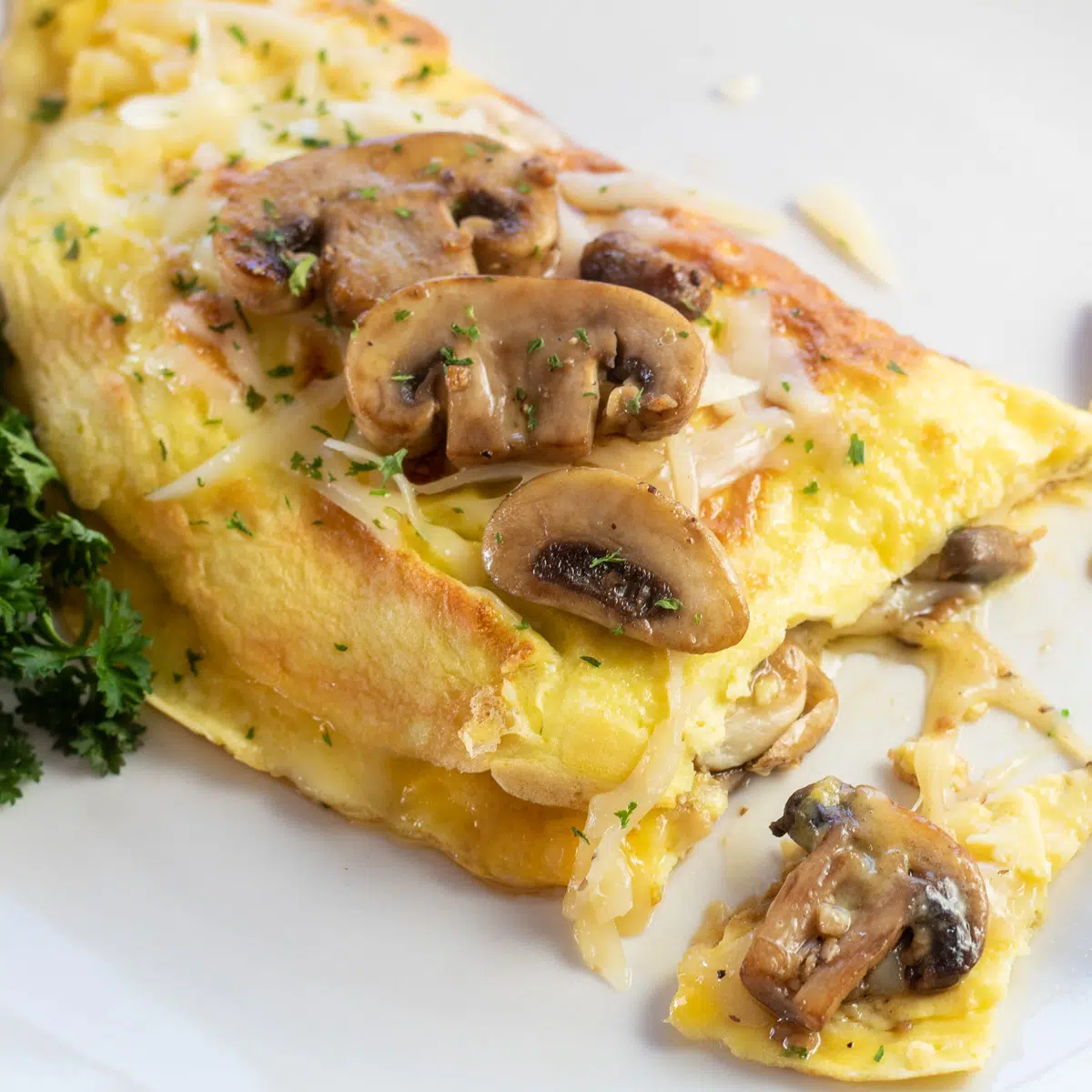 This easy mushroom Swiss omelet is the healthy breakfast your mornings have been missing!
Breakfast is definitely my favorite meal of the day. Unfortunately, I often find myself in the rut of eating the same go-to dish for weeks on end.
Whether it's oatmeal, cereal, or good old-fashioned fried eggs, an omelet is an exciting way to change things up.
Jump to:
This recipe combines all the garlicky goodness of sauteed mushrooms with the fluffy egg and cheese of an omelet. Whether you add Swiss or Gruyere is up to you!
Kids and adults alike will love customizing their own omelet. It's as family-friendly as it gets. But be careful. With a dish this good, they might start setting their breakfast expectations higher.
❤️ Why You'll Love This Recipe!
Super flexible! There are loads of ways to customize this dish so it suits your taste!
It's healthy! This omelet is low carb, gluten-free, keto-friendly, and chock full of protein!
It's fast! Perfect for those mornings where you have limited time, you can make this omelet in about 15 minutes!
🥘 Ingredients
These are all pantry staples at my house. Clean your mushrooms with a damp paper towel rather than rinsing them to prevent them from absorbing water.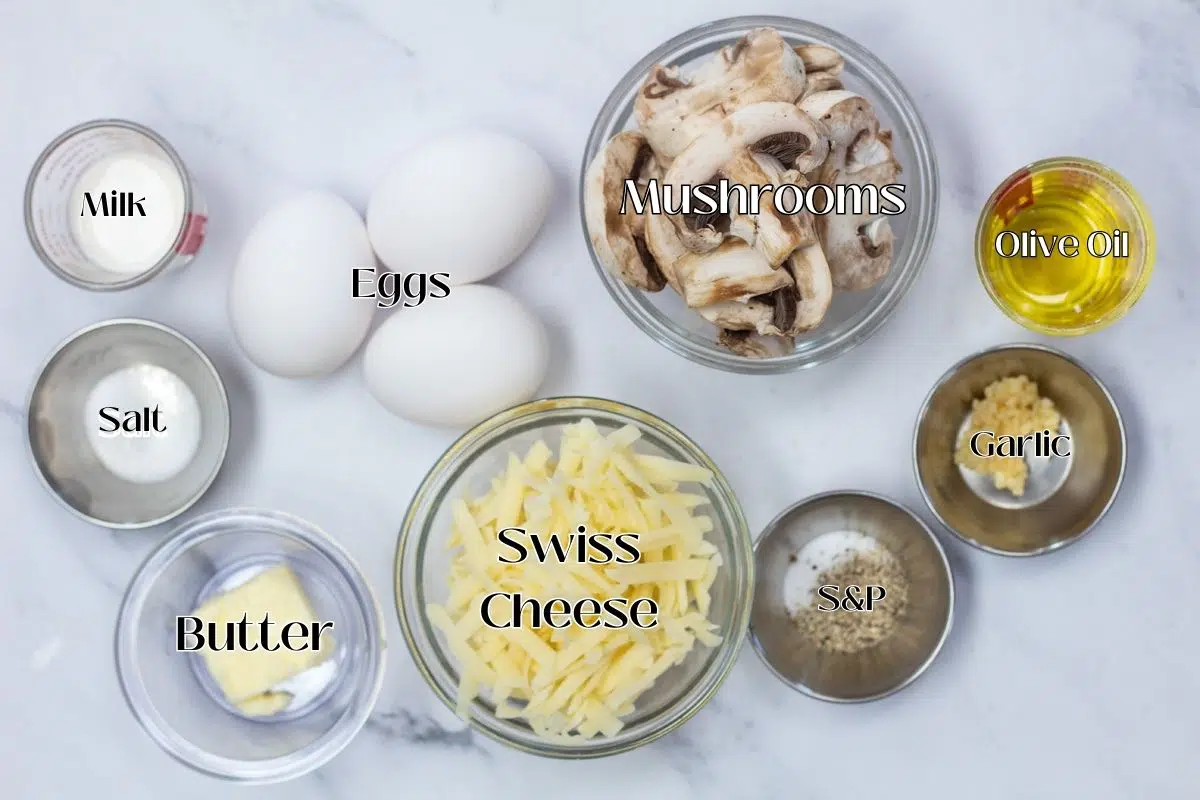 Sauteed Mushrooms
½ tablespoon Olive Oil - Cooking herbs or spices in oil releases the flavors and allows it to spread to anything else added to the pan.
2 ounces Mushrooms - This comes out to about 1 cup of sliced cremini (aka baby bellas) or white button mushrooms.
½ teaspoon garlic - Finely minced. A ½ teaspoon is roughly ½ a clove, but if you like garlic feel free to use a whole one!
Salt & Pepper (to taste) - Add as much or as little as you want!
3 Egg Omelet
3 large Eggs - Lay eggs out 30 minutes ahead of time to bring them to room temperature.
2 teaspoons Milk - Water can also be used.
1 pinch Salt - Sea salt or a truffle salt would add amazing flavor!
1 tablespoon Butter - Butter makes eggs rich and delicious.
2 tablespoons Swiss Cheese (grated) - Grated Gruyere is another great option! If you can, grate your own at home, the prepackaged stuff won't melt properly.
*Be sure to see the recipe card below for ingredients, amounts & instructions!*
📖 Variations
Omelets are extremely flexible and can be filled with anything you want!
Onions or Shallots - Try cooking a few sliced or chopped yellow onions, or tasty shallot, with the mushrooms for some added sweetness!
Cayenne Pepper - If you're into spice, add a bit of cayenne pepper to this otherwise creamy, garlicky breakfast.
Asparagus - Chopped asparagus is fantastic with this dish when it's in season, and it's a great way to add extra vegetables. Cook these until tender when you saute the mushrooms.
Chives - The perfect herb to pair with this hearty breakfast omelette!
Sage - Add a few chopped sage leaves to the skillet with the oil, and you'll have a subtle herb flavor in the final product.
Truffle Oil - Truffle oil and mushrooms go together like garlic and onion. They're made for each other. Plus, any time you pull out the truffle oil is a special occasion.
🔪 Step-By-Step Instructions
This is a quick dish that looks a lot harder than it is. All you need is a mixing bowl, a frying pan, and a silicone spatula.
Saute Mushrooms
Heat your skillet. Pour ½ tablespoon extra virgin olive oil in a 9-inch, nonstick skillet or heavy-bottomed frying pan. Warm over medium-high heat.
Saute the mushrooms. When the oil is ready, it will begin to shimmer. Transfer 2 ounces of cleaned and sliced mushrooms into the pan. Saute for about 5 minutes, or until tender.
Season. Sprinkle the mushrooms with salt and pepper (to taste). Add ½ teaspoon minced garlic. Cook until the garlic is fragrant and there is less moisture on the mushrooms.
Set the mushrooms aside. When they're cooked, set the garlicky mushrooms aside on a clean plate. Wipe out your pan before melting the butter in the next phase.
Making A Mushroom Swiss Omelet
Start by beating the eggs. Whisk 3 large eggs, a pinch of salt, and 2 teaspoons of milk or water (optional). It should be well combined.
Melt the butter. Use your now mushroom-free skillet to melt 1 tablespoon of butter (or blend of butter and oil) over medium heat. Coat the bottom of the pan thoroughly.
Add the eggs. Transfer the egg mixture into the hot pan. Spread the egg mixture towards the outside of the pan by lifting the handle and tilting it in different directions. Lift the edges of the egg with a spatula as it begins to cook. Tilt the raw part towards the lifted portion and break any bubbles that form with your spatula. Fill in any holes with runny egg. The idea is to start to cook the egg completely without having to flip it over.
Finally, sprinkle in the fillings. For about 10 to 15 seconds after all the gaps are filled and edges are rounded, continue cooking the omelet. Then, add the mushrooms you set aside and top with 2 tablespoons of Swiss cheese. Feel free to save some for the top, if desired! Carefully fold the omelet in half using the spatula. It should look like a half circle and close up nicely with the stickiness of the melted cheese.
Enjoy! When the cheese is fully melted, move the omelet from the pan to a clean plate. Toss on some extra cheese and mushrooms if you saved some, and serve.
Serve with a side of garlic bread, buttered whole-wheat toast, or a muffin for those who crave a little something sweet. Throw on a piece of parsley or chopped green onions if you want to dress up the plate. Enjoy!
💭 Angela's Tips & Recipe Notes
If you forget to set out your eggs in advance, bring them to room temperature by placing them in a bowl of room-temp water for about 5 minutes. Don't skip this step! Cold eggs extend the cooking time, and some ingredients will become overcooked.
Clean mushrooms with a damp towel. Mushrooms absorb water, so washing them under water will lead to some sliminess and extra moisture you might not want in your dish.
Milk or water isn't vital to the recipe. It's a small amount and will make the eggs fluffier. When the egg batter meets the heat of the frying pan, the liquid steams and creates a fluffier texture. But it will also be good without it.
Don't overcook your eggs! They will continue to cook a bit even when removed from the skillet, so it's important to take them out as soon as they are no longer runny. Check for runniness by tilting the pan.
🥡 Storing & Reheating
Eggs are always best freshly made, but if you made too much or want an even quicker breakfast in the morning, store leftovers in an airtight container in the fridge. They will be best within 2 days but will be safe to eat for up to 4 days.
Freezing
To freeze, put leftovers in an airtight container or heavy-duty freezer bags sans garnishes for up to a year. Be warned, the flavor is best within 3 to 6 months of freezing.

Reheating A Mushroom Swiss Omelet
First, thaw out the frozen omelet in the fridge overnight. Then, the fastest way to reheat is to microwave it on a plate covered with a damp paper towel for added moisture.
Heat for 15-second intervals until the desired temperature.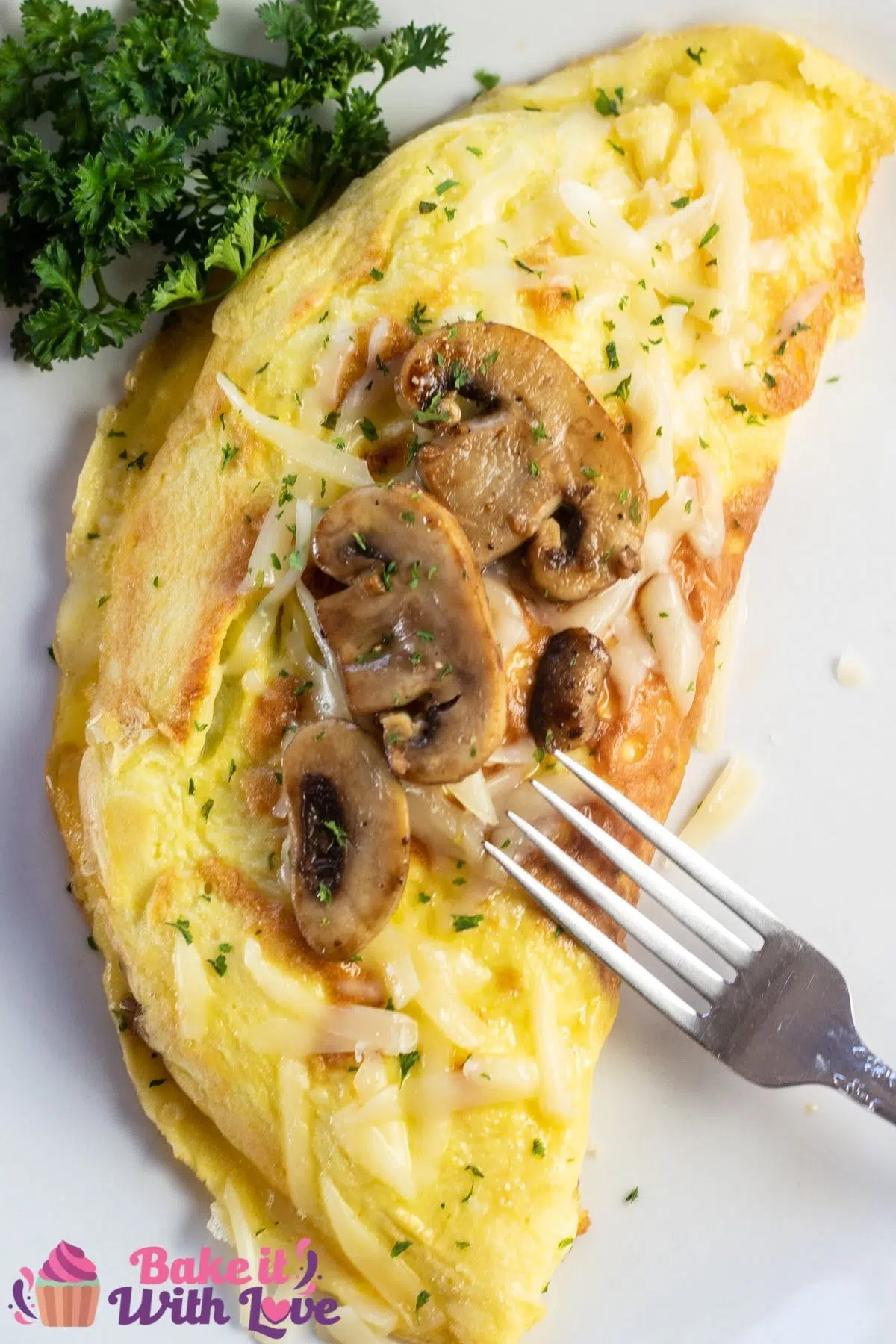 😋 More Tasty Omelet Recipes
---
❓ FAQ
Is there a rule for how many eggs to use in an omelet?
Typically, chefs use 2 to 3 eggs depending on the customer's hunger level. A 2-egg omelet will be about the size of an 8-inch skillet. A 3-egg version will cover a 9-inch skillet. But there is no hard and fast rule here. Do what serves you.
Do vegetables always have to be cooked before adding them to an omelet?
It's always a good idea, especially if they're hard. Cooking them first makes them more flavorful through caramelization or, in this case, by blending with the garlic oil. It also eliminates some of the stored water. This helps keep your omelet from getting soggy.
📋 Recipe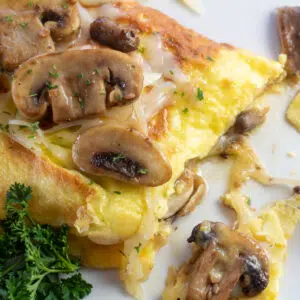 Print Recipe
Leave A Comment
Love This Recipe?
Click On A Star To Rate It!
Mushroom Swiss Omelet
An easy mushroom Swiss omelet is the perfect way to elevate your breakfast or lunch, and it's low carb and gluten-free! With a few simple ingredients, you can have a healthy, protein-packed meal in minutes!
Pin Recipe
Share on Facebook
Ingredients
Sauteed Mushrooms
½

tablespoon

olive oil

(extra virgin)

2

oz

mushrooms (1 cup sliced, cremini (aka baby bellas) or white button mushrooms)

½

teaspoon

garlic

(minced)

each, salt & pepper

(to taste)
Instructions
Sauteed Mushrooms
Add the olive oil to a skillet or heavy-bottomed frying pan over medium-high heat.

Once the oil is beginning to shimmer, add the cleaned and sliced mushrooms and saute until tender (about 5 minutes).

Season with salt and pepper to taste. Then, add the minced garlic and cook until fragrant and the moisture has cooked off the mushrooms.

each, salt & pepper,

½ teaspoon garlic

Transfer the mushrooms to a clean plate and set aside. Wipe out your skillet before starting your omelet.
Mushroom Swiss Omelet
In a mixing bowl, combine the 3 large eggs with a pinch of salt and the optional milk or water. Then, whisk or blend with a fork to combine.

3 large eggs,

1 pinch salt,

2 teaspoon milk

Melt the butter (or a blend of oil and butter) in a 9-inch non-stick skillet over medium heat. Spread the melted butter around to coat the entire bottom of the skillet.

Pour the eggs into the middle of your hot skillet and tilt the pan by lifting the handle so that the egg mixture spreads out toward the edge of the skillet. As the eggs firm, use your rubber spatula to lift the edges and tilt the uncooked egg towards the lifted area. *If you notice any bubbles forming, break them with your spatula and fill them with uncooked egg.

Continue cooking the omelet for 10-15 seconds after filling all the gaps and rounding out the edges. Then, top with 2 tablespoon grated Swiss cheese and sauteed mushrooms (saving some for topping the omelet if desired ). Use a spatula to flip one edge inward and over the filling to the opposite edge and close the omelet.

2 tablespoon Swiss cheese,

2 oz mushrooms

Slide the omelet out of the skillet onto a clean plate. Top with additional Swiss cheese and mushrooms if desired, and serve.
Equipment You May Need
Notes
Because mushrooms absorb water, it is best to clean them with a damp towel instead of washing them.

Adding a small amount of milk or water is not necessary, but does make the eggs fluffier when it steams after hitting the hot skillet.
The eggs will continue to cook once you remove them from heat. When the eggs are no longer runny while tilting your skillet, they are done.
Nutrition
Calories:
448
kcal
(22%)
|
Carbohydrates:
5
g
(2%)
|
Protein:
24
g
(48%)
|
Fat:
37
g
(57%)
|
Saturated Fat:
16
g
(100%)
|
Polyunsaturated Fat:
4
g
|
Monounsaturated Fat:
14
g
|
Trans Fat:
1
g
|
Cholesterol:
541
mg
(180%)
|
Sodium:
333
mg
(14%)
|
Potassium:
401
mg
(11%)
|
Fiber:
1
g
(4%)
|
Sugar:
2
g
(2%)
|
Vitamin A:
1245
IU
(25%)
|
Vitamin C:
2
mg
(2%)
|
Calcium:
251
mg
(25%)
|
Iron:
3
mg
(17%)
3 egg omelet, breakfasts, Mushroom Swiss Omelet, omelette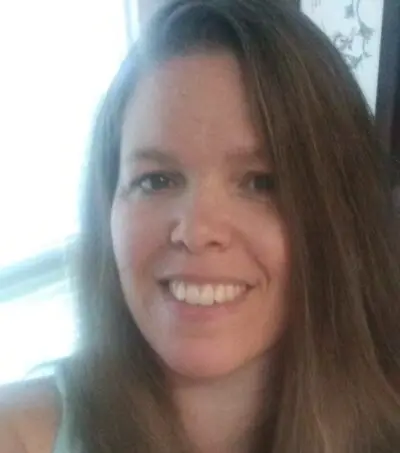 Angela is an at home chef that developed a passion for all things cooking and baking at a young age in her Grandma's kitchen. After many years in the food service industry, she now enjoys sharing all of her family favorite recipes and creating tasty dinner and amazing dessert recipes here at Bake It With Love!