If you're craving crab but are wondering what to serve with crab legs, look no further! Here are 15 of my favorite sauces and side dishes to present alongside your delicious crab legs!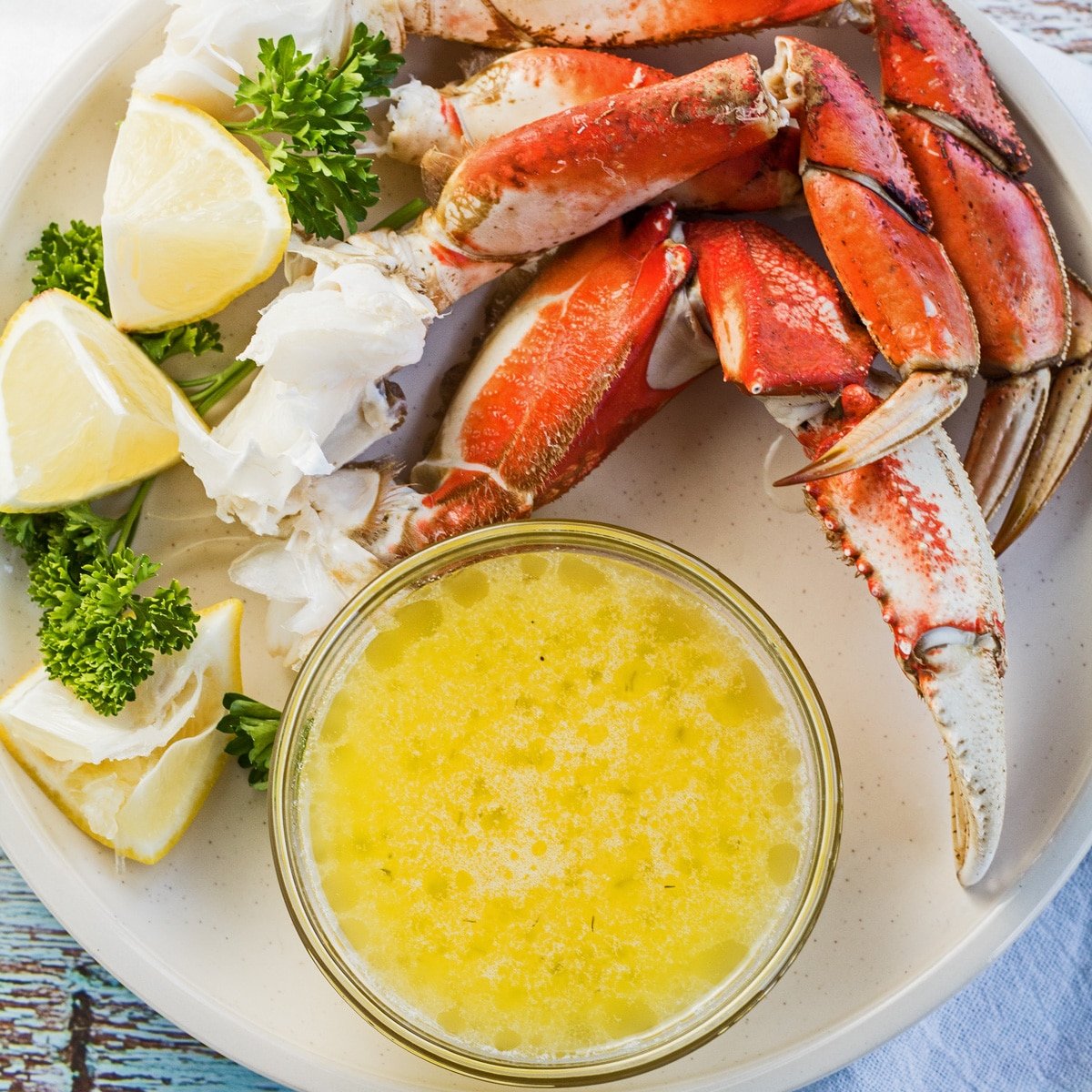 19 sides and sauces that will elevate your crab leg dinner!
There's something special about gathering around a big pot of crab legs with friends and family. Having to crack your own crab legs really forces you to slow down while you eat and enjoy your company and food.
I love crab because it can be gourmet or casual, and in either scenario, it is equally delicious. Whether you are planning on serving up a special dinner or preparing for a crab boil, choosing the right sides and sauces is key!
Jump to:
Below you will find 19 different sides and sauces that will suit crab legs however you choose to serve them!
1. Drawn Butter
I am a firm believer that you can't have crab without melted butter! The fantastic thing about this flavorful drawn butter is that the crab needs no further seasoning, no fancy sides, just dunk the crab meat and eat it as is!
Dill and a little white wine really give the butter a bright, fresh flavor.
2. Bloves Seafood Sauce
Bloveslife is a YouTube sensation and this sauce put her on the map! Her seafood sauce is savory and full of delicious spices.
There are a lot of ingredients, but they are probably already in your kitchen and it's definitely worth gathering them all up. This is a great option if you want to present something more unique than drawn butter.
3. Pan Seared NY Steak
Serve up an epic surf & turf dinner by pairing your crab legs with a perfectly pan-seared New York strip steak! Talk about a comforting and lavish meal!
In just 15 minutes you can have these New York strips on the table with a perfect golden-brown sear. Serve it up with any of your favorite steakhouse sides like a baked potato or green beans!
4. Cheddar Bay Biscuits
Red Lobster was onto something with their cheddar bay biscuits. These cheesy, fluffy biscuits are delicious on their own, but they pair wonderfully with seafood!
Best of all, you can make these tasty biscuits from the comfort of your own kitchen!
5. Milk Boiled Corn On The Cob
There's a reason you always see corn on the cob at every crab boil. The crisp, fresh crunch of corn is nice and refreshing when paired with buttery, savory crab.
Another bonus is you can often use the crab seasoning on the corn as well! Try this method of boiling corn cobs in butter and milk- you'll never make them another way again.
6. Parmesan Roasted Artichokes
I can't believe how many people I have met that have never tried artichokes! At least not in their whole form.
These artichokes are topped with panko and Parmesan cheese and are guaranteed to be a great first impression for anyone who has never tried them.
A little lemon squeezed on top gives them just the right hint of citrus that pairs perfectly as an appetizer or side to crab legs.
7. Baked Zucchini Fries
Zucchini fries are crispy and baked to perfection. Serve them with a delicious dipping sauce like this pesto sauce (or ranch) and you have a comforting side that is less filling than potatoes.
The crunch from these fries is great in comparison to tender, flaky crab meat. Plus, it's a good way to work in veggies that don't taste like veggies.
8. Garlic Bread
When in doubt, serve up a side of garlic bread! It goes with everything, and you will be hard-pressed to find someone who doesn't like it.
If you have an air fryer, you can have delicious buttery garlic bread on your table in just 10 minutes!
9. Coconut Fried Shrimp
Serve up seafood spread by making some coconut-fried shrimp! This is a personal favorite of mine, and the crunchy coconut coating is a great contrast to buttery crab while keeping with the seafood theme.
It makes an awesome appetizer or serve it up with the main course!
10. Jalapeno Corn Bread
If you want a little spice, jalapeno cornbread is a great option. It's not overly hot while being fluffy and full of flavor.
If you like your crab with Cajun seasoning, this jalapeno cornbread will pair perfectly. It's extremely easy to make, and you can have it on the table in just 30 minutes.
11. Lemon Asparagus Orzo
Crab pairs wonderfully with lemon, and this lemon asparagus orzo is no exception. The tangy lemon garlic sauce goes wonderfully with the asparagus, orzo pasta, and most importantly, crab!
This is a great all-inclusive side dish because it has veggies and carbs, so if you plan on serving it as the only side that's just fine!
12. Pesto Pasta
Make your own pesto sauce and offer it up over some cooked pasta. Pesto may not be your first thought when deciding what to serve with crab legs, but it pairs surprisingly well!
The bright and herby flavor of pesto is fresh and light- perfect for crab. It's rather easy to make at home, too!
13. Broiled Ribeye
This method of broiling a ribeye is not only easy, but it produces perfectly cooked steaks. It is another great opportunity for a surf & turf dinner!
The broiler in your oven will give you a perfect golden-brown sear with minimal effort!
14. Garlic Butter Mushrooms
If you love mushrooms, these garlic butter mushrooms are the way to go. It's an easy veggie side dish that is surprisingly filling.
Garlic butter goes wonderfully with crab, and the earthy flavor of the mushrooms helps tone down any citrus or spice that you may have seasoned your crab with.
15. Zucchini Squash Casserole
For a hearty and comforting side, bake a zucchini squash casserole! It's creamy and cheesy, a perfect contrast to crab.
If you're tired of eating yellow squash or zucchini, this will have you seeing them in a new light. It's extremely easy to make, and though it takes about an hour from start to finish, you will find it is well worth it.
16. Calamari
I would venture to say fried calamari is the most popular seafood appetizer. Crispy breading surrounding tender squid is perfect for dipping and even some seafood-haters will admit it's good.
Calamari goes well with several sauces. A ramekin of marinara, ranch, or even just a squeeze of lemon, is all it takes to make this a great appetizer for any seafood dish.
17. Spanish Mussels
If you aren't looking for something fried, these sweet and tender mussels in a perfectly seasoned wine sauce are a fantastic alternative. A dish of Spanish mussels looks elegant and appetizing on the dinner table, and they are a great choice if you are having a formal sit-down dinner.
Mussels are an elevated appetizer that goes with any kind of seafood.
18. Cheese Rolls
Cheese rolls are exactly what they sound like, and they go with absolutely anything. They are easy to make, and you will have some downtime as the bread rises that you can spend preparing your crab legs.
19. Steak Rolls
Steak rolls are visually pleasing and delicious! Thin, tender steak is soaked in a teriyaki marinade then rolled up around an assortment of different sliced veggies.
When served with crab it is a fun little twist on surf & turf!
Is my list complete? Let us know about any of your favorite crab leg sides or sauces that we forgot to mention by writing us in the comment box below! If you give any of these recipes a try, tell us which ones you liked most!
🦀 A Few Of My Delicious Crab Recipes!
---
📋 Recipe