For what to serve with omelets you've come to the right place because I have all the best side dishes to round out your breakfast or brunch! Whether you are making a simple cheese omelet or an omelet loaded with delicious fillings, these recipes are just the thing you need to complete the meal. Who knows, you might find a few new breakfast favorites on this list!
Best Recipes To Serve With Omelets
Omelets are a great way to start your day because they are packed with protein and come in so many varieties! From a classic cheese omelet to a California omelet with all the toppings, you can find one to suit any taste.
After you decide on your omelet, you have to choose what sides to serve with it! I've got you covered there, below are some of my favorite recipes to make when omelets are on the menu!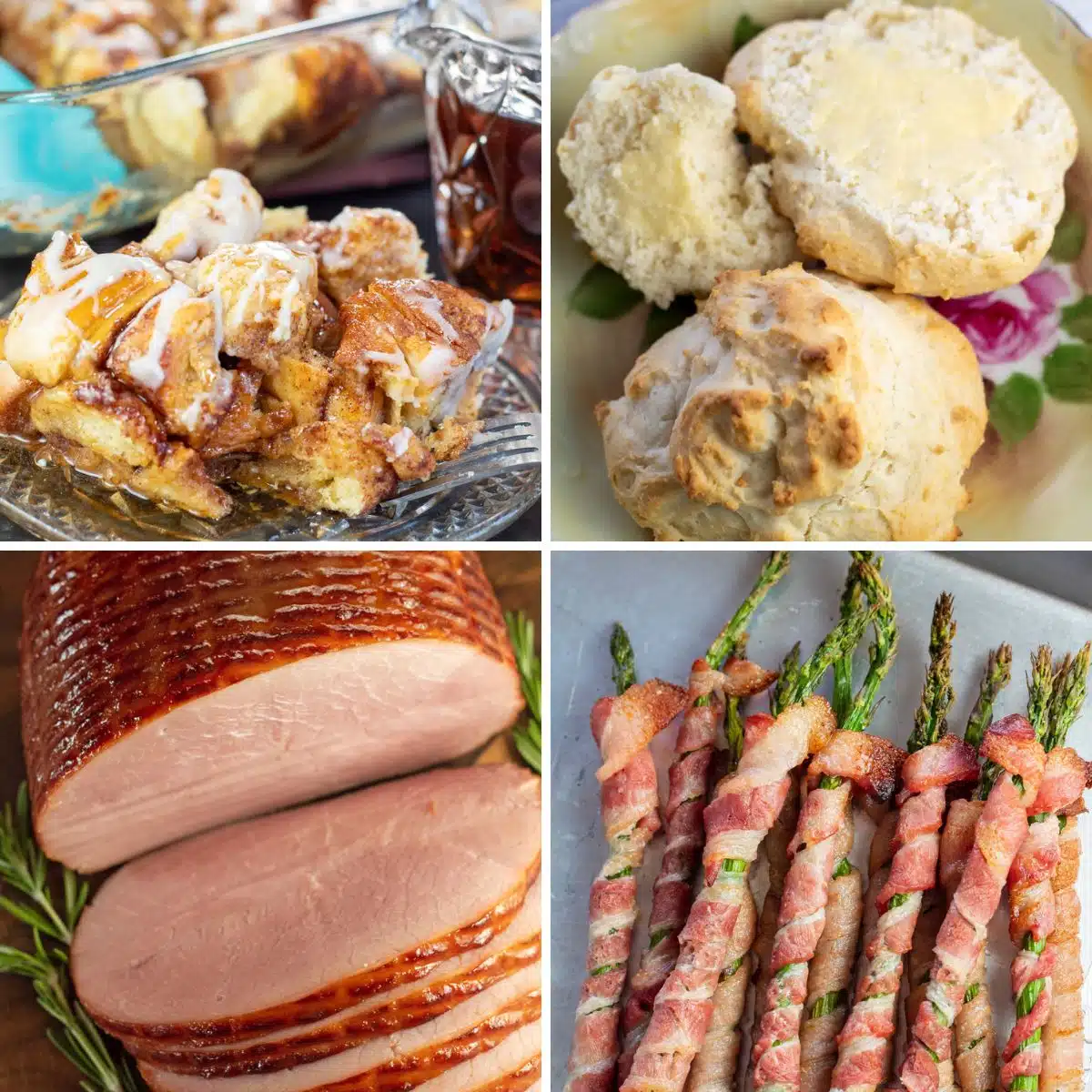 Jump to:
Want More Recipes? Enter your email below and we'll send them straight to your inbox!
1. Glazed Honey Ham
Leftover holiday ham can be diced up in an omelet or sliced and served on the side. You can also pick up some sliced breakfast ham steaks at the grocery store if you aren't working with leftovers.
It's super quick and easy because the ham is already cooked either way. Just pop it in a skillet to heat it up and enjoy!
2. Homemade Hashbrowns
The best thing about these homemade hashbrowns is that you can make them as soft or as crispy as you like! You only need 3 ingredients, though I often add chives and Cheddar to make them extra tasty.
3. Breakfast Sausage
Breakfast sausage of any sort will go perfectly with an omelet. This homemade recipe combines ground pork with a simple breakfast sausage seasoning, maple syrup, and bits of bacon!
Of course, you can always keep it simple by popping some frozen sausage patties in the air fryer, too.
4. Pan Fried Potatoes and Onions
If you feel like your meal is missing some carbs, pan-fried potatoes & onions are quick and easy to prepare. All it takes is 1 onion, some potatoes, and a few simple seasonings.
The outsides of the potatoes get nice and crisp, but the inside stays perfectly tender. If you like a little kick, try adding some hot sauce at the end!
5. Air Fryer Sausage Links
Whip up sausage links in a flash by popping some frozen ones in your air fryer! This recipe is perfect for busy mornings when you have one foot out the door.
They come out perfectly cooked every time and cleanup is a breeze!
>>>>See all of my recipes HERE<<<<
6. Cinnamon Roll Casserole
This 30-minute casserole tastes just like a classic cinnamon roll but with half the effort! In fact, you can use leftover baked cinnamon rolls or unbaked rolls straight from the tube.
To save time, you can even assemble this casserole the night before and let it soak in the creamy egg mixture overnight. The next morning, just bake, drizzle with vanilla icing, and enjoy.
7. Fruit Cocktail Salad
A fruit cocktail salad is a great way to add some color and sweetness to the plate. This recipe includes apples, bananas, strawberries, grapes, pineapple, and mandarin oranges tossed in a tasty sauce made with pineapple juice and vanilla pudding!
8. Overnight Oats with Yogurt
Overnight oats practically make themselves! Just combine milk, oats, Greek yogurt, honey, vanilla, and cinnamon in a mason jar and let it soften overnight.
The next day, top it with some fresh berries and you have a tasty side that will keep you full until lunchtime!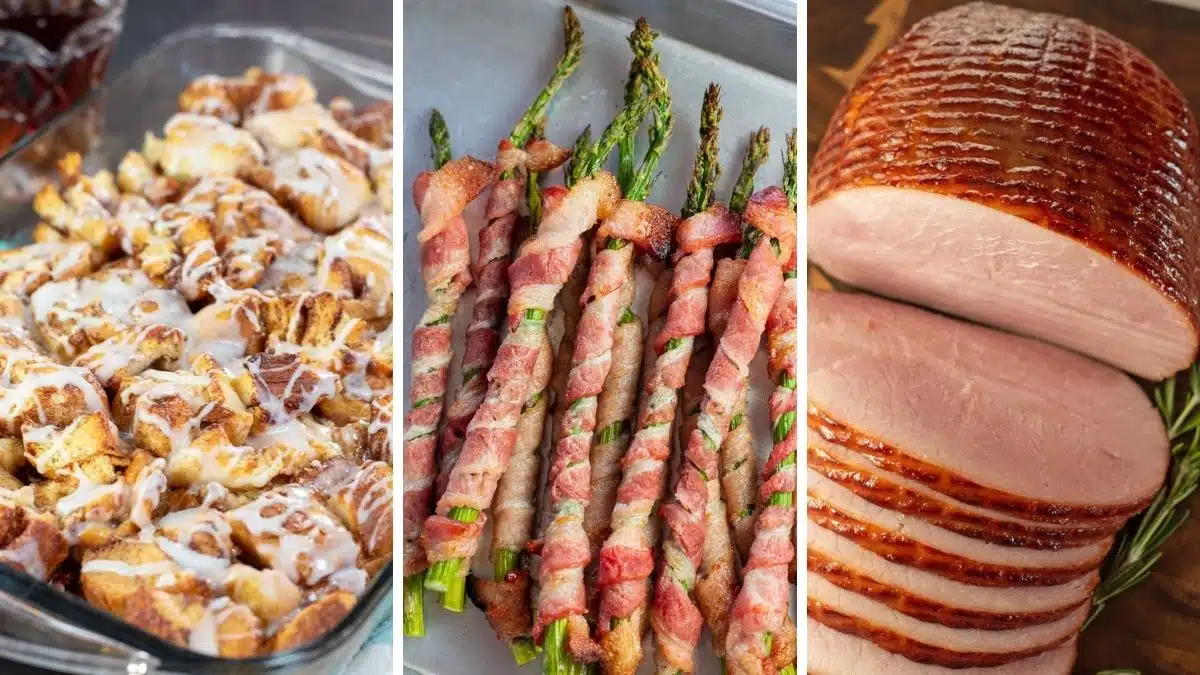 9. Baked Beans
Sweet and smokey baked beans are a Southern classic recipe that goes great with eggs in any form! My recipe includes ground beef and bacon for an extra savory version of baked beans that will have you savoring every bite.
10. Bread and Butter
You can't go wrong with a simple slice of bread and butter, toasted or not. If you really want to impress try making a loaf of whole-wheat bread from scratch!
It takes some time, but you can always bake a few loaves and freeze them for later so you have homemade bread on hand all the time!
11. Drop Biscuits
These drop biscuits are delectably fluffy and tender despite being made with just 3 ingredients! All it takes is self-rising flour, butter, and whole milk.
From start to finish, these biscuits only take about 18 minutes. You can butter them, spread them with jam, or enjoy them just as they are!
12. Sauteed Mushrooms and Onions
Try making a mushroom Swiss omelet with this easy recipe for sauteed mushrooms and onions! I like to pile the mushrooms and onions right on top of the omelet for a heartier breakfast, but you can always serve them on the side, too.
13. Bacon Wrapped Asparagus
Bacon-wrapped asparagus is one of my all-time favorite sides when I'm making brunch. Each stalk of asparagus is wrapped with a strip of bacon and baked until the asparagus is tender and the bacon is perfectly cooked.
Bacon makes everything better, and this recipe will have even the kids wanting to eat their veggies!
I hope these recipes helped you decide what to serve with omelets for breakfast or brunch! Come back and let me know which recipes you tried in the comments below!
🥞 More Breakfast Recipes
📋 Recipe