Muffin recipes can make an easy breakfast on the go, a great snack, or part of a well-rounded lunch, but there are so many to choose from! Some muffins are dessert-like, some are a great source of protein, or they can be slightly fruity, there are so many options! We've narrowed down our top muffin recipes so you can choose from the best of the best and find your family's new favorite muffins!
Best Muffin Recipes
There's nothing more convenient than grabbing a muffin to munch while you're on the go. They are one of the few foods that can be enjoyed as snacks, breakfast, lunch, and even dessert!
Muffins are incredibly easy to make in advance, so a batch can last you quite a while. Plus, there's a muffin recipe for almost any flavor combination you can think of!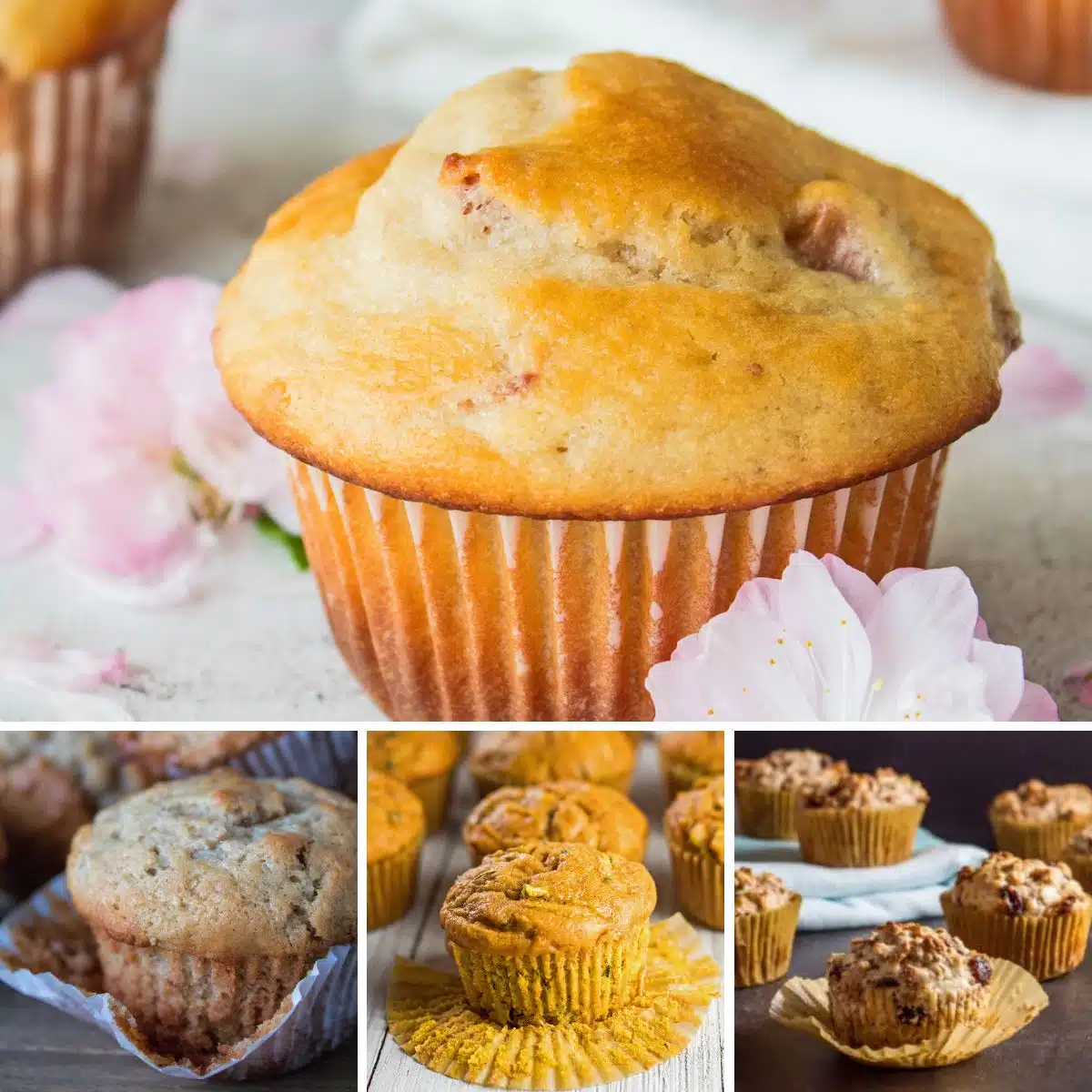 Jump to:
If you're searching for a new grab-and-go favorite for the family, any of these amazing muffin recipes will do. So take a look at our favorite muffins below. You are sure to love them just as much as we do!
1. Protein Powder Chocolate Banana Muffins
For an extra boost of protein or a pre/post-workout snack, try these protein powder chocolate banana muffins! The banana and chocolate flavors pair wonderfully, and the muffins are so fluffy and rich that you wouldn't know they are made with protein powder!
2. Pumpkin Zucchini Muffins
Who knew zucchini and pumpkin spice went so well together? These breakfast muffins are extra moist and totally fluffy.
They are a great way to get your day started and an easy way to squeeze some extra veggies into the kiddos!
3. Raisin Bran Muffins
Everyone's favorite raisin cereal turned into fluffy, delicious muffins! The muffins themselves are laced with cinnamon, and the bran flakes add a nice texture in contrast to the tender chunks of raisin.
Make the batter in advance, and you can have breakfast ready to go whenever you need it!
4. Strawberry Yogurt Muffins
Slightly tangy, sweet, and fruity, these strawberry yogurt muffins have it all! The yogurt keeps them flaky and moist after baking, and they are a great way to use up any yogurt that may soon be going to waste!
Best of all, you can use fresh or frozen strawberries!
5. Banana Nut Muffins
When I think muffins, I think banana nut. These classic muffins are always a hit!
The rich banana flavor is so satisfying at breakfast time, and the nuts add a lovely texture. Any time your bananas are starting to turn, forgo the banana bread and whip up a batch of these instead!
6. Whole Wheat Blood Orange Muffins
If you're looking for something unique and a bit more healthy, whole wheat blood orange muffins are the way to go. You can even make them sugar-free!
The citrus gives them a nice, bright flavor, and you can feel good about eating them day in and day out! These muffins are incredibly easy to customize to your dietary needs, so give them a try today!
>>>>See all of my recipes HERE<<<<
7. Apple Oatmeal Muffins
Apple and oatmeal is another classic breakfast flavor combination that will never steer you wrong! Fresh apples and applesauce provide extra sweetness, then you get the chunks of granola and oatmeal that make them oh-so-satisfying.
8. Banana Blueberry Muffins
These muffins are the perfect blend of sweet, fruity flavors with bright undertones of citrus! A batch of banana blueberry muffins is guaranteed to get your day started right.
They are incredibly easy to make and are sure to be a hit with the whole family!
9. Apple Banana Muffins with Streusel Topping
If dessert for breakfast sounds enticing, these apple banana muffins with streusel topping are just the thing you need! Fresh baked apples and crumbly brown sugar streusel smell heavenly in the morning, and there's nothing better than enjoying them warm right out of the oven!
10. Cinnamon Banana Muffins
If you aren't making banana bread, cinnamon banana muffins are another great way to use up those browning bananas! They're delicious with a cup of coffee at breakfast or as a mid-day snack!
11. Raspberry White Chocolate Muffins
These raspberry white chocolate muffins are sweet, with bursts of tart raspberries in every bite. The creamy white chocolate chips melt in the oven and tie all of the flavors together!
12. French Toast Muffins
Two breakfast classics come together in these delightfully tasty French Toast muffins! Add a sprinkle of powdered sugar and a drizzle of maple syrup, and enjoy!
Next time you feel like whipping up a batch of muffins, don't forget to come back and check out this list! Let us know which of these muffin recipes you'd like to try by commenting down below!
📋 Recipe