These pancake recipes feature my most well-loved pancakes, from classic buttermilk pancakes to unique gourmet pancakes! I've included some sweet chocolate pancakes, a variety of fruity flapjacks, and even a few international pancake recipes! Each one will make for a breakfast or brunch you won't forget!
Best Pancake Recipes
There's nothing quite like a pancake for breakfast, brunch, or even dessert - and there are so many delicious pancake toppings to choose from! Here's our list of the best pancake recipes, including everything from the classic buttermilk pancake to chocolate, apple, strawberry, and more great flavors!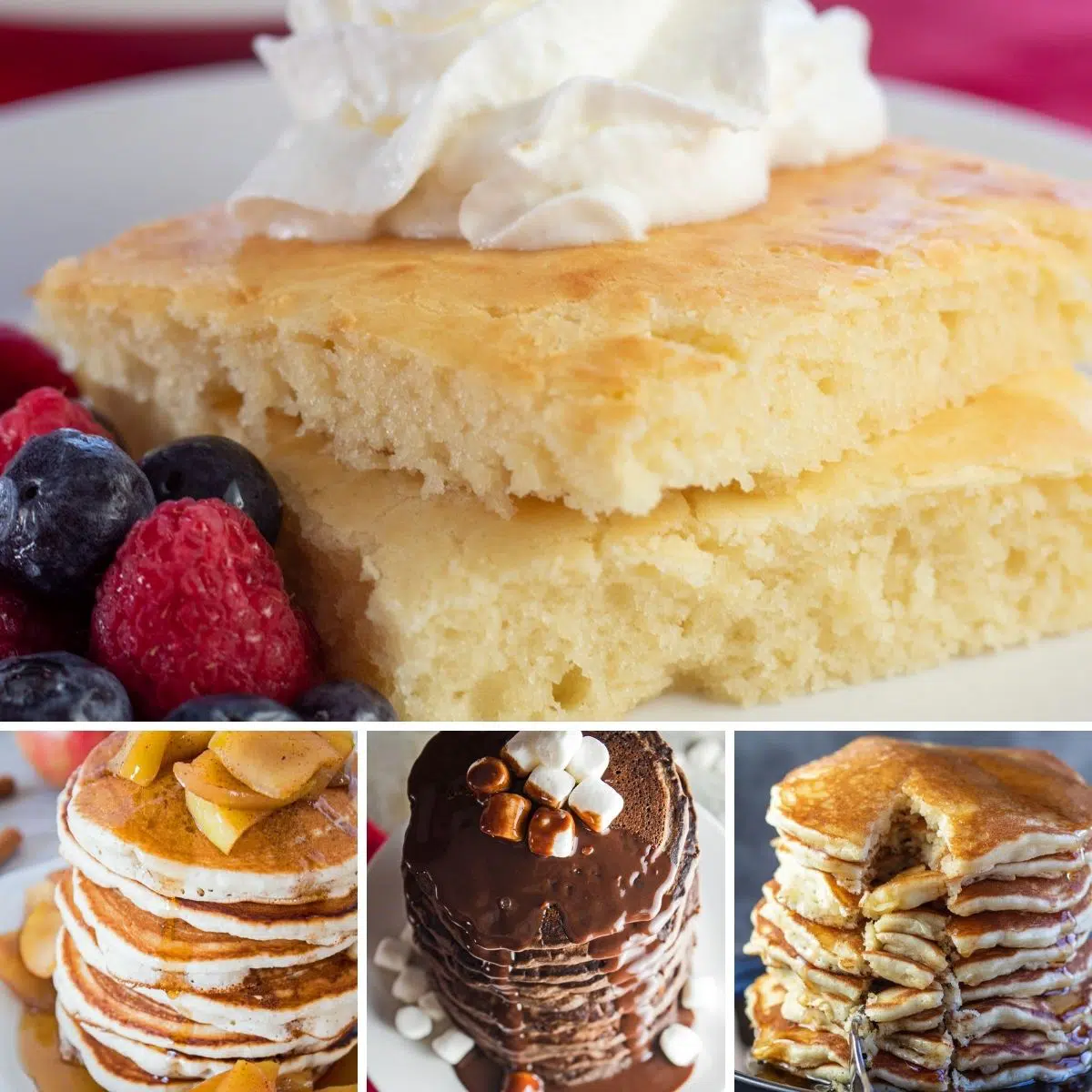 Jump to:
If you'd rather start with a box of pancake mix, there's no shame in that! Check out my page on how to make pancakes with mix better for tips, tricks, and suggestions!
1. Chocolate Pancakes
These rich chocolate pancakes are made with cocoa powder and chocolate chips for a delicious chocolate flavor. They turn out delightfully fluffy every time, and everyone loves chocolate, so they are always a hit!
2. Bisquick Pancakes
If you want pancakes in a jiffy on a busy morning, this classic Bisquick pancake recipe is the way to do it! Thanks to the pre-made baking mix, these pancakes are so easy even kids can make them!
3. Sheet Pan Pancakes
Sheet Pan Pancakes are the perfect way to serve a crowd without having to stand in the kitchen and slave over a griddle or skillet. No more flipping flapjack after flapjack when you can just pop the batter in the oven and slice everyone a square!
4. Buttermilk Pancakes
If you want fluffy pancakes just like grandma used to make, buttermilk pancakes are as classic as they get. These golden, delicious pancakes are a weekend family tradition!
5. Blueberry Pancakes
One of the most popular flavors, this list would not be complete without blueberry pancakes! The blueberries add just the right amount of fresh, fruity sweetness to these perfectly fluffy pancakes.
Not to mention, my featured homemade blueberry syrup puts Ihop's to shame!
6. Apple Cider Pancakes
These delicious spiced pancakes feature all of your favorite fall flavors topped off with incredible fried apples and caramel apple syrup! The smell of fragrant cinnamon and fresh apples will fill your house when you make these incredible gourmet pancakes.
7. Japanese Pancakes
When it comes to pancakes, Japan knew what they were doing when they made these incredibly thick and fluffy pancakes. They take a few more minutes to cook, but the wait is well worth it for a bite of one of these dreamy pancakes.
8. Dutch Babies
Dutch babies are actually thin German egg pancakes that can be cooked right in your cast-iron skillet. They make a wonderful base for any toppings- you can go sweet or savory!
Better yet, offer up a spread of toppings so everyone can customize their own!
10. Pancakes Without Eggs
If you are out of eggs or have an egg allergy, you'll be happy to know you can still whip up some tender, fluffy flapjacks! These pancakes look and taste just like classic homemade pancakes, you won't notice a thing.
11. Air Fryer Pancakes
If you need a few pancakes in a flash, the air fryer is a great tool to make them (mess-free) in minutes! You don't even have to flip them!
12. Dutch Pancakes (Pannenkoek)
These thin Dutch pancakes are perfectly tender and taste wonderful with fresh fruit and whipped cream! They're somewhat of a cross between a crepe and a pancake, and it's delicious!
13. Aebleskiver (Danish Stuffed Pancakes)
These golden balls of pancake goodness are hollow inside, so you can fill them full of all sorts of goodies! Fruit, jam, chocolate, whipped cream, you name it!
14. Puffed Dutch Pancakes (Poffertjes)
These round and fluffy Dutch pancakes are fabulous with a dusting of powdered sugar or with a scoop of vanilla ice cream as dessert! You can even make them and freeze them for later!
15. Mini Silver Dollar Pancakes
It's just like classic pancakes but cute and more fun to eat! Kids love getting to customize each of their tiny pancakes with different toppings!
16. Homemade Pancakes
My go-to recipe for made-from-scratch pancakes that never disappoints. This is a recipe you'll want to save and make over and over again!
>>>>See all of my recipes HERE<<<<
17. Banana Pancakes
Banana pancakes are a fun twist on your classic pancakes topped with bananas. Instead of a few banana slices adorning the top of your pancakes, the yummy banana flavor is baked right in! It's one of my all-time favorite banana recipes!
18. Nutella Pancakes
These easy Nutella pancakes are always a hit with kids and adults alike. The Nutella is added to the batter to get that delicious chocolatey hazelnut flavor that everyone knows and loves.
19. Strawberry Pancakes
Another fruity favorite is strawberry pancakes! Chunks of fresh strawberries are scattered throughout these fluffy vanilla pancakes.
They are always a family favorite and such a treat to eat!
20. Peanut Butter Pancakes
I grew up putting peanut butter on pancakes, but what about peanut butter in pancakes!? These pancakes are so easy to make, and the combination of peanut butter and maple syrup is almost better than peanut butter and jelly!
21. Pumpkin Pancakes
Another fall favorite pumpkin recipe, pumpkin pancakes will satisfy your pumpkin spice cravings. These fluffy pancakes feature cinnamon, fresh or canned pumpkin, and brown sugar.
They are a fantastic breakfast during cold fall mornings, but you can (and should) enjoy them any time of year!
Whether you're looking for a classic pancake or something a little more adventurous, there's an amazing pancake recipe here for everyone! So go ahead and treat yourself to one of these delicious pancakes today!
📖 Recipe Card