I have put together a list of tips and tricks for how to make pancakes with mix fluffier and better so that they taste (almost) homemade! These tricks are easy to do and will certainly elevate your pancakes to the next level! Keep reading to find out all the tricks for making the best, most convenient, pancakes.
How to Make Pancake Mix Pancakes Fluffier & Better
The great thing about a pancake mix is that it is quick and easy. That means you can have your favorite tasty breakfast ready to go in a few minutes. However, one downside of a pre-mixed pancake batter is that it loses some homemade benefits like the light and fluffy texture.
If you miss the homemade fluffy texture of pancakes but still want the ease of using a mix, keep reading. I've got several tricks to help you make your pancake mix pancakes fluffier – just like the homemade version!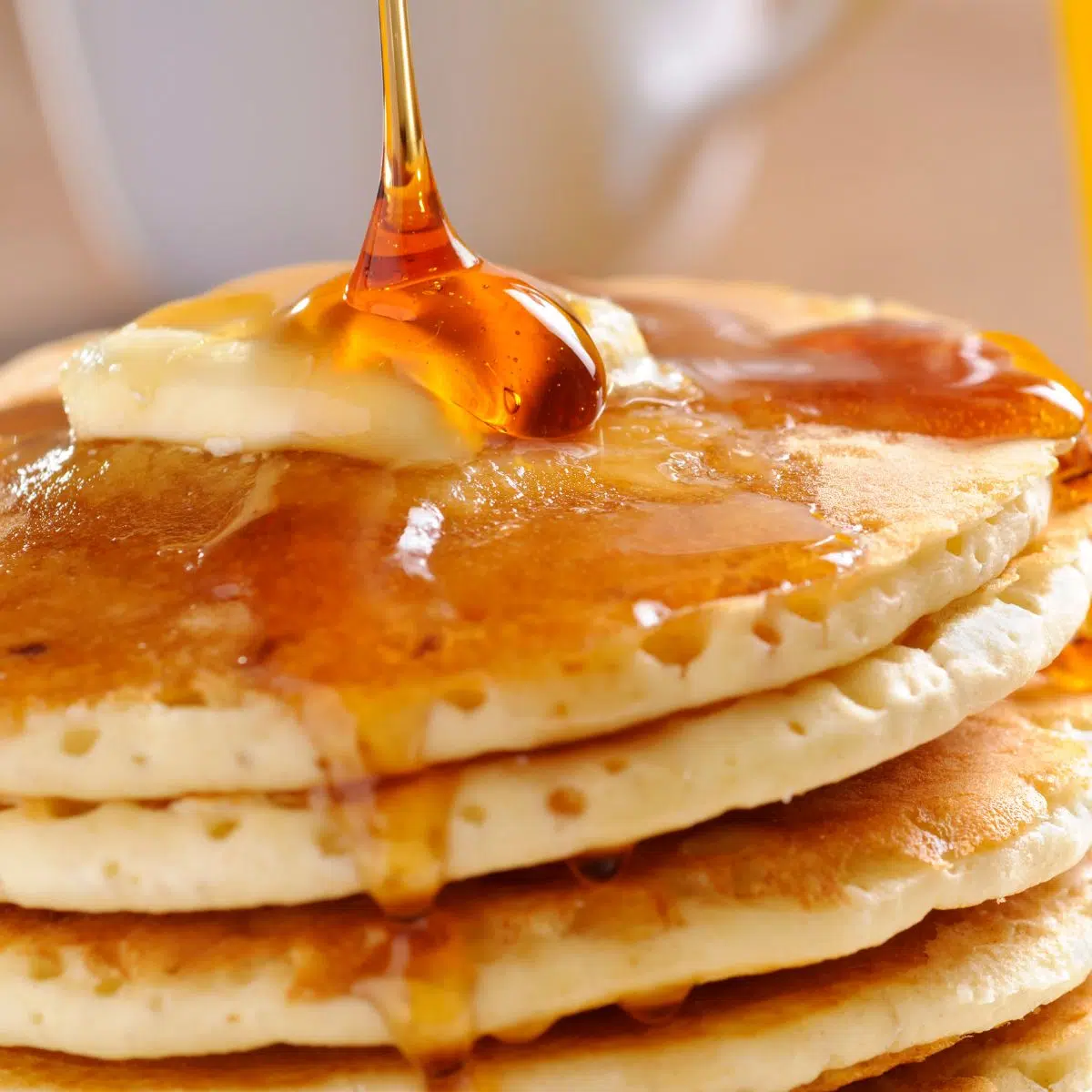 Jump to:
1. Sift The Mix
Before replacing or adding any ingredients the easiest place to begin is to sift your dry ingredients. This is a standard step when making homemade pancakes and can also be done for pancake mixes.
Sifting the dry ingredients helps get out any clumps. This creates a finer mixture that leads to a fluffier pancake. Simply run the pancake mix through a sifter before adding any other ingredients. If you don't have a sifting tool, you can get a similar result by using a fork to stir the dry mixture in the bowl before adding any of the other ingredients.
2. Replace Water With Buttermilk
Most pancake mixes call for water in the directions. However, water is bland and boring. So, while it is the easiest and cheapest option if you want fluffier pancakes consider swapping it out.
Buttermilk is the best alternative for water. It has a higher fat content that creates a texture that is more like homemade pancakes. Moreover, it adds the flavor of a home-cooked buttermilk pancake!
While this does require you to have buttermilk on hand, it is an easy addition to get fluffy pancakes from a box. Simply replace the water with an equal amount of buttermilk.
How To Make Your Own Buttermilk
If you don't have buttermilk at home, but you have regular milk then you can make your own buttermilk. Combine 1 cup whole milk with 1 tablespoon lemon juice (or vinegar) in a cup. Stir and then let sit at room temperature for 15 minutes.
When the milk has curdled and is thicker you have buttermilk. Use it in a 1:1 replacement for water in your pancake mix.
3. Less Water (For Fluffier Pancakes)
If you are going to stick with water, you can lean towards a fluffy texture by using less of it. Less water creates a thicker batter. A thicker batter leads to a thicker and fluffier pancake.
For most pancake mixes you will want to start with ½ the amount of water that the directions call for. Depending on the brand or if you add additional ingredients (like an extra egg) this may be a good consistency. However, it may be too thick.
If it is too thick, slowly add more water until you get a consistency that is thicker than the standard mix but still easy to cook with.
4. Add Plain Yogurt
As mentioned above, a thicker pancake batter leads to a fluffier pancake batter. In addition to using less liquid, another way to create a thick batter is to add plain yogurt.
Plain yogurt not only helps thicken pancake batter but also adds a lovely rich texture and flavor. It is similar to the same results you see when using buttermilk.
Rather than just using less liquid replace half of the liquid with plain yogurt. For example, if the directions call for 1 cup of water use ½ cup water + ½ cup of plain yogurt. In addition to regular plain yogurt, you can also use plain Greek yogurt (full-fat works best in both cases).
5. Use Cold Liquids
Another easy thing to do is use ice cold water. The reasoning behind this is that cold water reacts more like cold milk. This helps create a consistency that is closer to milk-based pancake batter. Therefore, make sure your milk or buttermilk is cold too! Take it straight out of the fridge before using it (if you make your own buttermilk put it back in the fridge after it sours to chill).
6. Less Mixing (For More Fluffiness)
While air bubbles aren't ideal in some recipes, they are ideal for pancakes! Little air bubbles are what lead to a fluffy pancake. Unfortunately, the more you mix your batter the more air you let out of the batter. Therefore, for the fluffiest pancakes, you want to mix the better less.
Rather than full-on mixing the batter, gently stir it. Moreover, always do this by hand as using an electric mixer will only lead to flat pancakes.
7. Add Melted Butter
Butter really does make everything better. Including pre-packaged pancake mixes. Even though your directions probably don't call for butter, it is a simple addition that will elevate any basic mix.
Simply melt a tablespoon or two of butter and stir it into your mixture. Add it once everything else has been mixed and just before you add the batter to the pan.
8. Add An Egg
The great thing about a pre-mixed pancake mix is that you don't have to have extra ingredients on hand, including eggs. Most dry pancake mixes use a dried egg replacement so that you can simply add water.
However, when going for that homemade taste and texture a real egg can make a big difference. If you have an extra egg on hand, simply add it to your pancake batter. This will enrich both the flavor and texture of your pancakes.
9. Add An Egg White
If you have the time, add an egg white instead of a whole egg. I say if you have time because to get the added fluff benefit you will need to beat the egg white. Once you have a stiff egg white, fold (don't stir) it into your batter.
You can still use the whole egg as well. Simply add the yolk first and stir. Then, add the beaten egg white.
10. Let The Batter Sit
One of the easiest things you can do that doesn't require changing anything in how you make your batter is to simply let it rest. After everything is mixed, let the bowl of batter sit at room temperature for 15 minutes.
By letting the batter sit you allow the gluten to soften. It also helps create more air bubbles. In return, the consistency of the batter will be lighter, which in turn, leads to lighter and fluffier pancakes.
While this adds 15 minutes to a quick pancake mix it is worth the extra time. Use the 15 minutes to prepare your other breakfast items, like eggs and bacon. Then everything is ready to go when you start cooking the pancakes.
11. Preheat The Pan
Patience is your friend if you want the perfect pancake. Especially when it comes to how it is cooked. When making pancakes, whether from a mix or homemade, take time to let your pan preheat.
Preheating your pan will ensure that when you add your batter the pancake will cook at the right speed. If the pan is not hot enough, then the batter will just sit there and often become thick and dense.
On the other hand, if the pan is too hot the batter will quickly cook on the outside but not on the inside. Then you will end up with a flat pancake because you have to cook it longer to get the middle done.
For the best results, preheat the pan on medium heat for several minutes before adding your first pancake. If you notice the pancakes cooking too quickly (the more that you cook) then lower the heat a bit.
While these tips will elevate a basic pancake mix sometimes you may have the time to make pancakes from scratch. To ensure that your homemade pancakes get the same level of fluffiness, you will want to follow many of the tips above.
🍽️ More Cooking Tips & Tricks
Do you love a recipe you tried? Please leave a 5-star 🌟rating in the recipe card below and/or a review in the comments section further down the page.
Stay in touch with me through social media @ Pinterest, Facebook, Instagram, or Twitter! Subscribe to the newsletter today (no spam, I promise)! Don't forget to tag me when you try one of my recipes!
📋 Recipe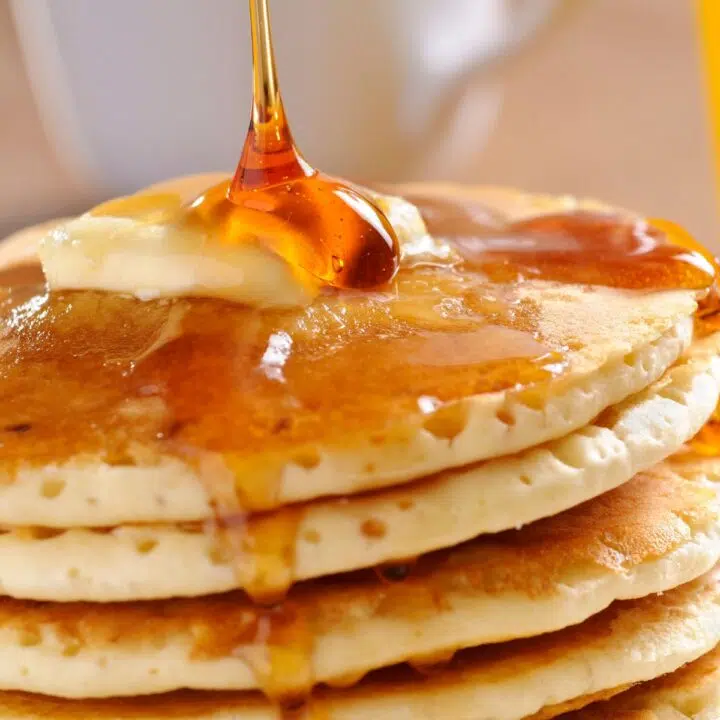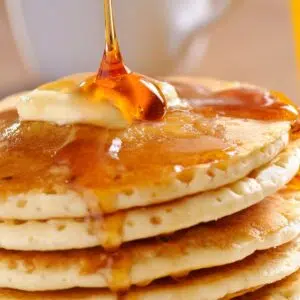 Print Recipe
Leave A Comment
Love This Recipe?
Click On A Star To Rate It!
How To Make Pancakes With Mix Better & Fluffier: Bisquick Pancakes (+ Amazing Tips!)
I have put together a list of tips and tricks for how to make pancakes with mix fluffier and better so that they taste (almost) homemade! These tricks are easy to do and will certainly elevate your pancakes to the next level! Keep reading to find out all the tricks for making the best, most convenient, pancakes.
Pin Recipe
Share on Facebook
Ingredients
Ultimate Pancake (additions)
Help Us Out!
If you love a recipe, be sure to come back and share your ratings. This helps future users, and allows me to continue sharing free recipes! Angela
Instructions
Heat a skillet over medium-low heat, or your griddle to 350°F (175°C) and coat with melted butter or non-stick cooking spray.

In a medium mixing bowl combine either just the base ingredients for the 'classic' Bisquick pancakes, including Bisquick baking mix, milk, and large eggs.

2 cups Bisquick,

1 cup milk,

2 large eggs

If desired, add the optional ingredients for the 'ultimate' Bisquick pancakes, including sugar, baking powder, vegetable oil (or melted butter), and vanilla extract or paste.

3 tablespoon sugar,

2 teaspoon baking powder,

2 tablespoon vegetable oil,

1 teaspoon vanilla extract

Stir until combined, and lumps in pancake batter are totally OK. Portion out the batter into your heated skillet or onto your griddle in scant ¼ cup portions.

Cook on the first side for 30 seconds to a minute, until the surface bubbles have popped and the edges are dry enough to get your spatula under. Flip and cook for an additional 30 seconds.

Remove from your skillet or griddle when done and repeat as needed.
Equipment You May Need
Notes
*Nutrition information is for the 'ultimate' pancakes only, without butter, syrups, spreads, or toppings.
For thinner pancakes, increase the milk amount to 1 ½ cups.
I like a bit more vanilla in my pancakes. You can easily add up to ½ tablespoon.
Try adding maple syrup instead of vegetable oil. Use 1 tablespoon syrup and omit the vanilla extract.
Pancakes are best when served with slightly warmed syrup. Portion your syrup into a microwave-safe carafe or jar and heat in 30-second increments until warm.
Nutrition
Calories:
202
kcal
(10%)
|
Carbohydrates:
29
g
(10%)
|
Protein:
6
g
(12%)
|
Fat:
7
g
(11%)
|
Saturated Fat:
2
g
(13%)
|
Polyunsaturated Fat:
1
g
|
Monounsaturated Fat:
3
g
|
Trans Fat:
1
g
|
Cholesterol:
55
mg
(18%)
|
Sodium:
474
mg
(21%)
|
Potassium:
247
mg
(7%)
|
Fiber:
1
g
(4%)
|
Sugar:
11
g
(12%)
|
Vitamin A:
150
IU
(3%)
|
Vitamin C:
1
mg
(1%)
|
Calcium:
162
mg
(16%)
|
Iron:
1
mg
(6%)
Bisquick Pancakes, Bisquick recipes, How To Make Pancakes With Mix Better & Fluffier, ultimate pancakes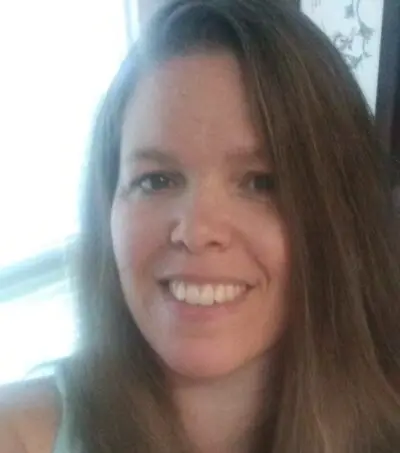 Angela is an at home chef that developed a passion for all things cooking and baking at a young age in her Grandma's kitchen. After many years in the food service industry, she now enjoys sharing all of her family favorite recipes and creating tasty dinner and amazing dessert recipes here at Bake It With Love!