The best apples for apple pie are the ones that will make a delicious, tasty pie without becoming too soft and mushy! Apples can vary by flavor, texture, and consistency. Before picking out some apples for your next pie, make sure to check out this list of which ones are the best for the job!
What Are The Best Apples For Apple Pie
Not all apples are created equal. Some are great for snacking, some are great for juicing, and some are great for making the perfect apple pie!
Multiple factors go into deciding which apple varieties make the best pie. You'll need an apple that has a great amount of flavor, a smooth texture, and is firm enough to withstand the baking process without turning into a mushy mess.
Jump to:
Of course, with 7,500 varieties, there are a lot of different apples to choose from. But don't worry! I did some research and put together this list of the best apples for apple pie!
Plus, if you love apples and using them for baking, check out my all-time favorite apple recipes!
1. Crispin
Also known as Mutsu, this apple is an extremely popular variety for baking into pies! It is nice and firm so it won't break down too much while being baked.
Additionally, it has a sweet honeyed flavor that will make an extra delicious pie! It is a crunchy, sweet, refreshing, and ridiculously juicy apple!
These apples are much bigger than other varieties, so you won't need as many (which means less peeling)!
2. Honeycrisp
If I could only choose one apple as the best for pie, it would be the Honeycrisp! This variety happens to be the most widely planted type of apple tree in the entire country- because it's an all-around great apple!
While this apple is fantastic for snacking, it is also one of the best for pie making! It is wonderfully crisp and always maintains its firmness during baking.
This variety is crisp and juicy (hence the name) and is extremely popular for using in pies! It is a great complement for practically every other apple variety, so it can be mixed or combined in any way you want!
It is only in season for a short period of time (September through November), so don't forget to grab some when they come around!
3. Granny Smith
Granny Smith apples are the classic green apple that is available to purchase everywhere! This wonderfully tart, tangy, and crisp apple will not lose its structure in the oven!
In fact, it is a staple, never-fail apple for any baking need you might have!
Granny Smith apples are very similar to the Honeycrisp in terms of juiciness, crunchiness, and are great for baking. However, Honeycrisps are very sweet while the Granny Smiths are very tart!
Since this apple is on the much tarter end of the spectrum, I suggest pairing it with a sweeter apple variety (such as Honeycrisp) for an all-around perfect pie!
4. Pink Lady
Pink lady apples are available all year long because it has an amazingly long storage life. They have a great level of firmness so they won't completely disintegrate in the oven into a mushy mess.
Pink ladies are a perfect balance between sweet and tart. The flavor is on the milder side, so it is a great apple for pairing with a more rich variety (like Braeburn). Plus, they don't oxidize very quickly, so they can easily be prepped ahead of time.
5. Golden Delicious
This extremely versatile apple is great for so many baking needs. It is great for pretty much anything you could want an apple for, and a pie is no exception!
The Golden Delicious is as sweet as it gets! It has a rich, mellow flavor that is amazingly popular! The mild-yet-sweet profile of this apple makes for one delicious apple pie.
Additionally, it will bake beautifully in the oven but will become softer than some other varieties, so I suggest pairing it with a firmer, boldly flavored apple (such as a Braeburn).
6. Northern Spy
This apple has a perfect level of firmness for baking. It is mostly sweet with a perfect hit of tartness!
It is not as common or well-known as some of the other varieties, but people that have tried Northern spy apples swear they are the best pie apple there is!
These apples are not as easy to come across as most of the other varieties on this list. You may not be able to find it at your local grocery store, but don't worry, you can probably find it at a farmer's market!
If you see northern spy apples anywhere, buy them- they are worth it!
7. Jonagold
If you haven't heard of this apple before, it is a wonderful blend of Jonathan and Golden Delicious apples.
This apple is tart with a hint of sweetness. It has such a great flavor profile that you can make an apple pie with only this apple, or you could mix it with some Granny smith apples to get a fantastic sweet and tart combination!
8. Braeburn
Braeburn apples are one of the top 5 apple varieties produced in the United States- and it is for good reason! It has a sharp, spicy, sweet-but-not-sugary, and completely refreshing flavor!
This apple is exceptionally crisp! It will be juicy and flavorful after being baked, but is still firm enough to keep its shape! This is an all-purpose apple that is great for so many different things.
Braeburn apples have a strong apple flavor and doesn't need the company of another apple variety. They make a delicious pie all by themselves!
9. Cortland
Cortland apples are related to the very well-loved McIntosh, but are much firmer and hold their shape nicely when baked. It is juicy with a hint of tartness, and it can easily be the only apple variety in your pie!
This apple doesn't brown too quickly either, so is extra beautiful when cut and you won't have to worry about discoloration while you are prepping your apple pie filling.
Wait! Aren't You Forgetting McIntosh Apples?
McIntosh apples are delicious and full of a perfectly sweet flavor, don't get me wrong! In fact, many bakers love to use McIntosh apples for apple pies!
However, this variety of apple breaks down a lot when it spends time in the oven. So while the apple pie may have a wonderful flavor, it is essentially applesauce with a pie crust.
But hey, if that's what you're looking for then go for it! It's still a ridiculously delicious apple pie to bake up for any occasion!
If you do opt for adding the perfect McIntosh flavor into a pie but don't want complete mush, you can use half of one McIntosh apple (that is cut into very small pieces). Combine the diced McIntosh apple pieces with both Honeycrisp and Granny Smith apples for the ultimate apple pie!
I hope this list of the best apples for apple pies has helped to guide you on your journey of making the best pie ever! Leave a comment in the section below and let me know which apple (or combination of apples) is your all-time favorite for pie making!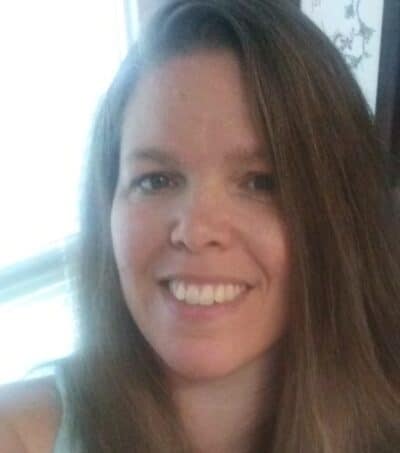 Angela is an at home chef that developed a passion for all things cooking and baking at a young age in her Grandma's kitchen. After many years in the food service industry, she now enjoys sharing all of her family favorite recipes and creating tasty dinner and amazing dessert recipes here at Bake It With Love!