Check out this grill temperature guide to find out the perfect temperatures needed for all of your favorite grilled dishes! Whether you're cooking steak, burgers, or veggies, you'll need to know how hot your grill needs to be to get perfectly cooked food. Bookmark this guide for any time you're getting ready to fire up the grill!
Ultimate Grill Temperature Guide
Whenever a recipe tells you to cook your meat on a grill over medium-high heat, do you know exactly what that means? When discussing different heat levels on a grill, it's important to know that they are actually a range of degrees, and not an exact temperature.
Each temperature range on a grill serves a purpose and is best suited for different foods, so its important to understand what temperature you need to be using! Choosing the best heat will ensure that your food is cooked perfectly every time!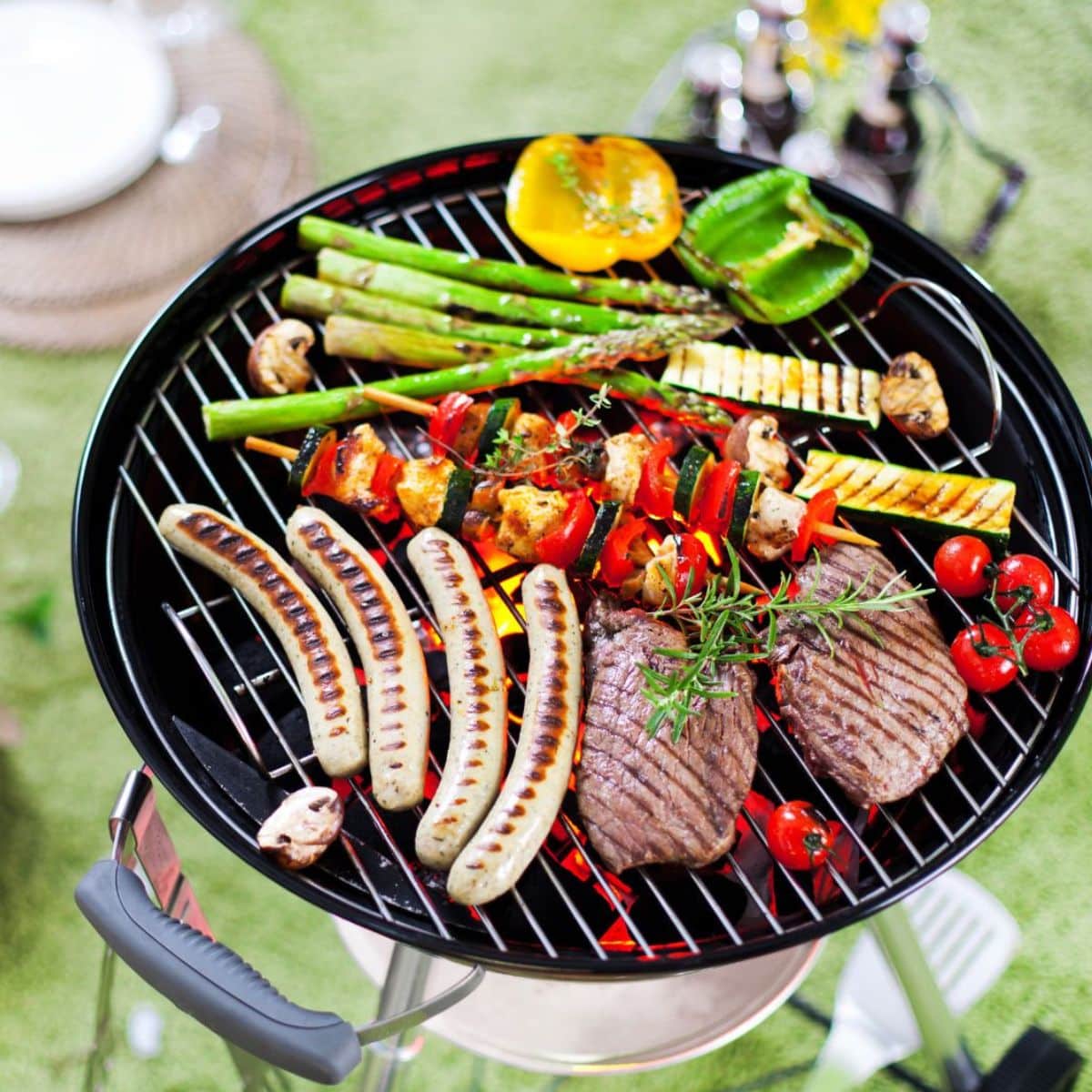 Jump to:
If you love to grill, check out my list of the best BBQ grilling recipes!
Grill Temperatures At A Glance
| | | | |
| --- | --- | --- | --- |
| Level | Temperature (°F) | Temperature (°C) | Great For Cooking |
| High Heat | 450°F+ | 232°C+ | Searing Steak, Kebabs |
| Medium-High Heat | 375° - 450°F | 191° - 232°C | Burgers, Poultry (Boneless), Seafood, Veggies |
| Medium Heat | 325° - 375°F | 163° - 191°C | BBQ Meat, Poultry (Bone-In) |
| Medium-Low Heat | 250° - 325°F | 121° - 163°C | Sausages, Brats, Whole Potatoes |
| Low Heat | 225° - 250°F | 107° - 121°C | Slow Cooked Meats, Smoking, Barbecue |
Grill temperature conversions from text description (low, medium, high heat) to Fahrenheit and Celsius.
Temperature Descriptions
High: This high heat is for foods that cook quickly (and are turned frequently) or need a good sear. High heat is ideal for steaks, kabobs, and pork chops. It's also great for making those beautiful grill marks!
Medium-High: Medium-high heat is great for medium-rare burgers and steaks as well as foods like pineapple.
Medium: This mid-range temperature is fantastic for a huge variety of different things. You can cook roasts, fish, bone-in poultry, hamburgers, and veggies.
Medium-Low: Medium-low heat is perfect for foods that need to be cooked more gently, such as baked potatoes and soft fruits or veggies.
Low: When temperatures are this low, it really becomes true barbeque. This is great for cooking meats low and slow, or using your grill as a smoker. It's great for brisket, ribs, and pork shoulder.
How To Check Grill Temperature
The best and most accurate way to check the temperature of your grill is by using a grill thermometer. Many grills come with a thermometer already built in. If yours doesn't, they are relatively cheap to purchase and easy to use!
A commonly used method to quickly estimate what temperature your grill is at is to use your hand. First, hold your hand about 3-6 inches above the grate of the grill. If you can stand the heat for 6 to 7 seconds, your grill is at a medium heat level. 4-5 seconds is medium-high heat and 1-2 seconds is high heat.
Types Of Grills
Charcoal: Charcoal grills are known for the delicious, smoky flavor that they add to the foods being cooked. They are one of the most popular grill options and operate by using charcoal briquettes.
These types of grills do require some more effort than the others, as it takes longer to get the fire going (about 45 minutes to preheat) and they do have a longer cleanup process. However, the flavor payoff is more than worth it!
Gas: Gas grills are another one of the most popular options since they are convenient and easier to operate than a charcoal grill. Typically, these grills are powered via propane tanks, but some do use natural gas.
You'll lose the specific flavor that charcoals offers, but you'll gain the bonus of convenience. Just turn the nob and you're ready to get started!
Electric: Electric grills are far less common than charcoal and gas options. However, they have their purpose- mainly with people who have codes and regulations that prevent them from being able to use a gas or charcoal grill.
They're ridiculously simple to use with practically no cleanup. Electric grills will get the job done, but you won't have any authentic grill flavoring.
🍖 Best Grilled Meat Recipes!
I hope this grill temperature guide helped you figure out the perfect temperatures for all of your favorite dishes! Leave a comment down below and let me know your favorite food to grill!
📋 Recipe
Print Recipe
Leave A Comment
Love This Recipe?
Click On A Star To Rate It!
Grill Temperature Guide: Grilled Chicken Quarters (+Perfect Grilling Temperatures For Any Dish!)
Check out this grill temperature guide to find out the perfect temperatures needed for all of your favorite grilled dishes! Whether you're cooking steak, burgers, or veggies, you'll need to know how hot your grill needs to be to get perfectly cooked food. Bookmark this guide for any time you're getting ready to fire up the grill!
Pin Recipe
Share on Facebook
Ingredients
1

lb

chicken leg quarters

(bone-in, skin on)

1

tablespoon

BBQ chicken rub

(see recipe, or use your own)

¼

cup

BBQ sauce

(optional- your favorite brand, use more if desired)

1

teaspoon

liquid smoke

(optional)

2

tablespoon

light brown sugar

(optional)
Instructions
Prepare The Chicken Thighs
Rinse the chicken under cool water then thoroughly pat it dry with paper towels (*see note).

1 lb chicken leg quarters

Rub the BBQ seasoning all over the chicken, massaging it into the meat. Let the chicken legs sit in the seasoning for 40 minutes so the juices can get flowing and the meat can absorb all of the flavors.

1 tablespoon BBQ chicken rub

Just before the 40 minutes are up, preheat your grill to 400°F (205°C). Prepare 2-zone spaces on your grill over direct and indirect heat.
Grill The Chicken Quarters
Put the seasoned chicken leg quarters on the hot grill over direct heat, skin-side-up. Grill for 7-10 minutes, then flip and grill for 4-5 minutes on the opposite side (bone-side-up). Return the chicken so the skin side is facing up, until your chicken reaches an internal temperature of 165°F (74°C).

(optional) Combine the BBQ sauce, liquid smoke, and/or light brown sugar in a small bowl. Flip the chicken legs over skin-side-up once more, then move them over indirect heat.

¼ cup BBQ sauce,

1 teaspoon liquid smoke,

2 tablespoon light brown sugar

(optional) Spread about 1 generous tablespoon of the BBQ mixture evenly over each of the legs. Close the lid to the grill and allow the sauce to caramelize for 2-3 minutes.

Remove the chicken leg quarters from your grill and set them aside to rest for 5-10 minutes before serving. Serve with a side of BBQ sauce, if desired.
Equipment You May Need
Notes
The USDA does not recommend rinsing your chicken, however, I always rinse meats before cooking to remove any loose bone shards (which I have found in the packaging more than once). 
Thoroughly drying off your chicken is an important step in getting perfectly crispy skin!
If there are any loose or hanging bits of fat or skin, trim them off to prevent grill flare-ups. 
The salt in the BBQ rub will pull moisture out of the meat. Because of this, it is best to put the chicken on the grill immediately after seasoning (within 3 minutes), or after the seasoning has had a chance to sit on the meat for at least 40 minutes (this gives it time to reabsorb the juices). 
The safe internal temperature of cooked chicken is technically 165°F (74°C), but with bone-in, skin-on chicken it is best to aim for 175-180°F (79°-82°C). At this temperature the fibrous tissues begin to melt, leaving behind juicy, tender chicken!
To store: Your leftover grilled chicken leg quarters should be kept refrigerated in an airtight container for up to 4 days. You may freeze them in an airtight container or heavy-duty freezer bag for up to 3 months. Thaw overnight in the fridge before reheating. 
To reheat: Put the chicken legs in a baking dish and cover them with foil. Bake at 350°F (175°C) for 15-20 minutes, or until heated all the way through.
Nutrition
Calories:
276
kcal
(14%)
|
Carbohydrates:
16
g
(5%)
|
Protein:
16
g
(32%)
|
Fat:
16
g
(25%)
|
Saturated Fat:
4
g
(25%)
|
Polyunsaturated Fat:
3
g
|
Monounsaturated Fat:
7
g
|
Trans Fat:
0.1
g
|
Cholesterol:
94
mg
(31%)
|
Sodium:
264
mg
(11%)
|
Potassium:
272
mg
(8%)
|
Fiber:
1
g
(4%)
|
Sugar:
12
g
(13%)
|
Vitamin A:
213
IU
(4%)
|
Vitamin C:
1
mg
(1%)
|
Calcium:
55
mg
(6%)
|
Iron:
2
mg
(11%)
grill temp conversions, grill temperature guide, Grilled Chicken Quarters, how to grill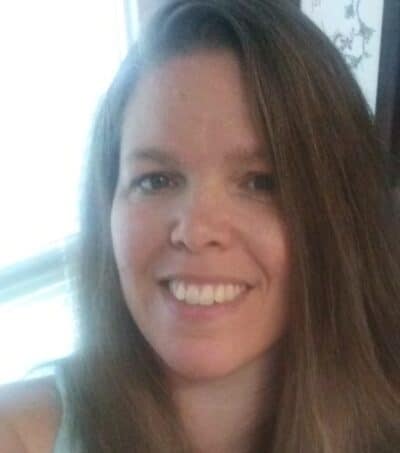 Angela is an at home chef that developed a passion for all things cooking and baking at a young age in her Grandma's kitchen. After many years in the food service industry, she now enjoys sharing all of her family favorite recipes and creating tasty dinner and amazing dessert recipes here at Bake It With Love!