It's grilling season, and I have gathered the best grill recipes just in time for all your summer activities! Delicious, diverse, and tasty, these recipes will bring great textures and incredible flavor to your picnic table!
The Best Grilled Recipes
Grilling is an activity everyone enjoys, the smell of the charcoal and wood to the taste of the beautiful grill marks, you can't go wrong! Savor my recipes and use them all summer long, I have a grilled recipe for any occasion and for any dietary needs!
In the nice heat of the sun, sitting by the pool, what sounds better than a grilled lunch or dinner? So put on your sunscreen, fire up that grill and get the party started!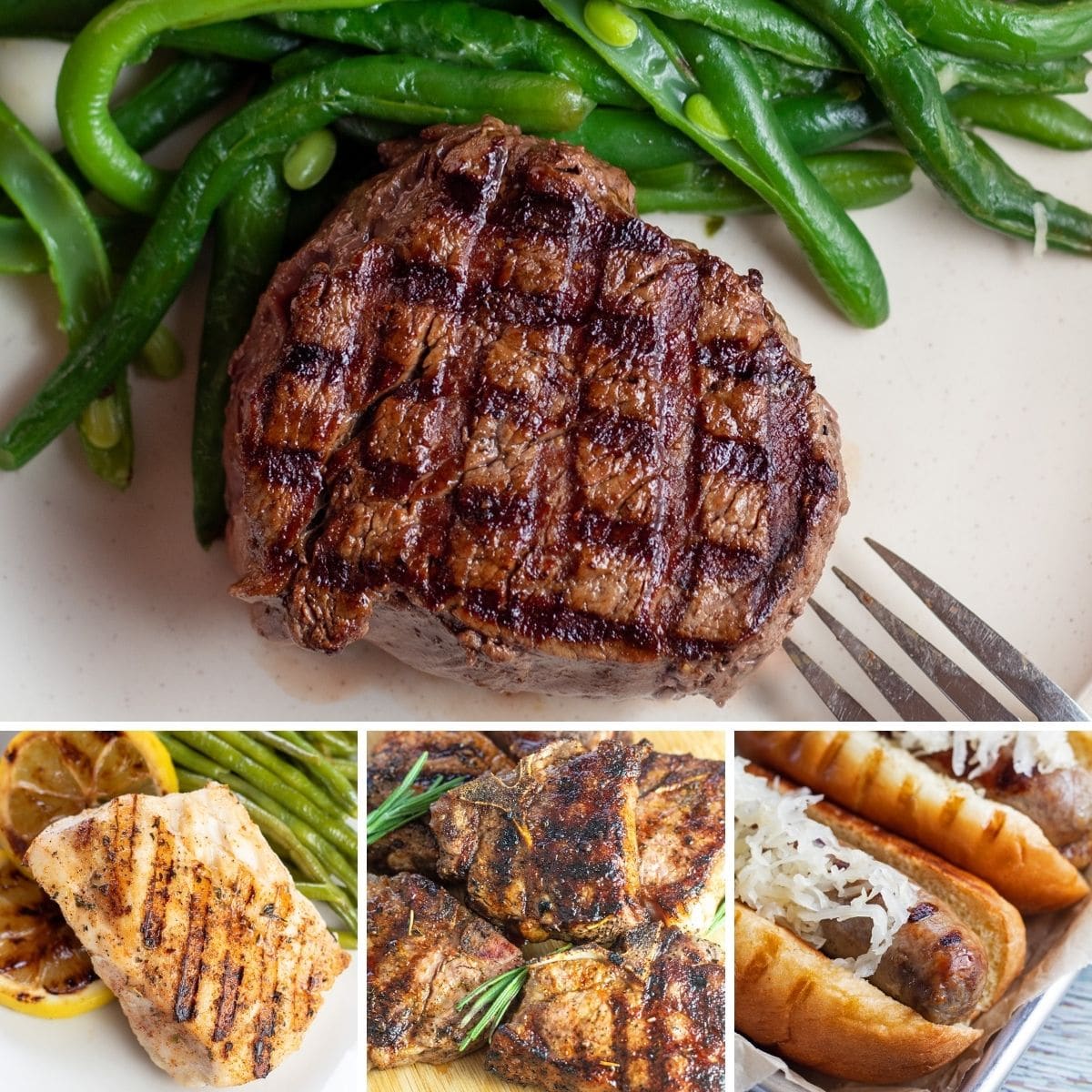 Jump to:
1. Grilled Grouper
A delightful flaky fish, grilled grouper has a delicious kick from my Cajun seasoning and a beautiful floral note from my herbs de Provence. Though grouper is not a very common fish like salmon or tuna, it has a remarkable texture and a mild, slightly sweet flavor.
Grilling this fish brings out more of the sweetness and pairs perfectly with the smokey, char taste!
2. Cowboy Ribeye Steak
What sounds better off the grill than a tasty, juicy grilled cowboy ribeye steak?! Ribeye steaks are made for the grill, and my steak seasoning will have your mouth watering in seconds!
Grill your cowboy ribeye steak to the perfect temperature and watch your loved ones eat it all up! Pair with your favorite potato dish and a delicious grilled vegetable and you have a perfect dinner!
3. Grilled Lamb Chops
Going for something a bit different, grilled lamb chops set a new bar to try and top! My luscious grilled lamb chops are a perfect summer dish that will make everyone want a tasty chop!
Spring and summer are the seasons for delicious, fresh lamb to shine! My recipe uses an herb-forward seasoning that provides a fresh taste to the lamb.
4. Brats
What a summer classic grilled brats are, perfectly scrumptious and juicy with a burst of flavor! The mustard, the sauerkraut, all the different textures and flavors, plus who doesn't love bratwursts on a nice summer's day?
Much more complex in flavor than a hot dog, bratwursts give so much flavor on their own. All the delicious toppings and if you enjoy a bit of beer, I also have a beer simmer option in this recipe!
5. Grilled Chicken Fettuccine Alfredo
Craving some pasta with some grilled flair, grilled chicken fettuccine alfredo will hit the spot! Hearty, creamy and obviously tasty, you cannot go wrong with this dish!
My grilled chicken fettuccine alfredo recipe is simple to make and doesn't require anything more than your everyday ingredients!
6. Grilled Haddock
Slightly sweet and super tasty, grilled haddock is a beautiful recipe to have in your back pocket for a rainy day! Haddock is typically used in fish and chips because of the flakiness of the fish, which makes it very desirable.
While haddock has a mild flavor, is takes on flavors very well, which is why I prepare mine with dill. I also like to pair grilled haddock with an incredible lemon cream sauce!
7. Marinated Grilled Pork Chops
Marinated grilled pork chops, nothing sounds better when having a delicious picnic or a poolside lunch! Savory soy sauce, tangy mustard, Worcestershire sauce, and brown sugar - my marinade is perfection!
Make sure you serve it up with some delicious potato salad, creamy mac & cheese or fresh coleslaw to have the perfect meal!
8. Hawaiian Burger
What says summer more than a Hawaiian burger topped with tasty teriyaki sauce and fresh grilled pineapple? Watch out plain burgers, because this luscious Hawaiian burger will knock your socks off!
So many different flavors and textures, but this meal is so easy to make! Homemade teriyaki sauce, grilled pineapple, a juicy burger, and fluffy brioche bun all combine to be a match made in heaven!
9. BBQ Bacon Wrapped Brussel Sprouts
One of my favorite recipes, BBQ bacon wrapped brussel sprouts, are so unique and oh so delicious! Tasty little morsels that you can eat all day along with some gorgeous grilled steaks or pork chops!
Easy to make and with only a few ingredients, my BBQ bacon wrapped brussel sprouts have so much flavor!
10. Grilled Potatoes
Now, you may be thinking "Grilled potatoes? What?!" but trust me when I tell you that these potatoes are amazing! Luscious and fluffy on the inside with a crisp char on the outside, the perfect grilled potatoes!
11. Grilled Zucchini
Fresh grilled zucchini paired with savory Parmesan cheese, this dish needs to be your go to side! The delicious umami flavor of the Parmesan goes perfectly with the natural, crisp taste of the zucchini.
12. Grilled Chicken Breast
A classic with a tasty twist, this grilled chicken breast will have your taste buds in a frenzy! Tangy balsamic vinegar and sweet brown sugar marinate the chicken to create a gorgeous dish!
13. Grilled Salmon
Full-flavored and flaky, this tasty grilled salmon is an amazing grill recipe for any meal with your family and friends! Savory soy sauce, bright lemon pepper, and candy-like brown sugar, all flavoring your delicious salmon fillet!
14. Grilled Shrimp
Now it's time for the shellfish, and the grilled shrimp is the perfect start! These tasty babies work as an appetizer, side or main dish for any occasion and they are delectable!
15. Grilled Scallops
Tender and tasty, fresh-off-the-grill scallops are a decadent dish that is guaranteed to satisfy your palate! Delicate scallops full of flavor, they are the perfect way to bring some class to your grill!
16. Grilled Pineapple
Saving the best for last, grilled pineapple is the perfect, delicious addition to any grilling experience! You cannot go wrong with this recipe as it is super simple and extremely delicious!
17. Grilled Chicken Thighs
If you love to light up some charcoal or fire up your grill as soon as the weather permits, these recipes are made for you! We hope that you enjoy plenty of these dishes!
📋 Recipe