Pancake toppings might make you think of syrup and butter, but there are a ton of other sweet sauces and tasty toppings you could try! You can make them super sweet, fresh and fruity, or even rich and chocolatey! Take a look at all the best toppings for a stack of show-stopping pancakes!
Best Pancake Toppings
While syrup and butter are about as classic as it gets when it comes to pancake toppings, you certainly aren't limited to them! Obviously, they had to make this list, but for a truly unique and flavorful flapjack, I recommend you branch out!
Experiment with different fruits (or fruit syrups). Add a drizzle of chocolate or caramel, or sprinkle on some crushed nuts. The possibilities and combinations are endless!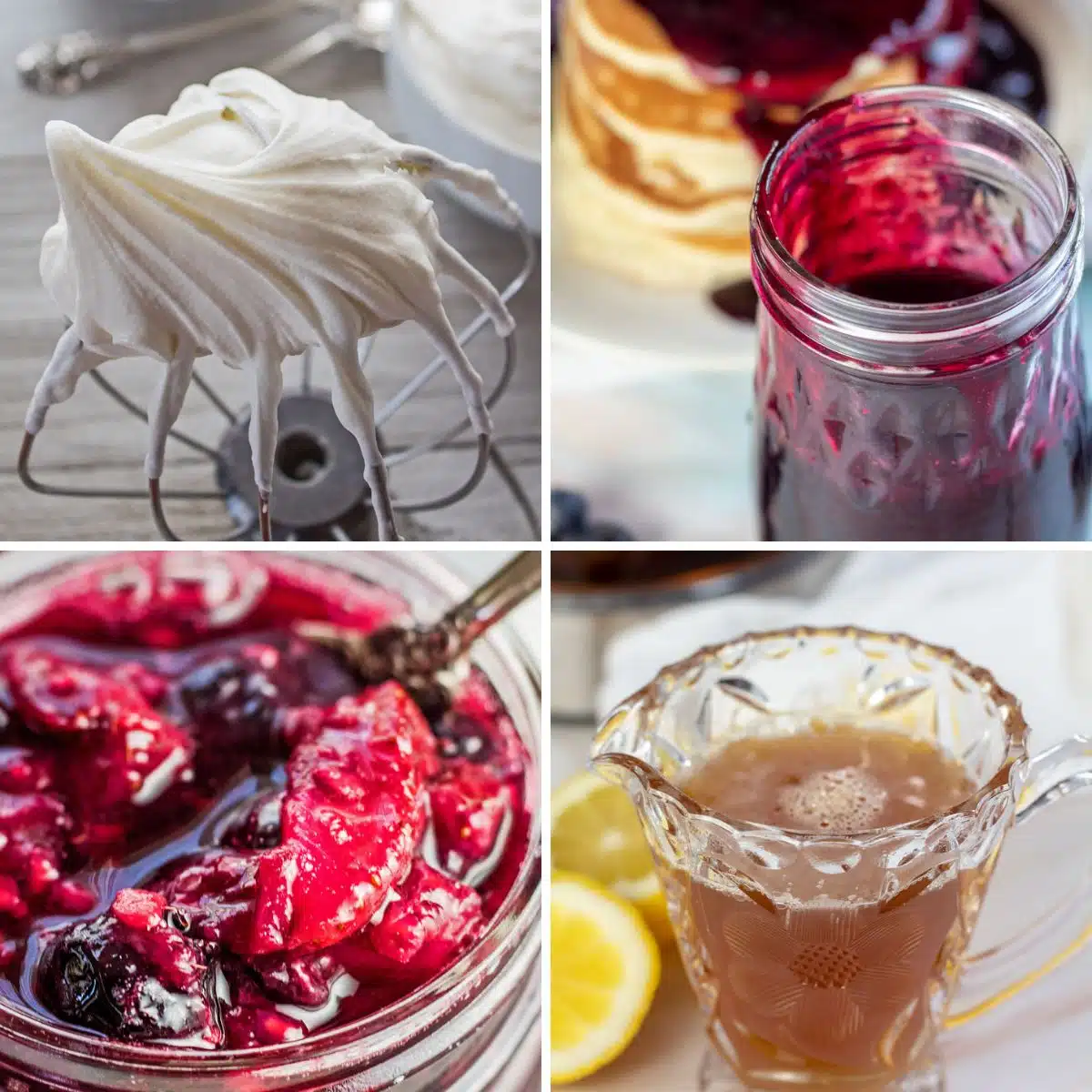 Jump to:
Before you start flipping flapjacks, I have a whole guide dedicated to how to make pancake mix better, as well as a guide to making them fluffier! Then, once you've picked your toppings, stop by my page on what to serve with pancakes to complete your meal!
1. Maple Syrup
It should come as no surprise that maple syrup sits at the top of this list. It is the most popular (so some may argue the 'best') pancake topping by far. However, sometimes you don't have maple syrup, or maybe you just don't like it.
Either way, there are a number of equally delicious maple syrup substitutes you could try. Or, just grab something else from further down the list!
2. Honey Syrup
If you prefer the flavor of honey to maple syrup, then this honey syrup is the perfect solution. You can drizzle it just as easily, and you can make your own at home in a snap!
3. Blueberry Syrup
Homemade blueberry syrup is another pancake classic that doesn't get the appreciation it deserves! Pair it with these made-from-scratch blueberry pancakes for a double punch of delicious blueberry flavor!
4. Whipped Cream
A dollop of whipped cream makes just about everything better! Actually, I like to use quite a bit more than a 'dollop, but who's counting?
5. Roasted Berries
A blend of berries roasted until they break down into a sweet and syrupy bowl of goodness! I love serving these warm, sticky berries on top of cast-iron Dutch baby pancakes as a cozy and rustic breakfast or brunch.
6. Cinnamon Sugar
It's hard to believe that something as simple as mixing cinnamon into sugar can taste so incredible! I love cinnamon sugar on plain buttermilk pancakes, but the warm taste of cinnamon is downright heavenly on these apple cider pancakes.
7. Cherry Pie Filling
Cherry pie filling may not be a typical topping, but now that you're thinking about it, it sounds pretty good, right? I promise it is!
If you don't want to make your own cherry pie filling, you can learn how to make canned cherry pie filling taste better for equally tasty results!
>>>>See all of my recipes HERE<<<<
8. Vanilla Icing
Vanilla icing isn't just for the kiddy smiley-face pancakes at IHOP (not that they aren't delicious)! You can always drizzle icing over sliced fruit on your pancakes for a more mature breakfast but with all the same sweetness.
9. Chocolate Icing
Chocolate chip pancakes with a drizzle of rich chocolate icing? Yes, please! Not to mention, it would be super tasty on my fluffy chocolate pancakes to make double chocolate flapjacks fit for a king!
10. Apple Pie Filling
The tender spiced apples that make up the filling for apple pie are great in a number of other desserts, too (including pancakes)! You can use canned or homemade, though homemade apple pie filling always tastes the best!
11. Chantilly Cream
This light and fluffy French whipped cream is a little more decadent than your usual whipped topping. It's perfect for dessert-inspired pancakes or pancakes topped with fresh fruit!
12. Pineapple Pie Filling
You may have noticed that there is a lot of pie filling on this list, and that's because it is an easy and delicious way to improve your pancakes! The sweet, tropical flavor of pineapple is a great way to incorporate a bright, refreshing flavor!
If this pineapple pie filling sounds enticing, you could try pineapple curd, too!
13. Raspberry Pie Filling
Fresh raspberries are tasty, but this sweet and sticky raspberry pie filling is on a whole other level of deliciousness! It's super easy to make with fresh or frozen berries, and you can keep it in the fridge to use again and again.
14. Baked Cinnamon Apples
The natural sweetness of the apples shines through when they are baked in the oven. They're tender, perfectly spiced, and will make your pancakes even more filling!
15. Blackberry Pie Filling
The centers of blackberries are somewhat tough, but not when you cook them down into pie filling. Then, all of their natural sweet and tart flavor is multiplied ten-fold (and they are perfectly tender)!
16. Lemon Curd
For a bright pop of creamy citrus flavor, try whipping up some lemon curd for your pancakes. It's so easy, you can even do it in the microwave!
17. Toffee Sauce
Toffee sauce is rich and decadent, so it is perfect for dessert-inspired pancakes! It has a deep caramelized flavor that will definitely satisfy your sweet tooth.
18. Apple Curd
This rich eggy spread features warm cinnamon and sweet fresh apples. Spread it on your pancakes with some thinly sliced apples and whipped cream on top, and you'll see why it had to make this list!
19. Strawberry Coulis
This sweet and fruity sauce has a super condensed strawberry flavor that makes it a favorite for fruit-lovers! Drizzle it on your pancakes with some fresh summer strawberries and a little chantilly cream for an out-of-this-world strawberry cream breakfast!
How To Choose The Best Pancake Toppings
The best pancake toppings will largely come down to personal preference and the flavors you enjoy most. Here are a few of my favorite suggestions that you can use to come up with your own signature flavor combination!
Use fresh fruits: Fresh fruits are a classic pancake topping. Berries (strawberries, blueberries, raspberries), sliced bananas, peaches, and diced apples are popular choices that add natural sweetness and color.
Add nuts or seeds for texture: Nuts like chopped walnuts, pecans, or almonds can provide a delightful crunch. Seeds like chia seeds or flaxseeds add nutritional value and a subtle texture.
Syrups and sauces: Maple syrup is a classic pancake topping, but you can experiment with other syrups like honey, agave nectar, or fruit-based syrups. Chocolate sauce, fruit compote, or even caramel sauce can be excellent choices as well.
You can't go wrong with dairy: Whipped cream, Greek yogurt, or mascarpone cheese will add a creamy and rich element to your pancakes.
Spreads: Nut butters like peanut butter, almond butter, or Nutella hazelnut spread can make your pancakes more filling (and delicious)!
Jam and preserves: High-quality fruit jams or preserves can be a delightful pancake topping! They are sweet, tart, and full of flavor, plus a little goes a long way!
Dessert-Inspired toppings: Get creative and try toppings inspired by your favorite desserts, like crushed cookies, chocolate chips, or even a scoop of ice cream! Banana split pancakes, anyone?
I hope this post inspires you to try some new and unique pancake toppings! Come back and let me know what tasty flavor combinations you come up with by leaving a comment below!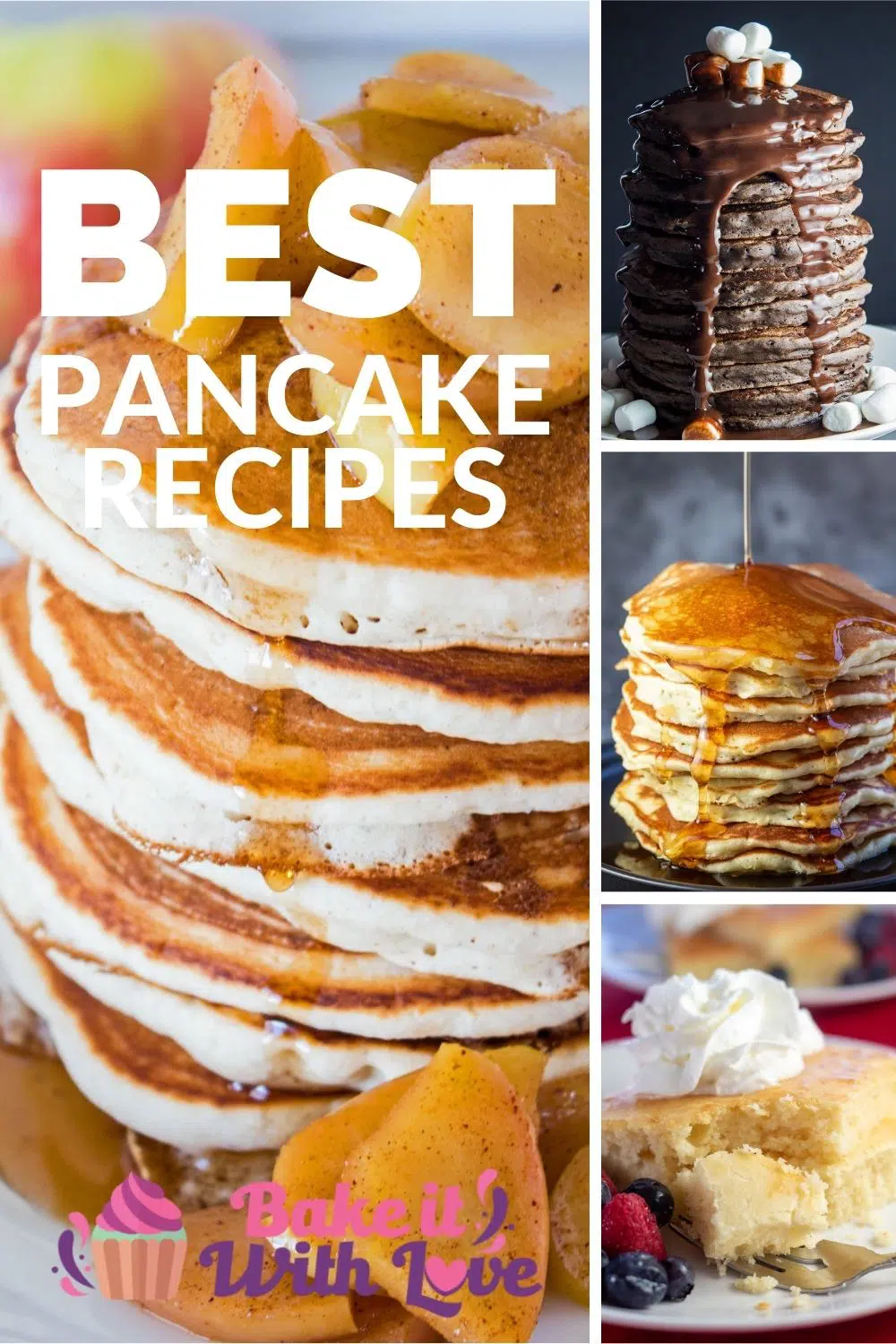 📋 Recipe