Learn how to make crepes so that you can enjoy these delicate, thin, and delicious French pancakes whenever you like! From the ingredients to the cooking techniques and everything in between, you'll be a master at preparing crepes in no time! So grab all of your favorite sweet and savory fillings, and let's get started!
Ultimate Guide To Making Crepes
Crepes are incredibly versatile, thin pancakes that can be enjoyed for breakfast, dessert, or even a savory meal! They may seem intimidating to make if you've never done it before, but it really isn't difficult to do!
With this handy guide, you're going to learn everything you could possibly need to know about making some delicious crepes! You'll get some tips, tricks, techniques, and even some amazing recipes to get you started!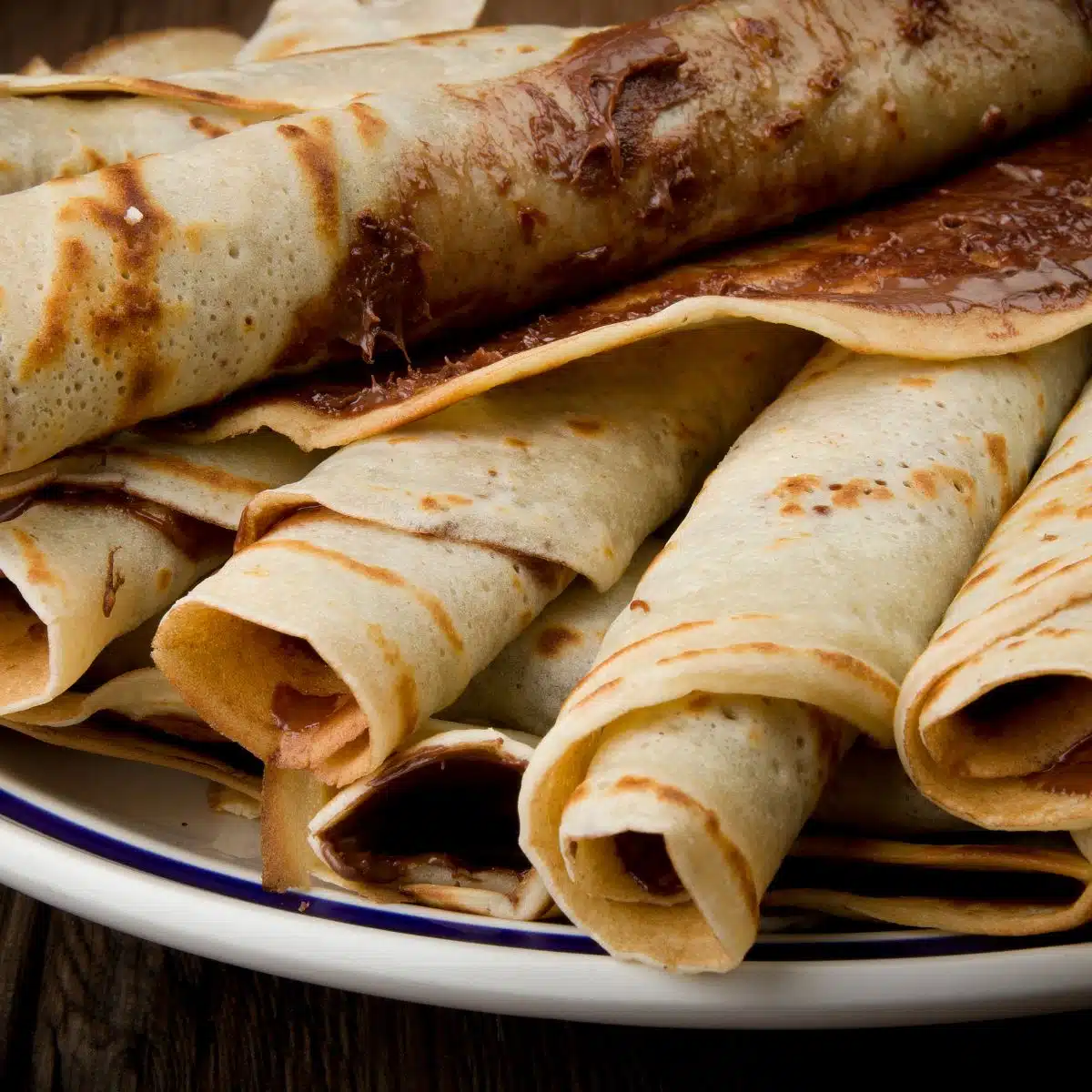 Jump to:
Don't forget to go and take a look at my recipes for strawberry buttermilk crepes, raspberry crepes, and panqueques con dolce de leche!
🥣 Crepe Batter Basics
Crepes are essentially very thin and delicate French pancakes. Believe it or not, you could actually use storebought pancake mix to whip up some crepes (with some added ingredients), but I prefer to make the batter from scratch so that you can get the best results!
Crepe Ingredients
The exact amounts of your ingredients will vary depending on the recipe that you are following. As always, you should stick to your recipe to ensure that you are using the correct ingredients and proper amounts. However, here is a list of the most traditional crepe batters!
Flour - Common all-purpose flour works fantastically for making crepes. However, you could use essentially any type of flour that you have on hand, but there will be slight discrepancies in the density of your crepes.
Milk - Whole milk or 2% milk are my recommendations for making crepes, as they have the richest flavor. Of course, you could also use buttermilk if making some tasty buttermilk crepes!
Eggs - Eggs will act as the binding agent in your crepes.
Butter - You can use salted or unsalted butter. Just make sure to adjust any additional salt accordingly (check out my guide here). For crepes, you'll want to melt your butter and then let it cool before using.
Sugar - Adding a tablespoon of granulated sugar is common in crepe recipes that are intended to be sweet.
Salt - Salt is an essential ingredient in a wide variety of different recipes. It can enhance the flavors!
Water - Cold water is used to help thin out the batter since crepes are very thin.
Oil - Some recipes include a small amount of vegetable oil.
Extracts - To add some more flavor and depth, you could see recipes that feature ingredients such as vanilla or almond extract.
Mixing Batter
You'll want your crepe batter to be relatively smooth and lump-free. Essentially, you'll combine the dry ingredients and then gradually whisk in the wet ingredients.
Dry ingredients. In a large mixing bowl, whisk together your dry ingredients (flour, sugar, and salt) until well combined.
Whisk. Whisk in half of the milk (or buttermilk), eggs, and any extracts you may be using.
Combine. Finally, stir in the remaining milk, water, and any oil, whisking until the batter is completely smooth.
Chill. Let your batter chill in the refrigerator for at least 30 minutes before cooking.
👩‍🍳 How To Cook Crepes
It's time to cook your crepes! Don't be scared; it is pretty simple, and you'll get better at it the more you practice.
Choosing Your Pan
You can actually purchase something called a "crepe pan", but it isn't necessary. If you don't have one, you'll want to use a nonstick pan that is somewhere between 8-10 inches in diameter. It should be flat and shallow to make flipping the crepes easier.
Preparing The Pan
Go ahead and preheat your pan to medium heat. You also only need the tiniest amount of oil on your pan before getting started.
Use a neutral cooking oil, such as coconut oil or vegetable oil. I like to a small amount of oil onto a clean towel and wipe down the pan before and in between cooking each crepe.
Pouring The Batter
Pour. Wait for the pan to be fully heated, and then use a ladle to pour ¼ cup portions of batter into the center of the pan.
Swirl. Immediately lift the pan and gently tilt and swirl the pan so that the batter spreads into a thin, even layer.
Cook. Set the pan back down and let it cook for about 1 minute, or until the edges turn golden in color and begin to lift away from the pan.
Flipping The Crepes
Loosen. Once the first side of the crepe has cooked and is ready to flip, use a rubber spatula to gently lift the edge of the crepe.
Flip. Flip it over and cook the second side for 30 seconds - 1 minute.
🥡 Storing Crepes
If you happen to have any leftovers, let your crepes cool completely before storing them. Stack the crepes, placing a piece of parchment paper in between each one to keep them from sticking together.
Place the stacks into either a sealed container or a large food storage bag and keep them in the refrigerator for 2-3 days.
Freezing Crepes
You can freeze your crepes by stacking them using the same method with layers of parchment paper. Once stacked, tightly wrap them with plastic wrap and then store them in the freezer for 2 months at most.
Thaw them overnight in the fridge before you reheat them.
Reheating Crepes
You can reheat your crepes in a skillet over medium heat that has been lightly brushed with oil. Alternatively, you can heat them in the oven at 300°F (150°C) on a baking sheet lined with foil until heated through.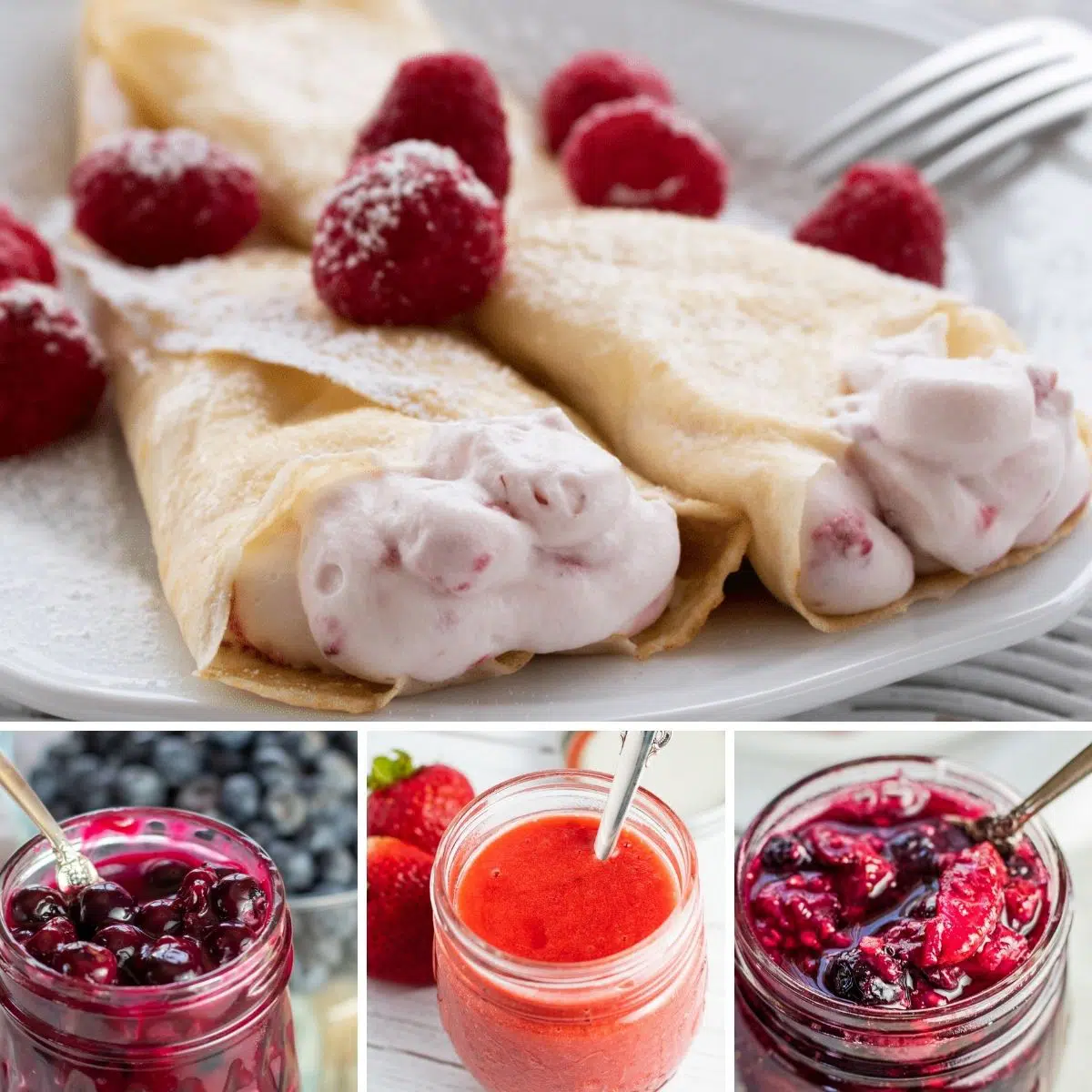 🍫 Crepe Filling Ideas
One of the great things about crepes is how easily they can be customized with different tasty fillings! You can choose from a variety of either sweet or savory fillings to make them perfect for you!
Check out my list of all of the best crepe-filling ideas here!
Sweet Crepe Fillings
Sweet fillings are perfect for when you're enjoying your crepes for breakfast or dessert!
Nutella and Bananas
Cream Cheese
Marshmallows
Peanut Butter and Jelly
Fresh Fruit
Chocolate Chips
Caramel
Honey
Savory Crepe Fillings
Savory fillings can easily transform your dish into a hearty breakfast or even lunch or dinner! Mix and match all of your favorite options for a simple and complete meal!
Cream Cheese with Salmon
Mushrooms
Onions
Spinach & Feta
Goat Cheese
Ham & Cheese
Eggs, Bacon, & Cheese
😋 Tips For Making Perfect Crepes
The batter for crepes is much thinner than pancakes. It should have a consistency that is similar to heavy cream.
It's alright if your first few crepes don't work out. Practice makes perfect, and you will get the hang of the swirling technique after a couple of tries.
Let your batter rest in the fridge for at least 30 minutes. This allows the gluten to relax, making them ultra tender!
>>>>See all of my recipes HERE<<<<
❓ FAQ
How Do I Keep Crepes Warm?
If you need to keep your crepes warm, you can place an oven-safe plate into the oven at 200°F (94°C). As you finish cooking them, transfer them to the warm plate in the oven and keep them covered with a clean kitchen towel.
Can Crepes Be Made In Advance?
I recommend making your crepes right before you intend to serve them, but you can also make them in advance if needed. They can easily be stored in the fridge or freezer and then reheated.
Is Crepe Batter The Same As Pancake Batter?
Nope, but they are very similar. The biggest difference is that pancake batter includes a leavening agent (such as baking powder or baking soda), which helps them to rise and become thick and fluffy.
Now you know how to easily make crepes whenever you like! Leave a comment down below and let me know what your favorite sweet and savory fillings are!
📖 Best Cooking & Baking Guides
Do you love a recipe you tried? Please leave a 5-star 🌟rating in the recipe card below and/or a review in the comments section further down the page.
Stay in touch with me through social media @ Pinterest, Facebook, Instagram, or Twitter! Subscribe to the newsletter today (no spam, I promise)! Don't forget to tag me when you try one of my recipes!
📋 Recipe
Print Recipe
Leave A Comment
Love This Recipe?
Click On A Star To Rate It!
How To Make Crepes: Strawberry Buttermilk Crepes (+More Tips & Tricks!)
Learn how to make crepes so that you can enjoy these delicate, thin, and delicious French pancakes whenever you like! From the ingredients to the cooking techniques and everything in between, you'll be a master at preparing crepes in no time! So grab all of your favorite sweet and savory fillings and let's get started!
Pin Recipe
Share on Facebook
Help Us Out!
If you love a recipe, be sure to come back and share your ratings. This helps future users, and allows me to continue sharing free recipes! Angela
Instructions
In a medium to large mixing bowl, combine the flour, sugar, salt, ⅓ c of the buttermilk, eggs, and vanilla extract. Whisk the ingredients until smooth (will be sticky and somewhat thick).

1 c all-purpose flour,

½ teaspoon salt,

1 tablespoon sugar,

⅔ c buttermilk,

2 eggs,

2 teaspoon vanilla extract

Add the remaining ⅓ c of buttermilk, water, and oil and whisk until combined. The batter should be smooth, silky, and fairly thin. Refrigerate for at least 30 minutes.

1 teaspoon vegetable oil,

1 c water

Heat an 8" non-stick skillet or crepe pan to medium and ladle out the crepes onto the skillet in ¼ c portions once heated fully. Roll the pan in a circular motion when pouring the crepe batter, so that the batter is dispersed quickly in a circular shape on the pan.

Allow the crepe to cook for about a minute on each side, use a rubber spatula to loosen the crepe edges to flip the crepe once the first side is done. Serve with sliced strawberries, whipped cream, powdered sugar, or syrup (if desired).
Nutrition
Calories:
32
kcal
(2%)
|
Carbohydrates:
3
g
(1%)
|
Protein:
2
g
(4%)
|
Fat:
1
g
(2%)
|
Saturated Fat:
1
g
(6%)
|
Cholesterol:
41
mg
(14%)
|
Sodium:
18
mg
(1%)
|
Potassium:
70
mg
(2%)
|
Fiber:
1
g
(4%)
|
Sugar:
2
g
(2%)
|
Vitamin A:
59
IU
(1%)
|
Vitamin C:
21
mg
(25%)
|
Calcium:
12
mg
(1%)
|
Iron:
1
mg
(6%)
how to make crepes, strawberry buttermilk crepes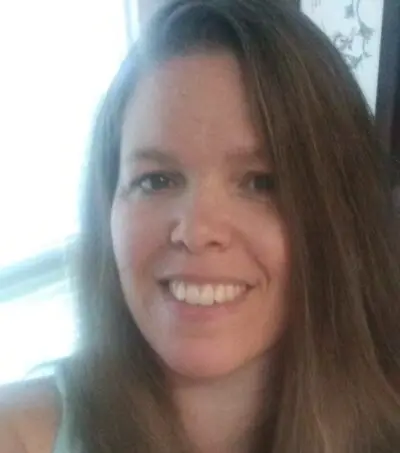 Angela is an at home chef that developed a passion for all things cooking and baking at a young age in her Grandma's kitchen. After many years in the food service industry, she now enjoys sharing all of her family favorite recipes and creating tasty dinner and amazing dessert recipes here at Bake It With Love!