How to keep cookies soft: the ultimate guide filled with tips & tricks on how to prevent your cookies from becoming hard, stiff, or crumbly! In this guide, I cover all of the hacks on how cookies can stay fresh, whether you bake them right away or prepare them ahead of time. Keep reading on to learn how to have soft and chewy cookies every time!
Easy Ways To Keep Cookies Soft
One of the best things in life is biting into a soft cookie that has just come out of the oven. It's fresh, gooey, warm, and melt-in-your-mouth delicious. So what can you do to prevent them from becoming hard?
I'm going to walk you through the reason why cookies turn stale, the best methods for keeping cookies soft, and how to properly store them to stay fresh longer. Everything you need to know is in this ultimate guide!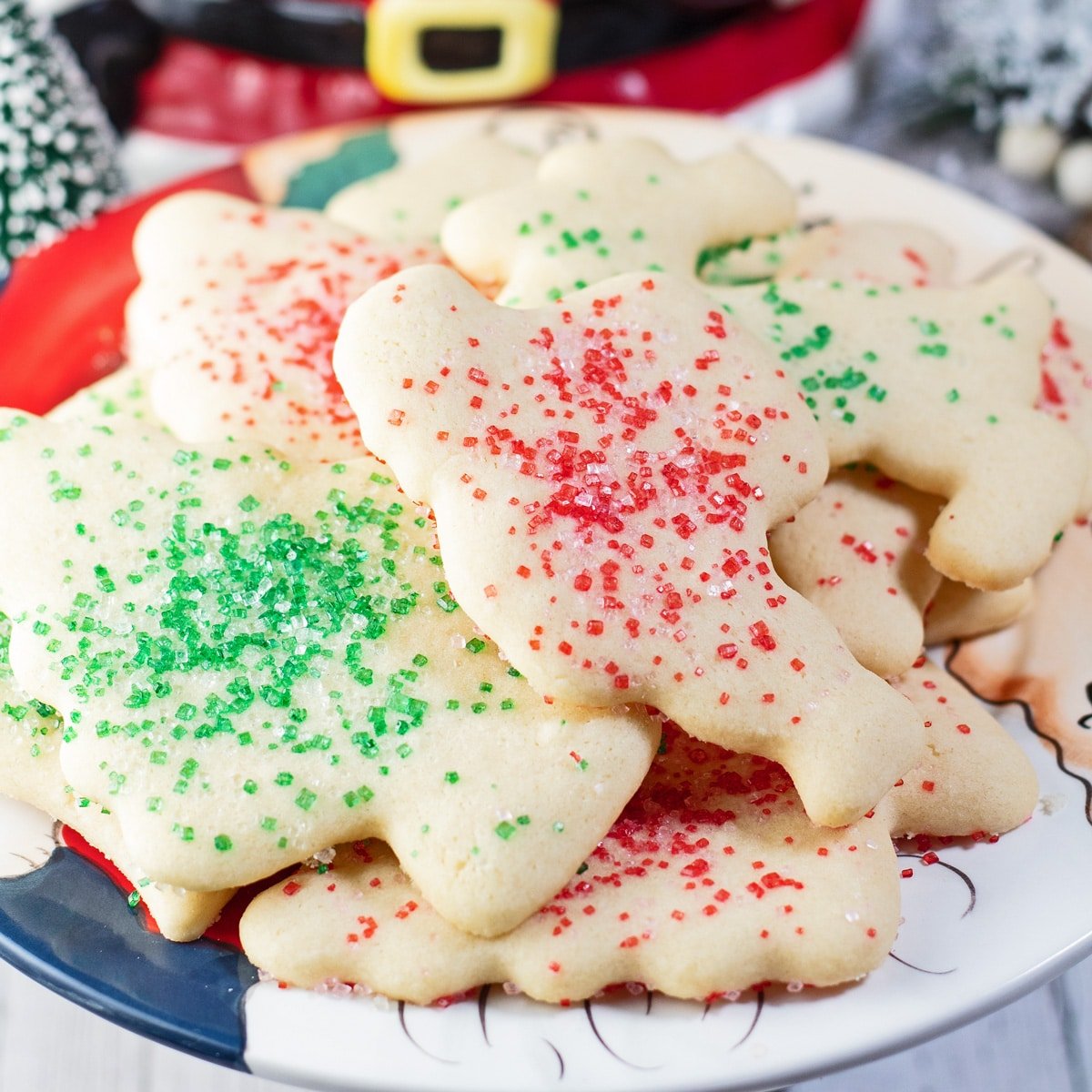 Jump to:
What Makes A Cookie Soft & Chewy
To achieve a batch of soft cookies, there are a few methods you can use! Did you know that different baking techniques, ingredients, and how you store cookies make a huge difference in keeping them soft?
Also, the type of cookie plays a role in whether they're supposed to be soft or have a harder texture. For example, cookies made with melted butter, brown sugar, or egg yolks are going to be more soft and gooey. However, shortbread cookies are crumbly and crispy because they lack the ingredients that retain moisture.
Essentially, how you maintain or add moisture is the key to soft and chewy cookies! It is important to understand what cookie elements will retain moisture so that you can experiment with your favorite cookie recipes.
Why Do Cookies Become Hard
Like all baked goods, the reason cookies turn stale is that the moisture in them eventually evaporates. Ideally, you would want to eat them the day you bake them. The longer cookies sit, the harder they become because the sugars and starches start to solidify.
Another factor that leads to cookies becoming hard and dry, is an over-abundance use of sugar. Also, over-mixing the cookie dough will cause too much gluten to form which results in a tough batch of cookies.
How to Soften Cookies With Bread
If you have cooked a fresh batch of cookies and want an easy trick to use when you go to store them, simply grab a slice of bread! By adding a slice of bread to the bottom of the airtight container you are using to store your cookies in, it will create a humidity level that slows down the moisture loss.
The cookies will pull out the moisture of the bread and start to eventually turn soft again. Within a few hours, your cookies will taste as good as they did when you pulled them out of the oven! When you notice the bread drying out, you may add fresh slices every other day.
Alternatively, tortillas can also be used in place of bread as they will add humidity in the same way. Since they are flatter, you could stack your cookies between layers of tortillas. Make sure to use neutral-flavored bread or tortillas so that the taste of the cookies won't be altered.
Ingredients That Make Soft Cookies
Have you ever baked cookies and wondered about the different ingredients that actually produce a soft and chewy cookie? Here's a list of common baking staples and how they add moisture to cookies:
Melted Butter - Butter contains 16-17% of water, so it makes the texture of cookies soft by adding water and fat. When you use melted butter in a cookie recipe, it will help the cookies achieve a soft and gooey texture similar to a brownie.
Brown Sugar - Brown sugar holds onto moisture more than white sugar due to its molecular structure. If you don't mind a darker cookie, try adding 2 tablespoons of light or dark brown sugar or 1 tablespoon of molasses to your recipes!
Low-Protein Flour - Flour plays the role of adding protein to a cookie. The lower the protein content of the flour, the softer your cookies will turn out. All-purpose flour has a medium-protein content and will make medium-soft cookies. You can substitute the all-purpose flour for low-protein cake flour (1:1 ratio) for a more tender cookie.
Eggs - Eggs (yolk) are great for adding extra fat to your cookies which helps prevent gluten from developing in the flour. If you are using melted butter, egg yolks work hand in hand to add a chewier texture to cookies. Egg whites create a cakey texture.
Light Corn Syrup - Adding a tablespoon of corn syrup to your batch of cookie dough can also help keep cookies soft and stay fresh longer. Since it is a liquid form of sugar (at room temperature), it helps other sugars stay liquid in high heat. This will result in a crispy edge and a soft chewy center!
Baking Methods For Maintaining Soft Cookies
Baking at higher temperatures like 375°F (190°C) as opposed to lower temperatures will cause cookies to bake faster. This avoids the cookies from sitting for too long and drying out in the oven's hot air.
When it comes to cookies, under-baking is another popular trick to achieving softer results. Try taking your cookies out 1 to 2 minutes before the full amount of baking time on the recipe or once you see the cookies starting to set.
Most cookie recipes will have you leave your cookies on the baking sheet for 3-5 minutes after you remove them from the oven. Once the cookies are cool enough to move without falling apart, take them off the baking sheet and transfer them to a cooling rack.
How To Revive Hard Cookies
If you've already baked your cookies and they've started to turn hard, there are two ways to revive them! You could either wrap your cookies in a slightly damp paper towel and microwave them for 10 seconds at a time or use a soaked terra cotta disk (or brown sugar saver).
When cookies are warmed, the texture becomes soft again. You are able to revive hard cookies by wrapping a few in a slightly damp paper towel and microwaving them on medium power for 10 seconds at a time. It is important to make sure that is paper towel isn't too wet or you may get a mushy mess as a result.
Terra cotta disks are made out of clay that can be used in baking to absorb and release moisture. Once soaked in water for 15 minutes, they can release water back into your cookie storage container to soften cookies in a matter of 2 hours!
🥡 Storage
Storing your cookies in an airtight container (or plastic storage bag) at room temperature is the best method for keeping your fresh cookies soft. You shouldn't place cookies in your refrigerator because the cooler temperature will dry the cookies out faster.
Refrigerators remove moisture in the air as it cools food and that is why bread, cookies, and cakes need to be stored at room temperature if you are wanting them to stay soft.
It is best to only store cookies for a maximum of 3 days unless you plan on freezing them. In fact, freezing cookies is the very best way to store most cookies for a longer amount of time (typically up to 6 months)!
If you are wanting to make cookies ahead of time, allow them to completely cool after baking. Wrap each individual cookie in plastic wrap before placing them in an airtight container.
Leave the cookies in the same container when thawing in the fridge so that condensation occurs on the outside of the container. This helps ensure that the moisture is kept inside the cookies for best results!
>>>>See all of my recipes HERE<<<<
Now you know the best ways to keep your cookies soft! What is your favorite cookie recipe to try these tricks on? Leave a comment down below to let me know!
📖 More Helpful Cookie Guides
📋 Recipe
Print Recipe
Leave A Comment
Love This Recipe?
Click On A Star To Rate It!
How To Keep Cookies Soft: Powdered Sugar Cookies (+Tips For Storing Any Cookie!)
How to keep cookies soft: the ultimate guide filled with tips & tricks on how to prevent your cookies from becoming hard, stiff, or crumbly! In this guide, I cover all of the hacks on how cookies can stay fresh, whether you bake them right away or prepare them ahead of time. Keep reading on to learn how to have soft and chewy cookies every time!
Total Time
2
hours
12
minutes
Pin Recipe
Share on Facebook
Instructions
In a mixing bowl (or the bowl of your stand mixer), cream together the butter and powdered sugar until smooth.

1 cup butter,

1½ cup confectioners sugar

Add in the egg and vanilla and beat until smooth again.

1 large egg,

1 teaspoon vanilla extract

Next, add the baking soda, cream of tartar, and salt and mix until well combined.

1 teaspoon baking soda,

1 teaspoon cream of tartar,

¼ teaspoon salt

Add in the flour while continuing to mix until just combined and the dough forms (*see note).

2½ cups all-purpose flour

Cover your dough and place it into the fridge to chill for at least 2 hours. (*see note.)

Preheat your oven to 350°F (175°C) and line your baking sheet(s) with parchment paper or a silicone baking mat (Silpat).

Flour your work surface and roll the chilled dough out to about ¼-inch thick. Use your favorite cookie cutters to cut out your cookies and place them onto a baking sheet lined with parchment paper or a nonstick baking mat.

Bake the cookies in the oven for about 7-9 minutes, or until the edges are lightly golden.

Remove from the oven and allow the cookies to cool for 5 minutes before transferring them to a wire rack to finish cooling.
Equipment You May Need
Notes
Make sure your flour is spooned and leveled and you don't use the measuring cup to scoop it. This can result in packing the measuring cup and making the cookies too dense. 
Don't overmix your cookie dough. Stop mixing once the dough has just come together and the flour is evenly incorporated into the dough. 

To store your powdered sugar cookie dough longer

(up to 2-4 days)

transfer the dough into small containers or wrap it with plastic cling film.

To store: Keep your cookies stored in an airtight container at room temperature for up to 3 days, or in the fridge for up to 7 days. Check out my guide to storing sugar cookies!
To freeze: You can freeze your iced or undecorated cookies for up to 3 months. Place the decorated cookies on a clean baking sheet after any icing has fully set. Once completely frozen, transfer the cookies into an airtight freezer storage container, placing parchment paper sheets between each layer.
Nutrition
Calories:
99
kcal
(5%)
|
Carbohydrates:
12
g
(4%)
|
Protein:
1
g
(2%)
|
Fat:
5
g
(8%)
|
Saturated Fat:
3
g
(19%)
|
Polyunsaturated Fat:
0.3
g
|
Monounsaturated Fat:
1
g
|
Trans Fat:
0.2
g
|
Cholesterol:
19
mg
(6%)
|
Sodium:
89
mg
(4%)
|
Potassium:
27
mg
(1%)
|
Fiber:
0.2
g
(1%)
|
Sugar:
5
g
(6%)
|
Vitamin A:
165
IU
(3%)
|
Calcium:
4
mg
|
Iron:
0.4
mg
(2%)
best way to store cookies, chocolate chip cookies, cut out sugar cookies, how to keep cookies soft, how to keep your cookies from getting hard, how to store cookies so they stay soft, oatmeal cookies, sugar cookies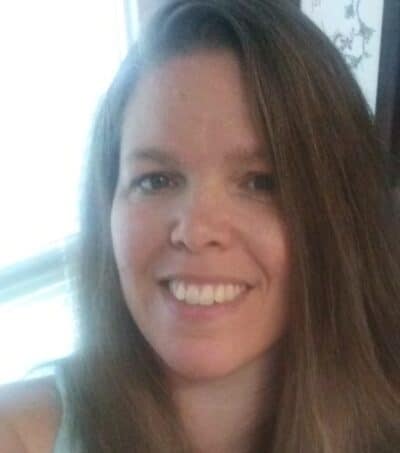 Angela is an at home chef that developed a passion for all things cooking and baking at a young age in her Grandma's kitchen. After many years in the food service industry, she now enjoys sharing all of her family favorite recipes and creating tasty dinner and amazing dessert recipes here at Bake It With Love!