How long do sugar cookies last when both undecorated (plain) and decorated, what is the best way to store them, and can they be frozen? This helpful guide will let you know just how long those cookies will stay fresh! I'll even give you some of my favorite tips for making them last as long as possible!
Decorated vs Undecorated Sugar Cookies
Homemade sugar cookies are popular all year long, but especially around the holidays! They taste delicious and are fun and festive for any special event.
Whether you want to make them ahead of time or keep your leftover cookies for later- you'll need to know how to properly store them! Together, we are going to discuss all of the best ways to store cookies that are both decorated and undecorated (and how long they will last!)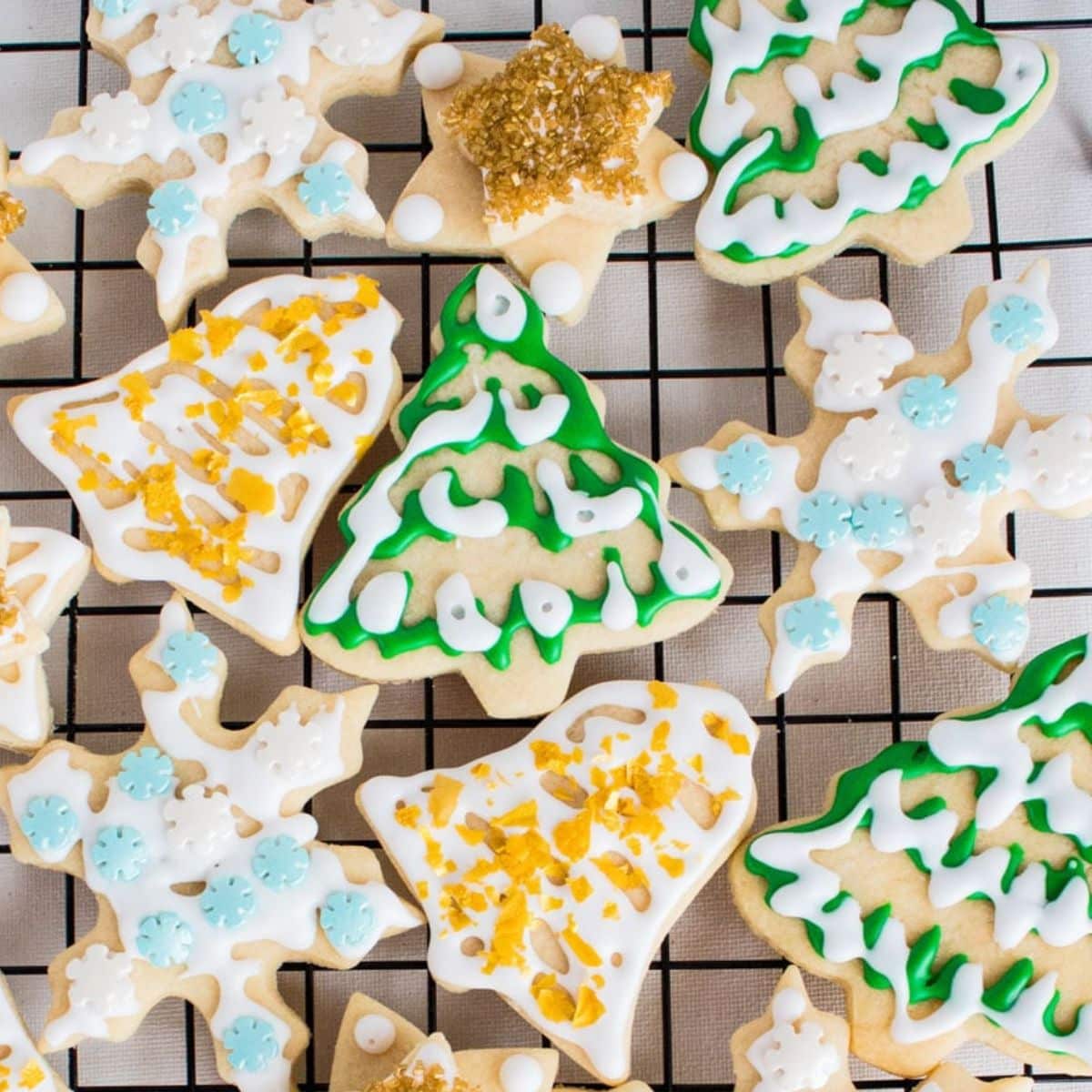 Jump to:
Storing Sugar Cookies
No matter how you choose to store your cookies (decorated or undecorated), they should always be placed in an airtight container for maximum freshness. This is due to the fact that the air will speed up how fast your cookies go stale- and no one wants that!
Before doing anything, you need to allow your sugar cookies to cool completely! Then, to properly store your cookies, you need to either wrap them individually in plastic wrap, place them into a storage bag, or into a sealed airtight container.
If you are stacking decorated cookies on top of one another, you can place a piece of wax paper in between them to ensure they don't stick to each other.
All of the guidelines and timeframes below are based on the assumption that your cookies are being properly stored in airtight containers.
Undecorated Cookies
Storing your cookies before they are decorated is always a safer option as you won't risk messing up the design! You can easily stack the cookies on top of each other to save storage space as well.
When properly stored, your undecorated sugar cookies will last at room temperature for about 7 days.
Fridge
I don't typically recommend storing your sugar cookies in the fridge because it can make them dry out. However, it is still an acceptable option as long as the cookies are being stored correctly!
The undecorated sugar cookies will be good for up to 2 weeks in the refrigerator. However, they may begin to go stale after about 1 week.
Freezer
Freezing your cookies is the best option for maximum freshness! When sealed properly, they can stay fresh for up to 3 months!
Decorated Cookies
Storing decorated cookies is a little trickier than storing ones that have not been frosted yet. Ideally, you want to lay them out flat so that the icing and decorations don't crack or smudge. Of course, this requires much more available storage space so I would recommend holding off on decorating your cookies until ready to serve, if possible.
It is also incredibly important to make sure your icing has been entirely set before packing them up for storage. Check out my recipes for my favorite icing and frosting for sugar cookies!
When properly stored, your decorated sugar cookies will stay fresh at room temperature for up to 2 weeks!
Fridge
Again, I don't really recommend keeping your cookies in the fridge due to moisture. However, decorated sugar cookies can last 7 days in the fridge, but are best enjoyed within the first 3 days so you don't risk the decorations running and bleeding.
Freezer
A freezer is a great option for storing your decorated cookies if you have the space for them! When frozen properly, they will last for up to 3 months.
Just make sure to let them thaw in the fridge before setting them out to come to room temperature. This slow temperature change will help to reduce the risk of condensation and bleeding.
Tips To Help Your Cookies Last Longer
Always make sure that your cookies are completely cool before storing them. If you place them into a container while they are still warm, there will be trapped moisture that can make your cookies soggy.
If your cookies have a soft frosting, don't stack them on top of one another. Make sure they are in a single layer!
Keep cookies at room temperature or store them in the freezer. The fridge should only be a last resort for baked cookies.
If possible, hold off on decorating your cookies if you are needing to store them for a long period of time. It is best to store the undecorated cookies in the freezer and then decorate them when closer to serving.
Try to keep your room temperature cookies out of direct heat and sunlight.
Use wax paper or parchment paper to separate touching cookies.
Cookie Storage Chart
| Storage Method | Undecorated | Decorated |
| --- | --- | --- |
| Room Temperature | 7 days | 2 weeks |
| Fridge | 2 weeks, best within 1 | 7 days, best within 3 |
| Freezer | 3 months | 3 months |
❓ FAQ
Can I Freeze Sugar Cookies?
Yes! I actually recommend freezing your sugar cookies over using the fridge. When stored properly in an airtight container, they can be frozen for up to 3 months.
Try to keep decorated cookies either separated with wax paper or lain flat in a single layer. Also, make sure to allow them in the fridge and then at room temperature so that they don't bleed!
Can I Freeze Unbaked Cookie Dough?
Yes! I actually think it is better to freeze cookie dough rather than the already baked cookies (you don't run the risk of texture changes due to moisture). You can freeze the cookie dough in already-portioned balls for up to 3 months!
Simply place them on a baking sheet when ready, and add a couple of minutes to your baking time. No need to thaw it out first!
How Far Ahead Can I Make My Decorated Cookies?
I would say that, as a general guideline, you could make your decorated cookies up to 2 weeks in advance.
If you are planning on gifting your cookies, I would probably only make them 1 week in advance so that your recipients don't have to eat them immediately.
Decorating sugar cookies can be a long, time-consuming process. Therefore, it is super convenient when you can make them in advance!
🍪 Easy Sugar Cookie Recipes
Do you love a recipe you tried? Please leave a 5-star 🌟rating in the recipe card below and/or a review in the comments section further down the page.
Stay in touch with me through social media @ Pinterest, Facebook, Instagram, or Twitter! Subscribe to the newsletter today (no spam, I promise)! Don't forget to tag me when you try one of my recipes!
📖 Recipe Card
Print Recipe
Leave A Comment
Love This Recipe?
Click On A Star To Rate It!
How Long Do Sugar Cookies Last: Classic Sugar Cookies (+Best Storage Tips)
How long do sugar cookies last when both undecorated (plain) and decorated, what is the best way to store them, and can they be frozen? This helpful guide will let you know just how long those cookies will stay fresh! I'll even give you some of my favorite tips for making them last as long as possible!
Servings:
36
cookies (3 dozen)
Total Time
1

hour
16

minutes
Pin Recipe
Share on Facebook
Help Us Out!
If you love a recipe, be sure to come back and share your ratings. This helps future users, and allows me to continue sharing free recipes! Angela
Instructions
In a large mixing bowl (or the bowl of your stand mixer), cream together the butter and sugar. Add the eggs, vanilla extract, baking powder and salt and combine thoroughly.

¾ cup butter,

1 cup sugar,

2 large eggs,

1 teaspoon vanilla extract,

1 teaspoon baking powder,

½ teaspoon salt

Add the flour and stir until all of the flour has been incorporated into your sugar cookie dough. If you are going to roll your cookies out soon, you can place the bowl in the refrigerator to chill for at least one hour.


2 ½ cups all-purpose flour

If it is going to be a while (up to 3 days) before you will be rolling out your dough, wrap the dough in cling film to refrigerate and chill.

Preheat your oven to 375°F (190°C) and line your baking sheet(s) with parchment paper.

After your dough has chilled, work with small portions of the dough on a floured surface. Roll out until ¼ inch to ½ inch thickness and cut into desired shapes. Transfer to a parchment paper lined baking sheet and bake for 6-9 minutes at 375°F (190°C).

Remove your cookies from the oven before getting golden around the bottom edges. Allow them to remain on the baking sheet for 5-6 minutes before transferring to a wire cooling rack to cool completely.
Equipment You May Need
Notes
*Your dough can also be frozen, double wrapped in cling film and then placed into an airtight freezer bag or container. The dough will keep frozen for up to 6 months.
Nutrition
Calories:
91
kcal
(5%)
|
Carbohydrates:
12
g
(4%)
|
Protein:
1
g
(2%)
|
Fat:
4
g
(6%)
|
Saturated Fat:
2
g
(13%)
|
Cholesterol:
20
mg
(7%)
|
Sodium:
70
mg
(3%)
|
Potassium:
28
mg
(1%)
|
Sugar:
5
g
(6%)
|
Vitamin A:
135
IU
(3%)
|
Calcium:
10
mg
(1%)
|
Iron:
0.5
mg
(3%)
best way to store sugar cookies, Christmas cookie decorating, classic sugar cookies, frozen sugar cookies, how long can you store sugar cookies at room temperature, how long do sugar cookies last, should sugar cookies be stored in the refrigerator, sugar cookies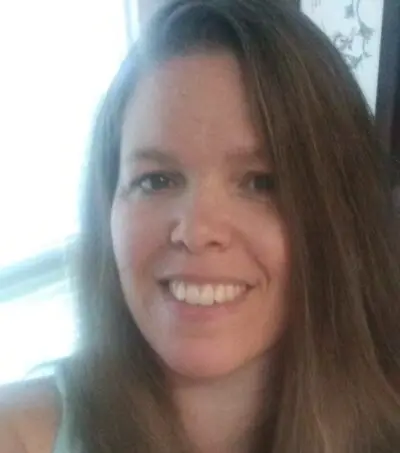 Angela is an at home chef that developed a passion for all things cooking and baking at a young age in her Grandma's kitchen. After many years in the food service industry, she now enjoys sharing all of her family favorite recipes and creating tasty dinner and amazing dessert recipes here at Bake It With Love!