These Instant Pot fall recipes are the perfect way to enjoy a quick and delicious meal on a cool, brisk day! This list includes roasts, soups, side dishes, and more! Not matter what you are craving, you are bound to see something you like!
Best Instant Pot Recipes For Autumn
Fall has officially arrived, which means it is time for all of the warm, comforting, and delicious meals! This collection of recipes is all made using an Instant Pot, but feel free to check out my collections of comfort food recipes, fall dinner recipes, and fall crockpot dinner ideas!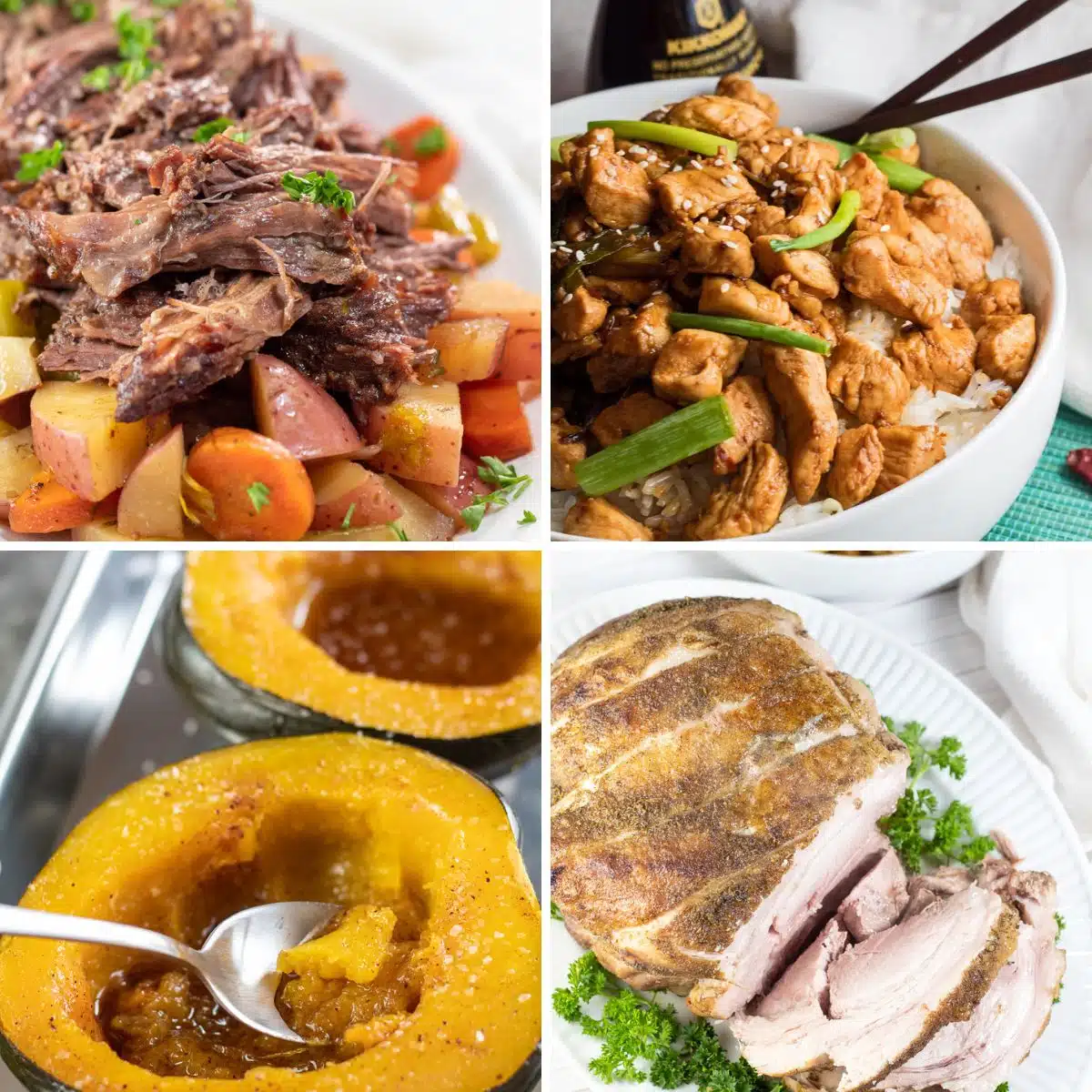 Jump to:
1. Pot Roast
Tender, melt-in-your-mouth pot roast is so delicious, yet incredibly easy to prepare! No matter your cooking skill, this meaty entree is sure to impress.
Don't forget to add some veggies for a full meal!
2. Chicken Soup
Savory and warm chicken soup is perfect for when you're feeling under the weather (or anytime, really!) It is loaded with tender chunks of chicken and flavorful veggies.
Whip up a pot of this soup to get nice and cozy!
3. Instant Pot Porketta Roast
If you're a fan of pork, this porketta roast is perfect for you! It is coated with a homemade porketta seasoning blend for loads and loads of flavor!
Not only is it delicious, but it's completely hands-off!
4. Steamed Cauliflower
These tender florets of cauliflower are one of the easiest vegetable side dishes you could make! Enjoy them plain or with some butter and herbs for some added flavor!
5. Instant Pot Rump Roast
This tasty roast beef only uses 4 ingredients, and it is practically effortless! Just sear the outsides of the roast and then let the pressure cooker do the rest of the work!
6. Steamed Artichokes
If you've ever been intimidated about cooking whole artichokes, there is no need to be! Just whip these up in your Instant Pot and pair them with your favorite dipping sauces!
7. Minestrone
Minestrone is a classic vegetable-packed soup with a tomato-based broth that is sure to please the whole family! Add a loaf of garlic bread to complete the meal!
8. Corned Beef
This corned beef entree features corned beef seasoning mix and tons of veggies for a dinner that doesn't need any side dishes! You can enjoy some delicious corned beef in just a fraction of the time it would usually take to prepare.
9. Baked Potatoes
Baked potatoes are a classic side dish that pairs well with so many things! This pressure cooker version will have your potatoes perfectly fluffy in less time than it would take in the oven.
10. Leg of Lamb
Go ahead and mix up your typical protein options by serving lamb for dinner! It's easy enough to make any day of the week but is so delicious that you could even prepare it for Christmas.
11. Chuck Roast
You only need about 10 minutes of prep work for this juicy, tender, and meaty main course.
12. Mac and Cheese
Creamy and cheesy macaroni and cheese will make any dinner a success!
13. Au Gratin Potatoes
Thinly sliced potatoes, melted cheese, and the perfect combination of seasonings make this impressive side a new family favorite.
>>>>See all of my recipes HERE<<<<
14. Acorn Squash
This sweet squash will be on your table and ready to eat in under 15 minutes.
15. Chicken Drumsticks
These drumsticks are amazingly crispy on the outside with tender meat on the inside.
16. Pulled Pork
Delicious pulled pork can be enjoyed on a sandwich, in a salad, with rice, or in a loaded potato.
17. Mashed Potatoes
Creamy mashed potatoes that are easier to prepare than the stovetop version.
18. Jambalaya
Chicken, shrimp, and sausage is tossed with veggies, rice, and zest seasonings.
19. Country Style Pork Ribs
Tender pork ribs are coated in BBQ sauce and a sprinkle of brown sugar.
20. Shredded Chicken
Simple shredded chicken makes a great base for so many other tasty dishes!
21. Braised Red Cabbage
A classic German side dish consisting of red cabbage, apples, and onions.
22. Instant Pot Pork Loin
This easy pork loin is golden on the outside and wonderfully moist on the inside.
23. Beef Stew
Hearty beef stew is loaded with potatoes, carrots, celery, and (of course) chunks of beef!
24. Chicken Thighs
Your Instant Pot is perfect for making tender and moist chicken thighs!
25. Buttered Cabbage
With only 4 ingredients, this buttery and tender cabbage is about as simple as it gets.
26. Crack Chicken
This amazingly delicious combination of chicken, bacon, and ranch makes this dish perfect as a dip or even enjoyed on a sandwich.
27. Mongolian Chicken
This homemade version is so much more delicious than anything you will get from your favorite takeout restaurants.
💭 Tips For Great Instant Pot Recipes To Make In The Fall
An Instant Pot or pressure cook is an incredibly versatile kitchen tool that can make tons of recipes in a snap! Here are some extra tips!
Seasonal Ingredients: Look for recipes that incorporate fall ingredients. Use things like pumpkins, squashes, apples, pears, sweet potatoes, and root vegetables.
Soups and Stews: Fall is known for warm, hearty soups and stews. The Instant Pot can easily break down meats in a fraction of the time it would take on the stove.
Slow-Cooked Dishes: Consider recipes that typically require long, slow cooking. Your pressure cooker can considerably shorten the cooking time for dishes like pot roast or pulled pork, while still delivering that slow-cooked taste and tenderness.
One-Pot Meals: Seek out recipes that allow you to cook everything in one pot for convenience.
Adapt Favorites: You don't have to stick to Instant Pot-specific recipes. If you have a beloved fall recipe, see if you can adapt it for your pressure cooker.
Sides: Don't forget about the accompaniments! Your pressure cooker can make creamy mashed potatoes or steamed vegetables.
Familiarize Yourself with Your Instant Pot: Each model may vary slightly. Make sure you read the instructions for your specific model.
What's your favorite Instant Pot recipe for fall time? Leave a comment and let me know!
📋 Recipe