These fall Crockpot dinner ideas include many of my top comforting slow-cooker recipes that will make your fall cooking wonderfully easy! From delicious main proteins and casseroles to satisfying soups and chili, each dish is quick and simple to prepare for dinner and always delicious! Get ready to spend less time in the kitchen, and let these cozy dinners satisfy everyone at the dinner table!
Slow Cooker Dinners To Make In Autumn
Now that the summer temperatures are winding down, it's time to indulge in some warm and comforting fall dinner recipes! While this collection of dinners is all prepared in a crockpot, I also have some easy Instant Pot fall recipes and comfort food recipes that you can check out, too!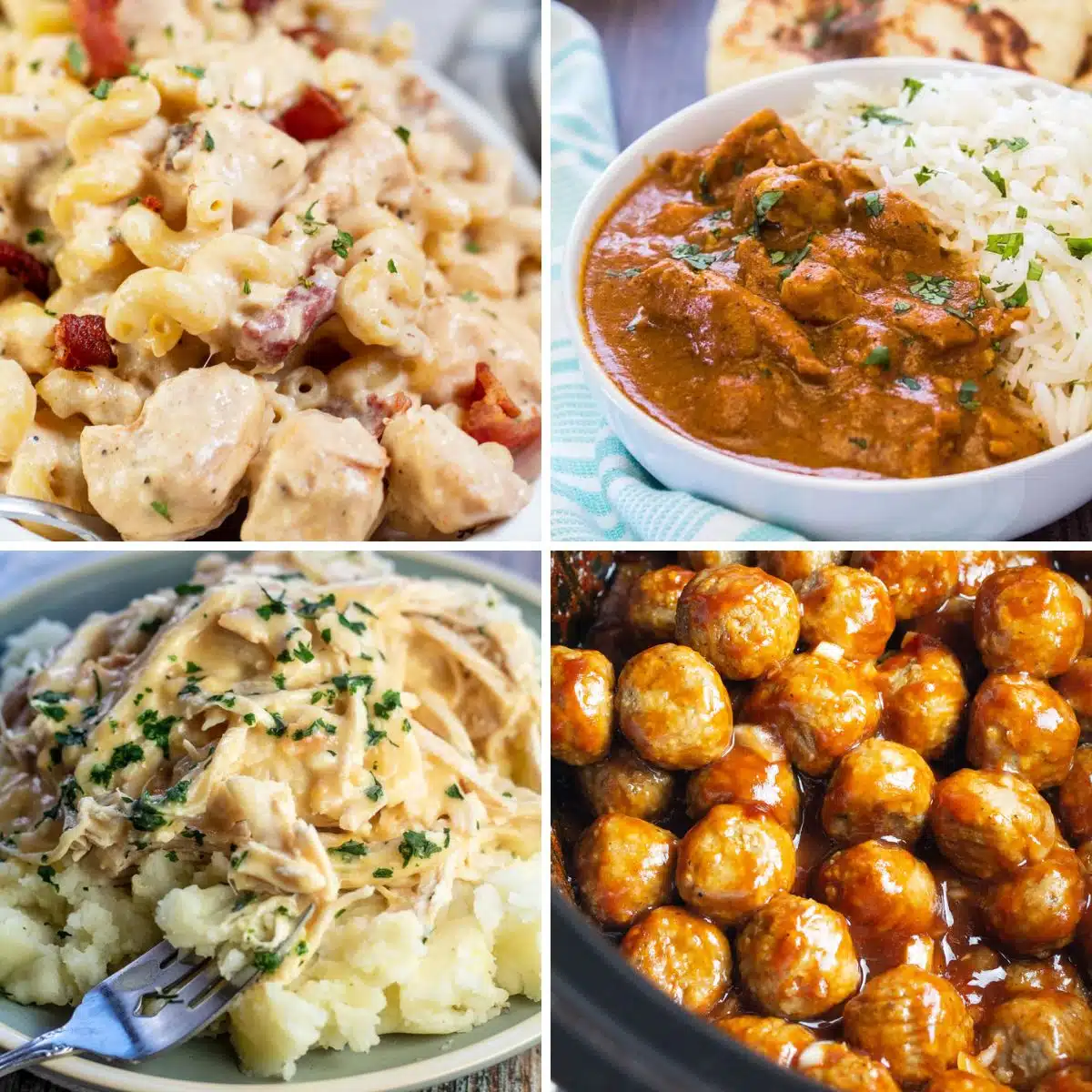 Jump to:
For more delicious fall flavors, check out my collections of fall soup recipes, fall breakfast recipes, and fall baking recipes!
1. Creamy Salsa Chicken
Crockpot creamy salsa chicken embodies the comforting warmth that's absolutely ideal for crisp fall evenings. The slow-cooked fusion of spicy salsa and creamy elements, such as cream cheese or sour cream, offers a balanced, heartwarming dish perfect for the season.
Its simplicity allows for effortless preparation, making it a go-to for cozy autumn dinners.
2. Crockpot BBQ Meatballs
Crockpot BBQ meatballs are a delightfully tasty fall treat, with their sweet and smoky sauce dishing up the nostalgic aroma of autumn bonfires. Prepared in a slow cooker, they become tender and succulent, absorbing the rich flavors as they cook to perfection.
The ease of preparation and crowd-pleasing nature of meatballs make this recipe perfect for family gatherings or larger fall festivities.
3. Chicken Enchilada Casserole
Slow cooker chicken enchilada casserole offers layers of warm, comforting flavors that meld perfectly while cooking. Its combination of hearty ingredients and spiced undertones captures the essence of fall, making it a popular family dinner recipe.
4. Slow Cooker Goulash
Slow cooker goulash is a simple, hearty meal that provides you with a sense of coziness which is perfect for cold autumn days. It's packed with tender macaroni noodles, ground beef, marinara sauce, and seasonings all simmered together in the slow cooker after you brown the beef!
If you'd prefer to make goulash on the stovetop, check out my goulash recipe here.
5. Crockpot Whole Chicken
This incredibly flavorful crockpot whole chicken recipe starts off with a juicy bird that's perfectly seasoned with a medley of herbs and spices. It's cooked low and slow on top of a bed of vegetables and potatoes for a complete and satisfying meal everyone will enjoy!
The result is a chicken that's so tender, that it practically falls off the bone!
6. Corned Beef
Although corned beef is commonly enjoyed on St. Patrick's Day, its simplicity and heartiness also make it an ideal choice for an autumn meal. I like to cook it low and slow with some cabbage, potatoes, carrots, celery, and onions for a one-pot dish that's warm and satisfying.
7. Crockpot London Broil
This easy beef dinner features a London broil that's incredibly tender and bursting with flavor, thanks to my tasty steak seasoning! It's served alongside baby potatoes, carrots, and green beans for a hearty meal worthy of any fall weeknight dinner.
8. Chicken Tacos
For a delightful Tex-Mex dinner that requires minimal effort, utilizing your crockpot is the way to go. This chicken taco recipe requires very little prep work and tastes fantastic on soft or crunchy tortillas!
You can even use the shredded chicken mixture to make nachos, burrito bowls, enchiladas, or quesadillas!
9. Slow Cooker Beef Cheek Tacos
To make delicious beef cheek (barbacoa de cachete) tacos, you just add beef, onion, garlic, and bay leaves to your slow cooker and let it work its magic. The result is flavorful pulled beef that you can use in tacos, burritos, quesadillas, and more!
>>>>See all of my recipes HERE<<<<
10. BBQ Beef Short Ribs
These easy crockpot BBQ beef short ribs are amazingly tender, juicy, and packed with delicious meaty flavor! The best part is that you don't even need to fire up your grill to make a meal that will be enjoyed by kids and adults alike.
11. Crockpot Mac & Cheese
This crockpot mac & cheese is the easiest way to cook up a pot of creamy and indulgent macaroni to serve at parties, potlucks, or any family gathering!
12. Slow Cooker Pork Ribeye Roast
There's something extra comforting about enjoying a tender pork ribeye roast with your family during the fall!
13. Green Beans & Potatoes
It only takes 10 minutes of prep work to make a delicious and warming side dish that will pair with any main course!
14. Ranch Chicken
This delicious ranch chicken can be served over rice, potatoes, noodles, or on a homemade brioche bun!
15. Crockpot Beef Stew
This warm and hearty beef stew is the perfect set-it-and-forget dinner for busy weeknights!
16. Crockpot Cube Steak
Tender and juicy cube steak is topped with savory onions, sliced mushrooms, and a rich, creamy gravy!
17. Crock Pot Chicken and Dumplings
An incredibly easy-to-make version of a classic soup that everyone loves!
18. Crockpot Cabbage
Perfectly cooked cabbage with bacon, onion, garlic, and seasoning is completely effortless in your crockpot!
19. Slow Cooker Brisket
All it takes is a brisket dry rub and your favorite BBQ sauce to make a flavorful brisket dinner that will impress anyone who tries it!
20. Slow Cooker Chicken Alfredo
With a handful of ingredients, this rich and creamy chicken alfredo is as easy as it gets!
21. Mongolian Beef
This amazingly delicious Mongolian beef recipe combines flank steak with soy sauce, ginger, garlic, brown sugar, and green onion!
22. Crockpot Chili
This hearty 3-bean chili is perfect for colder weather (especially with some extra shredded cheese on top)!
23. Yankee Pot Roast
With plenty of tasty root vegetables and melt-in-your-mouth tender beef, this Yankee pot roast never disappoints!
24. Slow Cooker Pork Loin
Cooking an amazingly flavorful and juicy pork loin has never been easier thanks to your crockpot!
25. Salisbury Steak
For a warm and cozy fall dinner, try these juicy hamburger steaks slathered in mushroom and onion brown gravy!
26. Country Style Pork Ribs
These boneless BBQ pork ribs are cooked to perfection in your favorite BBQ sauce! (My honey BBQ sauce would be excellent)!
27. Slow Cooker Kielbasa and Sauerkraut
The classic combination of smokey kielbasa sausage and tangy sauerkraut tastes even better when cooked low and slow in your crockpot!
28. Boneless Leg of Lamb
The rich and buttery flavor of lamb meat really shines through when it is cooked to tender perfection in your crock pot!
29. Chicken Drumsticks
Chicken drumsticks crisp up beautifully in the slow cooker but the meat stays delectably tender and juicy!
30. Slow Cooker Eye of Round Roast
This meaty and flavorful eye of round roast with potatoes and carrots makes for a wonderful fall dinner!
31. Crack Chicken
Crack chicken is an easy and versatile slow cooker recipe that makes a tasty topping for rice, sandwiches, and more!
32. Slow Cooker Beef Bourguignon
Beef bourguignon is a rich and hearty French stew with tender beef and vegetables that is perfect for sweater weather!
33. Pork Carnitas
Make the BEST tacos ever this fall with this super simple recipe for pork carnitas. Don't forget your favorite taco toppings!
34. Pulled Pork
For the most tender and delicious pulled pork, your trusty crock pot is the way to go!
35. Chicken Bacon Ranch Pasta
This easy chicken bacon ranch pasta only requires 5 minutes of prep work and a handful of basic ingredients!
Tips For Choosing The Best Fall Crockpot Dinners
When it comes to the best fall recipes, you want to use ingredients and flavors that will result in a delicious, satisfying, and comforting meal. Here are a few useful tips:
Choose seasonal ingredients: Seasonal produce like squash, pumpkins, apples, and root vegetables will give your dishes the most 'fall' flavor profile.
Brown your meat: For meaty main courses, it is often a good idea to brown the meat before cooking. While it will cook all the way through in your crock pot, this extra step can enhance the flavor and texture of the meat.
Season generously: Don't be shy with spices or fresh herbs. Fall flavors often include warm spices like cinnamon, nutmeg, cloves, and thyme. Taste and adjust the seasonings as needed so you can get it just right.
Don't overcook vegetables: Fall cooking often includes hearty root vegetables. If cooking on high, you can add vegetables a few hours after the other ingredients so that they don't get too soft or mushy in the crock pot.
Monitor cooking times: Crock pot cooking times can vary depending on your specific model. Check your food periodically to avoid over-cooking (especially when trying out a new recipe or slow cooker).
Now that you have a list of the best fall crockpot recipes, which one are you most excited to try? Leave a comment down below to let me know what you think!
📖 Recipe Card