When you're looking for the very best mascarpone cheese substitute to use in any cooking or baking recipe, look no further! As avid fans of mascarpone, we have gathered a great collection of alternatives that will work perfectly!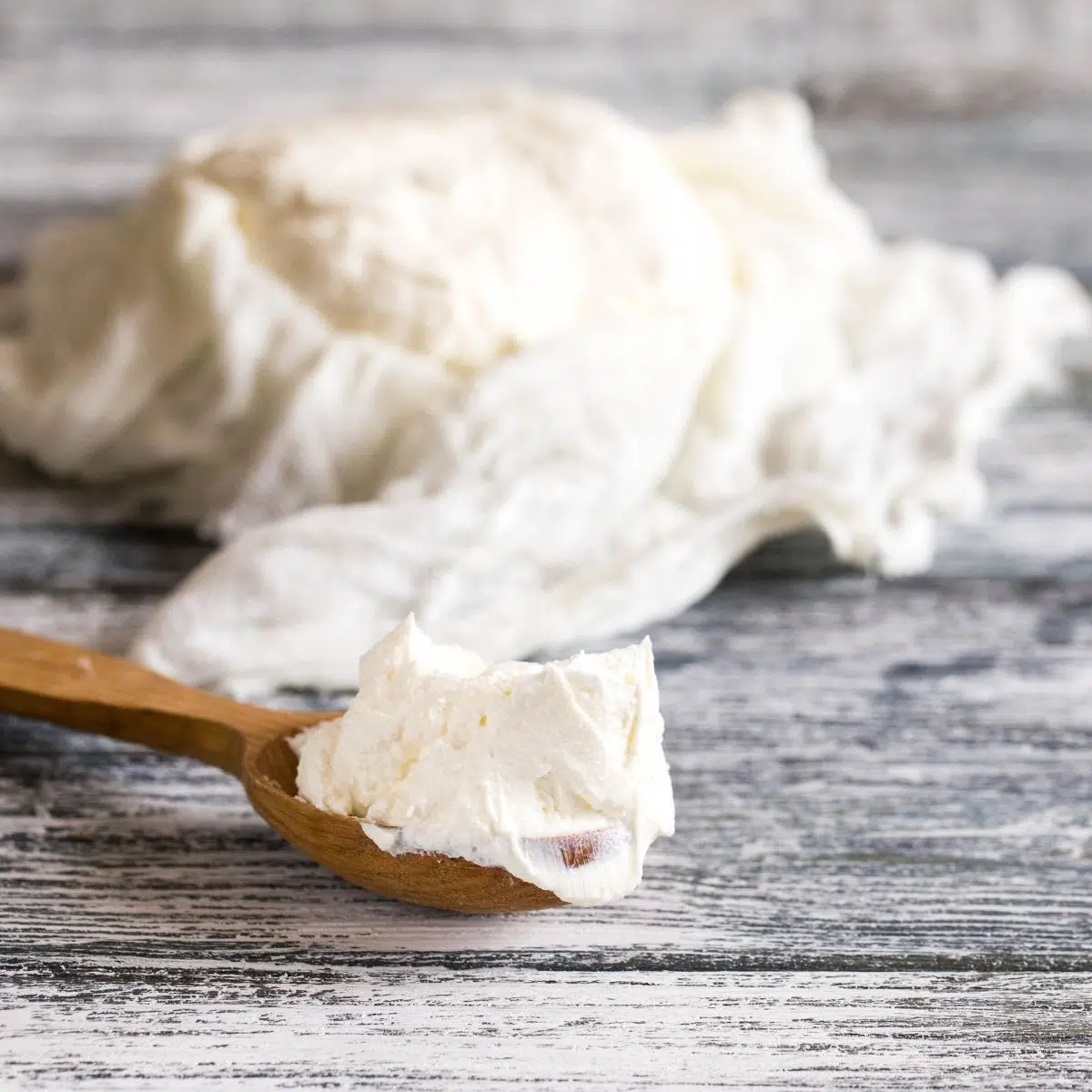 Creamy mascarpone cheese makes your favorite dishes luscious & amazing!
If there weren't already enough reasons to love Italian food, mascarpone is another one everyone needs to know about. This deliciously creamy cheese is Italy's version of cream cheese; however, this velvety cheese is much more versatile than the cream cheese you spread on your morning bagel.
Used in everything from savory risotto and pasta dishes to cocoa topped tiramisus, mascarpone is truly one of Italy's best gifts to the culinary world!
Jump to:
What is Mascarpone?
Mascarpone is a triple-cream cheese made of two simple ingredients: cream and citric (or tartaric) acid. The addition of the acid helps to further thicken the churned cream. It also adds a nice tangy finish to the flavor.
Since mascarpone's primary ingredient is cream, it is a high fat food. This is not necessarily a bad thing though, as the higher fat content provides mascarpone with its wonderful velvety texture.
What is Mascarpone Used For?
One of the most popular uses of mascarpone is in tiramisu. Mascarpone is the rich white layer on top that gets sprinkled with cocoa powder. It is also the filling in a classic cannoli.
In addition to famously being used in sweet Italian desserts, mascarpone is also a delicious addition to savory dishes. This versatile cheese can be added pastas to create a rich creamy sauce or even mixed into mashed potatoes.
The Best Substitutes for Mascarpone
With how versatile mascarpone is, there is a limitless number of different recipes you may need a substitute for. Therefore, the best substitutes will vary depending on if you want a mascarpone subsite for a savory or sweet recipe.
While many of the substitutes both sweet and savory dishes, some will be better suited for one or the other. Another factor in choosing the right substitute may be dietary choices.
Whether you are looking for something with a bit less fat, vegan friendly, or just a quick alternative, (at least) one of these tasty options is sure to work for you!
1. Crème Fraiche
Crème Fraiche is like the French version of mascarpone. This "fresh cream" is made from heavy cream that is soured. It has a similar texture and tanginess to mascarpone. However, there are some slight differences.
Crème fraiche has less fat than mascarpone; so, even though it shares the same creaminess of mascarpone it is not quite as thick. It is also slightly tangier.
Even with these slight differences, crème fraiche is a delightful substitute for mascarpone in both savory and sweet recipes.
You can use an equal 1:1 exchange in any recipe. For sweet recipes, you may want to add some extra sweetener to counter act the extra tanginess.
2. Sour Cream
Sour cream is a popular substitute for crème fraiche, which also makes it a good substitute for mascarpone. However, sour cream has a stronger sour taste than both crème fraiche and mascarpone. Therefore, it is best used in savory recipes.
While you can use low-fat sour cream, full-fat sour cream will give you a closer consistency to mascarpone. If your choice of substitute is to avoid the fat content of mascarpone, even a full-fat sour cream will still have less fat.
Use sour cream in a 1:1 exchange for mascarpone in soups, stews, pastas, and other savory dishes.
3. Plain Greek Yogurt
While Greek yogurt is quite a bit tangier than mascarpone, it still has a nice neutral flavor that makes it a great substitute in many dishes. It also has the nutritional benefit of added protein and less fat!
Due to its tanginess, some prefer to use this option only in savory dishes; however, the tanginess can also work in certain sweet recipes (although you may need to increase the sweetener). The consistency should also be considered when using this substitute.
Greek yogurt also has a thinner and less creamy consistency. Therefore, it works best in recipes where it is mixed in, rather than layered (for example, mixed into pasta rather than layered in tiramisu).
While you can use low-fat or fat-free Greek yogurt, you will get the best results from the full-fat version. Use Greek yogurt in an even 1:1 exchange.
4. Blended Cottage Cheese
Don't skip this often-overlooked food! Cottage cheese is a great substitute that can offer a rich and creamy consistency to savory dishes. Like Greek yogurt, it is also high in protein.
Even though cottage cheese has a very different consistency than mascarpone, you can quickly change that. To achieve a smooth creamy consistency simply blend the cottage cheese in a food processor or blender.
When heated, blended cottage cheese will melt in a similar way to regular cheese; therefore, it is best used in savory dishes. Use it as a 1:1 substitution
5. Ricotta Cheese
Ricotta Cheese is another Italian cheese that we should all thank Italy for. While it has many similarities to mascarpone, it is a bit saltier and more commonly used in savory dishes (like lasagna).
As a substitute, ricotta works in a similar way to cottage cheese. While it is not quite as chunky as cottage cheese, it is not as creamy as mascarpone. Therefore, give it a quick whirl in the blender to get that velvety texture.
Ricotta has a neutral taste that can take on sweet flavors, but some prefer to only use this in savory dishes. Try mixing a little bit with your sweetener first to see how it tastes.
Use ricotta cheese in an even 1:1 exchange for mascarpone.
6. Cream Cheese + Heavy Cream
Even though mascarpone is referred to as a creamed cheese, it does not have the same consistency as American cream cheese. Despite the differences though, you can use cream cheese as a substitute for mascarpone – with a quick tweak.
To get a similar consistency to mascarpone blend cream cheese with a bit of heavy cream. This will give you a lighter and creamier cheese that is more like mascarpone. You can use this is both savory and sweet recipes.
Measure cream cheese in an even 1:1 substitution for mascarpone. Then, add just a splash of cream or milk and whip it up in a food processor or with a hand mixer.
If you want, you can measure it again to get an exact 1:1 ratio.
7. Vegan Mascarpone
If you (or someone you are cooking for) follows a vegan diet, then your easiest substitute may be to find an already prepared vegan mascarpone. While most mainstream grocery stores may not carry a vegan option, you should be able to find one at a specialty food store.
Vegan mascarpone can be used in an even 1:1 exchange for regular mascarpone (unless otherwise noted on the package).
8. Coconut Cream
While coconut cream has its own distinct flavor that is quite different from mascarpone, its creamy and thick consistency is a great substitute for mascarpone. It is also a great vegan or non-dairy alternative.
The natural sweetness of coconut cream is ideal for desserts. However, it can work in certain savory dishes where the natural coconut flavor will compliment the other flavors.
Use coconut cream in a 1:1 exchange for mascarpone. To get the best consistency, give coconut cream a quick whirl in the blender before using.
9. Vegan Cream Cheese + Dairy Free Cream
If you follow a vegan diet, then you probably already know that there are some delicious dairy free cream cheeses on the market. Most of these have a similar consistency to a regular cream cheese.
You can use your favorite dairy free cream cheese as a substitute in the same manner as regular cream cheese. Simply mix the cream cheese with a dairy free cream. A splash of coconut milk (either canned or in a carton) will also work; however, coconut cream will be too thick.
One thing to be mindful of with vegan cream cheese and cream is that depending on what it is made from (coconut cream, cashews, almonds, etc.), the flavor may slightly change the overall recipe.
Use vegan cream cheese in a 1:1 exchange for mascarpone. Follow the same directions for regular cream cheese to mix it with vegan cream.
10. Soft Tofu + Vegan Cream
Tofu is a great choice for a substitute due to its neutral flavor. Since it easily absorbs the flavors that are around it works quite well for both savory and sweet dishes.
To prepare tofu as a substitute though, you will need to take a few extra steps. Anytime you cook with tofu, you want to first remove the excess water. Do this by wrapping it in a clean dish towel and squeezing the water out.
Once you have removed the water, place the tofu in a food processor or blender and blend with a splash of vegan cream (or coconut milk).
Blend the tofu first before measuring it. Once it has been blended and resembles a smooth and creamy consistency, measure it in a 1:1 exchange for mascarpone.
11. Homemade Mascarpone
This may not be the most convenient, but if you want the best mascarpone you could possibly enjoy anyway, then making your own is where it's at! See below for everything you need to start homemade cheesemaking with this amazing beginners recipe!
Choosing the Best Mascarpone Substitute
If you have never used mascarpone, then I recommend trying the real thing first. While vegan mascarpone may be more difficult to find, regular mascarpone is commonly sold in all mainstream grocery stores.
Once you have tried the real thing, then you'll know what the consistency and taste is that you are going for with a substitute. If you prefer to find a substitute right from the beginning though, simply follow the suggestions above.
The best choice is to choose a substitute that you already enjoy the taste of – then you know you will already have a taste you love!
What recipe were you working on when looking for the best mascarpone cheese substitute? Let us know in the comments below and share which option you picked too!
📋 Recipe
Print Recipe
Leave A Comment
Love This Recipe?
Click On A Star To Rate It!
Best Mascarpone Cheese Substitute: Homemade Mascarpone (+More Great Alternatives!)
When you're looking for the very best mascarpone cheese substitute to use in any cooking or baking recipe, look no further! As avid fans of mascarpone, we have gathered a great collection of alternatives that will work perfectly!
Total Time
2
hours
20
minutes
Pin Recipe
Share on Facebook
Instructions
Set up a double boiler with a heat-safe metal or glass bowl over 2-3 inches of water in your saucepan.

Pour 2 cups each of the whole milk and heavy cream into the double boiler and stir in the calcium chloride until it is well combined.

2 cups heavy cream,

2 cups whole milk,

⅛ teaspoon calcium chloride

Slowly heat the milk to 185-190°F (85-88°C) checking after it starts to foam (which is typically about 175°F (79°C)). Stir constantly while heating and check the temperature as the milk heats using a digital thermometer.

Hold the temperature at this range for 5 minutes, and continue stirring constantly while you also dissolve the tartaric acid in 2 tablespoons of water (and set aside).

Gently mix in the dissolved tartaric acid and stir as a small curd (that looks like Cream of Wheat) forms. Set the mixture aside and allow to cool for 5-15 minutes.

½ teaspoon tartaric acid,

2 tablespoon water

Line a colander with cheesecloth, set it over a bowl to catch the whey, then use a ladle to transfer the cooled curds into your colander. Fold the cheesecloth over the mascarpone while it drains and place in the refrigerator.

Chill for about 2 hours for the usual mascarpone consistency. Store in an airtight container in the fridge for up to 7 days.
Equipment You May Need
Notes
The milk and heavy cream used in this recipe are pasteurized, as those are most readily available at grocery stores. If you have fresh milk or cream, your results will be delightfully rich and tasty!
The calcium chloride can be omitted if using unpasteurized, fresh cream.
Yield is 2 cups of mascarpone cheese.
Each serving is calculated for ¼ cup mascarpone cheese.
Nutrition
Calories:
138
kcal
(7%)
|
Carbohydrates:
4
g
(1%)
|
Protein:
3
g
(6%)
|
Fat:
13
g
(20%)
|
Saturated Fat:
8
g
(50%)
|
Polyunsaturated Fat:
1
g
|
Monounsaturated Fat:
3
g
|
Cholesterol:
41
mg
(14%)
|
Sodium:
31
mg
(1%)
|
Potassium:
120
mg
(3%)
|
Sugar:
4
g
(4%)
|
Vitamin A:
536
IU
(11%)
|
Vitamin C:
1
mg
(1%)
|
Calcium:
95
mg
(10%)
|
Iron:
1
mg
(6%)
Homemade Mascarpone Cheese, Mascarpone Cheese Substitute, substitutions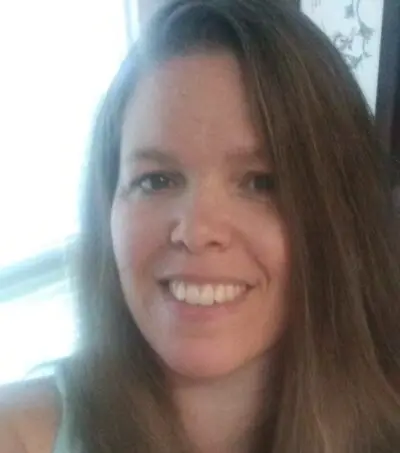 Angela is an at home chef that developed a passion for all things cooking and baking at a young age in her Grandma's kitchen. After many years in the food service industry, she now enjoys sharing all of her family favorite recipes and creating tasty dinner and amazing dessert recipes here at Bake It With Love!