18 of my best Chicken Marinades to take boring, plain chicken to flavorful, tender, and juicy in no time at all for amazing chicken dinners! Whether you're grilling, roasting, pan-frying, or stir-frying your chicken using marinades helps to lock in flavor and moisture for an immediate upgrade to your family meals!!
18 Of The Best Chicken Marinades (for Grilled, Pan-Seared, Roasted, or Baked Chicken)
Have you ever wondered why you should bother marinating chicken? Let me tell you that there's more than just great-flavored chicken to be gained with this super simple process!
All of the amazing marinade flavor soaks into your chicken for added flavor when cooking. This makes your chicken breasts, chicken thighs, chicken wings, or drumsticks absolutely perfect for a wide variety of cooking methods!
Table of contents
The addition of an oil base to most marinades in general serves two purposes:
To help the marinade coat the chicken for best marinating results.
To keep the chicken tender and moist throughout the cooking process.
I haven't seen a down side yet! Unless of course, you're short on time. That's always a bummer as the longer you can marinate your chicken, the better the flavor!
In a time crunch, any of these easy marinades can be used for a quick 15 - 30 minute marinade. However, your best marinated chicken flavor is from at least 4 hours of marinating, and preferably overnight between 8 - 24 hours!
Popular Chicken Marinades
Asian-inspired Flavors
Teriyaki Chicken Marinade - combines just 5 ingredients for the well-loved and family-approved teriyaki chicken flavor! Mix soy sauce with rice vinegar, brown sugar, ginger, and garlic plus the optional 6th ingredient, chopped green onions. This is one of my all-time favorites for stir-fry!
Honey Garlic - is another well-loved Asian flavor that's super easy and uses just 6 ingredients! It's an easy marinade to mix directly in your quart-sized freezer storage bags! Add honey, soy sauce, olive oil, garlic, salt, and pepper for a sweet and tangy chicken that's perfect for grilling and roasting!
Japanese Steakhouse - this hibachi-inspired marinade is built on the very popular ginger dipping sauce flavor. Just 5 ingredients for a wonderfully tasty savory chicken that's perfect for outdoor hibachi grilling on your blackstone grill! Combine soy sauce, onion, ginger, mirin, and coconut oil with your chicken for a punch of flavor!
Mexican-inspired Flavors
Fajita Chicken Marinade - makes your fajita night dinners so amazing! This marinade combines 10 ingredients to take your fajita flavors to new levels of deliciousness effortlessly! Mix olive oil, lime juice, cumin, chili powder, paprika, garlic powder, onion powder, cilantro, salt, and pepper then add it to your chicken!
Chipotle Chicken Marinade - this 8 ingredient Mexican chicken marinade is a great way to add immense flavor to your chicken! Puree some chipotle chilis with adobo sauce, or stick to the adobo sauce alone and add olive oil, lime juice, cumin, onion powder, garlic powder, salt, and pepper!
Cilantro Lime - combines two of my favorite flavors in a simple 7 ingredient marinade! Mix together lime juice, olive oil, cilantro, cumin, cayenne pepper, salt, and pepper to enjoy some delightfully tangy chicken!
Italian-inspired Flavors
Italian Chicken Marinade - just 6 ingredients and you have truly tasty chicken with a wonderful combination of Italian flavors! Oh, how I love basil! Use some fresh basil, then add olive oil, lemon juice, Italian seasoning, garlic, and crushed red pepper flakes for a completely homemade Italian chicken dinner!
Balsamic Chicken Marinade - this super flavorful balsamic marinade uses just 7 ingredients to make incredibly rich and flavorful chicken! Mix together olive oil, balsamic vinegar, garlic, thyme, basil, salt, and pepper, then enjoy what is a family favorite in my household!
Pesto - is a wonderful, classic Italian flavored marinade with all the rich basil flavor you know and love in pesto! Combine basil, olive oil, garlic, lemon juice, pine nuts, salt, and pepper for an easy, rich pesto chicken!
Tropical Flavors
Jamaican Jerk Chicken Marinade - this is a simple Jamaican jerk recipe that uses pantry staples, with all sorts of suggestions for an authentic version to try too! To keep it quick and easy, combine olive oil, lime juice, brown sugar, garlic powder, thyme, cinnamon, cayenne pepper, allspice, salt, and pepper!
Mango Chicken Marinade - this fresh, flavorful marinade uses 7 ingredients including delicious fresh mango! Puree the diced mango with olive oil, lime juice, honey, sriracha, garlic, and salt. The chicken is amazingly tender and moist without being overly sweet or spicy at all! The whole family will love your mango chicken!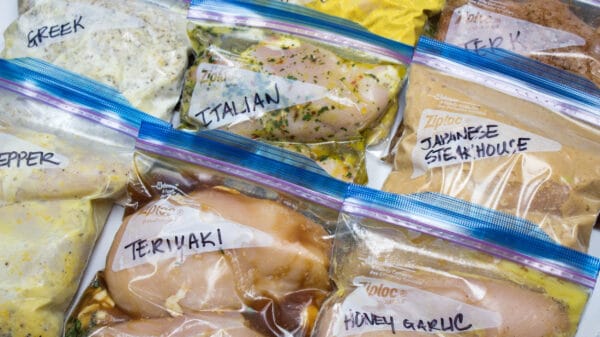 I hope that you enjoy this wonderful selection of marinades to add flavor to your chicken dinners! Let me know which ones you like best!
Be sure to check back in as I add more recipes using these marinades to best feature all of these delightful marinade flavors!!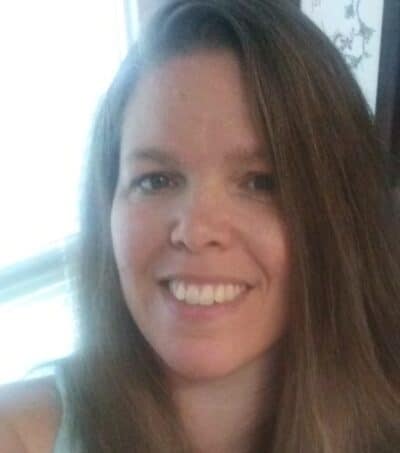 Angela is an at home chef that developed a passion for all things cooking and baking at a young age in her Grandma's kitchen. After many years in the food service industry, she now enjoys sharing all of her family favorite recipes and creating tasty dinner and amazing dessert recipes here at Bake It With Love!