This amazingly tasty Curry Chicken Marinade combines Greek yogurt, lime juice, and yellow curry powder to make an addictively delicious, tender, and moist chicken dinner! It's a perfect marinade for boneless, skinless chicken breasts, split chicken breasts, chicken thighs, or chicken quarters!
Curry Chicken Marinade Recipe
This delicious chicken marinade is infused with Indian curry flavor plus the bright and tangy additions from yogurt and lime juice! It just doesn't get much better than this when you've got your marinade working for you!
The acidity from the yogurt and lime will begin tenderizing your chicken, which results in a super tender and moist chicken dinner! It doesn't matter whether you oven-bake, grill, air fry, or pan-sear the chicken - the flavor and moisture is locked in!
Ingredients You'll Need
It doesn't get much simpler than 4 ingredients! Grab a plastic storage bag or a freezer storage bag, and your meal prep is underway!!
Yogurt - any plain yogurt will work for this marinade. I prefer the full-fat varieties and LOVE using Greek yogurt for my marinades! The non-fat or reduced-fat yogurts are still quite tasty but just do not turn out quite as creamy. For freezing your marinating chicken, coconut yogurt works exceptionally well!
Lime Juice - just the right amount of lime juice to brighten up and add depth of flavor to this simple chicken curry recipe with yogurt!
Curry Powder - the addition of curry powder adds such a deep, kind of earthy, but still bright and vibrant for a very flavorful marinade. Most of your standard 'curry powder' spice blends at the grocery store are a mild blend. A medium to a hot spice blend is also fantastic!
Salt - a touch of salt enhances all of the wonderful flavors being added to this yogurt-marinated chicken!
Can I Add Sugar?
Yes! Brown sugar is a popular addition to this easy 4-ingredient chicken marinade. A single teaspoon of brown sugar can add a flavor contrast that balances the yogurt and lime delightfully!
Can I Use Curry Paste?
Short answer, no. Of course, if it's what you really want to try then go right ahead.
However, the flavors of this marinade are based on Indian-style curry powder. Curry paste is very rarely used in Indian cooking and is more often found in Thai-style dishes.
Curry paste will yield a much more intense flavor! If you do decide to give it a try for your curry marinade, do use less of the curry paste. As a general rule of thumb, you should use 1 teaspoon of curry paste for each tablespoon of curry powder.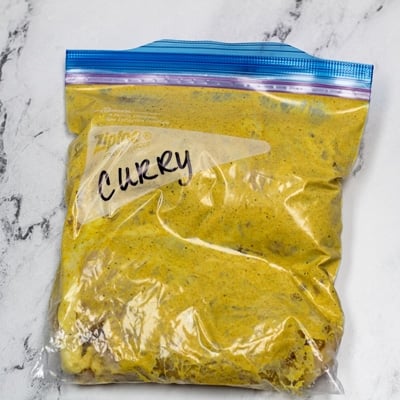 How To Make Greek Yogurt Curry Chicken Marinade
Yogurt-based chicken curry marinade is a really straightforward marinade to make. It blends easily and coats your chicken very well!
I do suggest and prefer using the storage bags. It helps the marinade to really 'cling' to your chicken pieces. Yum!
In a small bowl, combine the yogurt ( plain yogurt, plain Greek yogurt, or coconut yogurt ) with lime juice, curry powder, and salt. Mix until smooth.
Transfer the marinade into your plastic storage bag and add the chicken. Seal the bag securely, while squeezing out any excess air.
Once sealed, massage the marinade into the chicken by squeezing the bag and coating your chicken thoroughly.
Refrigerate and allow to marinate for 4 hours, or freeze for up to 3 months.
Your chicken needs to marinate for at least 20 minutes before cooking. Some recipes say a minimum of 15 minutes will suffice. I disagree, as adding flavor and tenderizing the chicken is the point of a great marinade.
So, 15 - 20 minutes in a pinch if you really want this awesome chicken tonight. But overall, the longer you can let the chicken marinate, the more flavorful it will be!
I would usually recommend at least 4 hours for marinating. 24 hours is best, and you can marinate the chicken for up to 2 days refrigerated. This is the maximum amount of time that I would marinate chicken with any acid-based marinade!
While frozen chicken pieces can usually be stored in the freezer for 6 months or more, I recommend a maximum of three months for the chicken with marinade. Allow the frozen marinated chicken to thaw in the refrigerator overnight.
Your chicken marinade will seep into the chicken slowly while it thaws.
Fabulous Rice Sides to Serve Your Curry Chicken Over!
Check out all of my flavorful chicken marinades in one place! The marinades are absolutely perfect for grilled, pan-fried, or oven-baked chicken breasts, thighs, wings, skewers, and more!
Print Recipe
Leave A Comment
Love This Recipe?
Click On A Star To Rate It!
Curry Chicken Marinade
This amazingly tasty Curry Chicken Marinade combines Greek yogurt, lime juice, and yellow curry powder to make an addictively delicious, tender, and moist chicken dinner! It's a perfect marinade for boneless, skinless chicken breasts, split chicken breasts, chicken thighs, or chicken quarters!
Servings:
1
lb chicken marinade
Pin Recipe
Share on Facebook
Ingredients
½

cup

Greek yogurt

(or plain yogurt of any kind)

4

teaspoon

lime juice

1

tablespoon

curry powder

¼

teaspoon

salt
Instructions
Mix all ingredients in a small bowl. Combine yogurt, lime juice, curry powder, and salt until smooth.

Transfer the marinade into a ziploc plastic storage bag then add your chicken pieces. Seal securely while squeezing out any excess air.

Massage the curry marinade into the chicken through the bag.

Refrigerate for at least 4 hours prior to use. Freeze for up to 3 months.
Notes
This curry chicken marinade yields approximately ⅔ cup of marinade, or 10 tablespoons + 1 teaspoon for each 1 pound of chicken meat. This was only two chicken breasts for my pound of chicken, but it could have accommodated a 3rd chicken breast.
---
Yogurt-based marinades are not the best for freezing. Your cooked chicken may have a few small flakes from the yogurt, however, I have never had this happen. If you do see it, you can scrape it aside or not. Your flavor will still be awesome!
Nutrition
Calories:
84
kcal
(4%)
|
Carbohydrates:
9
g
(3%)
|
Protein:
11
g
(22%)
|
Fat:
1
g
(2%)
|
Saturated Fat:
1
g
(6%)
|
Trans Fat:
1
g
|
Cholesterol:
5
mg
(2%)
|
Sodium:
621
mg
(27%)
|
Potassium:
257
mg
(7%)
|
Fiber:
2
g
(8%)
|
Sugar:
4
g
(4%)
|
Vitamin A:
73
IU
(1%)
|
Vitamin C:
7
mg
(8%)
|
Calcium:
142
mg
(14%)
|
Iron:
2
mg
(11%)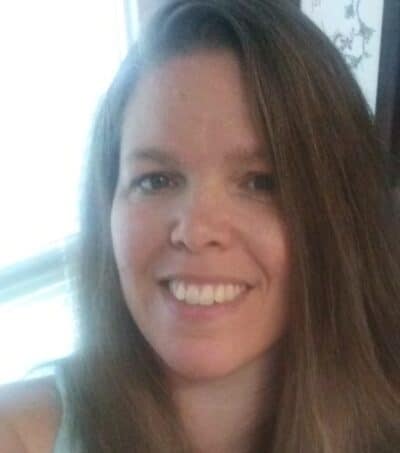 Angela is an at home chef that developed a passion for all things cooking and baking at a young age in her Grandma's kitchen. After many years in the food service industry, she now enjoys sharing all of her family favorite recipes and creating tasty dinner and amazing dessert recipes here at Bake It With Love!