How to roast lamb in the oven so that it is tender, juicy, and mouthwateringly delicious, no matter the cut you choose! This complete guide to roasting lamb not only discusses cooking different cuts of meat, but also how to achieve your desired level of doneness, and how to prep and season your lamb!
How to Oven Roast Lamb Like A Pro!
Lamb is a meat that is often saved for special occasions. Since you may not be cooking it as regularly as other meats, a little brushing up on how to roast lamb is important to make sure you get it perfectly cooked. Roasting lamb is about more than just what happens inside the oven. It all begins with choosing your cut of meat and ends with letting it rest outside of the oven.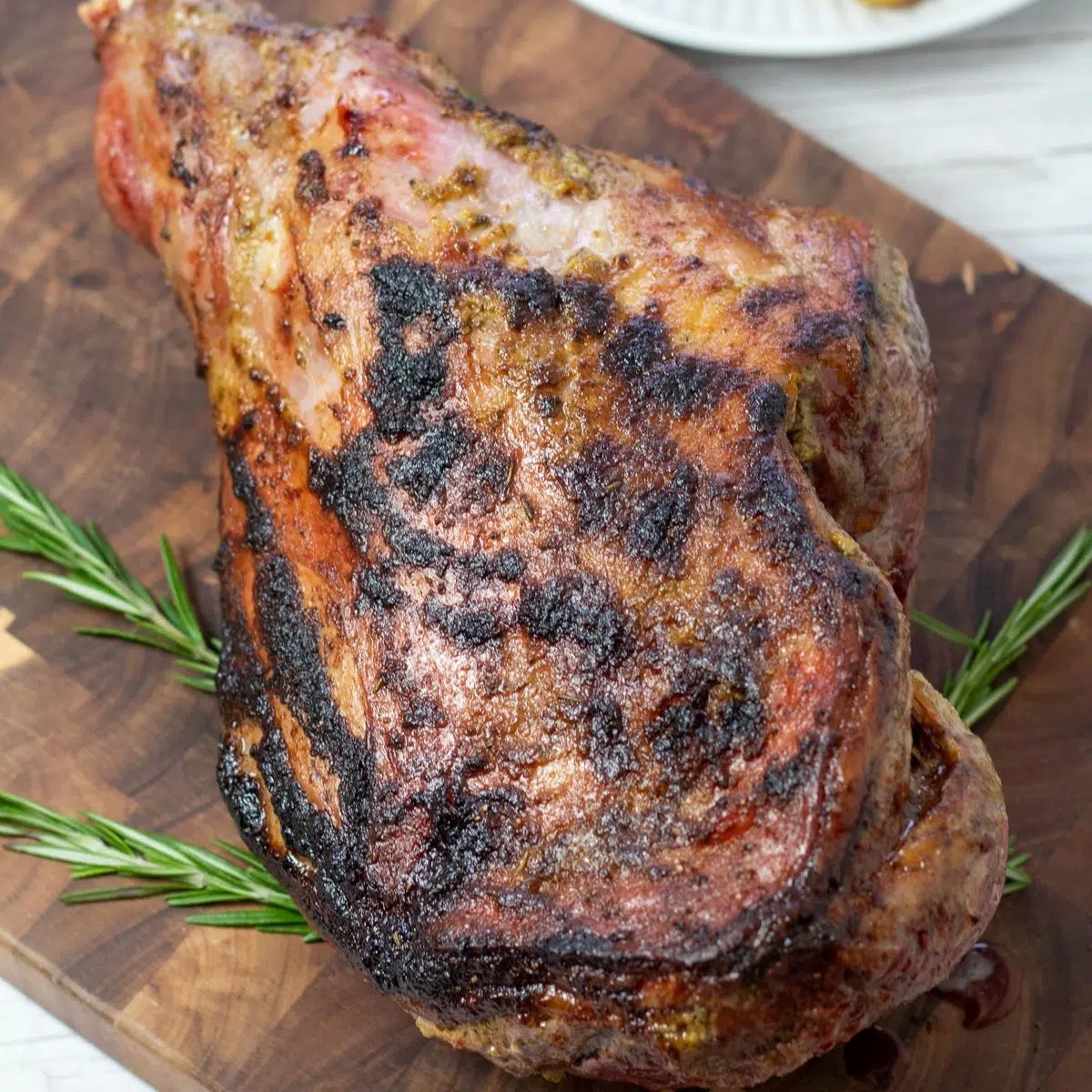 Jump to:
How to Choose the Best Cut of Lamb Meat
You may already have a favorite cut of beef that you choose when cooking up your favorite steak, but what about lamb? Lamb is less frequently purchased than beef; therefore, you may not be as familiar with choosing a cut.
While some cuts of lamb may be better suited for certain occasions, the best cut will depend on preference.
Leg of Lamb
Leg of lamb is one of the most popular cuts. This roast is perfect for special dinners, like Easter Sunday. It has a well-proportioned meat to bone ratio that makes it easy to cut. Not to mention the wonderful rich flavor produced from the dark meat.
The bone in the leg of lamb also adds a lot of the flavor. This comes from the collagen and juices that come through during cooking. However, many people prefer a boneless leg of lamb for ease of cooking. You will still get the same rich flavor of the meat, but it will be slightly less tender than with the bone in.
A full leg of lamb typically serves 6-8 people.
Half Leg of Lamb
A full leg of lamb can be quite large. Therefore, if you are cooking for a smaller group, a half (or partial) leg of lamb may be a better choice. You will still get all the rich flavors, without too many leftovers.
Lamb Shank
Lamb Shank is the lower part of the leg. It is the smallest piece of a leg of lamb; however, it still offers tons of flavor due to the bone that runs through it. This cut can also be a good choice if you want a smaller roast.
Lamb Shoulder
Lamb shoulder is one of the fattier cuts of meat. When roasted slowly, this results in a delightfully tender roast. Like leg of lamb, this cut can also be purchased boneless or with the bone in.
A lamb shoulder typically serves about 6-8 people. You can also get a half shoulder for a smaller dinner group.
Rump
While a rump roast is a popular cut of beef, not as many people think to buy a lamb rump roast. However, it is quite delicious.
The rump is a leaner cut of meat, but it has a nice fatty top layer that makes it easy to cook. The fat protects the meat so that it is more difficult to overcook it, while also adding some juiciness to the roast.
Loin
Unlike the rump, lamb loins are one of the more popular cuts purchased. They make a great roast and chops.
Loin is taken from the top of the back on the lamb and does not have a layer of fat (like the rump roast). Therefore, it must be cooked with care to not overcook it or dry it out.
Lamb Chop
If you want the rich flavor of lamb, but you don't want to make a full roast, then lamb chops are a great choice. Lamb chops are traditionally cut from either a rump or loin roast.
They are perfect for roasting in a skillet or for grilling.
Rack of Lamb
Rack of lamb is another good option for those who don't want to make a full roast. Taken from the ribs, these lean steaks have a lighter flavor than other cuts of lamb. They are also easier and quicker to cook.
In addition, rack of lamb the shape of the individual rib steaks looks beautiful plated.
How to Season the Meat
The beauty of lamb is that the flavor is so rich and lovely, it doesn't take a lot of seasoning to enrich the flavor. In fact, many people choose to simply stick with the basics: a little bit of salt and pepper.
This isn't to say you can't have some fun with additional flavor enhancers though. Garlic and rosemary are a wonderful duo to pair with lamb. This pairing works well with all cuts of lamb.
Make a handful of small incisions into the meat and slide fresh garlic gloves inside. You can add fresh sprigs of rosemary alongside the garlic or rub minced rosemary over the outside of the roast.
Garlic and rosemary work on smaller cuts of meat as well. Rather than placing the garlic inside the meat though it works better to create a rub with minced garlic and chopped rosemary. This is the pairing I use for my pan seared lamb chops.
In addition, I also like to use seasonings like herbes de provence, like for my slow roasted lamb shanks.
Another great addition is butter or olive oil to help enrich the decadence of the lamb. These two can be rubbed on the meat prior to adding any seasonings.
How to Cook the Meat
After all the dedication to preparing your lamb, you want to make sure it gets perfectly cooked. Cooking lamb to perfection isn't just about the temperature and time.
Getting the lamb just right starts before it goes in the oven.
Bring the Meat to Room Temperature
The best secret to well cooked meat is to let it warm up to room temperature before cooking it. Therefore, plan to remove it from the refrigerator at least 30 minutes prior to preparation. Let is sit on the counter while you gather the other ingredients you need.
Cooking Temperature
Once the meat is no longer cold, and has been well seasoned, it's time to cook. The cooking temperature will depend on the cut of meat and how large it is.
Use the chart below to help you find the best temp for your lamb.
Generally, fattier cuts of lamb should be roasted long and slow at a low temperature. Leaner cuts of meat should be cooked at a high temperature for the first several minutes and then at a lower temperature the rest of the time.
Regardless of what type of cut you are cooking it is recommended to keep the oven rack in the middle and to use a roasting rack for your lamb. This will ensure the meat cooks evenly throughout.
Directions for Roasting a Whole Leg of Lamb, Half Leg, Boneless leg, Lamb Loin
These cuts of meat are typically leaner. Therefore, roasting them in a hot oven for the first 15-20 minutes will help seal in the juices and deliver a juicy and tender roast.
Preheat the oven to 450°F (230°C). Place the meat on the roasting rack and cook for 15 minutes (if it is a larger cut of meat, you can cook it for up to 20 minutes).
This will give you a lovely crisp outside and keep the meat from drying out as it slowly cooks later.
After 15 minutes, lower the oven to 350°F (175 °C) and continue to cook for the recommended time per pound of meat.
Loin Chops or Racks
Loin chops and racks will follow the same roasting principles as above. However, due to their smaller size, you have some additional choices.
You can follow the exact same directions above using the oven. Many cooks prefer to sear these smaller pieces of meat in a skillet rather than cooking on high heat in the beginning.
Quickly sear each side and once you have a nice browned outside, transfer to the roasting rack to finish in the oven. These cuts will take significantly less time to roast, so make sure to keep an eye on them and not to overcook them.
Another option is to cook the lamb chops or shanks in a skillet all the way through. My Pan Seared Lamb Shoulder Chops recipe is a great choice for this method.
Suggested Cooking Times
It takes approximately 30 minutes (beyond the initial 15-20 of high heat) per pound for it to reach medium. Medium-rare will average about 25 minutes of cooking per pound, while well-done will be closer to 35 minutes per pound.
An average leg of lamb is around 4 pounds. Therefore, it is about 2 hours of cooking time.
This will vary from each individual cut of meat though. It is important to use a meat thermometer to check for doneness.
To use a meat thermometer, remove the lamb from the oven and place it on top of the stove. Close the oven door to keep the heat in in case you need to return the lamb to continue cooking.
Insert the meat thermometer into the thickest part of the meat. Use the guide below to determine if it has reached its desired level of doneness.
Note on Determining Doneness
The meat will continue to cook while it is resting. Therefore, I recommend removing the meat from the oven when it is about 5-10 degrees below your desired level of doneness. For example, if you want a medium leg of lamb, remove it when it has reached medium-rare: 125°F - 130°F.
Desired Doneness for Lamb
The USDA recommends that lamb should be 145°F (63°C) before eating.This is considered well-done. Many cooks recommend that lamb be enjoyed at medium though, which is 130-135°F.
If you prefer a different level of doneness, follow the guide below.
Rare: 120°F - 125°F
Medium-rare: 125°F - 130°F
Medium-well: 135°F - 140°F
Well-done: 140+°F (60+°C)
Whole Shoulder, Half Shoulder, Boneless Shoulder, Rump Roast
Cuts like this typically already have a good protective layer of fat. This keeps the meat moist, so you do not need to seal it in on high heat in the beginning.
Instead, simply roast the lamb low and slow at 325°F (160°C). This method often leads to a super tender roast that is well done, but easily slices and falls off the bone.
Therefore, there is less focus on aiming for a degree of doneness (such as medium rare or medium). However, it is still important to check for doneness.
Baste the Lamb During Cooking
One trick to getting the most from your lamb is to baste it during cooking. This helps keep it moist and tender while cooking. This method can be used for roasts, as well as chops and racks.
About half-way through the cooking time, carefully take the lamb out of the oven. Close the oven to keep the heat in.
Use a large spoon (or turkey baster) to scoop the juices from the bottom of the roasting pan and pour them over the meat. Then return to the oven to continue cooking.
While basting is not a must, it is a little added touch with a big payoff.
Let the Lamb Rest
Even though the delicious smells wafting from the oven will have you wanting to dig into the lamb right away, patience pays off. When you remove the lamb, cover it with tin foil and allow it to rest.
Just like with beef, letting the lamb rest before serving allows the juices to evenly settle throughout. This not only adds to the flavor, but also makes it easier for carving.
Larger roasts should rest for about 30 minutes, while smaller cuts like lamb chops or a rack of lamb will only need about 5 minutes.
While the lamb is resting, finish up any last-minute preparations for dinner. Then sit down and enjoy!
Do you love a recipe you tried? Please leave a 5-star 🌟rating in the recipe card below and/or a review in the comments section further down the page.
Stay in touch with me through social media @ Pinterest, Facebook, Instagram, or Twitter! Subscribe to the newsletter today (no spam, I promise)! Don't forget to tag me when you try one of my recipes!
📖 Recipe Card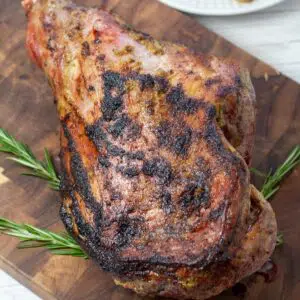 Print Recipe
Leave A Comment
Love This Recipe?
Click On A Star To Rate It!
How To Roast Lamb: Perfectly Roasted Leg of Lamb (Bone-In)
How to roast lamb in the oven so that it is tender, juicy, and mouthwateringly delicious, no matter the cut you choose! This complete guide to roasting lamb not only discusses cooking different cuts of meat, but also how to achieve your desired level of doneness, and how to prep and season your lamb!
Total Time
2

hours
10

minutes
Pin Recipe
Share on Facebook
Ingredients
5

lb

leg of lamb

(bone-in, anywhere between 4-7 pounds on average)

2

tablespoon

olive oil

salt & pepper
Herb Rub
Roasted Veggies
2

cups

chicken broth

2

lbs

yellow potatoes

 (washed and halved or quartered)

1

large

onion

 (sliced in thick rings, or quartered)

2

teaspoon

garlic

(minced)

1-2

sprigs

rosemary

½

teaspoon

each, salt & pepper

½

teaspoon

garlic powder

½

teaspoon

onion powder

½

teaspoon

paprika

(optional)
Help Us Out!
If you love a recipe, be sure to come back and share your ratings. This helps future users, and allows me to continue sharing free recipes! Angela
Instructions
Sear Lamb
Before starting, set the lamb leg out for 30 minutes to an hour to take the chill off and bring it to room temperature for best results while roasting.

Rinse and pat the lamb leg dry using paper towels. Trim any excess fat, if needed. Score the upward facing fatty layer in a criss-cross pattern using a (not too sharp) knife without going so deep that you cut into the lamb meat.

Apply the olive oil and season generously with salt & pepper - use kosher salt & freshly ground black pepper for best taste.

2 tablespoon olive oil,

salt & pepper

Place your seasoned lamb into a roasting pan with a rack inside and set your oven to 450°F (232°C). Move the oven rack down if needed, then place the lamb into your oven while it heats. Roast for 8 minutes per side once the oven reaches 450°F (232°C) then remove from the oven.
Make Herb Rub
While your lamb is roasting, mix the rub ingredients by placing into a food processor or blender. Then, puree or pulse until well combined. Set aside.

1 large lemon,

2 tablespoon garlic,

1-2 tablespoon olive oil,

2 sprigs rosemary,

1 small bunch thyme,

1 stem basil,

1 small bunch oregano,

1 stem mint
Roast Lamb
Next, reduce the oven temperature to 325°F (163°C) while you allow the lamb to cool enough so that you can apply the rub. Add the broth, potatoes, onion, garlic, rosemary, and bay leaves (remove the roasting rack, if necessary).

2 lbs yellow potatoes,

1 large onion,

2 teaspoon garlic,

1-2 sprigs rosemary,

2 bay leaves,

2 cups chicken broth

Sprinkle combined seasoning (salt, pepper, garlic powder, onion powder, and paprika if using) over the potatoes before returning the lamb and roasting rack over the veggies.

½ teaspoon each, salt & pepper,

½ teaspoon garlic powder,

½ teaspoon onion powder,

½ teaspoon paprika

Apply the mixed herb rub liberally and generously over the entire surface of the lamb leg, massaging the herbs into all areas of the meat.

Return the lamb to the oven at the reduced temperature and roast for 25 minutes per pound for medium (with an internal temp of 135-145°F) or until desired doneness (*see note).

Cover loosely with aluminum foil and rest for 20-30 minutes before serving.
Equipment You May Need
Notes
Roasting times for different levels of doneness:

Rare: 15 minutes per pound- internal temp of 125°F (52°C)
Medium-rare: 20 minutes per pound- internal temp of 130-135°F (55°C-57°C)
Medium: 25 minutes per pound- internal temp of 135-140°F (57°C-60°C)
Done/Well Done: 30 minutes per pound- internal temp of 140°F+ (60°C+)

Fall Off The Bone Tender: 40 minutes per pound- internal temp of 175°F+ (179°C+)

When buying your lamb, avoid buying mutton. It is an older and tougher type of meat. 
You can ask your butcher to trim the thick layer of fat for you, if desired.
Resting the lamb is essential in allowing all the juices to redistribute throughout the meat before slicing, do not skip this step.
Nutrition
Calories:
384
kcal
(19%)
|
Carbohydrates:
25
g
(8%)
|
Protein:
40
g
(80%)
|
Fat:
14
g
(22%)
|
Saturated Fat:
4
g
(25%)
|
Polyunsaturated Fat:
1
g
|
Monounsaturated Fat:
7
g
|
Cholesterol:
115
mg
(38%)
|
Sodium:
483
mg
(21%)
|
Potassium:
1074
mg
(31%)
|
Fiber:
3
g
(13%)
|
Sugar:
2
g
(2%)
|
Vitamin A:
109
IU
(2%)
|
Vitamin C:
33
mg
(40%)
|
Calcium:
46
mg
(5%)
|
Iron:
5
mg
(28%)
how to roast lamb, lamb, Roasted Leg of Lamb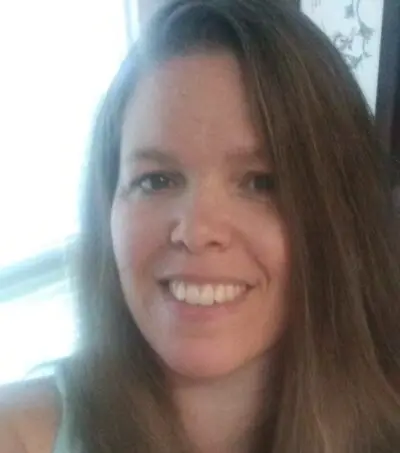 Angela is an at home chef that developed a passion for all things cooking and baking at a young age in her Grandma's kitchen. After many years in the food service industry, she now enjoys sharing all of her family favorite recipes and creating tasty dinner and amazing dessert recipes here at Bake It With Love!