These Easter brunch ideas include the very best sweet and savory brunch recipes to enjoy on Easter Sunday! From beautifully baked eggs to crowd-pleasing casseroles, all of these dishes can be used to pull off an unforgettable Easter brunch spread. You might even find a few new family favorites on this list!
Best Easter Brunch Recipes
Whether you are planning for breakfast, lunch, or somewhere in between, these brunch recipes are perfect for sharing with family on Easter Sunday! From crepes to casseroles, there are sweet and savory options so there's something here for everyone!
With good food on the table, some mimosa mocktails (champagne for the grownups), and your friends and family gathered around, you'll look forward to hosting Easter brunch every year. And they'll look forward to it, too!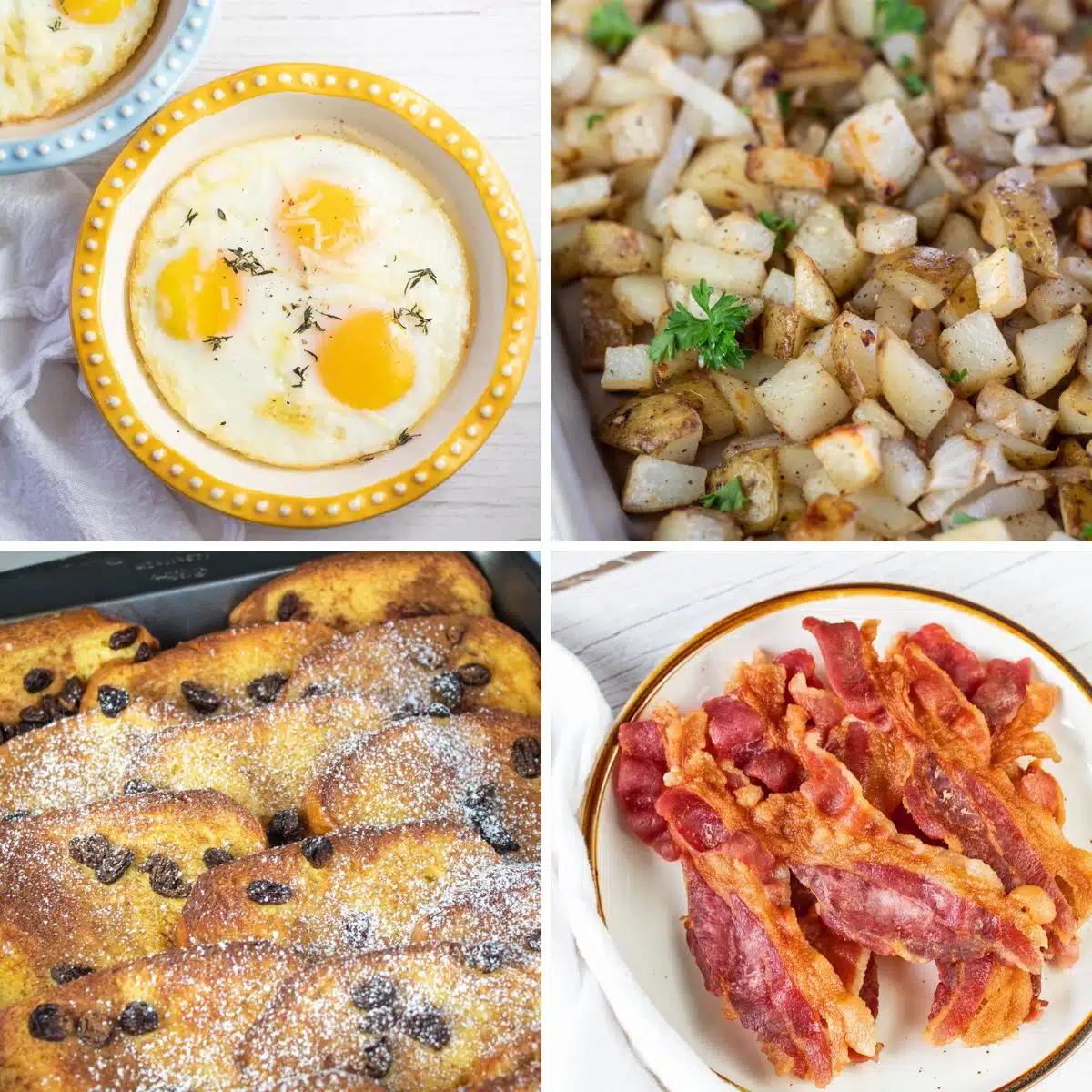 Jump to:
Want More Recipes? Enter your email below and we'll send them straight to your inbox!
1. Baked Eggs
There's something elegant about giving everyone their own perfectly baked egg in a ramekin. The recipe is super simple, but you'll feel just like your dining out at a popular brunch spot!
2. Air Fryer Bacon
Using the air fryer gets rid of all the usual stress of making bacon. There's no popping grease and cleanup is a breeze! Plus the bacon comes out delightfully crispy every time.
3. Strawberry Buttermilk Crepes
Kids and adults will enjoy these delicate buttermilk crepes. I top them off with fresh strawberries and whipped cream, but you can customize them with any of your favorite fruits!
4. Cinnamon Roll Casserole
You can use cinnamon rolls straight from the tube or leftover baked cinnamon rolls to make this sweet breakfast casserole. It's a quick 30-minute recipe that can feed 12 hungry people!
5. Hashbrown Crust Sausage Cheddar Quiche
This unique breakfast quiche ditches the traditional shortcrust pastry for a crispy hashbrown crust! The filling is made with butter, eggs, cream, cheddar cheese, and chives and bakes up to be wonderfully fluffy and creamy.
6. Overnight French Toast Bake
This recipe will save you time on Easter because you can prepare it the night before and simply bake it in the morning! A creamy mixture of brown sugar, cinnamon, and eggs soaks into the bread as it sits in the fridge overnight which makes for the most incredible French toast!
7. Southern Shrimp and Grits
If your family has a hearty appetite, shrimp and grits are a classic Southern brunch recipe that will have everyone coming back for seconds. The grits are cheesy and warm with plump shrimp nestled on top.
8. Omelet Roll
All the flavor of a gourmet ham omelet rolled up into one giant, cheesy, sliceable omelet roll! It boasts a whopping 12 servings, so it's much easier than preparing everyone their own omelet.
9. Duck Fat Fried Potatoes
The secret ingredient to these rich and buttery fried potatoes? Duck fat! You can order it online if you can't source it nearby, and trust me, the results are worth it.
10. Homemade Waffles
Not only are homemade waffles lightyears better than frozen (sorry Eggo), but you can even make the batter in advance or bake them and freeze them yourself! That way, on Easter morning you have waffles ready to go!
Be sure to serve them with some tasty waffle toppings for the best brunch experience!
11. Chorizo and Eggs
If you enjoy Mexican flavor, try serving chorizo and eggs. I love to set up a breakfast bar situation with homemade tortillas, fresh pico, bacon, restaurant-style Mexican rice, and beans. Then, everyone can build their own breakfast tacos!
12. Apple Pie French Toast Casserole
The flavors of apple pie and French toast come together to make one delicious casserole! You can cut down on prep time by using canned apple pie filling, but homemade apple pie filling truly takes it to another level!
13. Apple Banana Muffins
The warm spiced aroma of freshly baked apple banana muffins will have everyone scrambling to the kitchen! The soft muffins are topped off with a sweet brown sugar streusel topping that adds just the right amount of crunch.
14. Hashbrown Casserole
This creamy and cheesy hashbrown casserole is a perfect dupe of the signature version from Cracker Barrel. It's would make a wonderful side dish for any of your favorite brunch recipes!
15. Polenta
Polenta is incredibly versatile and tastes incredible with just about any protein, especially eggs! I make mine extra creamy with Parmesan cheese for an easy base or side dish you can pair with any recipe.
16. Maraschino Cherry Coffee Cake
This coffee cake has ribbons of cinnamon sugar throughout with a decadent cherry crumb topping on top. You can even add some vanilla icing for an extra pop of sweetness that tastes fantastic with freshly brewed coffee.
17. Chicken Fried Cube Steak
Chicken fried steak may not be the first thing you think of when you hear 'brunch' but in the South, it's on every breakfast menu! Pair it with some crispy bacon, sunny-side-up eggs, and country gravy, for a hearty brunch your family will love.
18. Sheet Pan Pancakes
If you are serving a crowd and don't want to spend all day flipping flapjacks, these sheet pan pancakes are the perfect solution. They bake up just as soft and fluffy as classic pancakes, but there's no flipping required.
19. Avocado Egg Bake
Delicious and nutritious, these avocado egg bakes are a welcome addition to any brunch spread. With a runny baked egg in the center and a few tasty toppings, you won't even miss the carbs!
20. Baked Denver Omelet
This fluffy baked Denver omelet is easy to prepare and slices beautifully! It's loaded with ham, cheddar cheese, bell peppers, and onions so it makes a great main course for brunch.
21. Lobster Breakfast Sandwich
A lobster breakfast sandwich will certainly leave a lasting impression! It's made with a freshly baked brioche bun that is then topped with creamy scrambled eggs, tender asparagus spears, and juicy chunks of fresh lobster.
If you want a gourmet brunch spread, this sandwich should definitely be on the menu.
With these delicious Easter brunch ideas, this year will be an Easter to remember! Be sure to let me know which recipes you try in the comments below!
>>>>See all of my recipes HERE<<<<
🐰 Delicious Easter Desserts
No Bake Easter Peeps Nests - Chocolate and peanut butter no-bake cookies topped with colored coconut and Peeps marshmallow chicks!
Easter Fudge Covered Oreos - These fudge-covered cookies are decked out with adorable Easter sprinkles!
Easter Basket Cupcakes - Fluffy white cupcakes with green buttercream frosting and chocolate candy eggs that look like adorable nests!
Easter Basket Cookies - Soft and chewy sugar cookies topped with layers of buttercream frosting, colored coconut, and Cadbury's shimmer mini chocolate eggs!
Carrot Cake - Homemade carrot cake with cream cheese frosting is a classic Easter dessert that everyone will love!
Pineapple Upside Down Bundt Cake - An extra-moist bundt cake filled with tropical pineapple flavor and topped off with cherries and pineapple slices!
📋 Recipe