These Easter Fudge Covered Oreos are a colorful and festive spin on the Oreo original and my version of the perfect fudgy Oreo cookie! They're easy to make and lots of fun to let the kids sprinkle all of the toppings onto! Mix your own sprinkle combo or use ready-to-go store-bought sprinkles!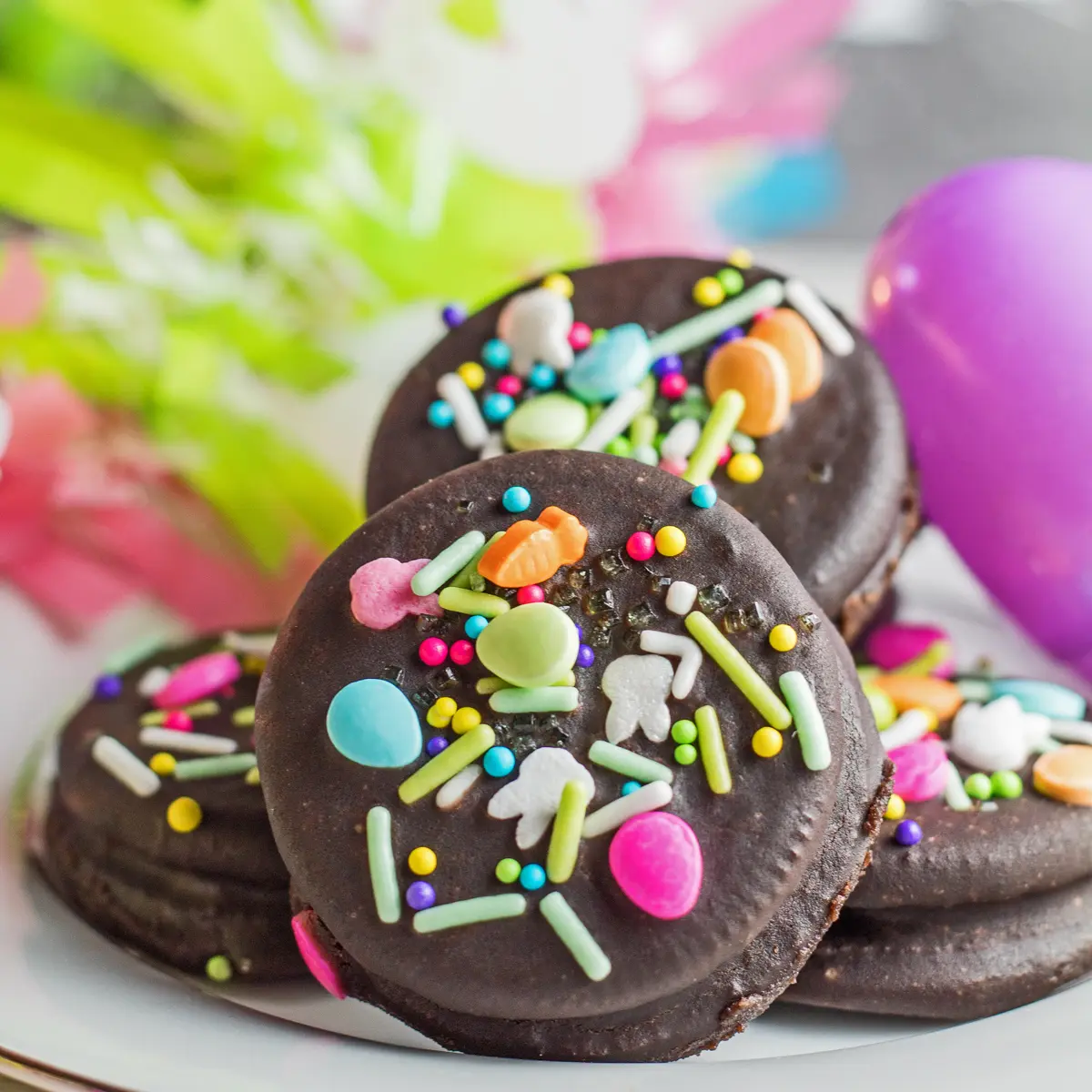 Deliciously Fudgy Easter Oreos
This sweet Easter treat will have your little egg gatherers dropping their baskets and running for the kitchen! SO easy (because you start with classic Oreos), delicious, and crunchy – I love them, and I am not a big fan of chocolate in general!
These fudgy cookies look so festive and pretty on the plate with pastel Easter sprinkles. You can also wrap a few in clear plastic bags with a ribbon and give them as gifts or leave them out for the Easter Bunny!
Jump to:
If you like Oreos, this recipe takes them to the NEXT level. No need to be in front of the oven all day – these fudge covered Oreo cookies are a no-bake treat! And only 6 ingredients! Your family will love to help with dipping them into the homemade fudge and adding festive decorations.
What You'll Need
Gather some pantry staple ingredients + fresh Oreos combine to make these festive fudgy cookies! This is my go-to combination for boiled fudge frosting too!! Plus sprinkles, sprinkles make everything fun!
Cocoa – both dark cocoa powder and regular cocoa taste great in this recipe. Dutch-process cocoa works also, and all help create a yummy, fudge-like sauce.
Vanilla – real vanilla extract is always best. It really helps to enhance all the other rich, delightful flavors!
Sugar – in addition to adding sweetness, sugar helps the fudge to hold together and harden around your Oreos.
Milk – any kind of milk works well! Using whole milk will add to the richness!
Butter – wonderfully rich butter makes the fudge sauce super smooth!
Oreos - of course! You can get a generic chocolate sandwich cookie, but make sure they aren't stale. The crunchiness of these fudgy delights is the best part!
Easter-themed sprinkles or decorations - use a mixture of different decorations and sprinkles, or a ready-to-use blend.
How to Make Easter Oreos with Fudge Icing
A baking sheet works best for letting the cookies setup. Be sure to line your baking sheet with parchment paper for easy cleanup!
Make the Fudge Icing
This rich, tasty fudge sauce can be whisked together by hand, or by using a mixer on the lowest setting. Don't mix it too fast or for too long or you will have more of a chocolate frosting than a sauce!
In a medium-sized saucepan, combine the cocoa, milk, sugar, and butter. Stir on medium-high heat, making sure the butter melts completely and everything is well-combined.
Watch carefully for the rolling boil! You only want this icing to boil at a good, solid bubbling rolling boil for ONE minute, then quickly remove the pan from the heat. This one-minute boil is really important for a successful fudge sauce that sets up nicely on your cookies.
Next, stir in the vanilla (you may see some bubbling when the extract is added, don't worry).
Whisk off the stove for 3-4 minutes to help with cooling. You will know the icing is ready when it starts to cling to the whisk or beaters. It will seem quite runny when it's still hot!
Dipping the Oreos
You will need to start dipping the cookies as soon as the icing is cool, but before it begins to firm up! Make sure all of your tools are ready beforehand.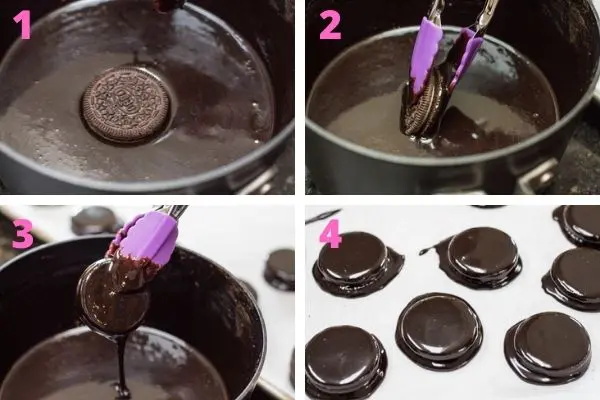 To coat the Oreos with icing, you can drop them right into the saucepan.
Use tongs to swivel them a bit in the icing until the entire cookie is covered (while still moving quickly through the process).
Lift the coated Oreos out right away and hold them over the pan until the icing stops dripping.
Place each fudge-covered Oreo onto the parchment-lined baking sheet, about an inch apart.
Now it's time to DECORATE! Simply drop some pastel-colored sprinkles on top of each cookie for an adorable Easter treat. You can also use Cadbury Mini-Eggs or Spring-colored mini-M&M's to decorate your Easter fudge-covered Oreos.
The icing will set in about an hour, and the decorations will be firmly attached. Placing them in the refrigerator, (I even use the screened porch sometimes when it's cooler outside) will speed things up to 30 minutes or so.
Once the sauce is fully set, you can trim the excess icing from around the edges of the cookies with a sharp knife. Then simply push each Oreo up from underneath the parchment paper.
If the trimmed edges look a bit jagged, simply smooth them with a clean finger. The warmth of your fingertips will smooth the fudge-covering edges.
Storing Your Fudge-Covered Easter Oreos
I doubt you will have any of these pretty, deliciously fudgy treats left after Easter! If you do, they can be stored in airtight containers.
If you want to make sure that your Easter Oreos don't stick together, you can place parchment paper between layers. However, I have stored mine with and without the parchment paper dividers and they were just fine either way!
You can keep these delicious Easter cookies for about a week, maybe two – but I would be surprised if they stick around that long! ENJOY and Happy Easter!
📋 Recipe
Print Recipe
Leave A Comment
Love This Recipe?
Click On A Star To Rate It!
Easter Fudge Covered Oreos
These Easter Fudge Covered Oreos are a colorful and festive spin on the Oreo original and my version of the perfect fudgy Oreo cookie! They're easy to make and lots of fun to let the kids sprinkle all of the toppings onto! Mix your own sprinkle combo or use ready-to-go store-bought sprinkles!
Total Time
1
hour
20
minutes
Pin Recipe
Share on Facebook
Ingredients
2

cups

sugar

½

cup

butter

½

cup

milk

4

tablespoon

cocoa powder

2

teaspoon

vanilla extract

30

Oreo cookies

½

cup

sprinkles

(Easter or pastel sprinkles mix)
Instructions
In a medium saucepan, combine the fudge icing ingredients. Add the sugar, butter, milk, and cocoa.

Stir occasionally while heating to a rapid, rolling boil over medium-high heat. Set your timer and let the fudge icing boil for ONE FULL MINUTE. *This is so very important to the coating setting up correctly!

Remove from heat and stir in the vanilla extract.

Whisk or beat the icing for 3-5 minutes until the fudge is dark, glossy, and clinging to your whisk. The cooler the fudge icing gets, the slower the icing will drip from your utensils.

Gently drop or place your Oreos into the cooled icing directly for the easiest method of coating each cookie completely.

Using your tongs, flip and thoroughly coat each of the Oreos.

Allow as much of the fudge icing to drip from the Oreo cookie as possible.

Place each fudge-coated Oreo onto a parchment paper-lined baking sheet or work surface. Allow the coated cookies to cool completely so that the coating sets up.

Add the sprinkle mixture to the top of each coated Oreo cookie as you go (or after coating a few). The icing will hold the sprinkles in place, but don't wait too long as the icing is forming a 'shell' as it sets.
Nutrition
Calories:
150
kcal
(8%)
|
Carbohydrates:
25
g
(8%)
|
Protein:
1
g
(2%)
|
Fat:
6
g
(9%)
|
Saturated Fat:
3
g
(19%)
|
Trans Fat:
1
g
|
Cholesterol:
8
mg
(3%)
|
Sodium:
84
mg
(4%)
|
Potassium:
44
mg
(1%)
|
Fiber:
1
g
(4%)
|
Sugar:
21
g
(23%)
|
Vitamin A:
103
IU
(2%)
|
Calcium:
10
mg
(1%)
|
Iron:
1
mg
(6%)
Easter Fudge Covered Oreos, oreo desserts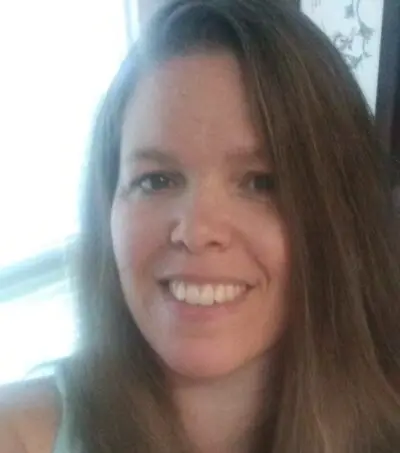 Angela is an at home chef that developed a passion for all things cooking and baking at a young age in her Grandma's kitchen. After many years in the food service industry, she now enjoys sharing all of her family favorite recipes and creating tasty dinner and amazing dessert recipes here at Bake It With Love!