This air fryer Cornish hen is not only supremely easy to make with delightfully crisp results but also a fun dinner for two! Serve it up 'just because' on any occasion - the size of the bird means that all of that juicy, tasty meat has superb portions of crispy skin with it in each bite! It's perfect for an easy everyday meal or a special occasion!
Air Fryer Cornish Hen Recipe
I don't know about you, but I find meals with whole poultry really special. There's something celebratory about seeing a roasted turkey on the table at Thanksgiving or a whole hog for a roast.
It brings people together over amazing food and reminds me how lucky I am to have them in my life.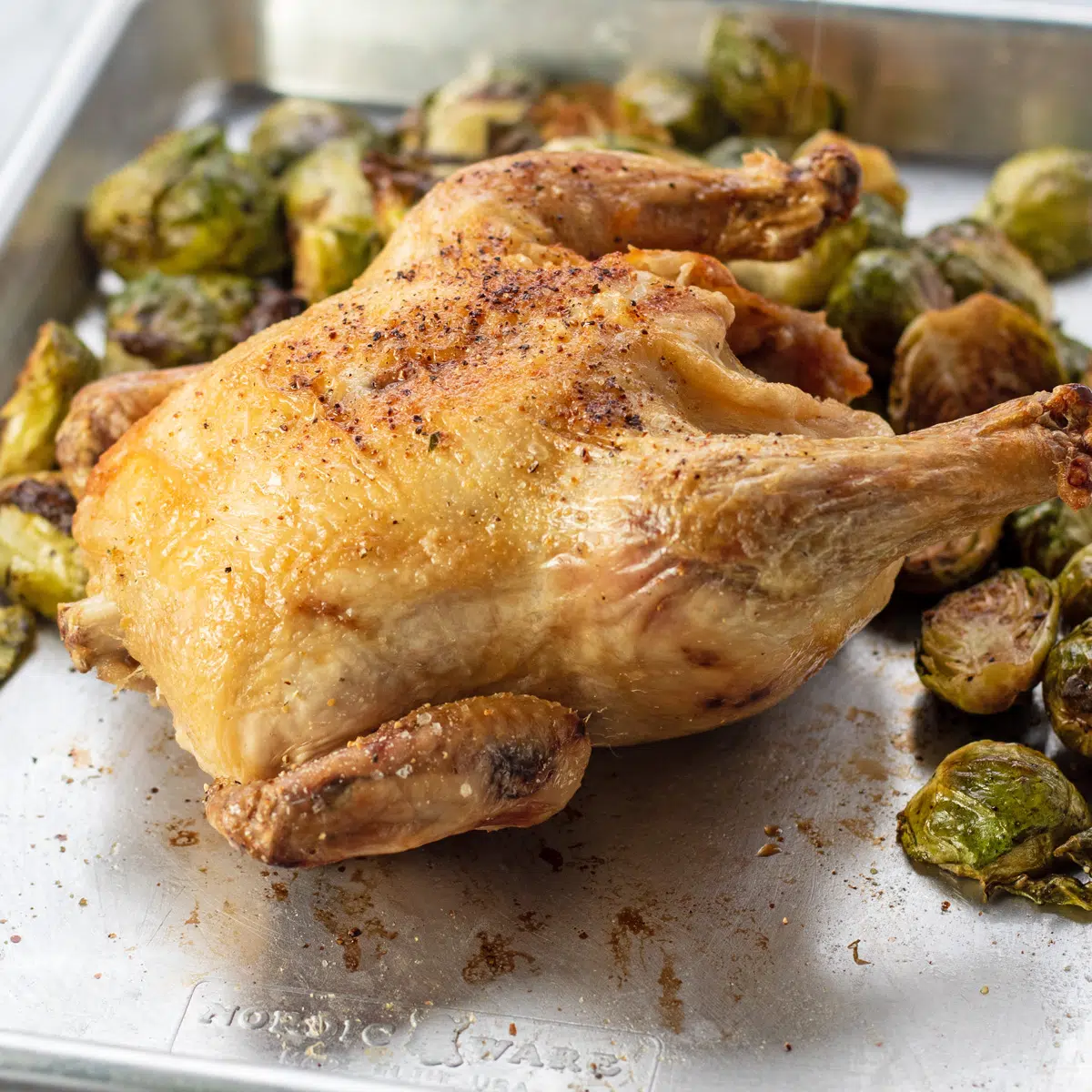 Super easy Cornish hens that are guaranteed to impress your dinner guests!
Jump to:
Not many of us are likely to prepare a whole hog for a Wednesday night dinner. But Cornish hens are a great way to capture the excitement of a celebration with a much more manageable amount of food.
These are great for date night or a special dinner for two as well. Impress your special someone with a hen of their own!
❤️ Why You'll Love This Recipe!
Unbelievably Easy! Maximum flavor for minimum effort! The seasoning and instructions are simple, and the process is quick and easy!
Personal-sized! These are a great alternative to other whole-poultry options that require hours to cook and many people to eat.
It's unique! You don't see these on the menu very often, and they make a meal feel festive.
🥘 Air Fryer Cornish Hen Ingredients, Notes, & Substitutions
There are only 4 ingredients in this delightful dish. You might have to run to the store for the hens, but the rest are pantry staples.
Cornish Hens - 2 Cornish hens, thawed. Cornish hens, aka game hens, taste very similar to chicken but are significantly smaller.
Olive Oil - ½ teaspoon of extra virgin olive oil. This is my go-to trick for making the seasoning stick and crisping the skin!
Garlic Salt - ½ teaspoon of garlic salt. I love garlic salt on occasion. You can, of course, use your favorite salt instead.
Ground Black Pepper - ¼ teaspoon of black pepper. Grind your own for the freshest taste.
*Be sure to see the free printable recipe card below for ingredients, exact amounts & instructions with tips!*
📖 Variations
There are endless ways to season your Cornish hen, so try one or try them all! This method of cooking is so easy, I have a feeling you'll be making it a lot.
Rosemary and Lemon Pepper. This is a classic combo for chicken and would work really well here. It's a light-tasting but flavorful way to make it special. Plus, I think it looks really pretty to garnish with lemon slices and a sprig of rosemary. Try pairing it with air fryer asparagus.
Garam Masala and Salt. Go for an Indian vibe with these delicious warm spices. Garam masala is a unique combination of cinnamon, peppercorns, cardamom, mustard seeds, coriander seeds, cloves, mace, nutmeg, and other spices. It's hard to go wrong with a mix like this. Be sure to serve it with Indian naan bread!
Lemon, Cracked Black Pepper, and Thyme. Thyme is an earthy herb that is also balanced out well by lemon. There's a savory draw to this combination that hits all the right taste buds. Garnish similar to our first variation, with lemon slices and a sprig of fresh thyme.
Salt, Pepper, and Smoked Paprika. For more of a smoky barbecue flavor, try this mix. For that matter, throw on some chili powder, cayenne pepper, and cumin for the full effect.
🔪 How To Make Air Fryer Cornish Hen
It's a pretty basic process, but the result is anything but! Follow these 5 steps for an incredible chicken your whole family will love.
All you are going to need is your air fryer, some measuring spoons, and a meat thermometer.
Each cornish hen will feed 2 people. I prepared 2 hens for a total of 4 servings, but you can easily make as many as you like! You may have to work in batches, though.
Step 1: Clean the hens. Rinse 2 thawed Cornish hens, and use paper towels to dry them thoroughly.
Step 2: Add olive oil. Pour ½ teaspoon (2.5 milliliters) of olive oil into your hands and wipe it all over the hens. Use more if needed. Be sure to cover all surfaces because the oil is what will make the seasoning stick and cause the skin to brown.
Step 3: Season. Sprinkle ½ teaspoon (3 grams) of garlic salt and ¼ teaspoon (0.5 grams) of ground black pepper over the meat. Add more, if desired.
Step 4: Cook. Transfer the hens to the air fryer, breast side up, and cook at 390℉ (198℃) for 25-30 minutes. Turn them halfway through cooking, and use a probe thermometer to check the internal temperature before removing them from the air fryer. It should be at least 165℉ (74℃) before you eat.
Step 5: Finish and serve. Take it out of the air fryer and serve while hot.
🥗 What To Serve With Cornish Hens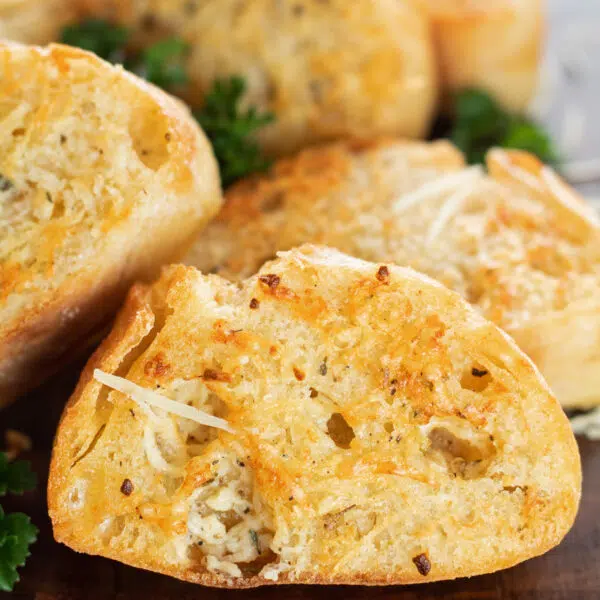 Air fryer Cornish hen is amazing for lunch or dinner. Try serving with garlic bread and brussel sprouts for a full meal from the air fryer.
A simple side salad or mashed potatoes are also great options! Check out more of my easy air fryer recipes here! Enjoy!
💭 Tips & Notes
Turn the hens halfway through cooking time. In order to brown the hens evenly, rotate them in the air fryer after about 12-15 minutes.
Cover the meat in tin foil, if needed. If the hens are beginning to get too brown for your taste, lay a small piece of foil over the top to prevent further darkening.
As a reminder, don't use aerosol sprays in air fryers to coat the basket. Aerosol sprays damage the coating in air fryers. Instead, use a spritz bottle in which you can use your own oil or brush on some olive oil with a pastry brush.
🥄 Make Ahead Options
You can easily freeze leftovers for later. To do so, wrap the de-boned Cornish hen in foil and put it in a freezer bag with the air squeezed out, or place it in an airtight container.
It will be safe to eat indefinitely but will start losing flavor after 4 months.
Leftovers
You can enjoy your leftovers by themselves with your favorite side dishes, on a delicious sandwich, add the meat to stew or soup, or use it in a salad!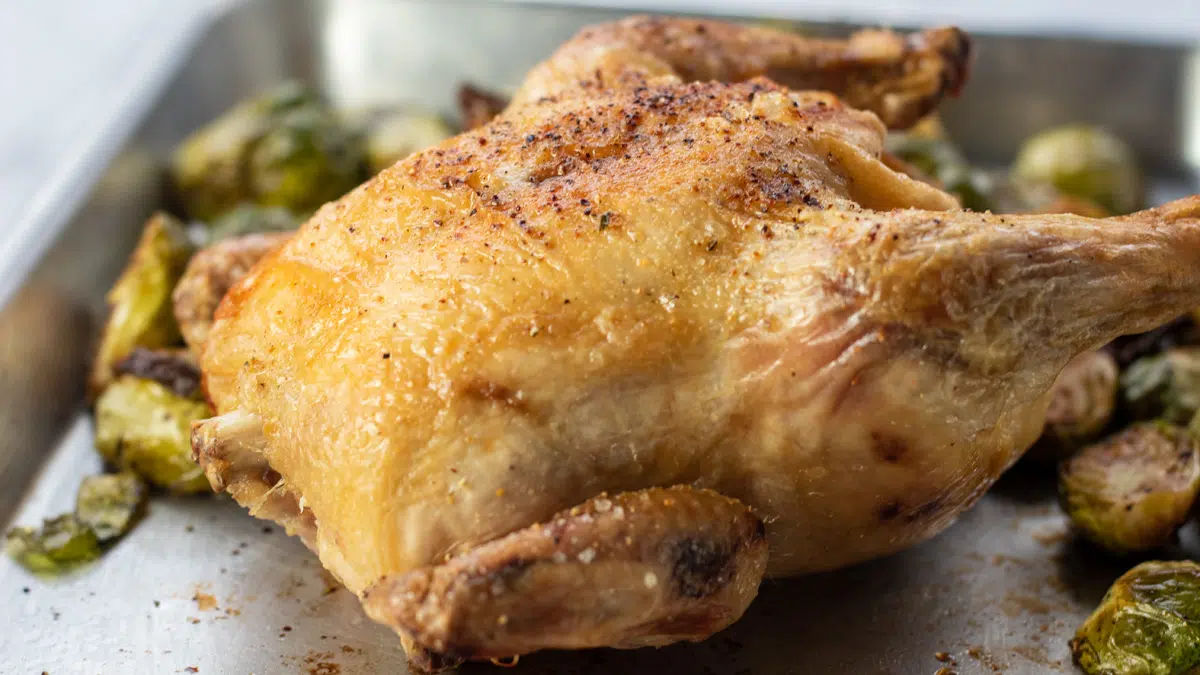 🥡 Storing & Reheating
Cooked hens will be safe to eat for 3-4 days if pulled from the bones and wrapped tightly in foil or plastic wrap and kept in the fridge. An airtight container is another good option for storage.
Reheating Air Fryer Cornish Hens
To reheat, let the frozen air fryer Cornish hen thaw in the fridge overnight. Add enough water or chicken broth to cover the bottom of a skillet. When the liquid simmers, add the meat and stir occasionally until it's heated through completely.
>>>>See all of my recipes HERE<<<<
❓ FAQ
Is It Necessary To Let My Cornish Hens Thaw Before Cooking?
For best results, you should thaw them beforehand, but in a pinch, you can cook them frozen. It will take a bit longer, and it will be even more important to check the internal temperature before you serve the meal. To cook a frozen hen, set your air fryer to 350℉ (176℃) for about 40 minutes, turning halfway through.
If you need to thaw out your birds more quickly and can't leave them in the fridge overnight, try the water method. Keeping them in their packaging, submerge the hens in a bowl of cold water. Change the water every 30 minutes until they're thawed. Don't thaw at room temperature, as it promotes bacterial growth.
How Can I Make The Skin Crispier?
The trick to crispier skin is drying it out before cooking. One way to do this and add extra flavor is to season and then refrigerate the hens uncovered overnight–or a minimum of 1 hour. The skin will dry and seal in any moisture, and the seasonings will sink into the meat, acting as a 'dry brine' for an extra delicious meal.
How Long Does It Take To Cook Cornish Hens In An Air Fryer?
It took me about 30 minutes to cook 2 (thawed) Cornish game hens in my air fryer. If they are frozen, it will take longer. Of course, this time may vary based on the size and model of your air fryer.
Do you love a recipe you tried? Please leave a 5-star 🌟rating in the recipe card below and/or a review in the comments section further down the page.
Stay in touch with me through social media @ Pinterest, Facebook, Instagram, or Twitter! Subscribe to the newsletter today (no spam, I promise)! Don't forget to tag me when you try one of my recipes!
📖 Recipe Card
Print Recipe
Leave A Comment
Love This Recipe?
Click On A Star To Rate It!
Air Fryer Cornish Hen
This air fryer Cornish hen is not only supremely easy to make with delightfully crisp results but also a fun dinner for two! Serve it up 'just because' on any occasion - the size of the bird means that all of that juicy, tasty meat has superb portions of crispy skin with it in each bite! It's perfect for an easy everyday meal or a special occasion!
Pin Recipe
Share on Facebook
Ingredients
2

Cornish hen

(thawed)

½

teaspoon

olive oil

½

teaspoon

garlic salt

¼

teaspoon

ground black pepper
Help Us Out!
If you love a recipe, be sure to come back and share your ratings. This helps future users, and allows me to continue sharing free recipes! Angela
Instructions
Rinse the Cornish hen(s) and pat dry with paper towels.

Pour a little olive oil and rub over the hen.

Next, season the Cornish hen with the garlic salt and black pepper.

½ teaspoon garlic salt,

¼ teaspoon ground black pepper

Place in the air fryer and air fry at 390°F (198°C) for 25-30 minutes, turning at the halfway point in the cooking time. Check to make sure the internal temperature is at least 165°F (74°C) before serving.

Remove from air fryer, serve, and enjoy.
Equipment You May Need
Notes
For even browning you may need to rotate the bird about halfway through the cooking time.
If the Cornish hen begins to darken too much on top, simply place a small piece of aluminum foil on top to prevent over browning.
Nutrition
Calories:
335
kcal
(17%)
|
Carbohydrates:
1
g
|
Protein:
39
g
(78%)
|
Fat:
32
g
(49%)
|
Saturated Fat:
9
g
(56%)
|
Polyunsaturated Fat:
6
g
|
Monounsaturated Fat:
14
g
|
Cholesterol:
227
mg
(76%)
|
Sodium:
428
mg
(19%)
|
Potassium:
533
mg
(15%)
|
Fiber:
1
g
(4%)
|
Vitamin A:
244
IU
(5%)
|
Vitamin C:
1
mg
(1%)
|
Calcium:
25
mg
(3%)
|
Iron:
2
mg
(11%)
Air Fryer Cornish Hen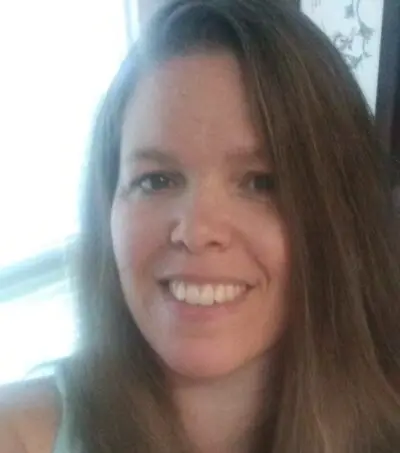 Angela is an at home chef that developed a passion for all things cooking and baking at a young age in her Grandma's kitchen. After many years in the food service industry, she now enjoys sharing all of her family favorite recipes and creating tasty dinner and amazing dessert recipes here at Bake It With Love!