Foods that start with V: A delicious group of foods that start with V to round out all of your list challenge answers and cooking ideas! From vanilla to veal, there are so many tasty items on this list! How many of these foods have you already tried?
41 Foods That Start With The Letter V
I can't believe I'm almost at the end of my alphabet challenges! It has certainly been a wild ride and I've loved the opportunity to learn more about international foods and dishes!
Today, we are working through the letter v- which surprisingly has more sweets and desserts than I anticipated! Don't forget to check out all of my foods that start with A-Z list challenge answers!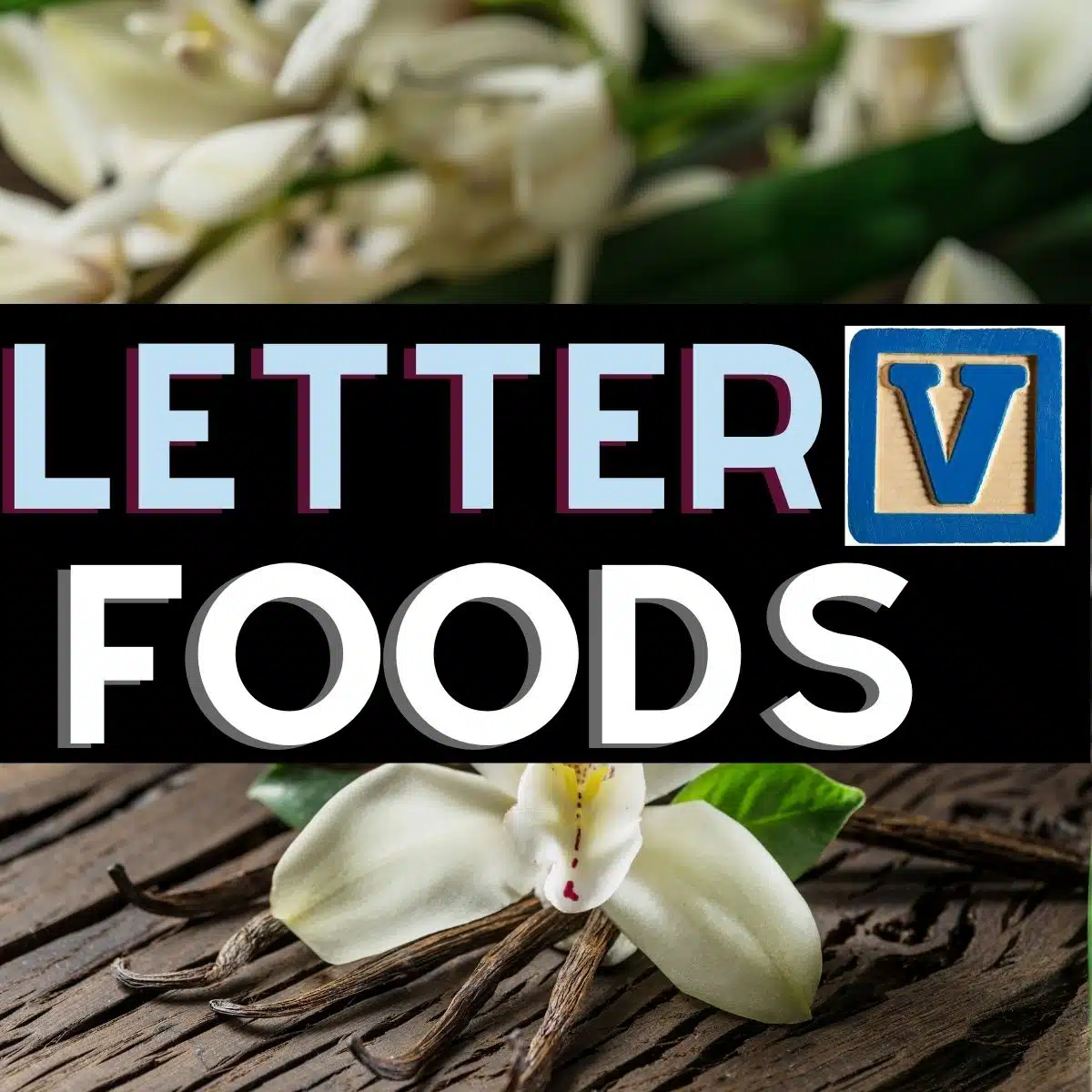 Jump to:
Want More Recipes? Enter your email below and we'll send them straight to your inbox!
🍉 Fruits & Vegetables That Start With V
1. Valencia Orange
Valencia oranges are a variety of orange that is known for its extra sweet flavor. While they may be named after Valencia, Spain, they actually originated in California.
These oranges are very juicy and are one of the most popular varieties for juicing! Use them to make some cranberry orange shortbread cookies, candied orange peel, or candied orange slices!
Candied Orange Slices
These candied orange slices are a chewy and sweet treat that is incredibly easy to make and only uses 4 ingredients! The orange slices are simmered in sugar syrup and then dried. You can eat these by themselves, use them as a cake topper, or even add them as a garnish for cocktails!
Check out this recipe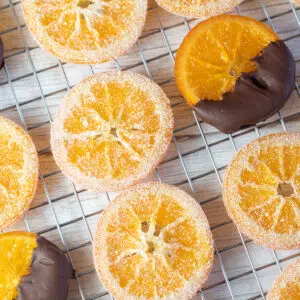 2. Victoria Plum
An English plum variety that has yellow flesh with red skin. The flavor is both sweet and sharp and they can be enjoyed straight off of the tree!
Plum Cake
This simple plum cake recipe tastes anything but simple thanks to a perfect balance of sweetness, fragrant spices, and fresh plums! This cake is also often referred to as an upside down plum cake because you top the batter with a swirl of sliced plums that end up on the bottom of the cake when you flip it over. For a simple dessert that will wow your friends and family, try making a plum cake!
Check out this recipe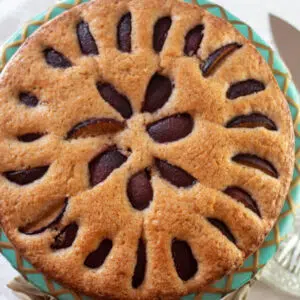 3. Voavanga
A type of fruit also known as Spanish Tamarind, tamarind-of-the-Indies, or voa vanga. It can be eaten raw but is also commonly used to make juice or applesauce.
🧂 Condiments, Herbs, & Spices That Start With V
4. Vanilla
Vanilla is a spice that comes from the pods of a specific variety of orchids. It is used in countless recipes, mainly in baking, and is an incredibly popular flavor choice for sweets and treats!
You can try out some vanilla cupcakes, vanilla crinkle cookies, vanilla buttercream frosting, or even buttermilk vanilla pancakes!
Best Vanilla Extract Substitute: Homemade Vanilla (+More!)
When you need a perfect vanilla extract substitute option, look no further as I have everything you could use plus how to make homemade vanilla! They're all delightfully tasty swaps for your pantry staple vanilla extract!
Check out this recipe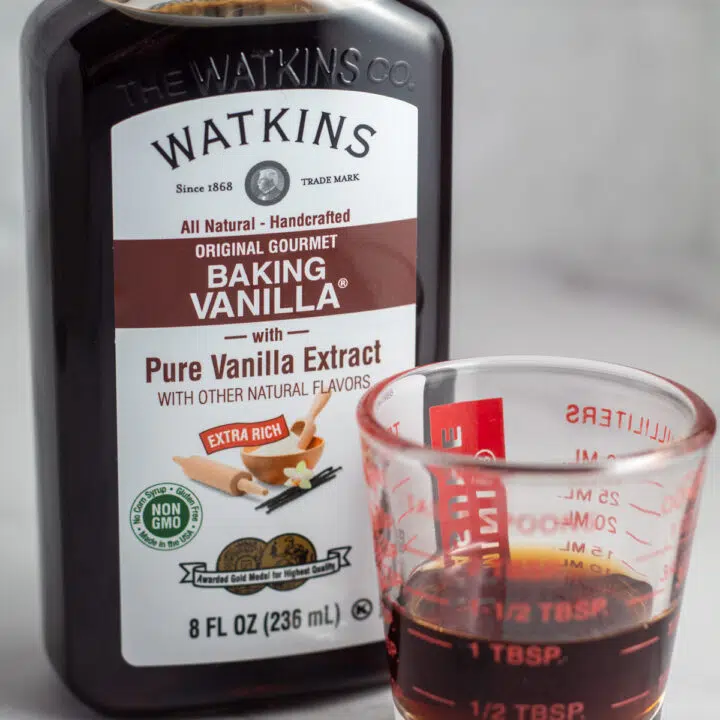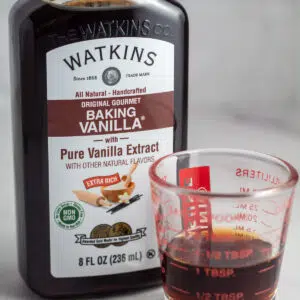 5. Varak
Varak (or vark), is an ultra-thin type of foil that is made from pure silver. It is used to garnish pastries and desserts in Indian cuisine and is completely for appearances only.
While it is edible, it has basically no flavor!
6. Vegemite
Condiment spread created in Australia, made with leftover brewers yeast and spices. Most commonly, you will see it spread onto bread.
7. Vegetable Oil
A cooking oil that is mild, flavorless, and perfect for cooking or frying. It has a high smoke point which makes it incredibly versatile.
Vegetable Oil Substitute
Vegetable oil is used in recipes for many different reasons, so when choosing a vegetable oil substitute you need one equally as versatile! Whether you are cooking or baking, you need to know the best replacement for vegetable oil in case you ever run out!
Check out this recipe
8. Veloute
A French sauce that is made from roux and stock. It is known as one of the five "mother sauces" in French cuisine.
9. Vinaigrette
Vinaigrette is most commonly used as a salad dressing, but it can also be used to marinate meats. It is made by mixing a type of oil with a mild acid (such as lemon juice or vinegar).
10. Vincotto
An Italian sauce that is made from reducing non-fermented grape must over the course of several hours. It is thick and sweet, similar to a balsamic reduction.
11. Vinegar
An acidic liquid that is made by fermenting ethanol by acetic acid bacteria. It is a common ingredient in cooking, with many different varieties such as white wine vinegar, rice vinegar, balsamic vinegar, and more.
Best Balsamic Vinegar Substitute
If you're wondering what to use as a balsamic vinegar substitute to ensure that your recipe turns out wonderfully tasty, just read on! We've collected all of the very best alternatives that you can use whether you're temporarily out of balsamic or just not a super-fan (like us)!
Check out this recipe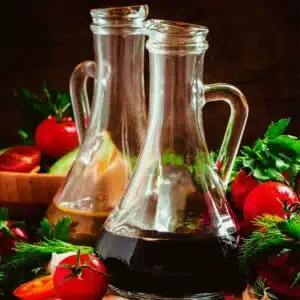 12. Voatsiperifery
A pepper spice from Madagascar that is close in relation to black pepper.
🍹 Drinks That Start With V
13. Vermouth
A type of wine with herbs used commonly in cocktails. There are two varieties: red and white. You'll commonly see vermouth in martinis and Manhattans.
14. Vodka
A clear distilled alcohol that is used in a wide variety of alcoholic beverages. Try out a pink vodka lemonade, a vodka margarita, or a vodka mojito!
Vodka Mojito
This easy to make Vodka Mojito is a light and bubbly cocktail that everyone loves! Mix in some Sprite or 7Up to sub out the lime and soda for a tasty option! The muddled mint leaves and fresh lime make this a refreshing summer drink that's perfect for Cinco De Mayo or any day!
Check out this recipe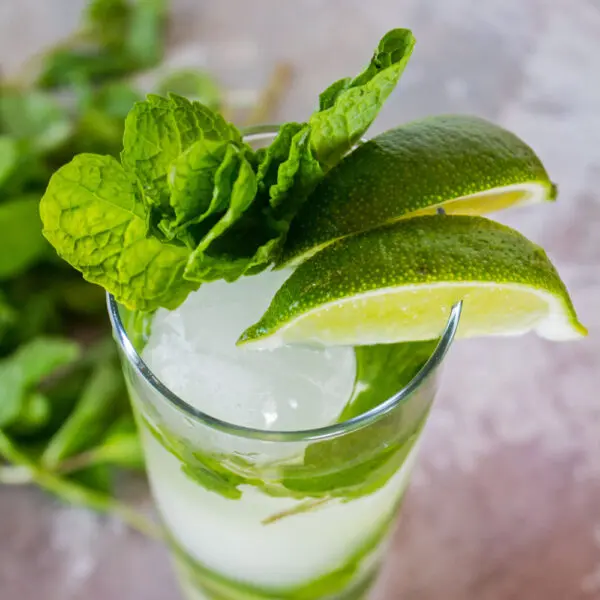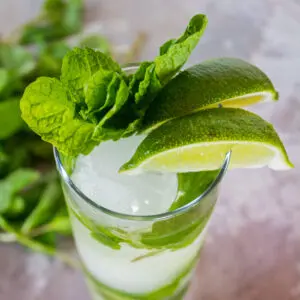 🍽️ Appetizers, Snacks, & Side Dishes That Start With V
15. Vacherin Cheese
A type of soft cheese that is made from pasteurized cow's milk. It is in the same family as brie and comes from both France and Switzerland.
16. Vatrushka
An Eastern European pastry shaped into a ring with Quark cheese in the middle and sometimes raisins or fruit. In fact, they are pretty similar to a Danish!
17. Veka
A Czech Republic white bread. It has a similar appearance to a baguette, but it is wider, fluffier, and smoother.
18. Velveeta Cheese
A shelf-stable processed cheese product (similar to American cheese) that is made from milk, whey, cheese culture, canola oil, and milk protein concentrate. It is most known for how well it melts, making it a great option for some delicious macaroni and cheese!
Velveeta Mac and Cheese
Velveeta mac and cheese is rich, creamy, and so incredibly cheesy that your whole family will love it every time it's served with dinner! It is a one-pot side dish that takes practically no effort to make! Plus, it is ready to enjoy in less than 20 minutes!
Check out this recipe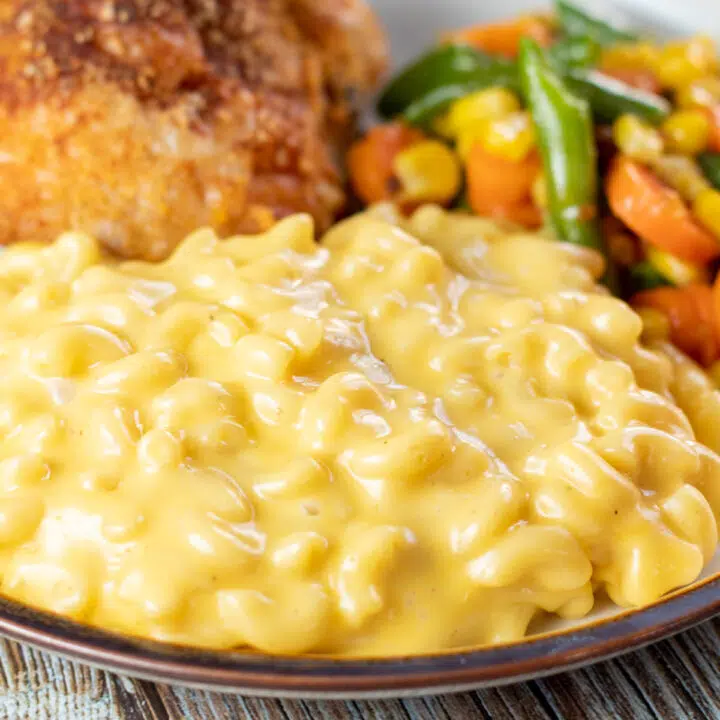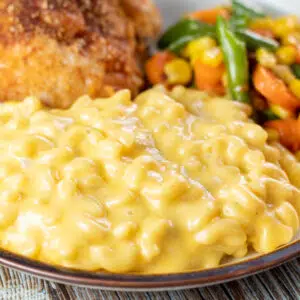 19. Vienna Bread
An Austrian variety of yeast-based bread that is baked using steam.
20. Viili
A type of Finnish fermented milk that is incredibly similar to kefir or yogurt. However, it has a very viscous consistency.
🥬 Vegetarian Dishes That Start With V
21. Vada Pav
A popular Indian street food that consists of a deep-fried potato dumpling inside of a bread bun.
22. Vareniki
A Ukrainian dumpling that is commonly filled with potatoes and onions, also called Pierogi. It's a staple dish in both Ukraine and Russia.
23. Vermicelli Noodles
A thin type of pasta similar to spaghetti and common in Asian recipes.
Vermicelli Rice
Vermicelli rice is an amazingly popular Middle Eastern side dish that combines toasted vermicelli pasta with long-grain Basmati rice! The flavorful rice side dish is easy to make, extremely versatile, and intensely flavorful. You would never know it only has a few ingredients!
Check out this recipe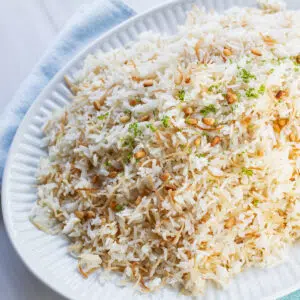 24. Vichyssoise Soup
A French soup that is made from leeks, potatoes, onions, and cream that has been pureed. It is traditionally served chilled as well as garnished with chives.
25. Vindi Masala
Vindi masala, or bhindi masala, is an Indian spicy okra. The okra has been cooked in spicy onion and tomato masala.
26. Vol au vent
A hollow puff pastry case that is packed with a wide variety of savory fillings. Ham or chicken and mushrooms are some of the most common fillings, but there are tons of different options!
🥩 Meat Dishes That Start With V
27. Veal
Veal is the meat that comes from young calves (as opposed to beef, which is from older cattle). Try out some veal scallopini, veal osso buco alla milanese, or these veal short ribs!
Veal Short Ribs
These veal short ribs are fall-off-the-bone tender and packed with a flavor that is so rich and deep that it can't be beaten! They are dry brined, seared to perfection, and then braised in the oven before being topped off with a decadent homemade Marsala sauce! Once you try these short ribs, you'll never be able to eat them a different way again!
Check out this recipe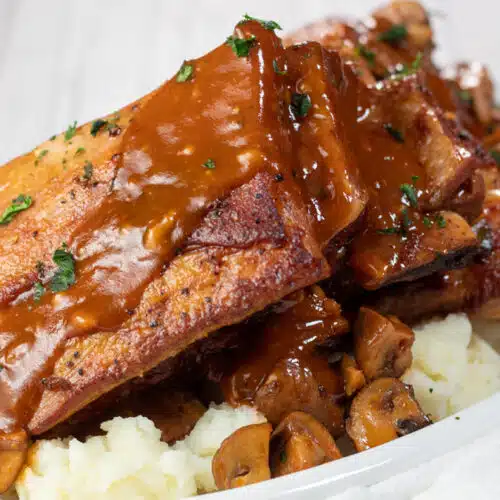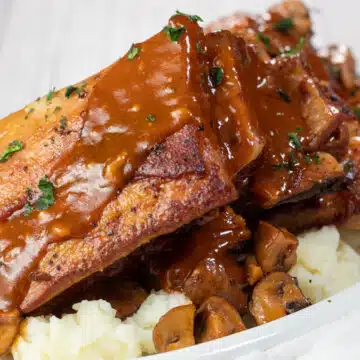 28. Venison
Originally venison meant the meat of any game animal. However, it is now considered to be only deer or elk meat. In fact, I have tons of tasty venison recipes you can take a look at!
Roasted Rack of Venison
This roasted rack of venison recipe is a flavorful and elegant main course meal perfect for weeknight dinners or any special occasion! Two racks of venison are seasoned with salt & pepper, seared in a cast iron skillet, then finished in the oven. If you are wanting to impress your family, this tender venison rib roast will do the trick!
Check out this recipe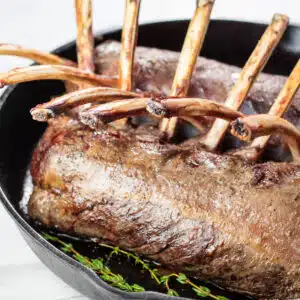 29. Vetkoek
A South African fried dough bread that is typically filled with curried ground beef or cheese and syrup.
30. Vienna Sausage
Similar to Frankfurters, Vienna sausages are thin, parboiled sausage that is made from ground pork and beef that is stuffed into a casing. Around the world, you will most commonly find them canned.
31. Vindaloo
An Indian tomato-based curry that is originally from Gao. You will commonly find it on the menu at Indian restaurants and it is generally regarded as a hot and spicy dish.
🍰 Desserts That Start With V
32. Vasilopita
A Greek New Year's bread cake that contains a coin or trinket for good luck. In fact, you could consider it to be a Western European version of a King Cake.
33. Verhuny
A sweet cookie made with a deep-fried dough that has then been sprinkled with powdered sugar. Verhuny is also known as angel wings.
34. Victoria Sponge
Two sponge cakes that are layered with cream and jam and then dusted with powdered sugar.
35. Victoria Plum Pudding
A custard pudding using the English plum that is typically enjoyed for the holidays.
36. Viennetta Ice Cream
A layered vanilla ice cream with strips of compound chocolate.
37. Viennese Fingers
A vanilla shortbread cookie that has been dipped into chocolate.
38. Viennese Whirls
Buttery shortbread has been piped into a whirled shape before being baked. The cookies are then sandwiched together with different varieties of filling, ranging from jam to buttercream.
39. Vitréais
Vitréais is a French cake hailing from the region of Brittany. It is made of apples, caramel, eggs, and almonds.
40. Vla
A Dutch dairy product that is made from fresh milk and is typically a custard covering for cakes.
41. Vlaai
A traditional sweet pie from the Netherlands. It consists of both a pastry and a fruit-based filling.
>>>>See all of my recipes HERE<<<<
Is there anything that I am missing from this list of international foods starting with the letter V? Leave a comment and let me know below!
📋 Recipe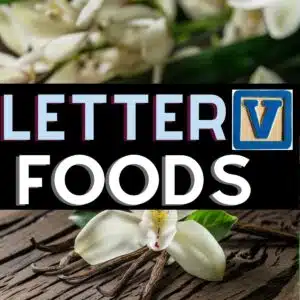 Print Recipe
Leave A Comment
Love This Recipe?
Click On A Star To Rate It!
Foods That Start With V: Velveeta Mac and Cheese (+More Tasty Ideas!)
Foods that start with V: A delicious group of foods that start with V to round out all of your list challenge answers and cooking ideas! From vanilla to veal, there are so many tasty items on this list! How many of these foods have you already tried?
Pin Recipe
Share on Facebook
Ingredients
1 ½

cups

milk

(divided into 1 cup and ½ cup portions - *see note)

1 ½

cups

water

½

teaspoon

onion powder

½

teaspoon

garlic powder

¼

teaspoon

pepper

2

cups

elbow macaroni

(dry)

2

tablespoon

butter

½

lb

Velveeta cheese

(cubed)

½

cup

sharp cheddar cheese

(shredded)
Instructions
In a large pot over medium-high heat, add your water, 1 cup of milk, onion powder, garlic powder, and pepper. Stir to combine and then add in the elbow macaroni.

1 ½ cups milk,

1 ½ cups water,

½ teaspoon onion powder,

½ teaspoon garlic powder,

¼ teaspoon pepper,

2 cups elbow macaroni

Bring the mixture to a boil, stirring occasionally, for 5-6 minutes or until the noodles are al dente.

Next, add in the butter and stir until it is melted then add in the remaining ½ cup of milk and the cubed Velveeta cheese. Stir the pasta until the cheese melts.

1 ½ cups milk,

½ lb Velveeta cheese,

2 tablespoon butter

Remove the pot from the heat and add in the shredded cheese, stirring until melted.

½ cup sharp cheddar cheese

Serve immediately while warm.
Equipment You May Need
Notes
I like to use higher-fat dairy to make macaroni and cheesy, as it gives it a richer flavor. My personal favorite dairy options are heavy cream or half & half (which both do well when boiled).
Make sure you reuse any leftovers to make my mac and cheese bites!
Macaroni noodles are the classic choice for mac & cheese, but you can feel free to mix it up with other types of pasta!
To store: Keep your leftovers stored in the fridge in an airtight container for up to 5 days.
To reheat: Add a splash of milk or cream before reheating in either the microwave or over medium heat on the stove. The extra liquid is necessary to return the macaroni and cheese to a creamy consistency.
Nutrition
Calories:
367
kcal
(18%)
|
Carbohydrates:
43
g
(14%)
|
Protein:
18
g
(36%)
|
Fat:
14
g
(22%)
|
Saturated Fat:
8
g
(50%)
|
Polyunsaturated Fat:
1
g
|
Monounsaturated Fat:
2
g
|
Trans Fat:
0.2
g
|
Cholesterol:
43
mg
(14%)
|
Sodium:
719
mg
(31%)
|
Potassium:
340
mg
(10%)
|
Fiber:
2
g
(8%)
|
Sugar:
7
g
(8%)
|
Vitamin A:
681
IU
(14%)
|
Vitamin C:
0.1
mg
|
Calcium:
372
mg
(37%)
|
Iron:
1
mg
(6%)
foods that start with v, velveeta macaroni and cheese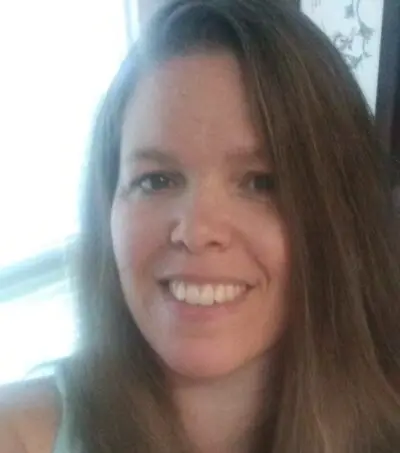 Angela is an at home chef that developed a passion for all things cooking and baking at a young age in her Grandma's kitchen. After many years in the food service industry, she now enjoys sharing all of her family favorite recipes and creating tasty dinner and amazing dessert recipes here at Bake It With Love!