Foods that start with X: A delicious group of foods that start with X to round out all of your list challenge answers and cooking ideas! This list is loaded up with international cuisines, so you are bound to find something new to try out! From fruits to meat and everything in between, here's a bunch of tasty foods that all begin with the letter X!
25 Foods That Start With The Letter X
Wow, I can't believe I am almost at the end of this alphabet challenge! It has definitely been a wild (and delicious) journey!
Today we are walking through the letter x, which was definitely a challenge all by itself. After scouring the internet, I have come across some tasty ingredients, dishes, and foods that all start with this difficult letter. So let's get started!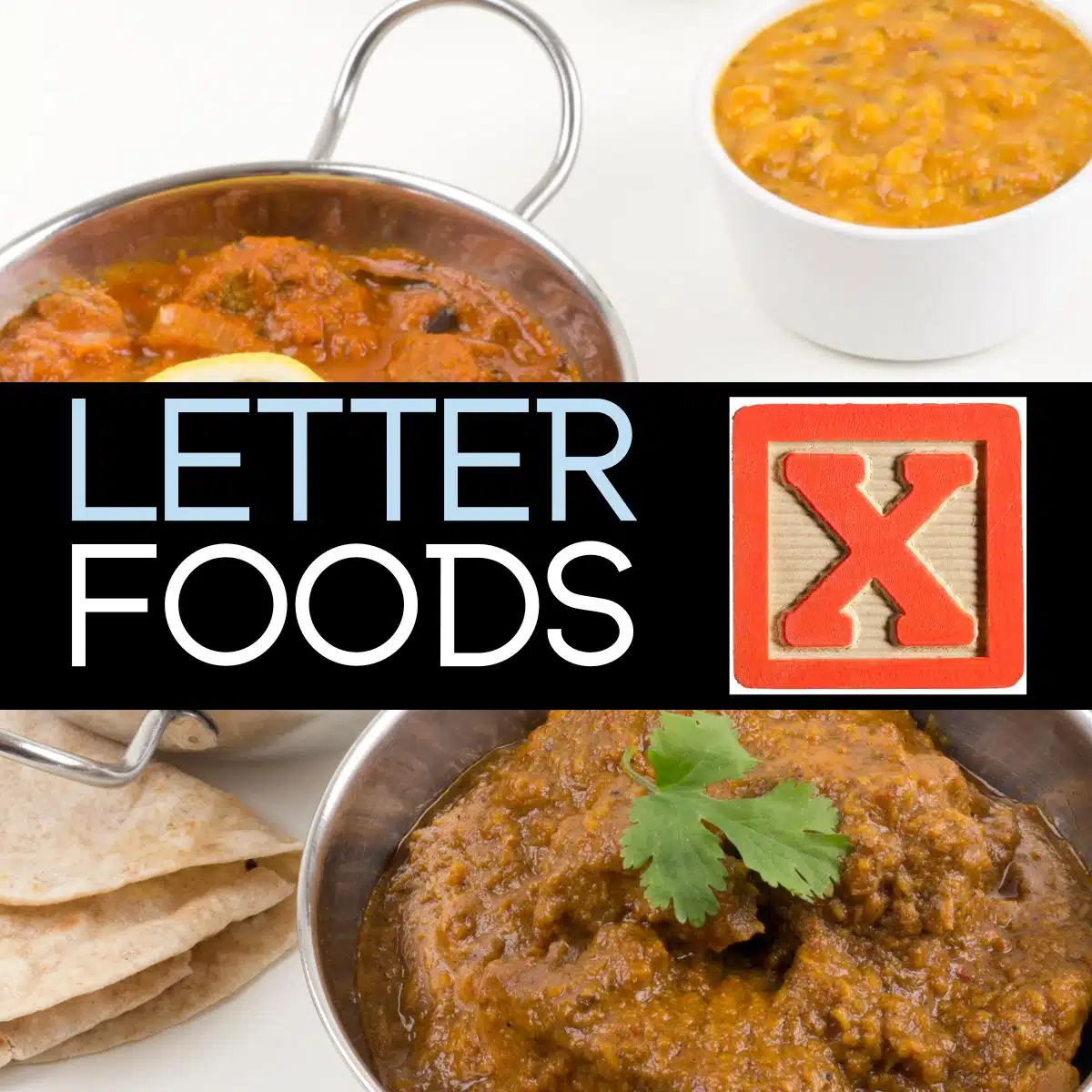 Jump to:
Don't forget to check out all of my foods that start with A-Z list challenge answers!
🍉 Fruits & Vegetables That Start With X
1. Xavier de Bavay
A Belgium variety of apple that is golden yellow in color. It is ideal for making cider or eating fresh and could be classified as a dessert apple.
Crockpot Apple Cider
Crockpot apple cider is a sweet and refreshing holiday drink with autumn flavors that's sure to be a hit at any gathering! Featuring apple juice, brown sugar, and warm fall spices, this apple cider tastes wonderful. Your house will smell great and the whole family will enjoy this warm and soothing holiday drink!  
Check out this recipe
2. Xigua
Xigua is the Chinese name for watermelon, a popular fruit that is well-loved all around the world! It is sweet, refreshing, and loaded with juice.
Dehydrated Watermelon Jerky
Dehydrated watermelon jerky is an easy sweet and fruity treat that you don't have to feel bad about eating! This dried watermelon jerky is a bit less chewy than taffy and comes out sweet, almost like watermelon jolly ranchers (but better)! If you don't have a dehydrator, don't worry, you can also make them in the oven!
Check out this recipe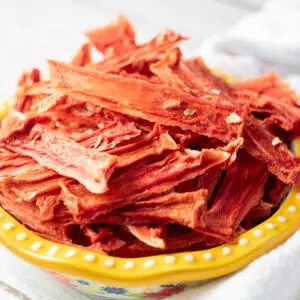 3. Ximenia
A plum-like fruit found in Africa that is golden yellow in color. It has one large seed in the center that is surrounded by juicy green pulp. It is known to be a refreshing fruit that has an acidic taste.
4. Xinomavro
A Greek variety of grapes that is typically used to make wine. It is very popular and can produce a full range of wines from red to white (including rose) and in flavors that are sweet, dry, sparkling, and more.
5. Xoconostle
Xoconostel is the fruit of a cactus found in Mexico that is similar to a prickly pear. It has skin that is pale green, and the flavor is sour, making it a great addition to salsas, sauces, and marinades.
It is used in savory dishes as well as sweeter recipes for jams or jellies. Plus, it is even commonly enjoyed in juices and smoothies!
6. Xuanina Apples
Xuanina apples have a sharp flavor and are most commonly used in making Asturian cider.
🧂 Condiments, Herbs, & Spices That Start With X
7. Xiang Cao Jing
Xian cao jing is the Chinese word for vanilla. More specifically, it refers to vanilla extract, which is commonly used in preparing baked goods such as cookies and cakes!
Vanilla Cupcakes
These vanilla cupcakes are a moist, fluffy, and tasty dessert that can easily be enjoyed for any occasion! They are so delicious and simple to make that this is going to become the only vanilla cupcake recipe you'll ever need! Top them with your favorite flavor of frosting and then watch them disappear!
Check out this recipe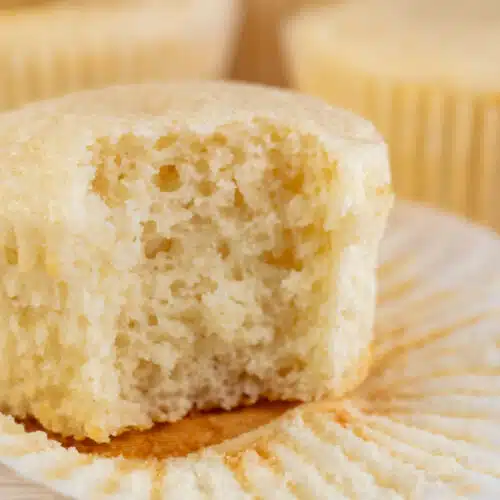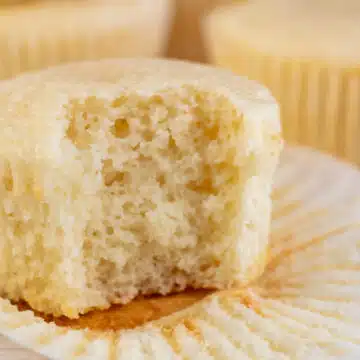 8. Xnipec
A spicy sauce in the Yucatan peninsula that is made up of purple onion, habanero pepper, bitter orange juice, and salt. It's a tasty condiment that definitely packs some heat!
🍽️ Appetizers & Snacks That Start With X
9. Xiaolongbao
A type of Chinese steamed bun that is prepared in a small bamboo steaming basket called a xiao long. They are traditionally filled with pork, but you may also find them with fillings such as other meats, shrimp, crab, and vegetarian options.
🥩 Meat Dishes That Start With X
10. Xacuti
Xacuti is an Indian curry usually made with chicken, lamb, or beef. It is made with freshly roasted spices, coconut, red chilis, and poppy seeds and is packed with tons of spicy flavor.
11. Xató de Sitges
A variation of the Xató salad (mentioned below), specific to the coastal town of Sitges in Catalonia, Spain. This version of the salad includes ingredients like salted cod, tuna, anchovies, olives, and capers, in addition to the escarole and Xató sauce.
12. Xavier Soup
Italian dumpling soup made with chicken stock that is traditionally served on the feast day of St. Francis Xavier. It consists of Parmesan and parsley dumplings in a clear broth and can be made with or without chicken.
13. Xavier Steak
A tasty dish that consists of steak topped with asparagus and Swiss cheese. It can be made with any cut of boneless steaks, such as scotch or ribeye.
14. Xinjiang-Style Lamb Skewers
These skewers are a popular street food in China (particularly in the Xinjiang region). They are made with marinated lamb that is grilled on skewers and seasoned with cumin and chili powder.
15. Xinxim de Galinha
A Brazilian dish particularly popular in the Bahia region. It consists of chicken (and sometimes prawns) cooked in a sauce made with ground peanuts, cashews, and palm oil, along with various spices, vegetables, and ground-up dried shrimp.
16. Xiphias
Xiphias is the Greek word for swordfish. It is a moist, slightly sweet, and mild-tasting white fish that can be cooked in a variety of different ways, making them a great option for people who are new to eating fish and don't want a strong flavor. In stores, you'll almost always find it sold in steaks.
Grilled Swordfish
This quick and easy grilled swordfish has a naturally mild and sweet flavor with some simple seasoning and a perfect sear! This meaty, firm fish is the perfect protein to make on the grill. Pair it with a salad and a glass of wine and you'll have yourself a healthy and delicious dinner!
Check out this recipe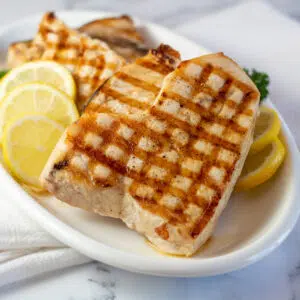 17. Xouba
Xouba is a type of small sardine fish found near Spain. They are incredibly similar to sardines that you commonly find in tins at the supermarket.
>>>>See all of my recipes HERE<<<<
🥬 Vegetarian Dishes That Start With X
18. Xampinyons En Salsa Mushrooms
Spanish tapas dish using wild foraged mushrooms in a rich sauce. In fact, the name itself translates to mushrooms in the sauce! The sauce itself is tomato-based, making it a fantastic vegetarian option.
19. Xató
A Catalan salad made with escarole, a type of endive that is typically served with a special sauce called Xató sauce. The sauce contains almonds, hazelnuts, bread, garlic, olive oil, and a type of dried red pepper called ñora.
20. Xerem
A Brazilian dish originating from the northeastern part of the country, particularly in the state of Ceará. It is a cornmeal-based thick soup or porridge, similar to polenta, and is typically served with various accompaniments such as meat, vegetables, or beans.
21. Xôi
A type of sticky rice popular in Vietnam that can be either sweet or savory. It is commonly enjoyed as breakfast or dessert but is also served as lunch or dinner!
This glutinous rice is a staple dish in many Asian households!
🍰 Desserts That Start With X
22. Xmas Pudding
Xmas pudding (or Christmas pudding) is a British dessert typically made with dried fruit, suet, spices, and sometimes alcohol. This dried-fruit pudding is dark, sticky, and is more resemblant to a fruitcake rather than the American version of pudding.
Check out the recipe at the bottom of this post!
23. Xocolatl
Xocolatl is both the Mayan and Aztec word for chocolate. The name itself was actually derived from a spiced, somewhat bitter chocolate drink that was enjoyed by both the Aztecs and the Mayans.
Over time, the term xocolatl eventually evolved into the word "chocolate" that we now use today.
🍹 Drinks That Start With X
24. Xalapa Punch
A cocktail mixed with rum, brandy, and red wine that is highlighted with both black tea and heated orange rinds.
25. Xanthia
Xanthia is a cocktail made with gin, brandy, chartreuse, and sometimes bitters. The mixture is stirred with ice and then strained into a glass.
Now that you know all of these tasty foods beginning with the letter X, which one are you wanting to try out first? Leave a comment down below and let me know what you think!
Do you love a recipe you tried? Please leave a 5-star 🌟rating in the recipe card below and/or a review in the comments section further down the page.
Stay in touch with me through social media @ Pinterest, Facebook, Instagram, or Twitter! Subscribe to the newsletter today (no spam, I promise)! Don't forget to tag me when you try one of my recipes!
📋 Recipe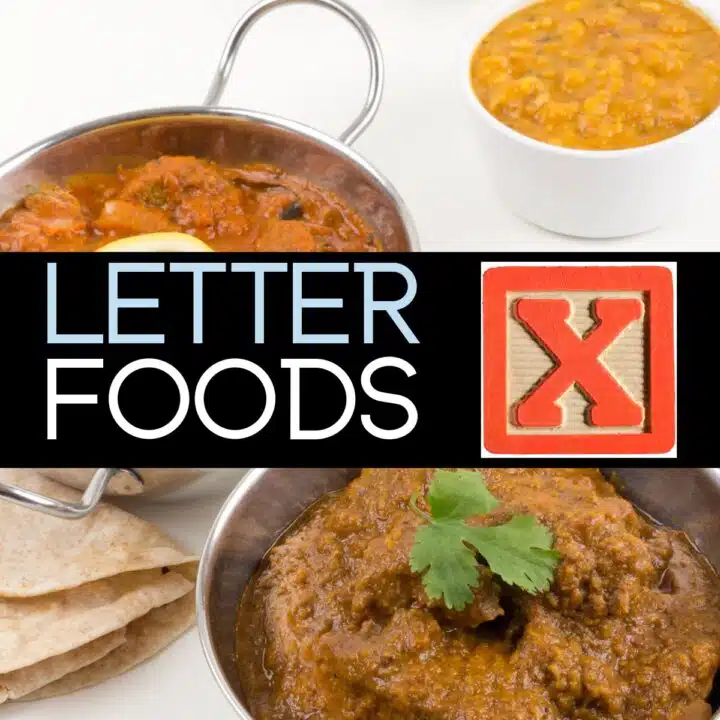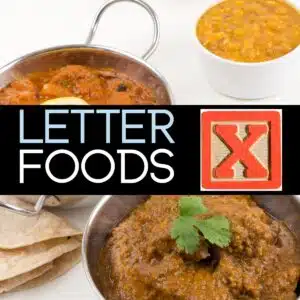 Print Recipe
Leave A Comment
Love This Recipe?
Click On A Star To Rate It!
Foods That Start With X: Xmas Pudding (+More Delicious Foods!)
Foods that start with X: A delicious group of foods that start with X to round out all of your list challenge answers and cooking ideas! This list is loaded up with international cuisines so you are bound to find something new to try out! From fruits to meat and everything in between, here's a bunch of tasty foods that all begin with the letter X!
Cooking
2
hours
30
minutes
Total Time
2
hours
45
minutes
Pin Recipe
Share on Facebook
Ingredients
1

cup

raisins

1

cup

golden raisins (sultanas)

1

cup

self-rising flour

1

cup

breadcrumbs

(chopped fresh white bread, about 4-5 slices)

1

cup

light brown sugar

(packed)

1

cup

butter

(frozen, then grated + softened butter for coating your bowl)

2

teaspoon

mixed spice

1

cup

milk

(whole milk is best)

1

large

egg

(at room temperature)

confectioners' sugar

(optional, for garnish)
Instructions
In a large mixing bowl add all of the ingredients (raisins, golden raisins, self-rising flour, breadcrumbs, light brown sugar, grated butter, mixed spice, milk, and egg). Mix until well combined, then transfer into a generously buttered pudding bowl or heat-safe bowl (the bowl should be roughly 1.5 quart capacity). Use a spatula to level the top of the pudding and gently pack into the bowl.

1 cup raisins,

1 cup golden raisins (sultanas),

1 cup self-rising flour,

1 cup breadcrumbs,

1 cup light brown sugar,

1 cup butter,

2 teaspoon mixed spice,

1 cup milk,

1 large egg

Butter the bottom side of two sheets of aluminum foil then secure them over the bowl - leave the center pleated, creased, or tented over the pudding to allow for rising. Tie the aluminum foil in place with butcher twine then place the bowl into a large pan.

Fill the pan with water, enough so that it reaches up just a bit over halfway up the sides of your bowl of pudding. Cover and bring the water to a low simmer, then steam for 2 ½ hours. *Check the water level occasionally and add more hot water to keep the level at the same point on your bowl.

Remove from the pan when done, peel off the aluminum foil and invert onto a heat-safe serving plate or dish. To serve later let the Christmas pudding cool slightly, then wrap tightly with plastic cling film and a layer of fresh aluminum foil.

When ready to serve lightly dust with confectioners' sugar and enjoy.
Notes
Optional stir-ins include up to 1 cup of crushed nuts (walnuts, pecans, hazelnuts) or ½ cup of grated apple (use a firm semi-sweet variety like Honeycrisp, Gala, Fuji, Braeburn, Cameo, Pink Lady).
Swap out raisins for dried fruit like dates, apricots, cherries, cranberries, or mixed peel if desired.
Nutrition
Calories:
438
kcal
(22%)
|
Carbohydrates:
63
g
(21%)
|
Protein:
5
g
(10%)
|
Fat:
20
g
(31%)
|
Saturated Fat:
12
g
(75%)
|
Polyunsaturated Fat:
1
g
|
Monounsaturated Fat:
5
g
|
Trans Fat:
1
g
|
Cholesterol:
68
mg
(23%)
|
Sodium:
271
mg
(12%)
|
Potassium:
344
mg
(10%)
|
Fiber:
2
g
(8%)
|
Sugar:
32
g
(36%)
|
Vitamin A:
646
IU
(13%)
|
Vitamin C:
1
mg
(1%)
|
Calcium:
93
mg
(9%)
|
Iron:
2
mg
(11%)
foods that start with x, xmas pudding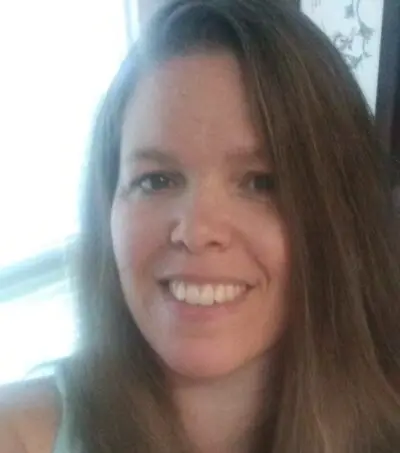 Angela is an at home chef that developed a passion for all things cooking and baking at a young age in her Grandma's kitchen. After many years in the food service industry, she now enjoys sharing all of her family favorite recipes and creating tasty dinner and amazing dessert recipes here at Bake It With Love!