These foods that start with J are here to help round out your collection of different foods and dishes that you've tried! This list is loaded with ingredients, recipe ideas, and more! Just take a peek at all of the tasty and unique foods that start with the letter J!
40 Foods That Start With The Letter J
If you've ever wondered which foods start with the letter J then here's your answer! Besides, we've been having a great deal of fun with these list challenge answers!
Whether you're answering the 'foods that start with' challenge, or 'eating through the alphabet' you'll find a wonderful collection of recipes! Enjoy these classic recipes from around the world for some amazing flavorful meals, ridiculously delicious desserts, and much more!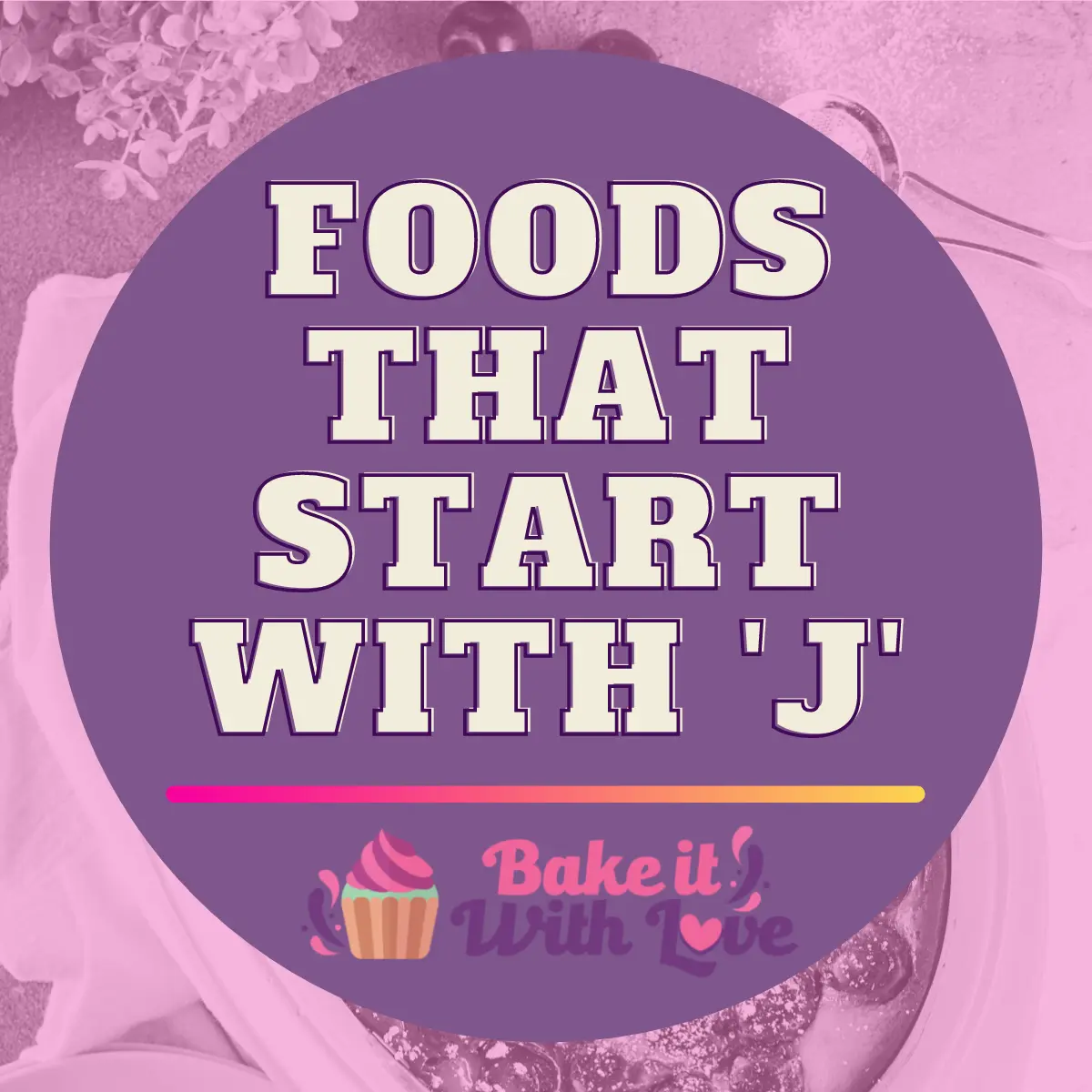 Jump to:
Finally, don't forget to check out all of our foods that start with A-Z list challenge answers!
🍉 Fruits and Vegetables: Foods That Start With J
1. Jackfruit
Jackfruit is a tropical fruit that is in the same family as figs and mulberries. Its texture is similar to that of a pineapple, however, its flavor is very distinct. In fact, some say it resembles pulled pork!
2. Jalapeno
Of course, everyone knows and loves jalapenos! This popular veggie is commonly added to many different dishes in order to add some spice and flavor. From burgers to soups and dips to baked goods, jalapenos are used in so many different things!
Jalapeno Cheddar Scones
These Jalapeno Cheddar Scones might be cut smaller than my usual sweet scone, but they are mighty in taste and loaded with cheddar and jalapeno flavor! They also happen to be a very popular family favorite that I love to serve with dinners!
Check out this recipe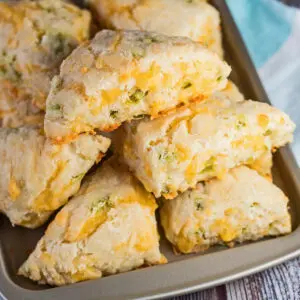 3. Japanese Plum
Japanese plums have a texture that is similar to other plum varieties and are bright yellow when ripe. They are naturally sweet and delicious to eat raw!
4. Java Fruit
The Java fruit (or Java plum) is a fruit from a tree that originates in India. They have a unique sweet, sour, and peppery flavor.
5. Jerusalem Artichoke
Prior to what the name may have you think, a Jerusalem artichoke is actually a part of the sunflower family! You can eat them raw as well as baked.
6. Jicama
Jicama is a root vegetable that has thick, brown skin with a white inside. It actually has a similar taste to a less-sweet apple. Not to mention it is low in calories and high in fiber!
7. Jonathan Apple
Jonathan apples are a great apple variety for enjoying raw as well as baking with! They are sweet and tart and can also hold their shape after being cooked.
8. Jujube
This fruit is also commonly known as a Chinese date. They are dark red in color and are naturally sweet. In fact, they are commonly dried and used in candy!
9. Juniper Berry
Juniper berries are actually a spice and not a true berry at all. Furthermore, they have a piney and peppery flavor.
🌿 Vegetarian Dishes: Foods That Start With J
10. Jasmine Rice
Jasmine rice is a long-grain variety of white rice that is grown in Thailand. It is easy to cook and makes a perfect side dish or addition to any of your favorite meals!
Instant Pot Jasmine Rice
Instant pot jasmine rice recipe turns out easy beautiful, fluffy and tender rice every time! This is the most perfect jasmine rice ever. No need for a rice cooker. Plus, you can do large amounts of rice at once.
Check out this recipe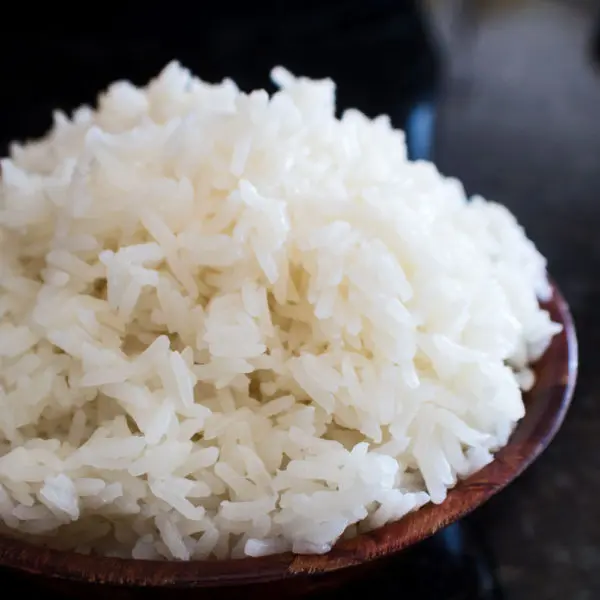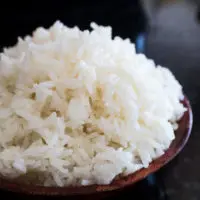 11. Johnny Cakes
Johnny cakes look very similar to pancakes, but they are made up of cornmeal! They are served in a similar fashion to pancakes, with both butter and syrup.
12. Jook
You may have heard of jook before, but referred to as rice porridge or congee. It can be vegetarian (made with water) as well as made with broth.
🥩 Meat Dishes: Foods That Start With J
13. Jäegerschnitzel
This German dish is traditionally made with veal or pork that is breaded and topped with a sauce consisting of mushrooms, tomatoes, or cream.
Jägerschnitzel
The classic German Jägerschnitzel combines tender, crispy-fried breaded pork cutlets served with a deliciously rich bacon mushroom gravy! This is truly a hearty pork entree that the whole family will love any day of the week!
Check out this recipe
14. Jaffle
A jaffle is an Australian sandwich that has been toasted and then cut down the middle. In fact, there are actually special jaffle makers just for making this sandwich!
15. Jambalaya
Jambalaya is a Cajun dish that features rice and meat! There are many different variations, but my favorite includes chicken, sausage, and shrimp!
Instant Pot Jambalaya
Instant Pot Jambalaya is the easiest way to get your Cajun fix and it can be on the dinner table in minutes! This zesty one-pot meal is a classic Louisiana recipe that features tender chicken, smoky andouille sausage, and juicy shrimp mixed with veggies and white rice. Your Instant Pot jambalaya will turn out flavor-packed and totally delicious!
Check out this recipe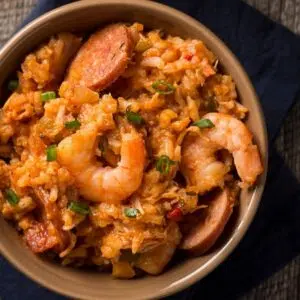 16. Jambon
Jambon is simply another term for ham!
17. Jambon Au Madere
This tasty dish is a braised ham with Madeira sauce.
18. Jerk Chicken
You can find a 'jerk' version of so many different proteins! Making jerk chicken simply means coating it in a special jerk seasoning to give it some bold and dramatic flavor and then cooking it!
Jamaican Jerk Seasoning
This Jamaican jerk seasoning is the perfect blend of spices to add a spicy, unique flavor to all of your favorite meals! The sugar adds a slight hint of sweetness to create some depth and to round out the flavor. You don't have to reserve this seasoning for just Jamaican dishes, it works great in so many other things, too!
Check out this recipe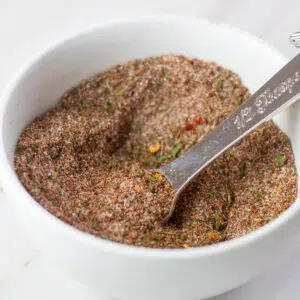 19. Jollof Rice
Jollof rice is a rice-based dish that comes from Africa. Furthermore, it is typically a mixture of rice, vegetables, spices, and meat!
20. Jota
Jota is an Istrian stew that typically consists of beans, sauerkraut, potatoes, and meat. In fact, it is really popular in Croatia!
🍰 Desserts: Foods That Start With J
21. Jaffa Cakes
Jaffa cakes are a popular British treat made up of a spongey cookie that is topped with apricot jelly and chocolate!
22. Jalebi
This sweet snack is popular in Asia and Africa. It features a deep-fried maida flour that is then soaked in sugar syrup.
23. Jawbreaker
Jawbreakers are hard, round candies that come in various sizes. They need to be sucked on because they are too hard to bite!
24. Jello
Jello is a brand of gelatin-based dessert that is jiggly, firm, and tasty! Of course, you can buy Jello mixes in a variety of different flavors. It is commonly eaten by itself, or used in different dessert recipes such as Jello shots!
How To Make Jello: Homemade Recipe (+ Boxed Instructions)
For how to make jello from a box or homemade, check out this article that breaks down the steps so that anyone can do it! Fortunately, making jello is simple even when making it from scratch - just follow these directions, and you'll have a fruity dessert in no time!
Check out this recipe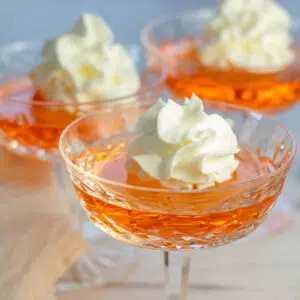 25. Jelly Beans
Jelly beans are a fun and colorful candy that look like little beans! Additionally, they come in a wide variety of flavors all the way from fruity to popcorn to licorice!
26. Jelly Doughnut
A jelly doughnut is a fried and delicious donut that doesn't have a hole cut out of it such as traditional donuts. It is then filled with your favorite flavor of jelly!
27. Jelly Roll
A jelly roll, or Swiss roll, is a type of sponge cake that has then been rolled up with a filling in the center. Particularly, the filling could be jelly, cream, or icing.
28. Jordan Almonds
Jordan almonds are actually a type of hard-shelled candy. In fact, they are extremely popular wedding favors!
29. Junket
Junket is an English custard dessert that is not very common anymore. Furthermore, it has a consistency similar to pudding and is made from milk, sugar, and flavorings.
🧂 Snacks, Spices, & Condiments: Foods That Start With J
30. Jack Cheese
Jack cheese is another name for cow's milk Monterey Jack cheese or Aussie Jack cheese. This tasty cheese is pretty popular and is commonly used in many different recipes such as quesadillas, macaroni and cheese, and baked potatoes.
31. Jalapeno Poppers
Jalapeno poppers are a super popular appetizer or snack, especially on game days! They feature jalapenos that have been hollowed out and then stuffed with a filling consisting of cheese and sometimes meat. Furthermore, they can even be fried!
Lobster Jalapeno Poppers
Best jalapeno poppers EVER! So delicious you'll just need to start off with a double batch!

Check out this recipe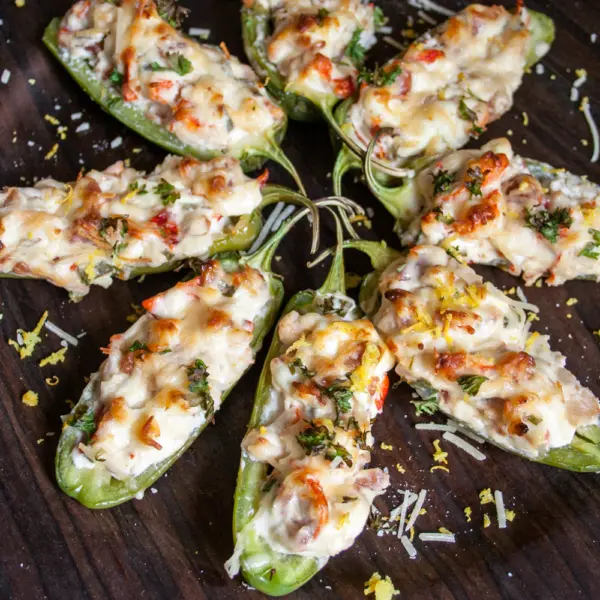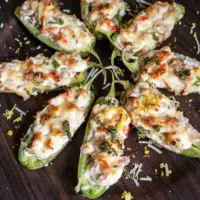 32. Jam
Jam is very similar to jelly since it is commonly spread on sandwiches and bread, too. The difference is that jam isn't strained and has seeds and bits of fruit still in it!
33. Jelly
Jelly is a tasty fruit spread that is made from the juice of fruits that is boiled with sugar. It is commonly spread on toast, peanut butter sandwiches, as well as biscuits!
If you want to know the difference between jam and jelly then check out my post that discusses jam vs jelly vs preserves vs marmalade!
Crockpot Grape Jelly Meatballs
Crockpot grape jelly meatballs are a perfect appetizer for a pot-luck, dinner party, or game day! Simple and slightly sweet. These easy delicious and tender, meatballs will knock your socks off!
Check out this recipe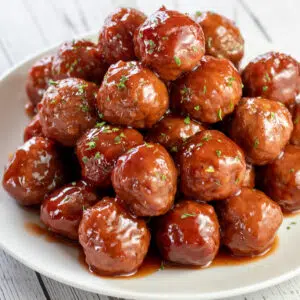 34. Jerky
Jerky is meat that has been cut into strips and then dried. It is a tasty, shelf-stable snack that is loaded with protein!
Dehydrated Watermelon Jerky
Dehydrated watermelon jerky is an easy sweet and fruity treat that you don't have to feel bad about eating! This dried watermelon jerky is a bit less chewy than taffy and comes out sweet, almost like watermelon jolly ranchers (but better)! If you don't have a dehydrator, don't worry, you can also make them in the oven!
Check out this recipe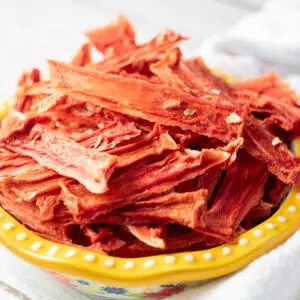 35. Jewish Rye Bread
This rye bread is extremely common amongst Jewish communities as well as found in most grocery stores. The difference between standard rye bread and Jewish rye bread has to do with how refined the rye was as well as how much additional wheat flour was added.
36. JoJo Potatoes
Jojo potatoes are similar to potato wedges, except they have been coated in flour and then deep-fried!
☕ Beverages: Foods That Start With J
37. Jasmine Tea
Jasmine tea is scented with jasmine blossoms. Typically, the base of the tea is green tea, however, black or white tea could also be used.
38. Java
We all know and love java, obviously, since it is coffee! In fact, the term 'java' originates from coffee that was grown on Java island. Eventually, the word just become synonymous with coffee.
39. Juice
Juice is a tasty beverage that can be made from practically any fruit as well as vegetable! Above all, the produce is squeezed and all of the flesh, rinds, or peels are discarded. Additionally, you can even purchase a juicer and make your own at home!
40. Julep
A julep is a type of drink that is made using sweet sugar syrup. It commonly contains alcohol such as in the popular mint julep!
Is there anything that I am missing from this list of well-loved foods, fruits, berries, and international foods that start with J? Last, but not least, leave a comment below and let me know to get it added!
📋 Recipe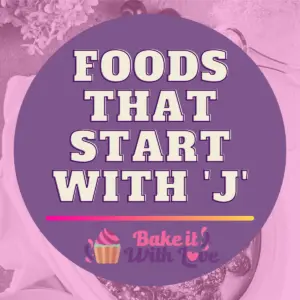 Print Recipe
Leave A Comment
Love This Recipe?
Click On A Star To Rate It!
Foods That Start With J: Jalapeno Cheddar Scones (Plus More Tasty Ideas!)
These foods that start with J are here to help round out your collection of different foods and dishes that you've tried! This list is loaded with ingredients, recipe ideas, and more! Just take a peek at all of the tasty and unique foods that start with the letter J!
Share on Facebook
Ingredients
2 ¼

cups

all-purpose flour

3

teaspoon

baking powder

½

teaspoon

salt

6

tablespoon

butter

(cold, cubed)

1

cup

cheddar

(grated)

½

cup

pickled jalapeno slices

(diced or minced)

¾

cup

whole milk

(or half & half, or heavy cream)
Help Us Out!
If you love a recipe, be sure to come back and share your ratings. This helps future users, and allows me to continue sharing free recipes! Angela
Instructions
Preheat your oven to 375 degrees F (190 degrees C) and line a baking sheet with parchment paper or a silicone baking mat. *See notes for best baked scones.

In a large bowl, add 2 ¼ cups all-purpose flour, 3 teaspoons baking powder, and ½ teaspoon salt then whisk to combine.

Cut the 6 tablespoons of cold, cubed butter into the flour mixture using a pastry blender, a set of butter knives (cut in a criss-cross motion), a fork, or your fingertips. Continue until you achieve a fine crumble that is about pea-sized.

Add the 1 cup grated cheddar cheese (mild or sharp cheddar are both excellent!) and ½ cup of diced pickled jalapeno slices and stir them into the flour mixture.

Pour in the ¾ cup whole milk (or 2% milk) and gently combine with the dry ingredients. Work until the flour is just incorporated, being careful to not over-mix the dough.

Transfer the scones dough to a lightly floured working surface and pull the dough together. Shape into a rectangle, or the standard round. *I'm using the rectangle to shape my scones into 12 smaller portions, a round will yield 8 normal size scones.

Cut the rectangle in half lengthwise, then each half into 3 square portions and each of those squares into halves that are triangle shaped. Or cut a round into 8 portions, pizza-style. Transfer the cut scones to your prepared baking sheet.

Bake at 375 degrees F (190 degrees C) for 16-18 minutes, or until the bottom is just beginning to brown and the tops are still pale.

Remove from the oven when done and allow the scones to set on the baking sheet for 5 minutes. Transfer to a wire cooling rack to cool completely or serve warm.
Notes
Your best baked scones result from chilling the dough before baking. Place the cut scones onto your prepared baking sheet and chill them in the refrigerator for 30 minutes, or in the freezer for 15 minutes.
Nutrition
Calories:
185
kcal
(9%)
|
Carbohydrates:
19
g
(6%)
|
Protein:
5
g
(10%)
|
Fat:
10
g
(15%)
|
Saturated Fat:
6
g
(38%)
|
Trans Fat:
1
g
|
Cholesterol:
26
mg
(9%)
|
Sodium:
308
mg
(13%)
|
Potassium:
168
mg
(5%)
|
Fiber:
1
g
(4%)
|
Sugar:
1
g
(1%)
|
Vitamin A:
390
IU
(8%)
|
Vitamin C:
1
mg
(1%)
|
Calcium:
135
mg
(14%)
|
Iron:
1
mg
(6%)
foods that start with j, Jalapeno Cheddar Scones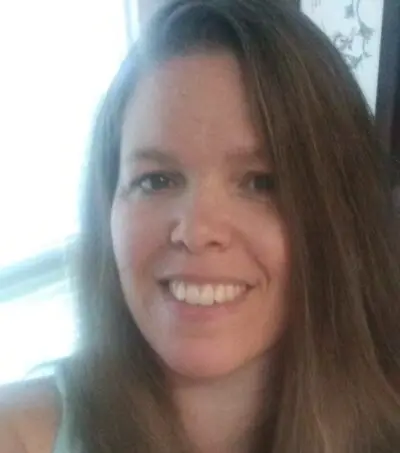 Angela is an at home chef that developed a passion for all things cooking and baking at a young age in her Grandma's kitchen. After many years in the food service industry, she now enjoys sharing all of her family favorite recipes and creating tasty dinner and amazing dessert recipes here at Bake It With Love!