These venison recipes include everything from fun twists on classic comfort food to easy family meals and a few elegant dinner options! If you're looking for new, unique ways to cook venison, these recipes are just what you need!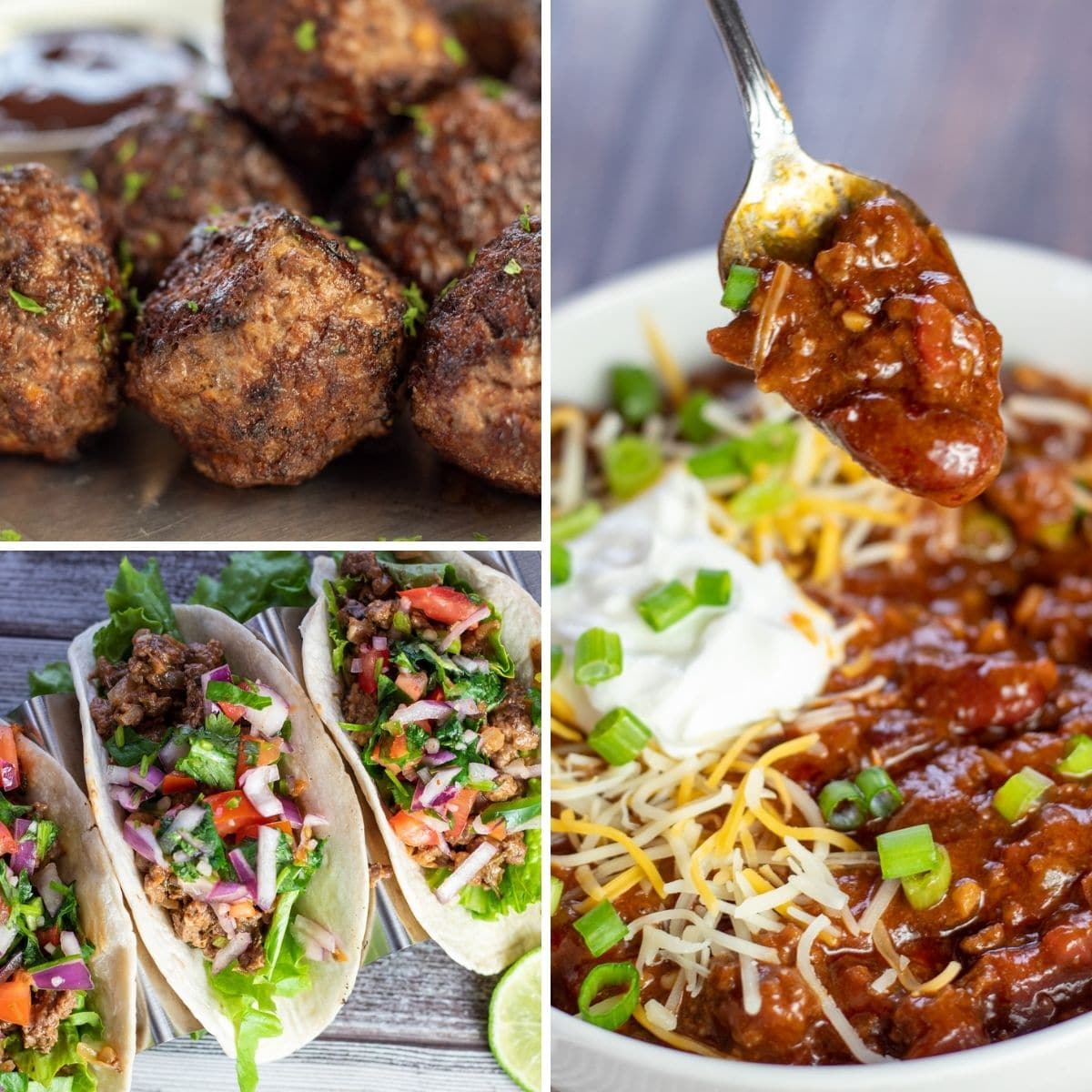 The wonderfully unique flavor of your venison adds so much to many of your family favorite meals!
Any game hunter will tell you that venison is a great alternative to beef. Unfortunately, many people may have an aversion to venison for fear of a "gamey" taste.
With the right recipes, there is nothing to fear when it comes to eating venison. Venison is not only very flavorful and tasty, but it is leaner and has more protein than beef!
Jump to:
The best venison recipes don't taste overly gamey, it truly depends on how you cook it! With the right ingredients and the proper preparation, venison is a delicious protein that offers a welcome change from the usual.
Any of these amazing recipes will make a great introduction to venison for someone who is new to game meat. And, if you already love venison, here are some of the best, most unique ways to serve it!
1. Venison Meatballs
These delicious meatballs are so good you won't know it isn't beef. The bacon in the recipe adds to the flavor and juiciness.
They are made in the traditional style of an Italian meatball with Parmesan and seasonings. Serve with your favorite marinara and enjoy!
2. Venison Chili
Chili is another classic comfort food. It's also the source of thousands of cooking competitions or "cook-offs" every year. This is a wonderful and hearty chili that is great for those cold winter days.
With homemade chili seasoning, kidney beans, and tomatoes, this recipe is the perfect one-pot meal. It has that warm and cozy feeling we love to feel on a cold and dreary day.
3. Venison Burgers
I'm not sure there is anything more American than a good ol' fashion hamburger. This incredible venison burger is the stuff dreams are made of.
The meat is seasoned with my made-from-scratch steak seasoning. Top it with your favorite fixings.
4. Ground Venison Tacos
Ground venison is just as versatile as ground beef, and one of my favorite ways to use it is in some quick and easy tacos! Venison pairs perfectly with all your favorite taco fixings, hot sauce included!
5. Country Style Venison Sausage Gravy
Where are the biscuits and gravy fans? This one is for you!
Venison breakfast sausage is used with butter, flour, and milk to make a savory gravy. Grab your biscuits and top them with the gravy and enjoy!
6. Slow Cooker Venison Roast
This delicious recipe makes for a great Sunday dinner. The fix-it and forget-it method is perfect for a lazy Sunday.
The Venison is added to the slow cooker with dry onion soup mix, a can of cream of mushroom, and seasonings. Pair with a side of potatoes or add potatoes to the slow cooker for a complete meal.
7. Venison Tuscan Inspired Soup
This Venison soup is the real deal. Tender Venison, sweet potato, onion, garlic, and kale combine in a beef broth for a beautiful, rich soup.
Top with Parmesan and zest of lemon to complete this tasty dish.
8. Venison Meatloaf
Meatloaf is a staple recipe in many American households. This Venison meatloaf is a great alternative to its beef counterpart.
This recipe is a take on the classic meatloaf with brown mustard, tomato paste, Worcestershire, onion, and seasonings. Bake and enjoy!
9. Venison Lasagna
I think every family has a lasagna recipe from either their mom or grandmother. Like all great lasagna recipes handed down, this one is a family favorite too!
Venison, ground pork, onion, garlic, mozzarella, and ricotta all combine with your favorite seasonings to create a lasagna we all know and love. While It might not be your mom's recipe, it's still made with love.
10. Chicken Fried Venison
Chicken fried steak is a Southern favorite so why not make it with Venison? This particular recipe uses corn flake crumbs as the coating that are seasoned with garlic and onion powders, and paprika.
Fried to perfection, serve with your breakfast favorites.
11. Venison Mushroom Pappardelle
This delicious pasta dish pairs the Venison with hearty vegetables for a well-rounded dish. Onions, carrots, celery, mushrooms, and garlic all simmer in a bold broth.
Savory seasonings and thyme for a bit of brightness add to this gorgeous dish.
12. Venison Philly Cheesesteak
A small twist on the classic Philly Cheesesteak, this recipe is sure to please even the toughest of critics. This recipe has red and yellow bell peppers along with onion in its mixture.
Classic seasonings and topped with provolone cheese, this is a cheesesteak you'll want to enjoy again and again.
13. Marinated Venison Steak
Like any good carnivore, I love a well-marinated steak. Marinades add to the richness and flavor profile of a good cut of meat.
This one in particular has some of my favorite ingredients. Coconut Aminos, Worcestershire, olive oil, garlic, thyme, and parsley along with a few other ingredients create a nice, quality marinade. Cook to your desired doneness and enjoy!
14. Venison Taco Pie
This taco pie is a fun twist on eating a traditional taco. No taco shells required!
Using crescent roll dough as the pie crust, simply fill your pie with your taco seasoned ground venison, sour cream, and cheddar cheese. Add your favorite taco fixings and voila, your tasty meal is ready to devour!
15. Applewood Bacon Wrapped Venison Loin with Raspberry Sauce
This is what I like to call a "fancy-pants" recipe. The great thing about it though is that it isn't a hard recipe to make and is always a crowd-pleaser.
Using whole milk, black peppercorns, and garlic the venison marinates in this mixture overnight. After it's cooked, drizzle with the raspberry sauce and serve!
Any of these fantastic recipes will make a wonderful meal the whole family can enjoy. If you try your hand at any of these delicious venison dishes, tell us all about how it turned out down below!
📋 Recipe