Best pool party foods for hosting an awesome summer get-together outside for all of your family and friends! From boneless chicken wings to mango salsa with chips, these crowd-pleasing dishes are always a hit with kids and adults alike! Whether you're celebrating a special occasion or you're just trying to beat the heat, you can't go wrong with any of these tasty recipes!
Best Recipes To Make For Summer Pool Parties
When it comes to planning a pool party, the food menu plays an essential role in creating a fun and enjoyable atmosphere! The key is choosing side dishes that are easy to handle, can withstand the heat, and keep your guests satisfied as they swim.
With that in mind, I've created a list of poolside bites that strike a balance between light, refreshing flavors and finger-licking goodness! No matter which dish you pick (or feel free to choose a few), they are sure to make waves and have your guests diving back for seconds!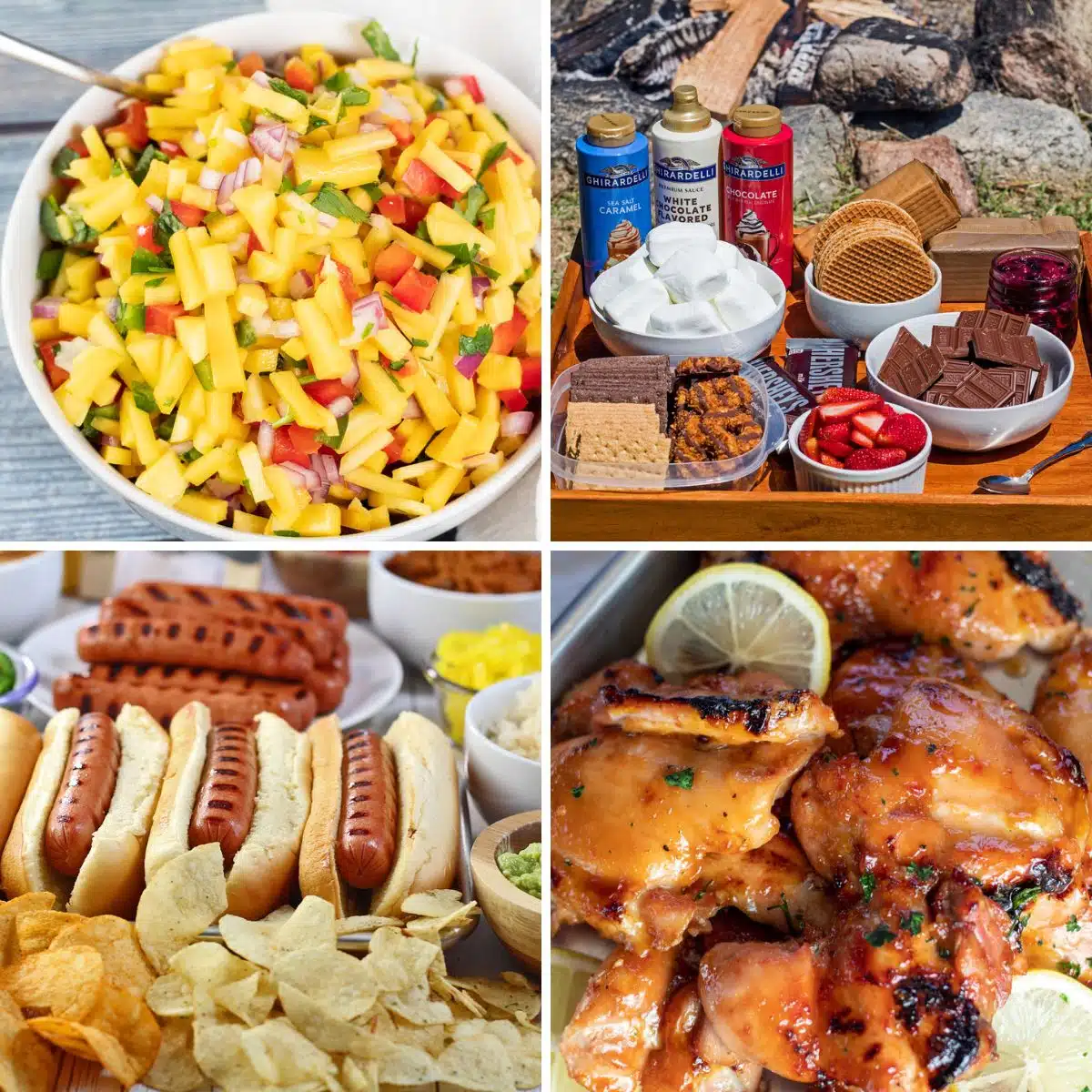 Jump to:
1. S'mores Board
A s'mores board is the ultimate dessert to enjoy alongside the pool with a large crowd, as it's portable and easy to throw together. Also, it's easily customizable and can be filled with fun and tasty ingredients that everyone will love!
2. Hot Dog Bar or Hamburger Bar
Whether you have a grill in your backyard or there's one at the community pool, a hot dog bar is a classic option for a pool party! You can build a limitless flavor combination, and everyone will have fun building their own perfect hot dog.
Another great choice is an all-inclusive hamburger bar! It's the perfect solution to feeding a crowd and can be low-budget too!
3. Baked Huli Huli Chicken
There's something extra special about enjoying a Hawaiian-inspired dish while catching rays next to the pool. My baked Huli Huli chicken dish features tender chicken thighs marinated in a Hawaiian BBQ sauce for a delicious island-infused flavor!
4. Chicken Teriyaki Skewers
These chicken teriyaki skewers are simple to prepare, making them another great option to serve by the pool. They're loaded with sweet and savory flavors from an easy homemade marinade - all you have to do is let the meat soak in it overnight (or a few hours before), then toss them on the grill!
5. Grilled Corn On The Cob
Corn on the cob is a summertime staple, so it's no surprise that it made this list of pool party foods! For this recipe, all you have to do is smother your corn with melted garlic butter and let your grill do the rest of the work.
6. Rotisserie Chicken Salad
A chicken salad is the perfect light and healthy food option for guests to snack on as they take breaks from dipping into the water. It's easy to throw together and can be made in advance so that you can focus on other party planning needs!
7. Sausage Dogs
Sausage dogs are another convenient option for a pool party, as guests can easily hold and enjoy them without the need for utensils! This recipe features Polish sausages (although bratwursts are tasty, too) cooked on the stovetop for just 10 minutes.
8. Franks and Beans
Franks and beans (aka pork and beans) is a classic, comforting dish that is enjoyed by kids and adults alike! Not only is it filled with incredible flavor, but it's also easy to make with ingredients you might already have in your pantry!
9. Lil Smokies Pigs In A Blanket
This incredibly popular appetizer is another great finger-food option to share with your friends and family by the pool! Serve your pigs in a blanket with various dipping sauces, and watch how quickly they disappear.
I like to pair them with my easy Cajun dipping sauce, honey mustard sauce, or honey BBQ sauce!
>>>>See all of my recipes HERE<<<<
10. Boneless Chicken Wings
These boneless wings are double-coated to achieve an extra level of crunchiness and can be tossed in everyone's favorite wing sauce! All you need is some chicken breasts, seasonings, flour, and eggs for this easy recipe.
11. Mango Salsa (with chips)
What's better than snacking on a fresh fruit salsa with homemade tortilla chips on a hot summer day? It's a vibrant and refreshing dish that will keep everyone full enough while they cool off in the pool.
My fresh pineapple salsa would also be a delicious option if you prefer pineapple over mango.
12. Caprese Flatbread
A caprese flatbread offers a light and refreshing flavor profile with sliced tomatoes, basil, mozzarella, and a sweet balsamic glaze! My recipe will make 2 flatbread pizzas, which is around 8 servings, so there's plenty to share!
13. English Muffin Pizzas
If you are expecting guests that are bringing kids to the pool party, then these fun English muffin pizzas are an absolute must-try! They're easily customizable and especially great when everyone prefers different toppings.
14. Cucumber Vinegar Salad
A cucumber vinegar salad is everything you'd want on a hot summer day; a dish that's light, crunchy, sweet, and chilled! This tasty recipe features cucumber, cherry tomatoes, and red onion soaked in a marinade of water, white vinegar, salt, sugar, dill, and olive oil.
15. Berry Parfait Greek Yogurt Popsicles
These delicious popsicles combine Greek yogurt with fresh berries, honey, and granola for a delightful dessert that will cool you off! They only require a few minutes of prep work, so you could make them the night before your party if desired.
16. Pineapple Pie Bars
No pool party is complete without a delightful dessert to satisfy the sweet tooth, and these pie bars will do the trick! These pineapple pie bars have the flavor of a pineapple cobbler, all in an easy-to-eat dessert bar.
17. Amish Sugar Cookies
Amish sugar cookies are another incredibly easy dessert to prepare for your poolside gathering! They're sweet, tender, and will practically melt in your mouth.
Feel free to serve them as is or add your favorite flavor of icing or frosting on top! My family especially enjoys these cookies with my Funfetti buttercream frosting, strawberry cream cheese frosting, or chocolate icing.
18. Strawberry Pineapple Lemonade
Your summertime parties would be incomplete without a cold and fruity beverage to keep your family and friends hydrated. This amazing strawberry pineapple lemonade recipe has the perfect combination of sweet and tangy flavors!
It's not only a beverage that's age-friendly, but it's also easy to customize if your guests prefer a sweeter version!
19. Pink Vodka Lemonade
If you're looking for a super easy cocktail to add to your pool menu, this pink vodka lemonade is just the thing! It's always gotten me rave reviews when I've shared a pitcher with my friends at summertime events.
Plus, you can easily make a virgin version to share with the kids or swap out ingredients based on your personal preferences.
Tips For Choosing Dishes For A Summer Pool Party
Hosting a pool party comes with its own unique set of considerations, especially when it comes to the food and drinks! Here are some key tips and tricks to keep in mind when choosing food options for your next pool party:
Keep it casual: Since pool parties are usually more of a laid-back event, choose food to match the atmosphere. Think of serving a few finger foods like sandwiches, burgers, or pinwheels.
Consider the heat: During the summertime, food may be exposed to heat for an extended period of time. Opt for foods that can withstand the summer heat. Avoid any items that may spoil quickly. Consider bringing a cooler with ice to the pool to store your food and drinks in.
Pick easy-to-eat options: For a successful pool party, it's important to pick foods that are easy to eat with one hand. Try sliders, kabobs, fruit and veggie trays, chips and dips, or even a sushi roll.
Don't forget the drinks: Keeping your pool party guests hydrated with a variety of drink options is crucial. Plan on bringing a cooler with water bottles, soda, or juice. Or make a few pitchers of homemade lemonade or iced tea. A big batch of a summery cocktail would be fun and festive for adults.
Include a dessert: Tasty desserts like fruit salad, popsicles, or ice cream sandwiches are great options to keep everyone cool. A DIY sundae bar with vanilla ice cream and various toppings is a fun idea!
Keep it light & fresh: Fresh and lighter foods will be appreciated as your guests will go in and out of the pool. Consider serving fresh fruit or a simple salad. Grilled meats and vegetables are a great option too!
Now that you have many options to choose from to make your next pool party a success, which one are you most excited to try? Leave a comment down below if you have any questions and let me know what you think!
🥕🥐🥔 More Crowd-Pleasing Recipes
📋 Recipe