What to serve with grilled shrimp to turn it into a delicious and well-balanced meal for the whole family! These recipes include everything from easy vegetable side dishes to classic comfort foods! If you plan on popping a few shrimp on the grill this summer, you've come to the right place!
Best Side Dishes For Grilled Shrimp
One of my favorite quick and easy shrimp recipes is simply popping a few juicy shrimp on the grill with a little seasoning. It's incredibly versatile, and honestly, it's hard to mess up!
Grilled shrimp can be served on its own as a light appetizer, or you can make it the main focus by incorporating a few tasty side dishes!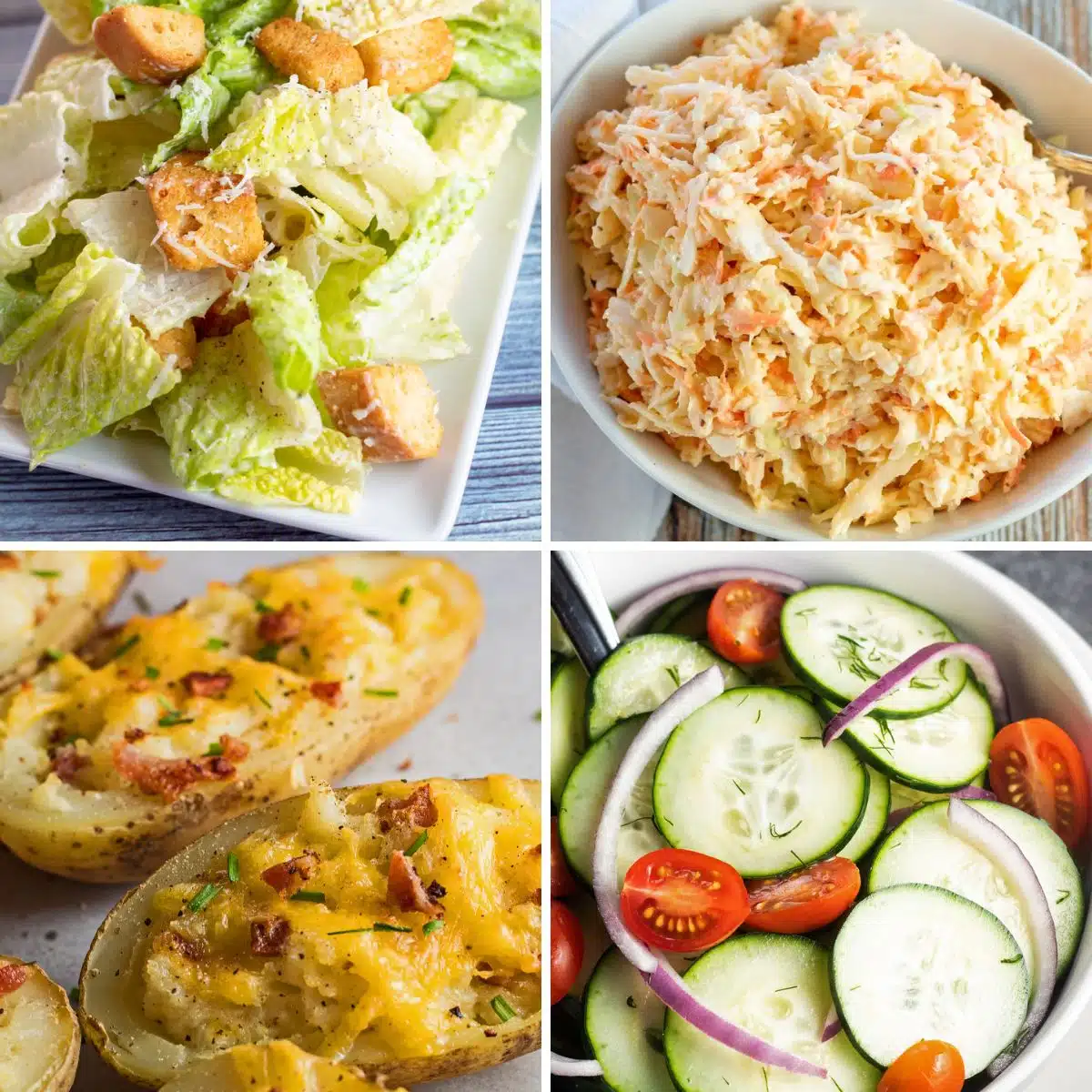 Jump to:
My BBQ shrimp skewers would taste amazing with any of the recipes on this list! Check out my page on how many shrimp are in a serving to plan for larger parties!
1. Twice Baked Potatoes
You can't go wrong pairing shrimp with any kind of potato, but these twice-baked potatoes are guaranteed to impress! They are loaded with butter, sour cream, cheese, bacon, and ham and baked until perfectly fluffy.
2. Southern Coleslaw
When you're enjoying the summer grilling season, cool and crispy coleslaw is a great way to beat the heat! You can even prepare it in advance and let it chill in the fridge until you need it.
3. Grilled Corn On The Cob
If you already plan on firing up the grill, why not throw on a few corn cobs? Corn on the cob takes longer to cook than shrimp, so you'll want to throw it on near the end of the corn's cook time.
4. Sauteed Green Beans
Green beans are a great last-minute side dish for shrimp because they cook up in a flash! If you're looking to add a green veggie to your plate, a quick batch of sauteed green beans is the way to go.
5. Lemon Butter Sauce
It may not technically be a side dish, but grilled shrimp is always better with a side of lemon butter sauce! Or, if you prefer, you could try offering some drawn butter for dunking!
6. Potato Salad
When I think of summer grilling, potato salad is one of the first side dishes to come to mind. It's hearty and satisfying while also cool and creamy, making it an excellent choice to pair with grilled shrimp!
7. Zucchini Fritters
If you have some extra zucchini on hand, I can't think of a better way to use it than a batch of crispy zucchini fritters! They're a great alternative to french fries or potatoes, and they're just as good for dipping.
>>>>See all of my recipes HERE<<<<
8. Caesar Salad
Not only does a Caesar salad make a great side dish on its own, but it can also be served as the main course with a handful of juicy grilled shrimp! Grab some of your favorite croutons and some freshly grated Parmesan to top it all off!
9. Pan Fried Asparagus
If you aren't a fan of green beans, pan-fried asparagus is just as easy to make! It's tender and buttery, plus it adds a lovely pop of color to the plate.
10. Fresh Mango Salsa (with tortilla chips)
My fresh mango salsa features a rainbow of fresh fruits and veggies and lots of citrusy lime flavor. Serve it with a side of tortilla chips and some grilled shrimp for a refreshing lunch or light dinner!
11. Cucumber Vinegar Salad
Cucumber vinegar salad is simple and delicious, with a crisp crunch of fresh cucumbers and plenty of vinegary flavor. This light side dish is a great way to keep the carbs and calories low.
12. Creamed Spinach
Creamed spinach is a steakhouse classic and pairs perfectly with anything that comes hot off the grill. It's warm, creamy, cheesy, and so totally satisfying! You could give creamed kale a try, too!
13. Parmesan Orzo
This creamy Parmesan orzo would make a wonderful bed for a few succulent grilled shrimp. It's pure Italian comfort food that is easy to prepare and never disappoints!
14. Bacon Wrapped Jalapeno Poppers with Cream Cheese
Slightly spicy, creamy, and wrapped in crispy bacon, these jalapeno poppers are always a crowd favorite. I love to dip them in some homemade ranch dressing, though they are definitely tasty enough to enjoy on their own.
15. Rice Pilaf
The slightly nutty and mild flavor of rice pilaf perfectly complements the savory and smoky flavor of grilled shrimp. Add some veggies, and you have a delicious and well-rounded meal!
Recipes You Can Make With Grilled Shrimp
If you'd prefer to incorporate your grilled shrimp into a dish instead of pairing it with a side dish, there are tons of recipes you can try! Grilled shrimp makes an excellent addition to everything from salads to pasta!
Here are a few recipes you can add your grilled shrimp to:
Tips For Choosing What To Serve With Grilled Shrimp
When it comes to choosing the best side dishes for grilled shrimp, there are a few factors to keep in mind. Certain flavors and textures complement grilled shrimp more than others.
Citrusy Notes: Shrimp and citrus are a match made in heaven. Lemon and lime complement it wonderfully! You can't go wrong with lemony sauces, tangy citrus salads, or even just a squeeze of fresh lemon.
Cultural Cuisine: Grilled shrimp is a prevalent ingredient in many different cultures, including Mexican, Asian, and Mediterranean cuisines. Try pairing your shrimp with sides that are typical for these cuisines, such as vegetable fajitas, noodles, or couscous.
Starchy Sides: Grilled shrimp is a light protein, which makes it a great opportunity to include some heavier, starchy sides! Things like rice, baked potatoes, and cornbread are always a welcome addition.
Creamy Textures: Plump and juicy grilled shrimp also make a nice contrast to creamier textures. Try some creamy pasta dishes, coleslaw, or shrimp risotto!
Balance the Spices: If you like your grilled shrimp spicy or strongly flavored, you may prefer to serve it with a cool and refreshing side. Cucumber vinegar salad, Greek yogurt fruit salad, or Greek pasta salad are all great options.
These are just a few of my favorite recipes to pair with grilled shrimp during the summer! Let me know how you like to serve your grilled shrimp in the comment section below!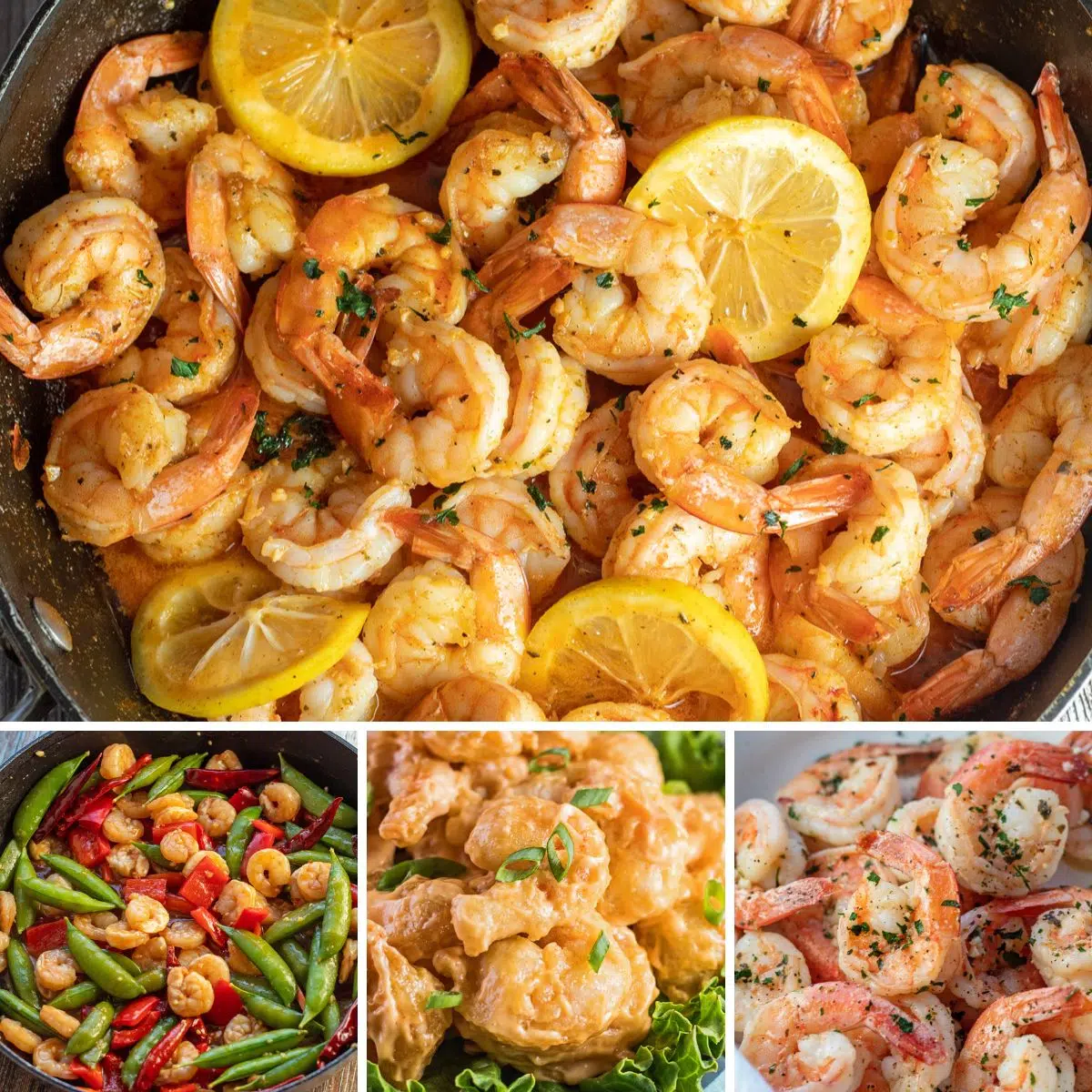 📋 Recipe