These salad recipes include a wide variety of flavors, from sweet fruit salad to cucumber vinegar salad and more! They are easy to make and packed full of flavorful ingredients. Plus, most of these salad recipes can be made in advance (and they make tasty leftovers, too)!
Best Salad Recipes
You never know when a good salad recipe will come in handy. Any time you need a last-minute side dish, a quick lunch, or some grazing food for parties, salads are the way to go.
With endless combinations of ingredients and flavors, you can always find the perfect salad for any occasion. Just take a look and see for yourself!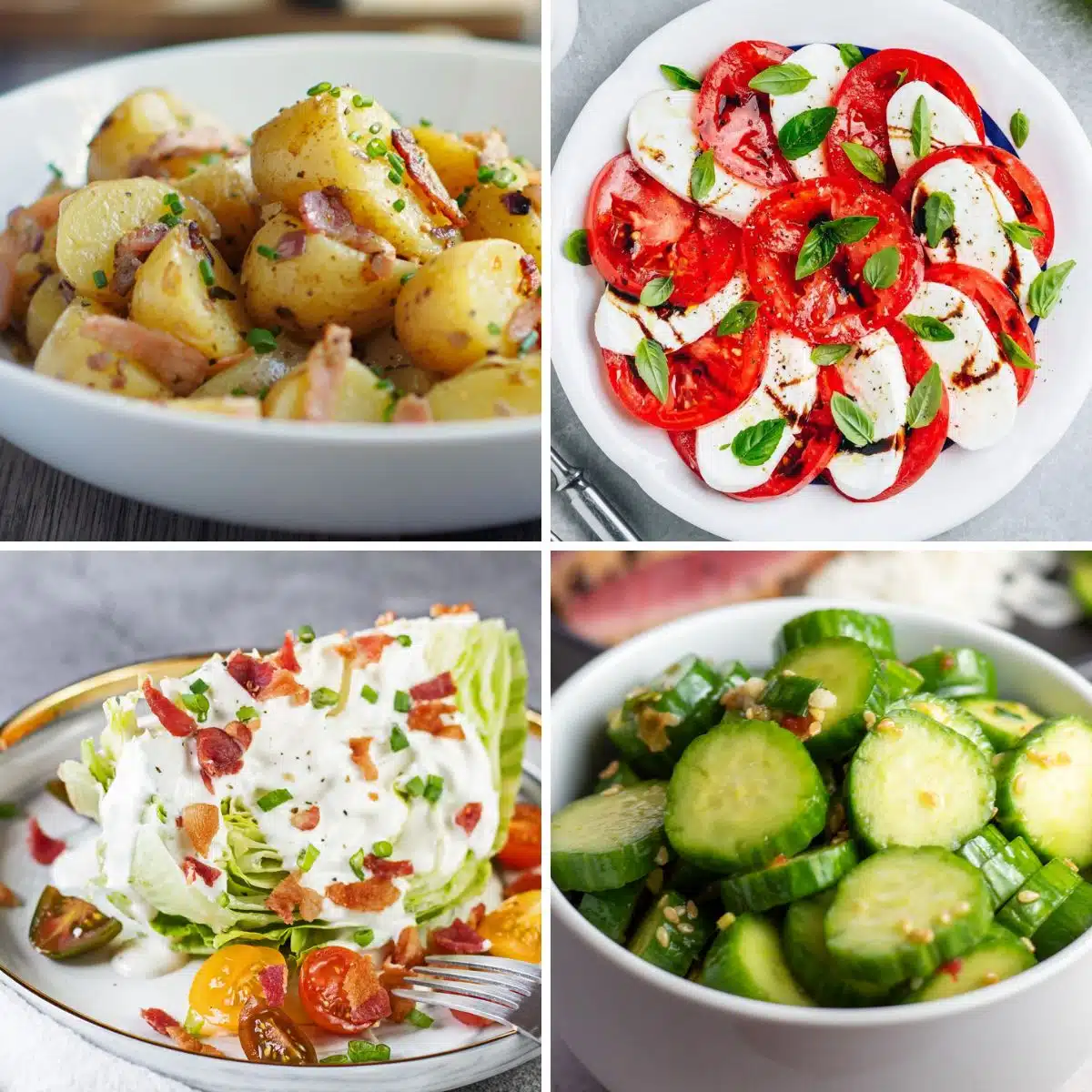 Jump to:
❓ Why Is It Called A Salad When It Doesn't Have Lettuce
Many people think of lettuce when they hear the word salad, but the truth is the term 'salad' refers to a wide variety of dishes. In fact, there doesn't have to be lettuce in it at all!
Salads can be made with fresh raw or cooked vegetables, fruits, and/or proteins. The defining factor that makes any recipe a salad is actually the dressing!
1. Potato Salad
Potato salad is a staple at summer cookouts and backyard BBQs, but that doesn't mean you shouldn't consider it for other occasions! It's super easy to adjust the seasonings to your own preferences, and honestly, who doesn't love potato salad?
This version includes mayonnaise, mustard, and pickle relish for a great balance of flavors.
2. Egg Salad
I'm a firm believer that everyone should have a go-to egg salad recipe. It makes a tasty side and delicious sandwiches, and it's easily customizable!
I make my egg salad with mayonnaise, mustard, and a secret ingredient, crispy bacon!
3. German Potato Salad
German potato salad is always a welcome addition on any occasion. The potatoes are accompanied by pearl onions, bacon, and a flavorful vinegar dressing.
Try it with some crispy chicken schnitzel, burgers, or hot dogs. German potato salad pairs well with just about anything!
4. Mandarin Orange Jello Salad
Sweet and refreshing mandarin orange jello salad is one of my favorite summer recipes. It's incredibly quick and easy to throw together and always a hit with the kids!
This fruity dessert or side dish is made by combining mandarin oranges, pineapple, Jello, cool whip, and lots of mini marshmallows. It almost tastes like a Dreamsicle!
5. Fruit Cocktail Salad
Sweet and creamy fruit cocktail salad is perfect for any party, cookout, or just because! A combination of bananas, mandarin oranges, pineapple, strawberries, and grapes is tossed in a sauce made with pineapple juice and vanilla pudding mix.
6. Ham Salad
Ham salad makes an excellent chip dip or spread for crackers and sandwiches! It is also a great recipe for using up extra ham after the holidays.
Put it between two slices of bread with a side of chips, and you have a quick and easy lunch.
7. Caesar Salad
You can never go wrong with a classic Ceasar salad and homemade dressing. You can serve it as a light appetizer or add some protein like garlic butter shrimp or grilled chicken and enjoy it as the main course!
8. Fresh Fruit Salad
Fresh fruit salad is a light and refreshing dish that works well as an appetizer, side dish, or quick refreshing snack. It is made with nectarines, kiwi, grapes, strawberries, mango, bananas, and oranges, all tossed in an easy honey citrus sauce!
9. Greek Pasta Salad
Greek pasta is a quick and easy side dish you can whip up any time! It's made with farfalle pasta, Kalamata olives, salty feta cheese, cherry tomatoes, artichokes, and Greek salad dressing.
It's a great last-minute addition to any party spread because it only takes 15 minutes to throw together!
10. Wedge Salad
Loaded with bacon, tomatoes, and blue cheese dressing, this wedge salad is more impressive than any old-fashioned house salad. It's a super simple recipe that always garners a lot of compliments.
11. Caprese Salad
Thick slices of tomato and mozzarella with fresh basil and a drizzle of balsamic and olive oil. It is simple, delicious, and easy to make at a moment's notice.
Caprese salads are the perfect light appetizer to serve before a carb-heavy meal like pasta!
12. Asian Cucumber Salad
A chilled salad made with sliced cucumber, garlic, onion, ginger, and a tangy sesame vinaigrette. It's cool and refreshing, which is perfect for summertime gatherings.
Not to mention, it's a great addition to any Asian-inspired meal! The cold cucumbers are particularly nice if you're indulging in something spicy.
13. Greek Salad
A tangy and perfectly seasoned mix of Mediterranean vegetables! Cucumbers, tomatoes, Kalamata olives, onion, and feta cheese tossed in a made-from-scratch Greek dressing.
14. Hawaiian Macaroni Salad
Hawaiian macaroni salad is the perfect combination of savory, sweet, and tangy. Thinly sliced carrots and celery add the perfect amount of crunch!
Try it with my huli huli chicken for a whole Hawaiian-inspired meal!
15. Tuna Salad with Pasta
I love having a big bowl of tuna salad with pasta for lunch, but it's also a great side dish for potlucks, BBQs, or any other kind of party! All you need is some canned tuna, bowtie noodles, celery, peas, mayonnaise, red onion, Greek yogurt, and seasoning.
>>>>See all of my recipes HERE<<<<
16. Loaded Baked Potato Salad
All of the classic loaded baked potato toppings in one creamy salad. This version is filled with shredded cheese, crispy bacon, and sour cream to make a potato salad everyone will enjoy!
17. Rotisserie Chicken Salad
Using rotisserie chicken makes the prep for this chicken salad so much easier and more flavorful, too! It's a great lunch or light dinner, you can even spread it on crackers or use it to make sandwiches.
18. Cucumber Vinegar Salad
This simple, low-carb salad is perfect for when you're craving something light. It's cool, slightly tangy, and just a little bit sweet, plus fresh dill adds plenty of flavor.
19. Doritos Taco Salad
This easy Doritos salad makes a great quick lunch or dinner. You might even get the kids to try a salad when it's loaded with nacho cheese Doritos!
Taco-seasoned ground beef makes this a great main course, or you can serve it as a side dish on taco night!
20. Broccolini Salad
Broccolini, mushrooms, and thinly sliced carrots tossed in a savory, sweet, and slightly spicy. It only takes 10 minutes to make, and it is jam-packed with flavor.
21. Turkey Chef Salad
If you're looking for a salad that will fill you up and has a little bit of everything, a chef's salad is the way to go. Turkey is a great option for using up holiday leftovers, but it can easily be swapped for chicken or ham!
This salad is loaded with tomatoes, cheese, hard-boiled eggs, croutons, and bacon! All you need is your favorite salad dressing.
22. Creamy Grape Salad
This cool and creamy grape salad is perfect for warm weather! It's sweet enough to enjoy as a summer treat, or you can serve it as a side dish at your next picnic or backyard BBQ!
23. Greek Yogurt Fruit Salad
This light and refreshing fruit salad is made with a variety of fresh fruit (pick your favorites) tossed in a creamy Greek Yogurt dressing. The Greek yogurt is mixed with honey syrup and lime juice for a perfect blend of sweet and tangy flavors!
24. Ambrosia Salad
Ambrosia salad is a Southern classic that can be served as a sweet side dish or even as dessert! It's a creamy combination of Cool Whip, fruit, mini marshmallows, and coconut, and you can add nuts for crunch!
25. Lobster Salad
Buttery chunks of lobster meat with crunchy celery in a creamy mayonnaise-based dressing. It makes for a delicious lobster roll, or you can enjoy it on its own!
26. Tex-Mex Salad
This easy green salad is made with a variety of Tex-Mex staples like corn, black beans, cheese, lime juice, and tortilla strips. Top it all off with my flavorful homemade Tex-Mex dressing, and enjoy!
27. Pasta Salad
A classic pasta salad with tender rotini noodles, olives, cheese, and pepperoni tossed in Italian dressing. You can dress it up by adding more mix-ins like salami and bell peppers, or just enjoy it as it comes!
28. Chicken Salad with Grapes
This chicken salad is creamy and savory, with bursts of sweetness from juicy purple grapes. It makes excellent sandwiches, or you can enjoy it on its own as an easy side dish!
Did I miss any of your favorite salad recipes on this list? Let me know in the comments below so I can give them a try!
🥗 😋 🥬 Salad Dressing Recipes
📖 Recipe Card