For what to serve with shrimp, check out this list of simple and tasty side dish recipes that you can pair with this succulent protein! Whether you decide to bake, pan-sear, fry, or boil your shrimp, I have the most delicious side dishes to help turn it into a wonderful meal. From rice to pasta, and everything in between, there's something here for everyone to enjoy!
Recipes That Go With Shrimp
Shrimp is the most popular seafood protein in the United States. As a matter of fact, 1 billion pounds of shrimp are consumed by Americans per year. This is due to shrimp's versatility and affordability compared to other fish and seafood!
Shrimp can easily be found in many forms at the grocery store and it's available year-round. Not only is shrimp delicious on its own, but it can also uphold a variety of flavors. The next time you are craving some shrimp, make sure to try out these easy and delicious shrimp side dishes!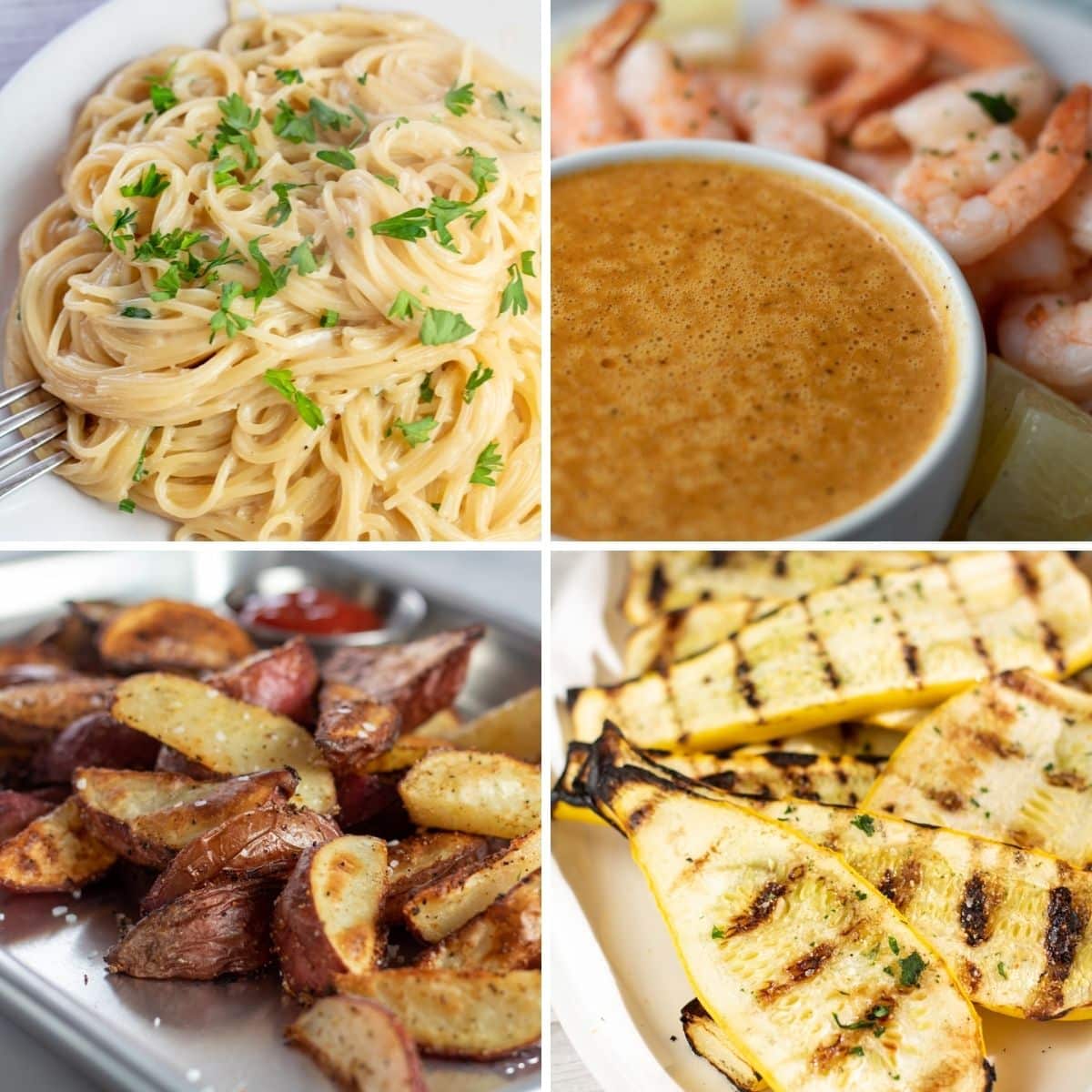 Jump to:
Sides To Serve With Shrimp
Shrimp tastes delicious with practically any side that you serve it with! Pick out one (or two) of the recipes from this list to complete your family dinner.
1. Garlic Parmesan Angel Hair Pasta
Garlic Parmesan angel hair pasta is the perfect side dish for any garlic lover! It's rich and buttery, and makes a wonderful base for air fryer shrimp and so many more shrimp entrees!
2. Cole Slaw
Southern cole slaw is a classic side dish filled with crunchy veggies mixed in a sweet and creamy dressing! Pair it with crunchy coconut shrimp for a filling and easy meal!
3. Polenta
Polenta is a delicious and healthier alternative to familiar starches like rice, pasta, and mashed potatoes. All you need is cornmeal and a few basic ingredients that you'll already have at home!
4. Roasted Red Potato Wedges
Roasted red potato wedges are a versatile side that is tasty on its own or as an addition to garlic butter shrimp. Both are delicious to dip in my homemade Cajun dipping sauce!
5. Cajun Dipping Sauce
This Cajun dipping sauce is incredibly easy to make and perfect for dunking fried shrimp! In this recipe, I use mayonnaise and sour cream to balance out the spiciness of Cajun seasoning and hot sauce.
6. Risotto (Prawn Risotto)
Prawn Risotto, (or shrimp risotto) is a Restaurant quality dish that is creamy and delicious! Not only is it easy to make, but it is also the perfect one-bowl meal.
7. Cilantro Lime Rice
Cilantro lime rice is a wonderful side dish to choose from when you are cooking with Mexican or Thai-inspired flavors. In just 18 minutes, you'll have zesty and delicious rice that everyone will love!
8. Lemon Asparagus Orzo
Lemon asparagus orzo is a delightful and light side dish to pair with seafood! It combines tender orzo pasta with pieces of asparagus in a tangy lemon garlic sauce.
9. Grilled Yellow Squash
Grilled yellow squash is an easy vegetable side dish that will pair perfectly well with some juicy grilled shrimp. I season mine with garlic salt and pepper, but feel free to use your favorite seasonings!
10. Greek Salad
In just 20 minutes you can make this refreshing Greek salad any time of the year! An assortment of Mediterranean vegetables is mixed with salty feta cheese and a delicious homemade Greek dressing.
11. Teriyaki Noodles
Teriyaki noodles with homemade teriyaki sauce make an excellent base for Asian-flavored shrimp. They're easy to make and only require a handful of simple ingredients!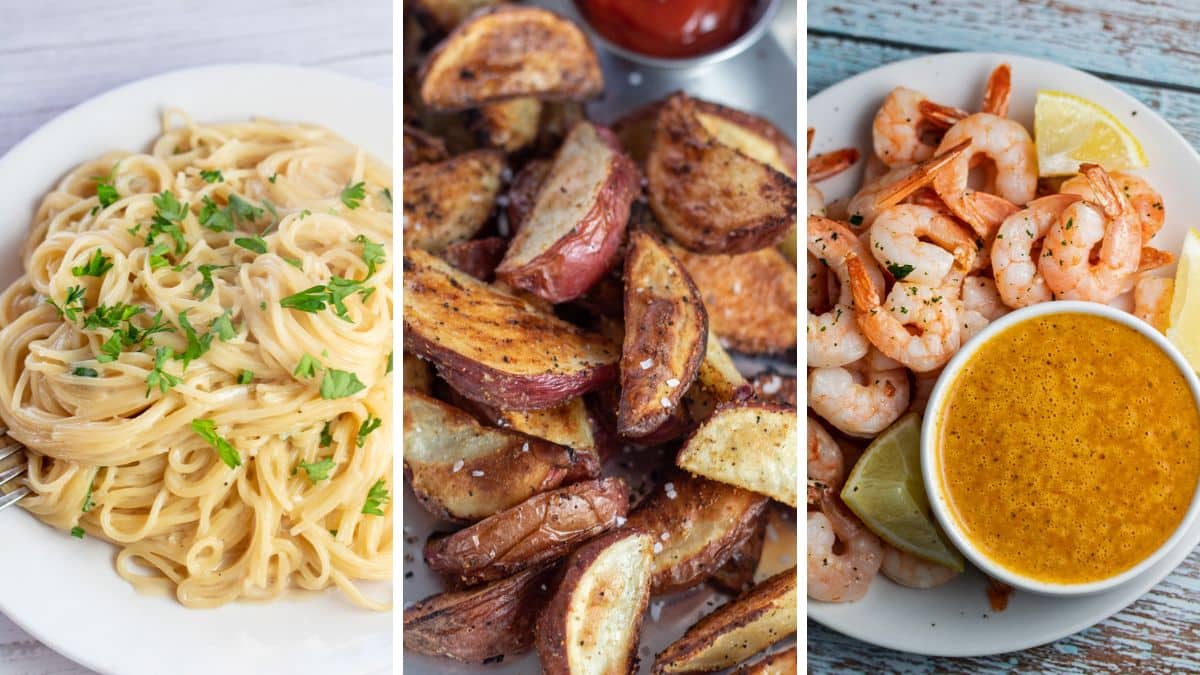 12. Guacamole
The combination of guacamole and shrimp makes a refreshingly light appetizer. Cut up cucumber slices or use your favorite tortilla chips for irresistible crunchy guacamole shrimp bites!
13. Bloves Sauce
This delicious seafood sauce recipe originates from a Youtuber, Bloveslife. It's loaded with spices, herbs, seasonings, and light brown sugar, perfect for dipping some air fryer coconut shrimp!
14. Shrimp & Grits
Grits are a Southern classic that always pairs deliciously with cajun shrimp. The best thing about this recipe is that it can be served for breakfast, lunch, or dinner!
15. Elotes
Elotes is a classic Mexican street corn side dish that features mayonnaise, sour cream, queso fresco, chipotle chili powder, and paprika! It's the perfect veggie to serve with shrimp tacos or shrimp fajitas!
Of course, grilled corn on the cob, creamed corn, or southern fried corn would be delicious with shrimp too!
16. Coconut Rice
Coconut rice is an easy, creamy, and delightfully flavorful rice. The subtle flavor compliments any main course protein, especially pan-seared shrimp!
17. Baked Cabbage Steaks
This baked cabbage steak recipe is incredibly easy and the perfect healthy side option! With just 4 ingredients and a prep time of only 10 minutes, these cabbage steaks are great for any weeknight meal.
18. Roasted Peppers & Onions
Roasted peppers & onions are a wonderful topping to shrimp when you are craving Mexican-inspired dinners. You could easily add the peppers and onions on a baking sheet to make this tasty sheet pan shrimp fajitas in just 20 minutes!
19. Succotash
Tender butter beans, corn, onions, red bell peppers, and garlic are topped with crispy bacon for a filling and delicious vegetable side! Go ahead and serve it alongside your shrimp or simply mix your shrimp in!
20. Oven Garlic Bread
Oven garlic bread can be enjoyed as an appetizer while you are cooking up a pasta dish, or it can be served alongside to soak up the sauce! Try it out with shrimp scampi, lemon garlic shrimp pasta, or garlic shrimp alfredo bake.
21. Caesar Salad
A creamy and delicious Caesar salad will pair wonderfully with grilled or pan-seared shrimp! This recipe features an incredibly easy homemade Caesar dressing made with mayo, Dijon mustard, lemon juice, Worcestershire sauce, and salt & pepper.
22. Fresh Fruit Salad
A bright and refreshing fruit salad makes an excellent healthy side to pair with any kind of shrimp. You could easily switch up the fruit to add your favorites!
23. Macaroni and Tomatoes
Macaroni and tomatoes are a Southern staple that is budget-friendly and only requires a few simple ingredients. Serve it alongside your shrimp, or just add the shrimp in!
24. Roasted Cherry Tomatoes
If you have some cherry or grape tomatoes handy, you have to make this incredibly easy vegetable side! All you will need is some fresh thyme, extra virgin olive oil, and some salt & pepper to elevate the tomatoes!
25. Cream Cheese Pasta
If you are a fan of creamy and cheesy pasta, go ahead and serve this dish with grilled or pan-seared shrimp! It's easy to make and the kids will love it!
I hope that this complete list of what to serve with shrimp ideas has helped you choose what to serve with shrimp for lunch or dinner! Let me know in the comments below what your favorite side dish is to eat with shrimp!
>>>>See all of my recipes HERE<<<<
🍤 More Tasty Shrimp Recipes
📋 Recipe