These leftover roast beef recipes are just what you need to savor every last bit of your juicy holiday dinner roast! There are hearty soups, creamy pasta dishes, quick sandwiches, easy breakfast options, and more! No more getting bored with the after-Thanksgiving or Christmas leftovers!
What To Do With Roast Beef Leftovers
If you find yourself staring at the container of yesterday's roast, wondering what to do with it, you're in the right place. I often have roast beef left over from the holidays, and I've had plenty of practice finding the best ways to utilize the leftovers!
These simple and mouthwatering recipes will transform that leftover roast beef into something new and exciting. Even if you've overcooked it, you still have options, so not one ounce of that precious roast goes to waste!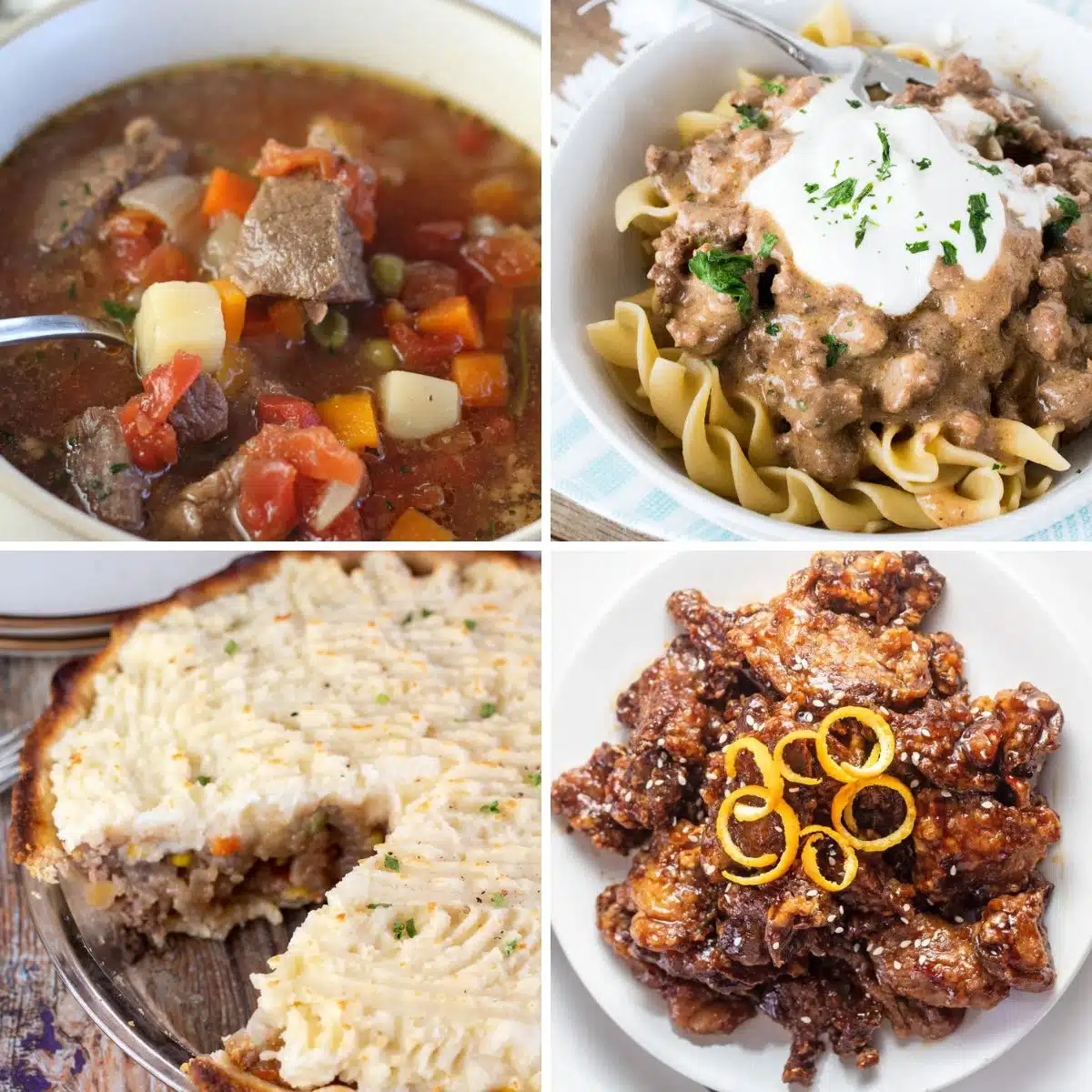 Jump to:
If you notice that any of these recipes call for leftover prime rib, roast beef can always be used in its place! Here's my go-to recipe for perfectly cooked roast beef and the best roast beef side dishes if you're just planning ahead!
1. Roast Beef Sandwich
Create a classic roast beef sandwich with your favorite bread, adding condiments like mayo or horseradish sauce for extra zing. Use fresh veggies like lettuce and tomatoes to enhance the crunch and flavor!
2. Vegetable Beef Soup
If you have leftover overcooked roast beef on hand, soups and stews are going to be your best friend! Understandably, it's hard to taste as dry when submerged in a savory broth (and simmering will soften the meat).
This veggie beef soup is ready in under an hour. Just dice up your leftover roast and add it a few minutes before deglazing the pan!
3. Crockpot Beef Stew
Turn your holiday roast beef into a flavorful stew by cooking it with vegetables, broth, and seasonings in a crockpot for an easy dinner. The slow-cooking process ensures the beef is super tender, making this stew a fall and winter family favorite!
4. Orange Beef
This classic Chinese takeout recipe is a great way to get an entirely new flavor from your leftover beef roast! The sweet and citrusy orange sauce paired with the crispy and savory wok-fried beef tastes even better homemade!
5. Beef with Garlic Sauce
Give your leftover holiday roast beef an Asian-inspired makeover by sautéing it in a savory garlic sauce! The bold flavors of garlic complement the richness of the beef, creating a delicious stir-fry that's quick and easy to make.
6. Easy Beef Stroganoff
Whip up a quick and creamy stroganoff using leftover roast beef and fresh mushrooms in a rich gravy served over egg noodles or rice. Honestly, you can use almost any type of pasta, and it will turn out fabulous!
7. Pot Pie
Transform your leftover holiday beef into a hearty pot pie! It's one of my family's favorite dinner recipes after the holidays because I use leftover mashed potatoes for the pot pie topping!
8. Beef Burritos
Roll up a gourmet burrito using shredded roast beef, beans, cheese, and your favorite fillings for a quick and satisfying meal any time of day! You can even mix in some scrambled eggs for a hearty beef breakfast burrito!
>>>>See all of my recipes HERE<<<<
9. Carne Picada
The zesty seasoning adds a kick to the beef, making it a versatile option for various Mexican recipes! You can add your roast beef carne picada to quesadillas, tacos, burritos, and tortas, or simply serve it over rice!
10. Roast Beef Eggs Benedict
Elevate your brunch game by topping toasted English muffins with slices of roast beef, poached eggs, and hollandaise sauce! When I have family in town after the holidays, this is one of my go-to breakfasts!
11. Breakfast Quesadillas
Start the morning off right by sandwiching scrambled eggs, cheese, and leftover roast beef between two tortillas! A side of red salsa or guacamole for dipping goes a long way in my book!
12. Steak Burrito Bowls
Burrito bowls are infinitely customizable and can be kept simple with sliced beef, rice, and cheese or dressed up with your favorite taco toppings! Roasted onions and peppers, sour cream, shredded cheese, avocado, and pico de Gallo are my go-to choices!
13. Philly Cheesesteak
Recreate a classic Philly cheesesteak by sautéing leftover roast beef with onions and peppers, adding melted cheese, and stuffing it in a hoagie roll. It's an iconic combination of savory beef, gooey cheese, and caramelized veggies for a restaurant-quality sandwich.
14. Beef Fried Rice
Give your leftover roast beef an Asian twist by tossing it into a wok with rice, vegetables, and soy sauce for a quick and tasty fried rice. This flavorful recipe is a great way to repurpose roast beef into a satisfying one-pan meal!
15. Ragu
Simmer leftover roast beef in a rich tomato-based sauce to create a hearty ragu that tastes wonderful over pasta or polenta! The slow-cooked ragu brings out the rich flavors of the beef for a warm and filling Italian-inspired dinner!
💭 Tips For Using Up Leftover Roast Beef
Roast beef leftovers are incredibly versatile and can be used in any dish, calling for chunks or slices of beef! Here are a few quick and easy suggestions that don't require a recipe:
Stir-Fry: Slice your leftover roast beef thinly and toss it into a quick beef stir-fry with your favorite vegetables. Use soy sauce, ginger, and garlic for an Asian-inspired flavor, or try my easy homemade stir-fry sauce!
Easy Hash: Pan-fry diced roast beef with potatoes for a savory beef breakfast hash! Add some bell peppers and onions for extra flavor and color!
Wrap it Up: Roll up your roast beef in a flour tortilla, flatbread, or keto flatbread, along with fresh greens, cheese, and your favorite condiments!
Pizza Toppings: Slice or shred the roast beef and use it as a gourmet pizza topping. Pair it with caramelized onions, mushrooms, and a blend of cheeses for a mouthwatering homemade pizza!
Salad Upgrade: Add a protein boost to your salads by topping them with leftover roast beef. Slice it thinly and toss it with your favorite greens, tomatoes, cucumbers, and your favorite salad dressing!
Have any favorite ways to repurpose your leftover roast beef? Share your creative twists or go-to recipes in the comments below!
📖 Recipe Card