A cranberry substitute could be needed for many reasons - out of season, none on hand, or perhaps you don't like cranberries! No matter the reason, here is a list of the best cranberry substitutes! Regardless of your recipe, there is a substitute here that will work for you!
Best Cranberry Substitutes To Use
Cranberries are a fruit that is popular around the holidays, which is no surprise. These little tart red berries have the perfect color and bright flavor to reflect holiday cheer! From cranberry sauce at Thanksgiving to cranberry pudding at Christmas- cranberries are easy to find in a variety of dishes throughout fall and winter.
However, while cranberries are sold in grocery stores across the country during the holiday season, they can be more difficult to find at other times. Moreover, with so much popularity during the holidays you may find your store is sold out of cranberries.
Maybe your town went crazy for cranberries and bought out all of the berries at your local store. Or perhaps you want to make a cranberry dish another time of year, there are several delicious cranberry substitutes to choose from.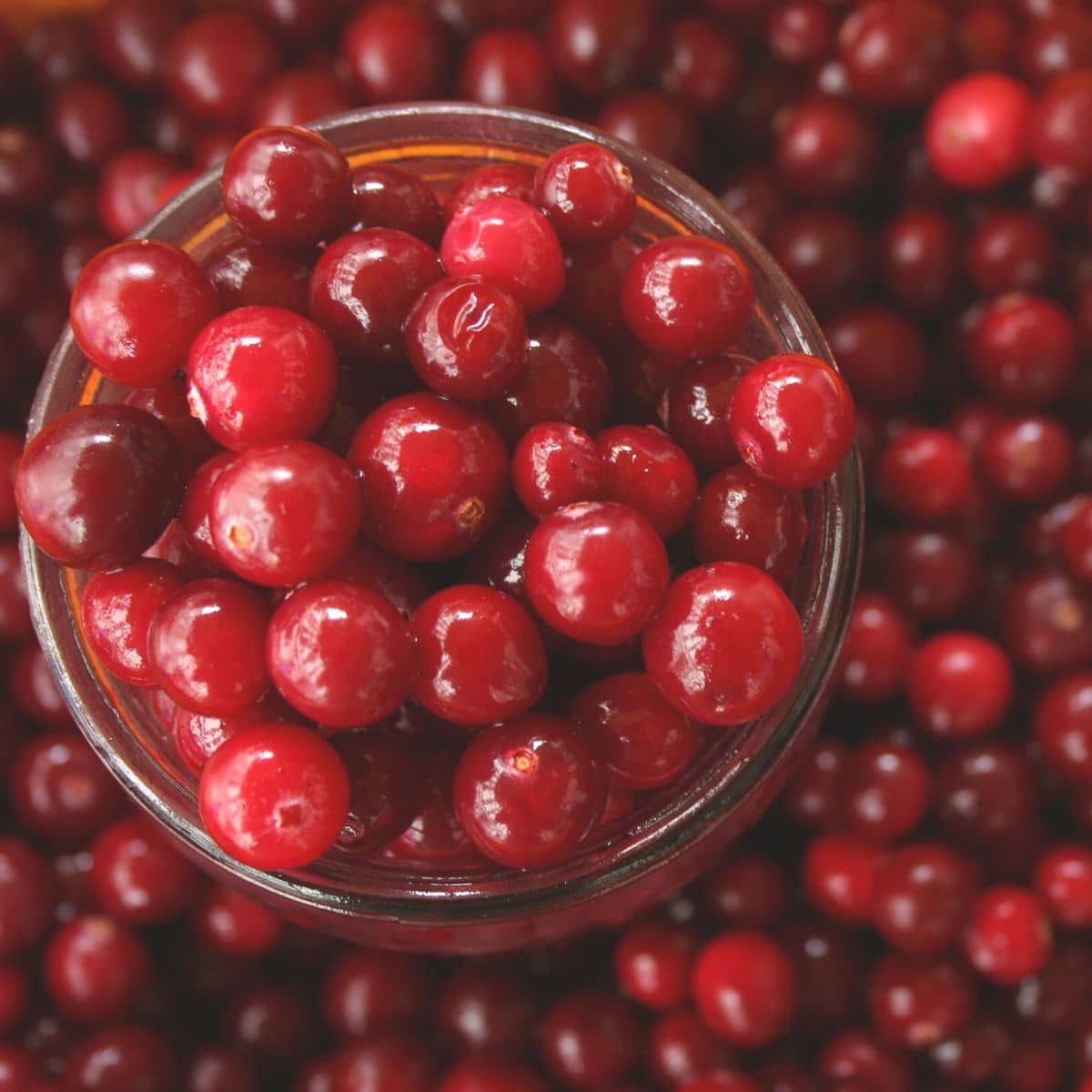 Jump to:
1. Frozen Cranberries
Although you may not be able to find fresh cranberries at the store you may be able to find frozen cranberries. Frozen cranberries are the best substitute for fresh cranberries because it is an exact match.
Moreover, cranberries can stay in the freezer for several months. Therefore, if you come across frozen cranberries at the store pick up a bag or two to keep on hand. You can even buy fresh cranberries during the holiday season and simply toss the bag in the freezer.
Prior to using the frozen cranberries take them out of the freezer and let them sit on the counter to thaw. These can be used in the same way fresh cranberries would in a recipe.
2. Dried Cranberries
Dried cranberries may seem like an exact substitute for fresh ones, but they are not. The texture and taste of dried cranberries are quite different than fresh cranberries. While the dried version will not work for sauces and jellies it can replace whole cranberries in certain recipes.
Dried cranberries can be used in recipes like cranberry bread or scones. These are easy to swap out fresh for dried cranberries. While you can use a 1:1 exchange you may consider starting with ¾ the amount.
3. Cranberry Juice
Cranberry juice is not going to be a substitute that works for many recipes. However, this option is a great choice when you are making cranberry sauce or cranberry jelly and want to maintain the real flavor of the dish.
Keep in mind that you want to use real cranberry juice! Not a sweetened cranberry juice cocktail. Look for real, unsweetened, cranberry juice near the health food aisle. In addition, you will need a thickening agent like cornstarch or arrowroot.
The ratios will vary depending on the recipe you are following. Therefore, this substitution will take some time to play around with. Start by thickening the cranberry juice and then play with the flavor by adding sugar for sweetness or lemon juice for tartness.
4. Red Currants
Red currants are smaller than cranberries but have a similar tart flavor. They also have a similar juicy texture that is great for making jelly-like sauces and fillings.
Another similarity is that red currants are harvested around the same time as cranberries – in the fall. Therefore, they are more readily available at the time of year you may need cranberries. However, they can be more difficult to find than cranberries.
If you find red currants and not cranberries though, give them a try. They will provide you with one of the closest flavors and textures to cranberries. Swap them out in a simple 1:1 exchange.
5. Lingonberries
Lingonberries are another small red berry. Like cranberries and red currants, they have a balanced flavor that is both tart and sweet.
These are one of the best substitutes to use when making cranberry sauce. However, lingonberries are not popularly sold in most grocery stores. Therefore, while they are a perfect flavor substitute, they may not be a quick and easy one.
If you have lingonberries available then use them in a 1:1 substitution for cranberries.
6. Cherries
When it comes to a substitute that looks the most like cranberries cherries are the best choice. Although they are bigger than cranberries, they have a similar bold red color. This color is perfect for when you are making a sauce or jelly that you still want to have a rich red coloring.
Although they are similar in color, cherries are slightly sweeter than cranberries. However, if you have tart cherries on hand, they will provide a closer tangier taste like cranberries. Regardless of what variety of cherries you have on hand, they can all be used to replace cranberries in most recipes.
If your recipe calls for whole cranberries, chop up the cherries into smaller pieces. For sauces or jelly fillings for desserts, you can stew the cherries in the same way you would cranberries.
Cherries can be used in a 1:1 substitution for cranberries. Depending on how sweet your cherries are you may want to use less sugar in your recipe to avoid it being too sweet.
7. Apricots
This small orange fruit that resembles a peach may seem like an odd substitute for cranberries. However, apricots have a wonderful soft texture that works well in many of the same recipes. Apricots also have a soft flavor that pairs well with similar flavors used alongside cranberries.
Apricots can be chopped, mashed, or stewed depending on the recipe. Fresh apricots are perfect for making a jelly-like filling for desserts. If a recipe calls for dried cranberries, you can use dried apricots that have been chopped up. Keep in mind that apricots will change the color of your recipe from cranberry red to apricot orange.
Whether using fresh or dried apricots they can be used in a 1:1 swap for cranberries in most recipes. Like cherries, apricots (both fresh and dried) tend to be sweeter than cranberries so leave out any extra sugar or add it slowly to your recipe to find the right taste.
8. Apples
Apples may not look or taste like cranberries, but they are one of the most common fruits around. Therefore, if your store is out of cranberries, you can easily find apples. Moreover, you may already have apples at home to use in a pinch.
The best recipes to use apples in are desserts such as tarts, pies, cakes, and crumbles. You can chop or slice the apples to replace chopped or whole cranberries. Beyond these types of desserts, apples can also be used to replace cranberries in savory dishes.
While apples can be used to make fillings or sauces, they will not provide the same texture as cranberries. However, stewing the apples can help create a better texture if needed for a recipe where the cranberries are mashed up.
One medium apple equals about 1 cup of whole cranberries. Use that as a guide when buying apples. Then, chop the apples or stew and mash to create a 1:1 exchange for cranberries.
9. Raisins
Raisins are a great substitute for dried cranberries. They both have a similar shape and texture. However, raisins will not work as a substitute for fresh cranberries or to make sauces.
While both dried cranberries and raisins have a sweet taste, raisins have a slightly earthier flavor that is less tangy. So, your final dish will have a slightly different flavor.
Use raisins in a 1:1 swap for dried cranberries.
10. Raspberries
Raspberries will provide a similar color to cranberries. They have a much softer texture though. Therefore, they are best used for desserts that call for mashed cranberries.
They can also be used whole in desserts like tarts or even in baked goods like scones. However, the raspberries will lose their shape in the baking process.
One thing to keep in mind is that raspberries are much sweeter than cranberries. Therefore, you will want to avoid adding extra sugar. Use them in a 1:1 replacement for cranberries.
11. Blueberries
Blueberries are one of the closest fruits in size and shape to cranberries. They also have a similar texture. This makes them a good choice for recipes that call for whole cranberries. Such as bread, scones, or cakes.
In addition, blueberries can even be used to replace dried cranberries in many recipes. While blueberries are a wonderful substitute in many recipes, they are not the ideal choice for replacing cranberries in sauces or jellies. The texture of blueberries isn't the best when mashed and cooked.
Use an easy 1:1 substitution of blueberries for cranberries.
More great substitute pages to help you out with all of your cooking and baking!
I hope that this list gave you some ideas for a cranberry substitute that will work for you! Leave a comment down below and let me know your favorite alternative!
📋 Recipe
Print Recipe
Leave A Comment
Love This Recipe?
Click On A Star To Rate It!
Best Cranberry Substitute: Frozen Cranberries (+Other Great Alternatives)
A cranberry substitute could be needed for many reasons - out of season, none on hand, or perhaps you don't like cranberries! No matter the reason, here is a list of the best cranberry substitutes! Regardless of your recipe, there is a substitute here that will work for you!
Pin Recipe
Share on Facebook
Ingredients
Best Cranberry Substitutes
Instructions
Frozen cranberries can be used in any recipe as a 1:1 substitute.

Red currants can also be used as a 1:1 swap in any of your favorite recipes.

Dried cranberries can be used in bread or scone recipes. You can use them as a 1:1 substitution, but start at only ¾ of the amount and then adjust it from there.
Equipment You May Need
Notes
*Nutrition calculations are for the frozen cranberries only.
Nutrition
Calories:
46
kcal
(2%)
|
Carbohydrates:
12
g
(4%)
|
Protein:
0.5
g
(1%)
|
Fat:
0.1
g
|
Saturated Fat:
0.01
g
|
Polyunsaturated Fat:
0.1
g
|
Monounsaturated Fat:
0.02
g
|
Sodium:
2
mg
|
Potassium:
80
mg
(2%)
|
Fiber:
4
g
(17%)
|
Sugar:
4
g
(4%)
|
Vitamin A:
60
IU
(1%)
|
Vitamin C:
14
mg
(17%)
|
Calcium:
8
mg
(1%)
|
Iron:
0.2
mg
(1%)
best cranberry alternatives, best cranberry substitute, best cranberry substitutes for baking, cranberry alternatives, cranberry substitute, cranberry substitute for salads, cranberry substitute for thanksgiving, cranberry substitute in recipes, substitutions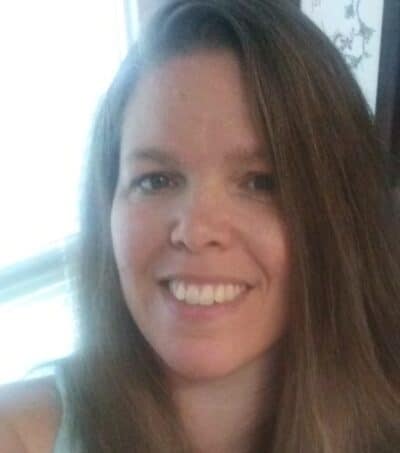 Angela is an at home chef that developed a passion for all things cooking and baking at a young age in her Grandma's kitchen. After many years in the food service industry, she now enjoys sharing all of her family favorite recipes and creating tasty dinner and amazing dessert recipes here at Bake It With Love!