These Labor Day side dishes include cool and creamy salads, classic comfort foods, and BBQ favorites for a memorable Labor Day! Whether you're grilling, cooking out, or beating the heat inside, you can't go wrong with any of these delicious recipes! Most importantly, everything is perfect for feeding a crowd!
Best Labor Day Side Dishes
It's the end of summer, and Labor Day provides the perfect excuse to cook outside and enjoy your favorite summer recipes one last time! These side dishes are guaranteed to fit the summer vibe and complement anything from burgers to tacos to grilled meat!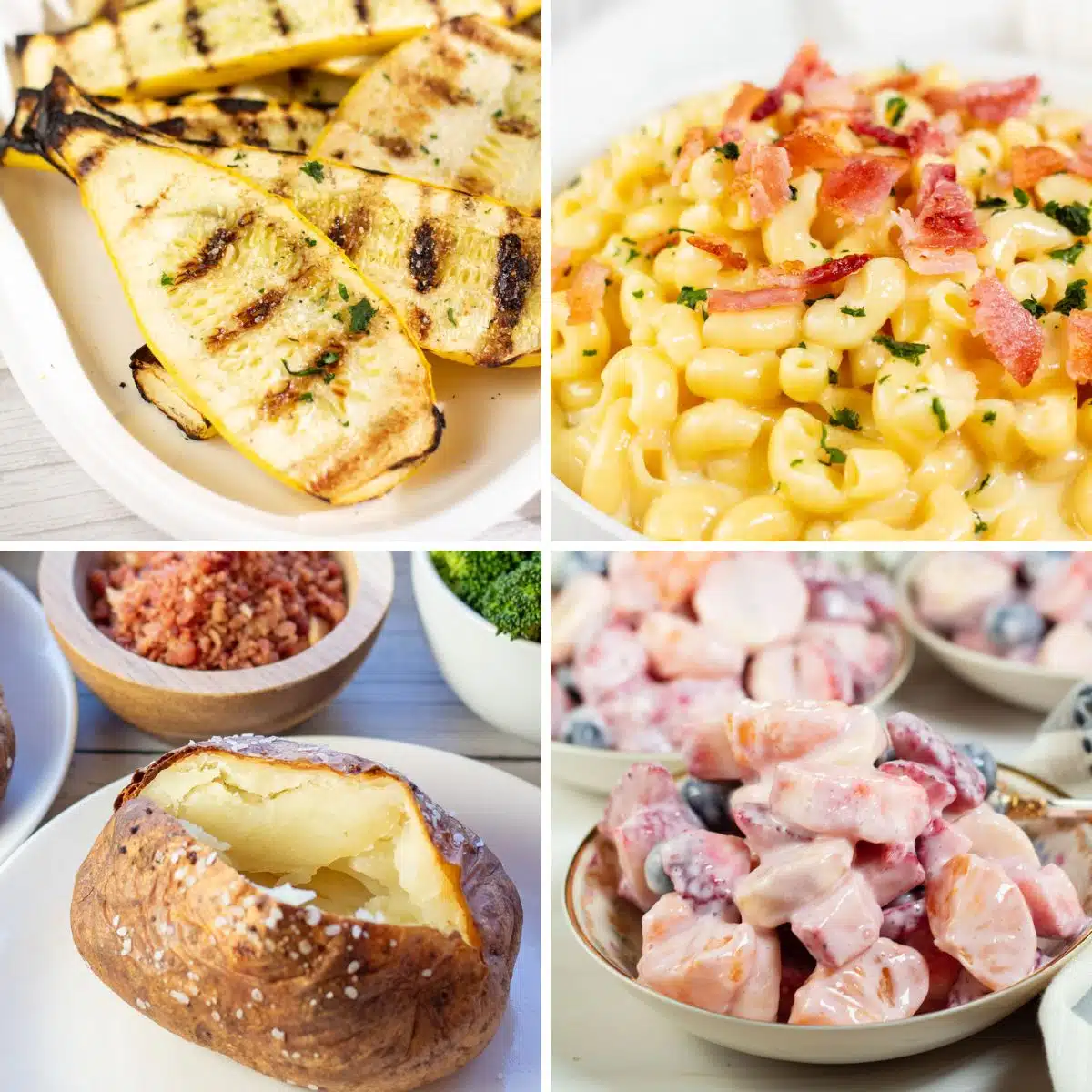 Jump to:
Stop by and check out my full collection of delicious Labor Day foods! In addition to these side dishes, you can never go wrong with your favorite BBQ side dishes, picnic, or potluck recipes!
1. Creamy Grape Salad
This sweet and creamy summer side dish is made by tossing red and green grapes in a vanilla cream cheese dressing! It has a crunchy topping of brown sugar (or cinnamon sugar), and chopped nuts will keep you coming back for more!
2. Potato Salad
When it comes to Labor Day celebrations, a big bowl of homemade potato salad is a must! This is my go-to recipe for classic potato salad with the perfect blend of mayo, mustard, and relish.
3. Grilled Corn On The Cob
If you already plan on firing up the grill, why not throw on a couple of corn cobs? It's an easy and delicious side dish that can be cooked alongside your main course.
If you aren't grilling this Labor Day, try milk butter boiled corn or steamed corn on the stovetop! You can also see my guide on how to cook corn on the cob or my collection of corn recipes!
4. Greek Yogurt Fruit Salad
A fresh fruit salad makes a tasty dessert or a refreshing side dish! The tartness of the Greek yogurt in this fruit salad dressing is balanced beautifully by a burst of fresh lime juice and sweet honey syrup.
5. Mandarin Orange Jello Salad
This orange Jello salad is always a hit with the kids! It's light, fluffy, cool, and creamy, with juicy mandarin oranges, pineapples, and (best of all) mini marshmallows.
6. Grilled Yellow Squash
If you have an abundance of yellow summer squash, slice and cook it on the grill. It cooks perfectly in minutes and adds a pop of color to any plate!
7. Baked Potato Bar
Whether you are hosting five people or fifty, everyone loves a baked potato bar. You can cook baked potatoes in your air fryer, slow cooker, or oven, then offer a diverse collection of baked potato toppings for guests to choose from!
If you're smoking meats this Labor Day, you have to give smoked baked potatoes a try!
8. Sweet Potato Muffins
These warmly spiced sweet potato muffins are super tasty with BBQ and grilled meats. To save time, you can bake them in advance and freeze them to be reheated on Labor Day!
>>>>See all of my recipes HERE<<<<
9. Sausage Cream Cheese Biscuit Bites
These delectable sausage biscuit bites feature fluffy Pillsbury Grands biscuits filled with ground sausage, cream cheese, Worcestershire sauce, and cheddar. Best of all, they're ready to eat in about 15 minutes!
10. Grilled Bok Choy
On the grill, bok choy leaves become tender and slightly charred, which gives them the most wonderful flavor! This recipe also includes a flavor-packed Asian dipping sauce that will have everyone asking for the recipe.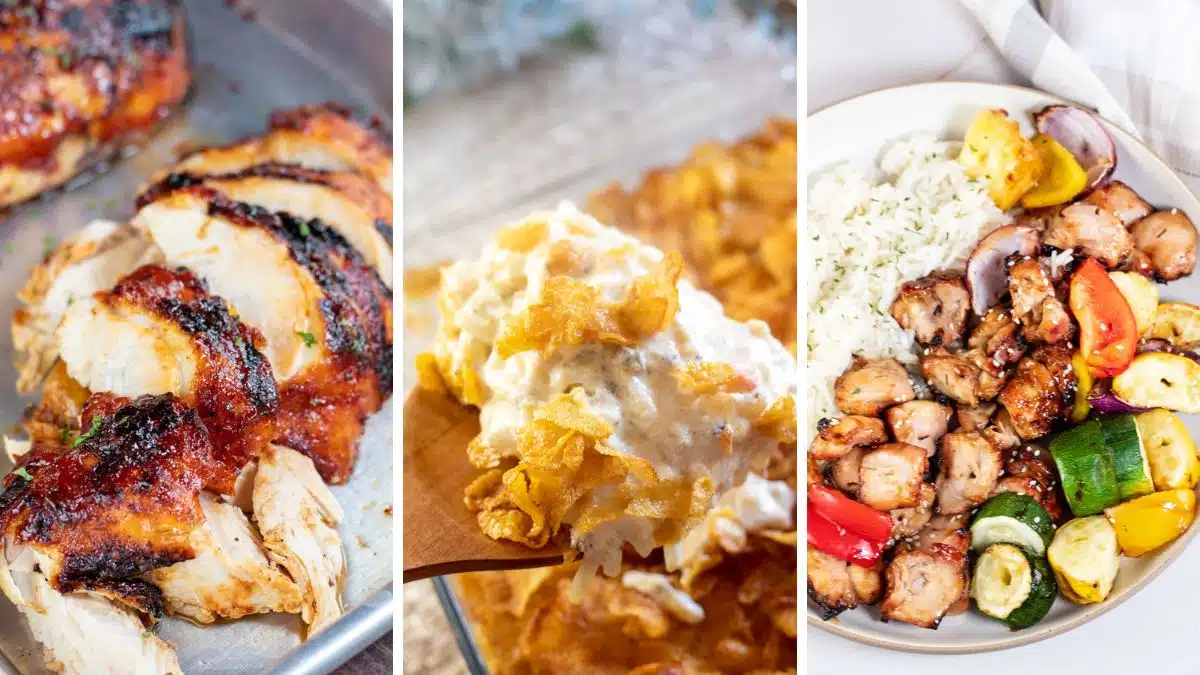 11. Cream Cheese Mashed Potatoes
Everyone loves a big bowl of rich and creamy mashed potatoes! These cream cheese mashed potatoes are a fool-proof recipe that never disappoints.
12. Smoked Gouda Mac and Cheese
Smoked gouda gives this mac and cheese a smokey flavor that will have you savoring every bite. Sharp white cheddar is the perfect contrast to the rich flavor of gouda for a truly addictive mac & cheese.
13. Lobster Salad
Lobster salad is a creamy combination of succulent lobster meat, creamy mayo, crisp celery, and a simple blend of seasonings. If you want to, you can serve the lobster mixture on a bun to make lobster rolls or over fresh green lettuce as a traditional salad!
14. Southern Coleslaw
This easy summertime favorite is a fabulous addition to backyard BBQs, cookouts, pool parties, and just about any other occasion. It makes a great topping for sandwiches, tacos, and more because it has a great crunch!
15. Pasta Salad with Italian Dressing
Cool and tangy pasta salad with Italian dressing is easy and delicious, plus you can prepare it ahead of time! It will complement any protein beautifully (especially if you marinate it with my easy Italian marinade!)
💭 Tips For Making The Best Labor Day Side Dishes
When choosing the best Labor Day side dishes, there are a few factors to consider for a well-rounded and satisfying menu. Here are some tips to help you choose the perfect side dishes:
Complement the Main Course: Your side dishes should complement the main dish you're serving. For example, if you're grilling burgers and hot dogs, you can't go wrong with classic options like coleslaw, potato salad, or baked beans.
Balance of Cold and Warm Dishes: Cold salads like pasta salad or cucumber vinegar salad are always refreshing, and warm dishes like cornbread are always satisfying.
Preparation Time: Side dishes that can be prepared beforehand will save you tons of stress. This can include recipes that can be refrigerated or meats that can be marinated in advance.
Easy to Eat: Consider dishes that are easy to serve and eat outdoors. Avoid overly complicated dishes that might be hard to eat standing or outside.
Crowd-pleasers: Choose tried-and-true side dishes that a wide range of guests will enjoy. Classics like macaroni and cheese, deviled eggs, and baked potatoes are always popular.
Labor Day signifies the end of summer and is the perfect time to enjoy your favorite summer recipes one last time during the year! You can't go wrong with any of the tasty dishes on this list!
📋 Recipe