These BBQ side dishes are just what you need to round out the meal and will pair perfectly with any of your favorite barbecue main courses! There are classic Southern side dishes as well as some recipes that may be new to you! Either way, they always come with rave reviews when BBQ is on the menu!
Easy Side Dishes For Barbeques
While the meat may be the star at any barbeque, no feast is complete without a few tasty side dishes to go along with it. In fact, sometimes I look forward to all the sides as much as the main course!
Once summer comes along, I can't wait to bust out the grill and the smoker to make some succulent rib recipes or tender flame-kissed steaks. Every year, these side dish recipes come highly requested when my family knows I'll be outside cooking!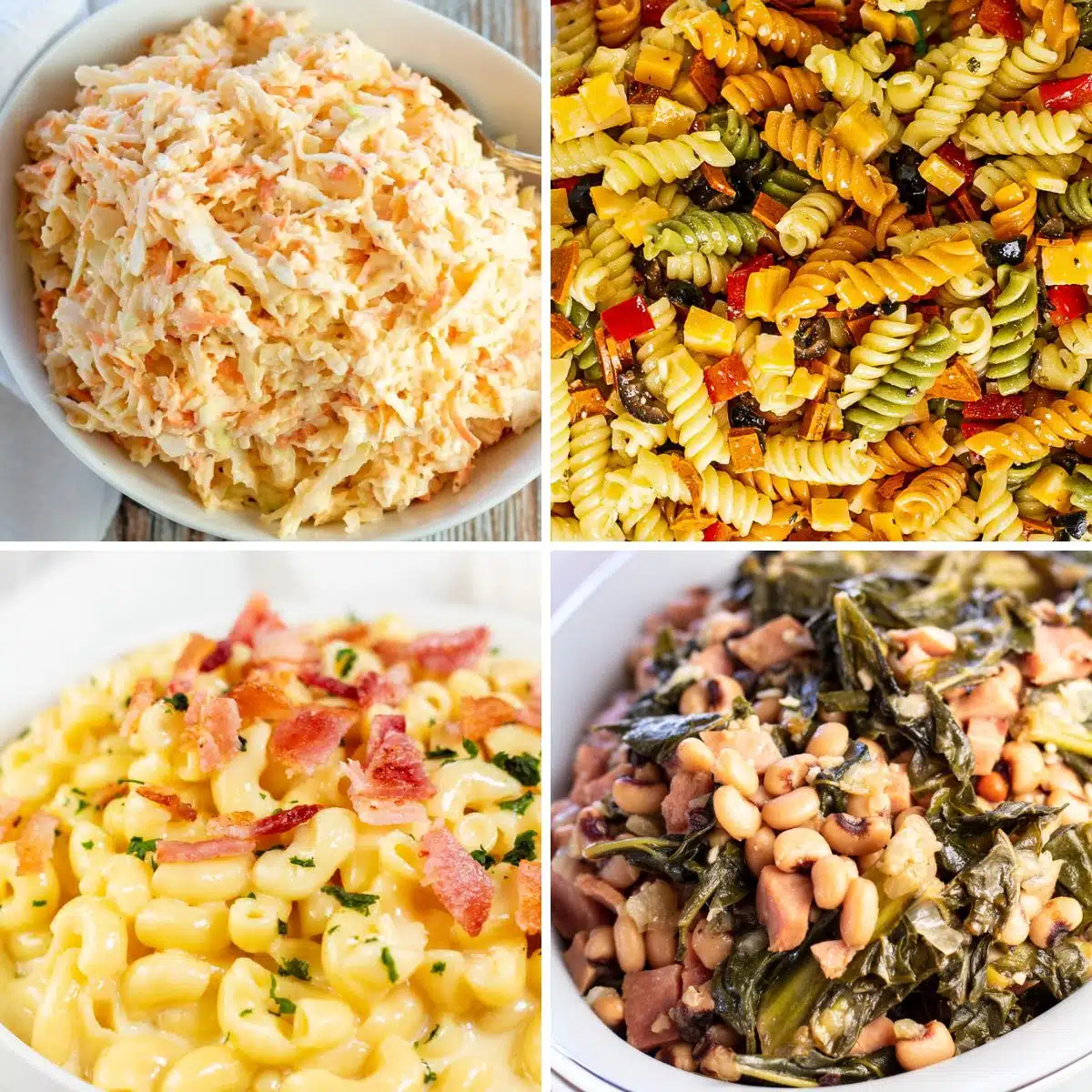 Jump to:
1. Black Eyed Peas with Collard Greens
You could make black-eyed peas, or you could make collard greens, but have you ever thought of combining the two? It's hearty and delicious with cubes of tender cooked ham mixed throughout.
2. Southern Coleslaw
A big bowl of creamy coleslaw is a must-have at any backyard BBQ! It's a great way to add a crunch to pulled pork sandwiches.
3. Grilled Corn On The Cob
If you already plan on firing up the grill, it's the perfect time to toss on some corn cobs! They're ready to eat in 30 minutes, and they're delicious with a little melted butter, salt, pepper, and garlic powder!
4. Air Fryer Chili Cheese Nuggets
Frozen nuggets filled with chili cheese that can be whipped up in minutes with your air fryer! They make a great easy appetizer or snack while everyone waits on the main course.
5. Fried Pickles
Golden brown and super crispy, these fried pickles are always a hit! Don't forget the homemade ranch dressing for dipping!
6. Paula Deen's Macaroni & Cheese
This easy recipe is for Paula Deen's signature baked macaroni and cheese. It's ultra-rich and creamy, and it makes plenty of servings for sharing!
>>>>See all of my recipes HERE<<<<
7. Smoked Gouda Mac & Cheese
Smoked gouda gives this macaroni a subtly smokey flavor that pairs fabulously with barbecue. I love topping it off with some crispy bacon for a salty crunch!
8. Pasta Salad with Italian Dressing
Pasta salad is a great side dish for summer barbecues because it's cool, tangy, and refreshing! Go all out and make your own Italian dressing from scratch, or you can pick up a bottle of your favorite brand from the store.
9. Bacon Wrapped Jalapeno Poppers
You can find bacon-wrapped jalapeno poppers at most BBQ joints because the sweet and smoky flavor of barbecue sauce complements them perfectly! The cream cheese filling helps cut the heat, plus they are so delectably snackable!
10. Air Fryer Baked Potatoes
There are so many ways to make perfectly fluffy baked potatoes, but I have to say, the air fryer is by far the easiest! You could also try oven-baked potatoes or slow-cooker-baked potatoes. Just don't forget all the tasty baked potato toppings!
11. Broccoli and Cheese
Broccoli with cheese sauce is an easy 15-minute recipe that makes a great last-minute addition to any BBQ dinner! The sauce is made with a blend of cheddar and Parmesan for the perfect balance of flavors.
12. Franks and Beans
This recipe is a homemade version of the classic canned franks and beans that kids love! It can even be served as a main course if you have kiddos that aren't a fan of what you're serving.
13. Candied Carrots
These tender carrots are coated in a sweet and sticky brown sugar glaze that is finger-licking good. Not to mention, they're ready to eat in only 30 minutes!
14. Chicken Salad with Grapes
The grapes add a refreshing burst of sweetness to every bite of this chicken salad. If you prefer yours without grapes, I have another version made with rotisserie chicken that would be just as tasty!
15. Creamed Corn
If you've never tried homemade creamed corn, you're missing out! It's rich, sweet, and savory (and so much better than the canned version).
16. Potato Salad
No backyard BBQ is complete without a big bowl of potato salad! This cool and creamy potato salad is always satisfying on hot summer days.
17. Grilled Acorn Squash
Acorn squash is a nutritious and delicious squash variety that has a subtle sweetness after a little time on the grill. You can lean into that flavor with sweet seasonings or keep your acorn squash savory with a little salt & pepper!
18. Boneless Chicken Wings
Whether you're watching the game or enjoying BBQ by the pool, boneless chicken wings are always a great choice. They make a tasty appetizer, and you can customize them with your favorite chicken wing sauces!
19. Dill Pickle Dip
If you have pickle lovers in your family, they'll be head over heels for this easy dill pickle dip! Serve it with chips or veggies for snacking while you work on the main course.
Tips For Picking The Best Side Dishes For BBQ Dinners
When it comes to choosing the best side dishes for your barbecue, there are a few things to keep in mind. When in doubt, offer a variety of options!
Complement the Main Dish: Think about your main course and what flavors would pair well with it. BBQ with bold, spicy flavors does well with mild or creamy side dishes to balance it out. If your entree is pretty simple, you should opt for sides with a punch of flavor.
Consider the Weather: When it's hot outside, nothing beats a refreshing side dish like coleslaw or chilled pasta salad. If it's cooler out, you may want to opt for warm and comforting sides like potatoes or baked beans.
Think About Texture: If you're planning on serving a tender entree like pulled pork or brisket, it's good to have contrast with something crunchy. Salads, coleslaw, or corn on the cob would all be great choices.
Make Ahead: Save yourself some time and trouble by choosing side dishes you can make the night before. That way, you can focus on grilling or cooking the main course. Things like potato salad, egg salad, and coleslaw taste even better when the flavors have had time to meld in the fridge.
Accommodate Dietary Restrictions: If you plan on feeding a crowd, make sure to offer a variety of choices. Consider any dietary restrictions of your guests so everyone has something to enjoy!
Any combination of these easy BBQ side dishes can be served to make the perfect meal! Be sure to come back and tell me how everything turns out in the comments below!
🥩 🔥 BBQ Recipes To Try
📋 Recipe