Best Father's Day desserts: cakes, pies, dessert bars, cookies, and more tasty treats that will have Dad feeling extra special! There are recipes for every skill level. So even if you aren't an experienced baker, you can still pull off a fabulous Father's Day dessert!
Amazing Desserts To Treat Dad To This Father's Day
Father's Day is dedicated to honoring and celebrating the paternal figures in our lives. What better way to express your love and appreciation for Dad than by treating him to some delectable homemade desserts?
Whether your dad is a fan of light and fruity flavors or prefers rich chocolate confections, you should be able to find the perfect recipe below. My family has tried and tested each, so yours is sure to love them too!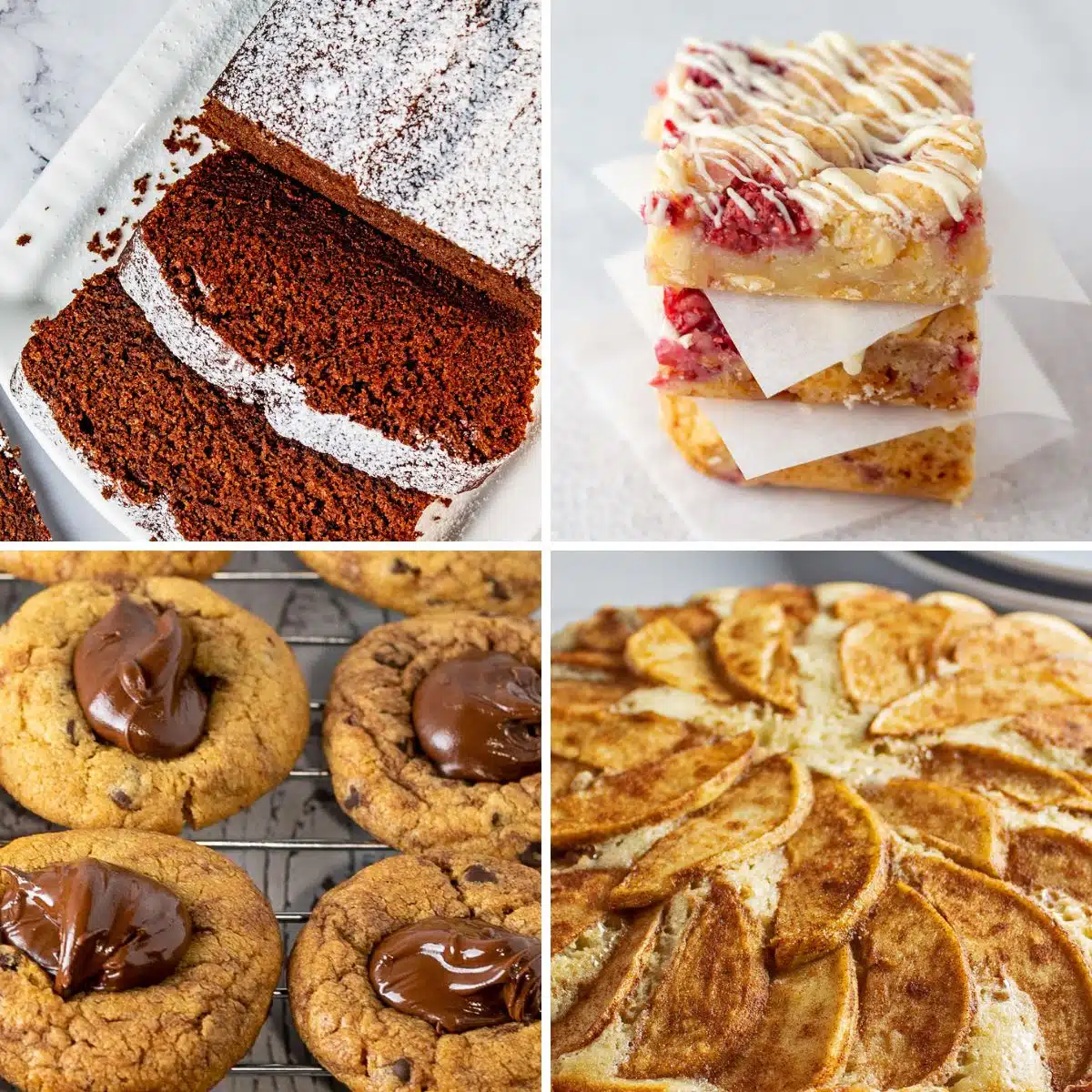 Jump to:
If you want to make Dad dinner and dessert this year, be sure to check out my favorite Father's Day dinner recipes here!
1. Raspberry White Chocolate Blondies
Soft and chewy blondies loaded with juicy raspberries and white chocolate chips. These tasty dessert bars are perfect for sharing!
2. Chocolate Loaf Cake
If Dad is a fan of chocolate, he'll certainly enjoy a moist homemade chocolate loaf cake. It's simple enough to enjoy with coffee at breakfast while decadent enough to serve as an after-dinner dessert!
3. Cherry Blossom Cookies
Cherry blossom cookies utilize the classic flavor combination of chocolate and cherries. Each cookie is topped with a milk chocolate Hershey's kiss. They almost look too good to eat!
4. Almond Brownies
Rich and chewy chocolate brownies packed with crushed almonds for an extra crunch! The batter can be made in just one bowl, so it's a super simple recipe anyone can make!
5. Butter Crunch Cookies
Brown butter and toffee bits give these soft cookies a uniquely rich flavor. Despite their name, the cookies are soft and chewy, with the crunch coming from the toffee candy mixed into the dough.
6. Oatmeal Peanut Butter Cookies
There's something nostalgic about a soft, homemade oatmeal peanut butter cookie. My secret ingredient is a pinch of cinnamon which gives the cookies a warm and subtly spiced flavor.
>>>>See all of my recipes HERE<<<<
7. Orange Loaf Cake
The bright citrus flavor of this loaf cake makes it a great treat to enjoy any time of day! It is topped off with a super simple orange icing that will have Dad savoring every bite.
8. Coconut Loaf Cake
If Dad is a fan of coconut, he'll adore this moist coconut cake with a vanilla coconut glaze. It only takes 10 minutes of prep time before you pop it in the oven and let it do the rest!
9. Dutch Apple Cake
A light and fluffy cake topped off with thinly sliced cinnamon apples. If Dad prefers a treat that is not overly sweet, this cake never disappoints.
10. Sopapilla Cheesecake Bars
Fluffy pastry and creamy cheesecake filling come together in these easy and delicious dessert bars. You can even make them in advance and keep them in the fridge until you need them!
11. Peanut Butter Nutella Cookies
Peanut butter cookies with swirls of Nutella throughout and an extra big glob of melted Nutella in the center! I like to add some chocolate chips to the dough for an even chocolatier cookie.
12. Blueberry Pie Bars
If you're having a family get-together for Father's Day this year, you can't go wrong serving these easy and delicious blueberry pie bars! They have all the flavor of a blueberry pie but are much simpler to make.
13. Flourless Chocolate Raspberry Cake
If Dad is gluten-free, he can still enjoy a delicious and decadent dessert. This chocolate raspberry cake is so moist and flavorful you can't even tell there's no flour!
14. Easy Chocolate Cake
If baking's not your forte, you can still make a delicious dessert from scratch! This easy chocolate cake recipe is practically fool-proof, and who doesn't like chocolate cake?
15. Gumdrop Cookies
These fun gumdrop cookies will bring out your Dad's inner child. Each cookie is studded with rainbow gumdrop candies that become wonderfully chewy when they melt!
16. Peach Galette
A peach galette is like a rustic French pie with layers of fresh sliced peaches in a flaky crust. Top each slice with a scoop of vanilla ice cream for a stunning summer treat!
17. Baked Apples
The natural sweetness of the apples comes out when they're baked, and they are slathered in brown sugar and cinnamon butter. If you think that sounds good, try them with some vanilla ice cream. It's downright heavenly!
Tips For Picking Your Father's Day Desserts
Before you get to baking, here are a few key things to keep in mind when choosing which recipes to make:
Consider His Preferences: What are your Dad's favorite desserts and flavors? Is he a fan of fruity sweets, or does he prefer chocolate? It's his day, after all!
Go for Classic Comfort: Is there a nostalgic dessert your dad hasn't had in a while? Bring back fond memories by making a dessert that Grandma used to make! Classic recipes like apple pie, strawberry shortcake, blackberry crisp, or homemade chocolate chip cookies are sure to be a hit.
Keep His Dietary Needs in Mind: If your dad has any dietary restrictions, make sure to keep them in mind (like sugar-free, gluten-free, low-carb, vegan, etc.). It would be a shame to make a fabulous dessert he can't eat!
Ease of Preparation: Work within your comfort level. There are so many incredible desserts that are beautiful to look at but surprisingly easy to make. If you're comfortable with something more complex, go for it!
Pair with His Favorite Meal: If you're making Dad dinner and dessert, try to pick something sweet that complements the main course. For instance, if BBQ is on the menu, something light and fruity would make an excellent after-dinner dessert!
Let me know what desserts you try and what your Dad thinks of them by leaving me a comment below! I'd love to hear about it!
😋🍴 More Recipes Dad Will Love
📋 Recipe