These corn recipes spotlight how everyone's favorite summertime vegetable can be used to create a variety of easy and delicious dishes! From savory Mexican cornbread casserole and Southern corn fritters to sweet creamed corn, this list has a recipe everyone will enjoy. So the next time you are at the store, pick up some corn and see how simple it is to transform it into some tasty side dishes, casseroles, and snacks!
The Best Corn Recipes
Corn is an incredibly versatile vegetable that can be enjoyed on its own or used as an ingredient to elevate many dishes! With its sweet flavor and crunchy texture, there are plenty of ways to make the best use of this tasty summertime crop while it's in season.
From snacks and side dishes to appetizers and entrees, I've rounded up some of the best corn recipes that are flavorful and easy to make! No matter which one you choose, they are all sure to please even the pickiest eaters.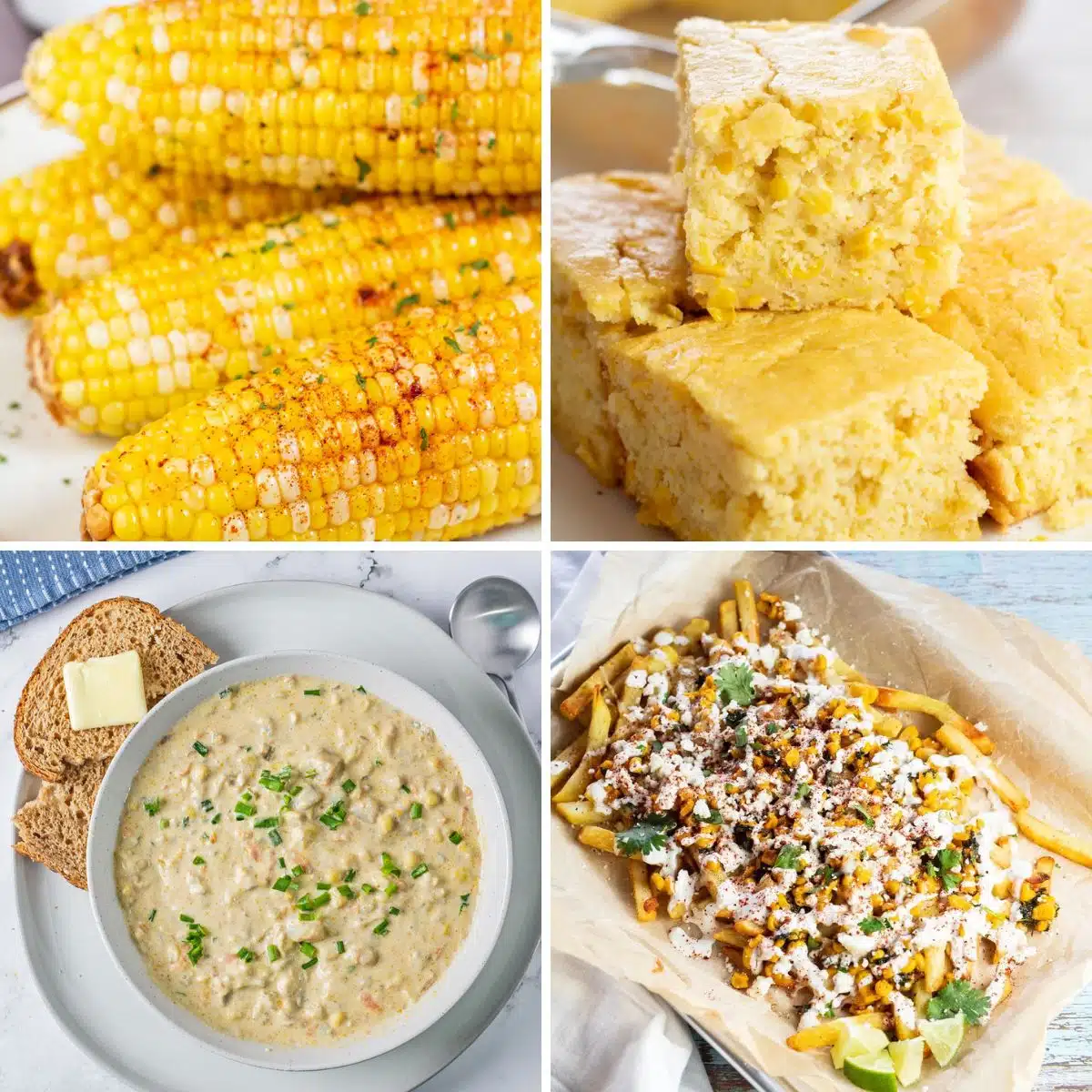 Jump to:
Corn Recipes
Whether you are looking for easy ways to cook corn on the cob or want to make some tasty homemade popcorn, I've got you covered! I've even included a few light appetizers and hearty casseroles that always come with rave reviews.
1. Instant Pot Corn on the Cob
Looking for a hassle-free way to cook your favorite summertime vegetable? Look no further than this easy and convenient Instant Pot recipe! With just a few simple ingredients and a very short cooking time, you'll wonder why you ever cooked corn on the corn any other way!
2. Air Fryer Corn on the Cob
Get ready to experience a whole new level of deliciousness with this simple air fryer corn-on-the-cob recipe! The rapid hot air circulation gives the corn a delightfully crispy texture while the inside remains sweet and juicy.
Say goodbye to boiling or grilling and say hello to an incredibly easy way to achieve perfectly cooked corn!
3. Crockpot Corn on the Cob
This simple Crockpot recipe is the ultimate hands-off approach to cooking corn on the cob! By using the low and slow heat of your slow cooker, you can easily get tender and mouthwatering corn.
Perfect for busy days or when are you wanting a fuss-free meal, the corn will practically cook itself!
4. Corn Soup
Warm, comforting, and packed with the natural sweetness of corn, this corn soup is a great way to enjoy the flavors of summer year-round! Either serve it as a tasty vegetarian dish or add hearty proteins like bacon or sausage.
All it takes is a few simple ingredients and 15-20 minutes to simmer.
5. Microwave Corn on the Cob
When time is of the essence, the microwave can steam your delectable corn on the cob in a matter of minutes! Although it may seem too good to be true, you will still get perfectly tender and juicy corn, just as you would with other cooking methods.
That way, you have more time to focus on the dishes you are serving with!
6. Cheddar Popcorn
If you are looking for a tasty snack to make for your next movie night, this cheddar popcorn recipe is a must-try! Each bite is a burst of cheesy goodness that will have you reaching for more.
You can either use pre-popped popcorn or cook popcorn corn kernels with coconut oil. Both choices are equally delicious when you coat them with melted butter and cheddar cheese powder!
7. How To Cook Canned Corn
This ultimate guide covers the best methods to heat a can of corn and make it taste better! Whether you choose to cook your corn on the stovetop or in the microwave, each way can give you delicious results.
I even include seasonings and mix-ins to try when you want to switch it up from the classic salt and pepper.
>>>>See all of my recipes HERE<<<<
8. Southern Corn Fritters
These Southen corn fritters are a quick and easy appetizer that's on the table in just 10 minutes! They're crispy on the outside, tender on the inside, and sure to impress your guests on any occasion.
All you have to do is mix a few simple ingredients together and fry the fritters to golden perfection!
9. Creamed Corn
This homemade version of creamed corn is incredibly creamy, sweet, and perfect for serving as a vegetable side dish to any meal! The best part is that you can enjoy it any time of year, as you can use frozen or canned corn to make this classic recipe!
It's a beginner-friendly dish that's ready to serve in 15 minutes.
10. Grilled Corn on the Cob
Whenever you are firing up the grill, try out this easy and flavorful corn-on-the-cob recipe to go with your favorite proteins! The combination of sweet and smoky flavors is perfect for summertime cookouts, whether you are making BBQ or a simple steak dish.
Simply smother them in melted garlic and butter; the kids will love it.
11. Creamed Corn Cornbread
This easy cornbread recipe features creamed sweet corn, honey, and butter to make a refreshingly sweet side dish to go with any meal! With its moist and tender texture and a burst of corn flavor in every bite, this cornbread is bound to become a new family favorite!
12. Stovetop Popcorn
Skip the microwave popcorn bags and try out the classic way to cook up some delicious popcorn! The stovetop method allows you to customize your popcorn with many flavor profiles like cheese, caramel, chocolate, and more.
Plus, there's no special equipment required, and your tasty snack will be ready to serve in just 10 minutes.
13. Microwave Popcorn
This microwave popcorn recipe is a quick and easy way to enjoy a bag of buttery, delicious popcorn that's made from scratch! It's perfect for when you have run out of popcorn bags or if you'd like to adjust your seasoning levels.
All you need is some vegetable oil, popcorn kernels, salt, and a brown paper bag!
14. Mexican Cornbread Casserole
Mexican cornbread casserole is a warm and hearty main course dish that's loaded with tons of flavor! Two layers of fluffy cornbread are filled with perfectly seasoned ground beef, tomatoes, chiles, and melted cheddar cheese.
Top it off with some guacamole and green onions for a tasty meal that everyone will love!
15. Southern Fried Corn
If you are looking for an easy and flavorful side dish that you can whip up in a matter of minutes, my Southern-fried corn is just the thing! This recipe features sweet corn loaded with garlic butter, sauteed onions, chopped bacon, and fresh chives.
You can serve it with any of your favorite main course proteins!
16. Jiffy Corn Casserole
This tasty recipe takes the classic Jiffy cornbread mix and turns it into a crowd-pleasing casserole with just a few extra ingredients. Two types of canned corn are added to give it extra flavor, then sour cream and melted butter lock in tons of moisture!
Once you try it for yourself, you'll want to make it over and over again!
17. Corn Fries
These loaded corn fries are a Mexican-inspired side dish or snack that is easy to make and incredibly delicious! A base of crispy fries is topped with sweet corn, taco seasoning, cilantro, Mexican crema, grated cheese, and lime wedges.
They're perfect for summertime barbeques or whenever you are craving Mexican flavors!
18. Elotes
A wonderfully tasty corn-on-the-cob recipe that's ideal for serving on taco night or just because! I promise that this dishes' creamy deliciousness will win the whole family over!
Now that you have a list of easy corn recipes, which one are you the most excited to try? Leave a comment below if you end up making one - and let me know what you think!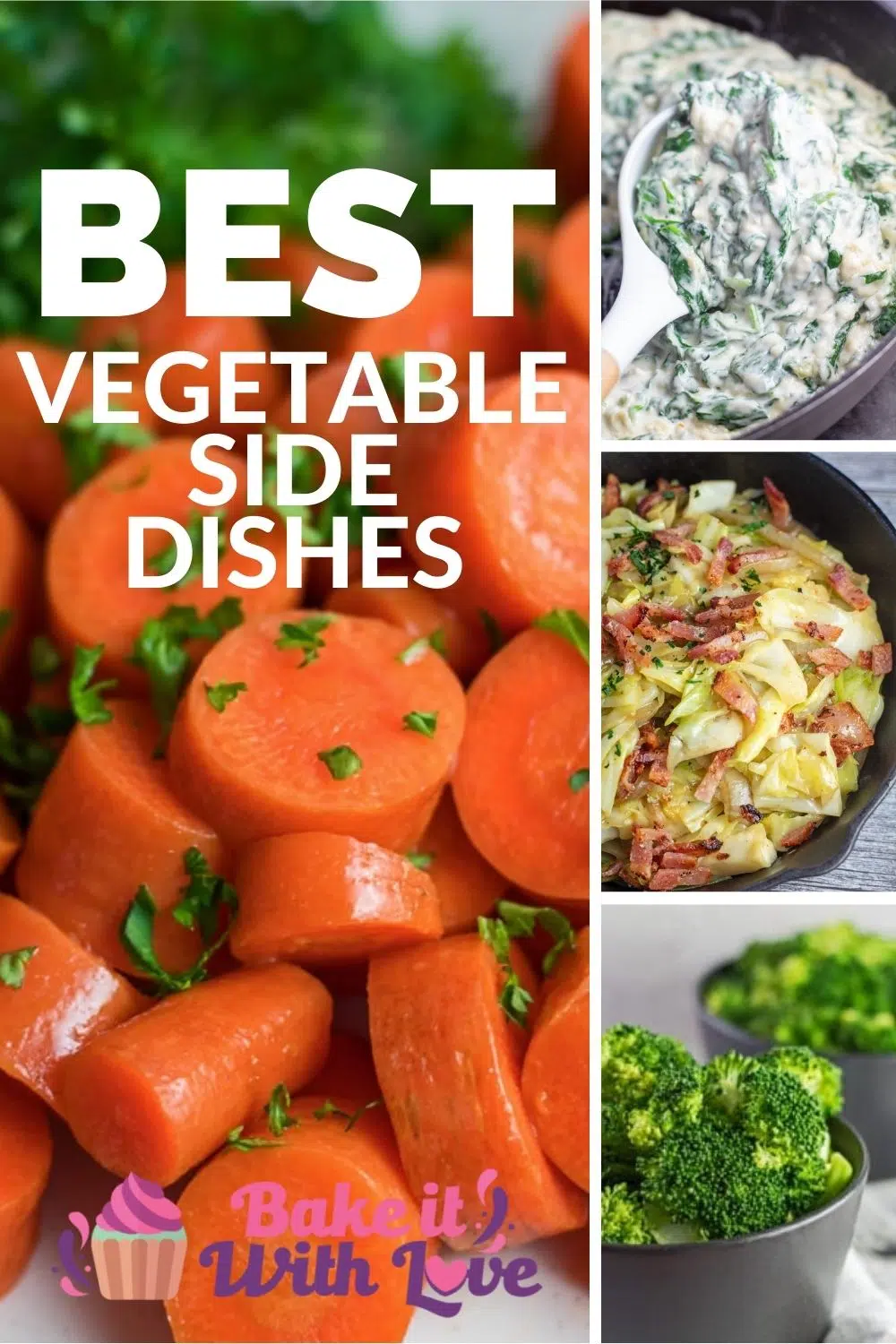 📋 Recipe