These Easter side dishes include both traditional and modern options for a delicious and easy way to complete your holiday meal! Each of these tasty dishes will pair exceptionally well with any entree that may be on the menu- whether it's for lunch or dinner! From potatoes au gratin to honey glazed carrots, biscuits, and even casseroles, you'll be able to find something your entire family will love!
Best Easter Side Dish Recipes
Enjoy the morning of Easter Sunday in church and then hop on over to a fun Easter egg hunt (pun intended)! After all of the festivities and traditions, it's time to sit down to a special meal with those you love.
It doesn't matter what the main course of your Easter dinner (or lunch) is because these delicious side dishes are going to be what everyone is talking about! Go ahead and choose a few (or a lot) to complete your holiday menu!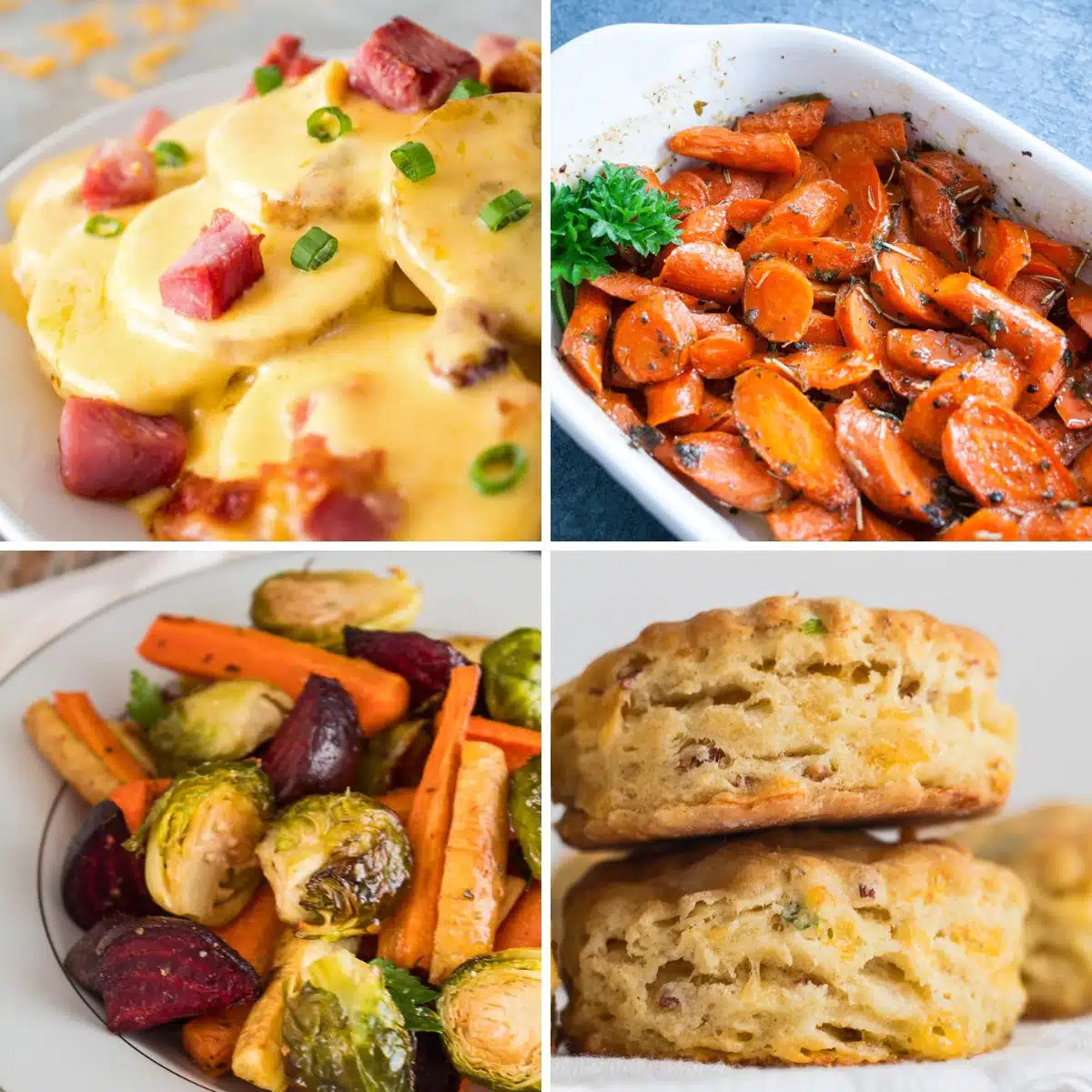 Jump to:
1. Au Gratin Potatoes With Diced Ham
Thinly sliced potatoes are layered in a rich cheese sauce and sprinkled with diced ham! Of course, it's creamy, delicious, and a family favorite!
2. Honey Glazed Carrots
These carrots are an upgrade from your standard vegetable side dish! The honey brings out the carrot's natural sweetness for a veggie that even kids will want to eat!
3. Lemon Asparagus Orzo
Tiny orzo pasta and crisp asparagus are tossed in a citrus lemon garlic sauce! This is a great side dish option if you are serving chicken or any kind of seafood!
4. Roasted Vegetable Medley
Roasted veggies can easily complement any dish you may be serving! Plus, it is super easy to customize which vegetables you want to add in to the mix!
5. Bacon Cream Cheese Mashed Potatoes
Adding cream cheese makes your mashed potatoes extra smooth and rich. Additionally, the bacon makes them super savory and adds tons of flavor!
6. Baked Bacon Wrapped Asparagus
Bacon makes everything better! In fact, it easily upgrades your standard asparagus into an extra savory and delicious side dish!
7. Deviled Eggs
What's a celebration without a platter of delicious deviled eggs? This recipe is a tried-and-true classic, but you can customize it however you like!
8. Hot Cross Buns
Hot cross buns are already synonymous with Easter, so you might as well serve them! They are packed with spices as well as fruit for a tasty treat that's perfect for celebrating the holiday!
9. Green Beans Almondine
This light and vibrant veggie side lets the natural flavors of the green beans shine! The green beans are tossed with some simple seasoning and slivered almonds for a nice and refreshing dish!
10. Creamed Spinach
This rich and creamy creamed spinach is the perfect addition to any dinner! Loaded with multiple varieties of cheese, this dish is incredibly satisfying!
11. Crispy Roasted Red Potatoes
These potatoes are crisp on the outside and fluffy on the inside! They pair well with anything and are completely kid-approved!
12. Cast Iron Skillet Garlic Herb Focaccia Bread
Focaccia is an Italian yeast bread that is loaded with tasty herbs! It easily complements any of your favorite dishes!
13. Air Fryer Asparagus
Pop some asparagus into your air fryer for a ridiculously fast and simple vegetable side!
14. Cheddar Bacon Chive Biscuits
These buttermilk biscuits are easy to make and loaded with tons of yummy flavors! They are flaky, tender, and super tasty!
15. Yorkshire Pudding
These delicious popovers are so much more than just a simple roll! You'll be blown away when they puff up way above the baking dish!
16. Butter Herb Rhodes Rolls
Soft and fluffy dinner rolls go great with any meal! Plus, they only require 5 minutes of prep time so you won't have to spend forever in the kitchen!
17. Jiffy Corn Casserole
This corn casserole is both sweet and savory. Simply mix together a few ingredients and pop it in the oven!
18. Skillet Brown Sugar Glazed Carrots
These carrots are the perfect combination of sweet and savory! Carrots and garlic are tossed in a sweet brown sugar glaze for a dish you won't forget!
19. Parmesan Risotto
This creamy and cheesy risotto is guaranteed to be a crowd-pleaser! It may look fancy and sophisticated, but I promise that it is easy to make!
Take a look at these different risotto varieties: butternut squash, prawn, lobster, crab, mushroom, and mint!
20. Potato Salad
This potato salad has both mayonnaise and mustard in the base and is loaded with all of your favorite mix-ins! Check out my German potato salad and loaded baked potato salad for some other tasty varieties!
21. Garlic Butter Mushrooms
These savory mushrooms can be enjoyed by themself or used as a topping on your favorite meat-based entrees!
22. Southern Baked Macaroni & Cheese
Cheesy and creamy macaroni and cheese belongs on every dinner table, no matter the occasion! With 3 different kinds of melted cheese, you won't be able to get enough!
23. Instant Pot Au Gratin Potatoes
Potatoes au gratin are creamy, cheesy, and amazingly delicious! This recipe makes the entire dish in your Instant Pot for an extra simple (and quick) side!
24. Yellow Mashed Potatoes
Mashed potatoes are a classic side dish that pairs well with everything! This specific recipe features yellow potatoes for an extra creamy bowl of mash!
25. Sour Cream Cornbread
This cornbread uses sour cream as a secret ingredient for an extra moist texture! Try out my creamed corn cornbread and sweet potato cornbread, too!
26. Fresh Fruit Salad
What better way to welcome spring than with a light and refreshing bowl of fruit? Customize it with all of your family's favorites for an easy and healthy side!
27. Wedge Salad
A simple wedge salad is a great addition to any holiday table! You can serve it as an appetizer or a side dish and it is easy for everyone to customize it with their favorite dressing and toppings!
28. Fondant Potatoes
These potatoes look incredibly gourmet and sophisticated (and taste like it, too!) However, they are super easy to prepare!
29. Buttered Peas & Carrots
A classic and simple side dish that can be whipped up in mere minutes! It's perfect for any last-minute menu additions!
30. Cheesy Bacon Ranch Potatoes
For an extra rich and delicious potato dish, you must try out these cheesy bacon ranch potatoes! They are coated in sour cream, melted cheese, and crisp bacon for an irresistible flavor combination!
31. Campbell's Green Bean Casserole
Everyone knows and loves green bean casserole for Christmas and Thanksgiving! However, Easter is just as deserving of this tasty casserole!
If you don't want to use canned green beans, then try out this recipe for fresh green bean casserole from scratch!
32. Balsamic Roasted Brussel Sprouts
Adding balsamic to your brussel sprouts is an easy way to take the flavor to the next level! It adds a nice tanginess while the honey contributes a hint of sweetness!
33. Sweet Potato Casserole
Sweet potato casserole is well-known (and loved) when it comes to Thanksgiving and Christmas. But, that doesn't mean you can't enjoy it for Easter, too!
34. Sauteed Green Beans
Sauteed green beans are a quick and effortless way to enjoy a healthy side dish! Top them off with some freshly grated Parmesan cheese for an extra special touch!
35. Yukon Gold Gruyere Swiss Cheese Smashed Potatoes
Gold potatoes are cooked, lightly smashed, and then topped with cheese before being popped in the oven. The result is an easy and delicious potato dish!
36. Cornbread Stuffing
This stuffing is so good that you need to serve it at more than just Thanksgiving! It uses cornbread as its base for an extra tasty twist that your entire family will enjoy!
37. Sauteed Broccolini
If you've never tried broccolini before, it has a milder and sweeter taste compared to broccoli. You can enjoy this tasty sauteed broccolini as-is, or make a broccolini salad!
I hope these side dishes helped to make your Easter dinner extra special! Leave a comment down below and let me know which ones are your favorite as well as which ones you want to try next!
>>>>See all of my recipes HERE<<<<
🐇 Best Easter Main Dishes
Honey Baked Ham - A classic holiday favorite, this ham dinner is better (and cheaper) than the one from the store!
Oven Roasted Turkey - Turkey shouldn't be reserved for only Thanksgiving- go ahead and enjoy it for Easter, too!
Baked Pork Tenderloin - Tasty pork tenderloin is coated in a pork dry rub before being seared to perfection and baked until tender!
Smoked Spatchcock Chicken - This whole chicken is spatchcocked and then smoked for a quick and savory dinner!
Roasted Rack of Lamb - This hands-off, simple dinner is so delicious and elegant that no one will believe how easy it was to make!
Dutch Oven Pot Roast - Perfect for a larger family, this pot roast combines all of your favorite meat and veggies into one dish!
📖 Recipe Card