These Easter desserts include a wide variety of fun, festive, and tasty treats that are perfect for Easter Sunday celebrations! From cakes and cupcakes to cookies and pies, this list has something for every taste! Who knows, you may find a new favorite dessert to make an Easter tradition every year!
Best Easter Dessert Recipes
If you're like me, then making fabulous desserts to share with family and friends is your favorite part of any holiday! Easter is filled with Easter egg hunts, church potlucks, and parties at school, so I'm never short on reasons to whip up some tasty holiday treats.
Some occasions call for something sweet, simple, and easy to share like cookies or cupcakes and others call for something more formal like a homemade cake or pie. No matter what your Easter plans are, you're sure to find the perfect dessert right here!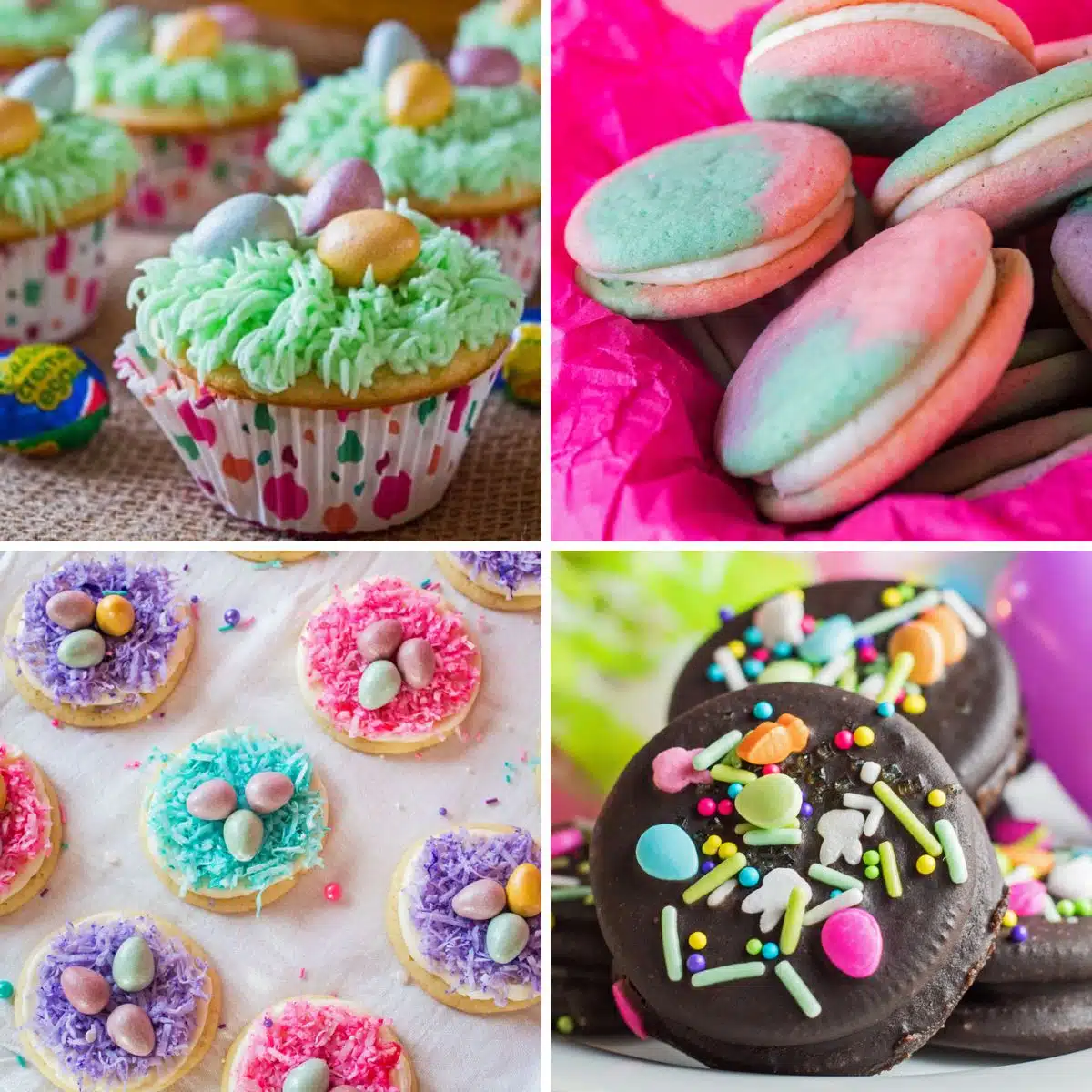 Jump to:
Want More Recipes? Enter your email below and we'll send them straight to your inbox!
1. Easter Basket Cupcakes
These fun and festive Easter basket cupcakes are always a hit! The cupcakes are made with my easy homemade white cake mix, then topped off with green buttercream frosting 'grass' and mini chocolate egg candies to look like a cute little nest.
2. Carrot Cake
It doesn't get more classic than homemade carrot cake with cream cheese frosting! You'll be surprised at how moist and delicious this cake is when only 10 minutes of prep time is required.
3. Easter Basket Cookies
Tender, chewy sugar cookies topped with a thick layer of vanilla buttercream frosting, colored coconut shreds, and chocolate candy eggs. Set them out at your next Easter potluck and watch them disappear!
4. Easter Fudge Covered Oreos
These rich and delicious fudge-dipped Oreos feature festive Easter sprinkles! They are deliciously crunchy and chocolatey without being overly sweet.
5. No Bake Easter Peeps Nests
If you're not a baker, you can still make perfectly tasty Easter treats like these no-bake Peeps nests! I made mine using both chocolate and peanut butter no-bake cookies, shredded coconut, marshmallow Peeps, and mini jelly beans.
6. Pineapple Upside Down Bundt Cake
Something about the bright tropical flavor of pineapple just screams 'springtime'! To make things even easier, you can use boxed yellow cake mix (or go all out and make your own yellow cake mix)!
7. Tres Leches Cake
Nothing compares to the sweet milky flavor and decadently moist texture of tres leches cake! For Easter, I always top the whipped cream frosting with a blend of fresh berries and fruit to make it extra special.
8. Honey Cakes
These bite-sized honey cakes pack a punch of flavor in a small package! The soft spiced honey and orange mini cupcakes get nicely caramelized and crisp on the outside. Top them off with some frosting or extra honey and enjoy!
9. Hot Cross Buns
If you aren't a fan of sugary desserts, hot cross buns are the perfect Easter treat for you. These soft rolls are filled with spices and dried fruit, plus you can add the signature cross with icing for a little extra sweetness.
10. Rainbow Rice Krispies Treats
Rice Krispies treats are an easy-to-make Easter dessert that the whole family can prepare together! We love these fun rainbow Rice Krispies treats, but you could also try chocolate-dipped Rice Krispies treats or peanut butter Rice Krispies treats!
11. Preacher Cake
Preacher cake is a classic Southern recipe with a wide variety of flavors and textures that come together to make one incredible dessert. There are crunchy nuts, fruity pineapple, moist spiced cake, and chewy coconut, all mixed right in.
12. Pineapple Sunshine Cake
This super simple cake is my go-to when I need a last-minute Easter dessert. It's made with boxed cake mix and canned crushed pineapple, so there's practically no prep time!
13. Plum Cake
This upside-down plum cake has a perfect balance between sweet and spiced flavors. It can be served at breakfast with a cup of coffee, as an after-lunch treat, or for dessert after Easter dinner!
14. Strawberry Angel Food Lush
Sweetened cream cheese, whipped cream, and fresh strawberries, all between fluffy layers of angel food cake! It only takes 15 minutes to prepare and 30 minutes to chill (I recommend it for the best flavor, but the chilling time can be skipped if you're in a hurry)!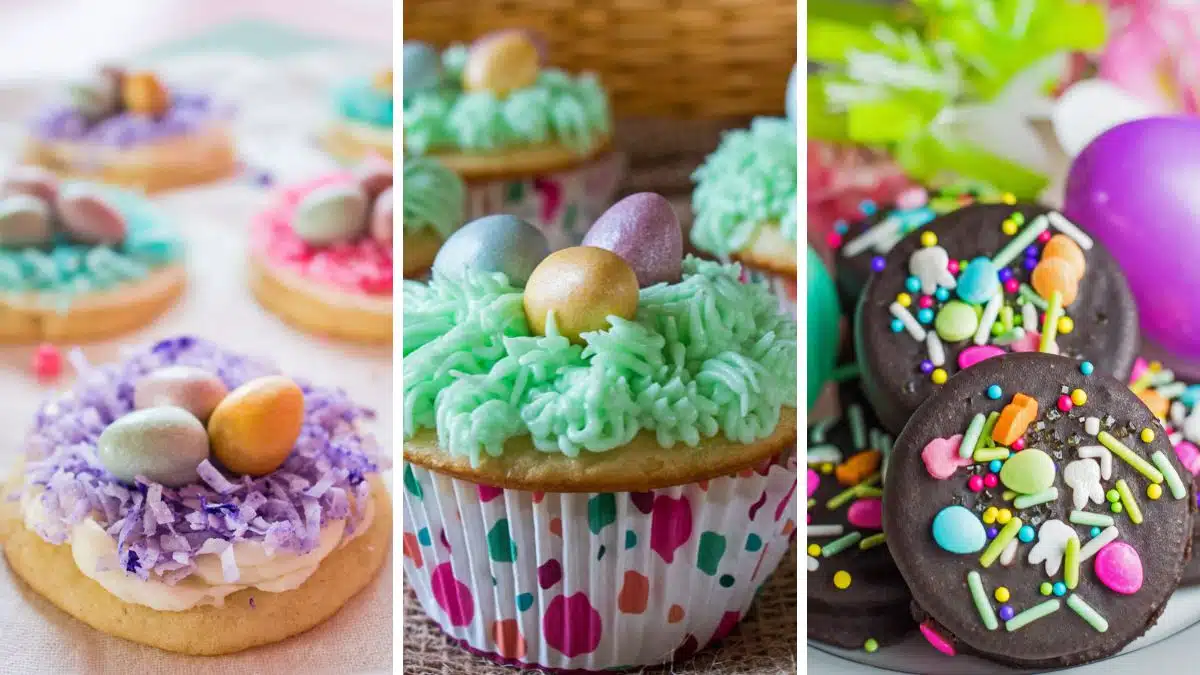 15. Blueberry Tart
Everyone will love this sweet and refreshing blueberry tart with homemade shortbread crust! For the perfect texture, I use both blueberry pie filling and fresh blueberries.
16. Banana Pudding Poke Cake
Everyone makes banana pudding for Easter, but not everyone makes banana pudding cake! Which is honestly surprising considering how easy this poke cake recipe is!
17. No Chill Rolled Sugar Cookies
These no-chill rolled sugar cookies are the perfect recipe for cutting into fun Easter shapes. I made mine into bunnies, but you could try Easter eggs, flowers, crosses, the possibilities are endless! Finish them up with some sugar cookie frosting that hardens for a treat that almost looks to good to eat!
18. Macarons
Macarons come in so many wonderful flavors and colors, you can even mix and match them! Not to mention, they look beautiful on a plate.
19. Lemon Meringue Pie
The sweet citrus flavor of lemon meringue pie keeps people coming back for more. It's bright and refreshing, plus totally easy to make!
20. Easter Egg Truffles
These adorable no-bake truffles are made with cream cheese, white chocolate, and frosted animal cookies! They're almost as fun to decorate as they are to eat!
20. Easter Trifle
This show-stopping Easter trifle will be all the rage at your next Easter party! The cake is vibrantly colored with neon food coloring and layered between whipped cream, vanilla pudding, and topped off with edible Easter grass, Sixlets chocolate candies, and marshmallow Peeps!
>>>>See all of my recipes HERE<<<<
21. Peeps-Stuffed Chocolate Chip Cookies
Your guests will marvel at the genius of filling chewy chocolate chip cookies with marshmallow Peeps! It's as easy as slicing up the Peeps and mixing them into your chocolate chip cookie dough before baking.
22. Easy Bunny Cake
This fun character cake is easy enough that anyone can make it! All you need is some boxed cake mix, water, oil, and eggs for the cake itself plus some frosting, coconut, jelly beans, and red licorice for decorating.
Italian Easter bread is made by shaping super soft brioche dough into braids or wreaths and sprinkling them with nonpareils or colored sprinkles! Traditionally, an uncooked colored Easter egg is placed in the center before baking it in the oven.
24. Easter Chick Cupcakes
These adorable Easter chick cupcakes are always a hit when I send them to school with my daughter. You can use any flavor of cupcake as the base, the fun is all in the frosting!
25. Easter Mini Cheesecakes
These 2-bite mini cheesecakes are decorated to look like cute little bird nests. The 'nest' is made with toasted coconut shreds and malted milk chocolate candy eggs.
27. Easter Bunny Popcorn Bars
Chewy, sweet, and sticky Easter popcorn bars are a great treat for events with the kids. They are loaded with a variety of candies, sprinkles, marshmallows, and of course, popcorn!
28. Old-Fashioned Coconut Cream Pie
Coconut cream pie is the definition of 'an oldie but a goodie'. The key is in using toasted coconut for the best flavor and texture!
29. Chocolate-Dipped Peeps for Easter
Sometimes simple is best, and these chocolate-dipped Peeps are the perfect example! Just dip some marshmallow Peeps into melted candy coating and add your favorite nuts, sprinkles, or candies!
30. Easter Brownies
These fudgy Easter brownies are coated in adorable spring decorations! You can even use boxed brownie mix, so it's hard to mess up.
31. Easter Fudge
Rich vanilla fudge packed full of Easter goodies! Chocolate chips, Easter M&Ms, marshmallow cream, candy chocolate eggs, you name it, it's all mixed in.
I hope your family loves these Easter desserts as much as mine does! Which of these tasty recipes are you going to try this year? Let me know in the comments below!
🐣 More Easter Collections
Easter Dinner Ideas - If it's your year to host Easter dinner, you can't go wrong with these tasty recipes!
Easter Brunch Ideas - The perfect recipes for an after-church meal with family and friends.
Easter Side Dishes - Not sure what to serve with your Easter ham? Try these easy and delicious side dishes!
Easter Cakes - A whole post dedicated to springtime cakes that are perfect for Easter.
Easter Lunch Ideas - All the best recipes for hosting Easter Sunday lunch at your house!
Traditional Easter Dinner Menu - If you're missing Easter dinner like grandma used to make, these recipes are for you!
📋 Recipe