100 Best Christmas Cookies: a complete list of the very best and most loved Christmas cookies of all time in order of popularity! Some of these classic cookies won't surprise you, but you may also find a few new holiday cookie recipes to love! They come in all flavors, shapes, and sizes so you will surely find a few cookies your family will enjoy.
The Top 100 Best Christmas Cookies of All-Time
While many of these cookies are well-known to all of us, there are some regional favorites that make this top 100 list here in the United States! Many of these cookies have international roots, coming to the US throughout the years and being adopted by all.
Whether you have certain childhood favorites that you're hoping to find the recipe for, or this is your first year baking Christmas cookies, you're sure to find plenty of cookies to bake this holiday season!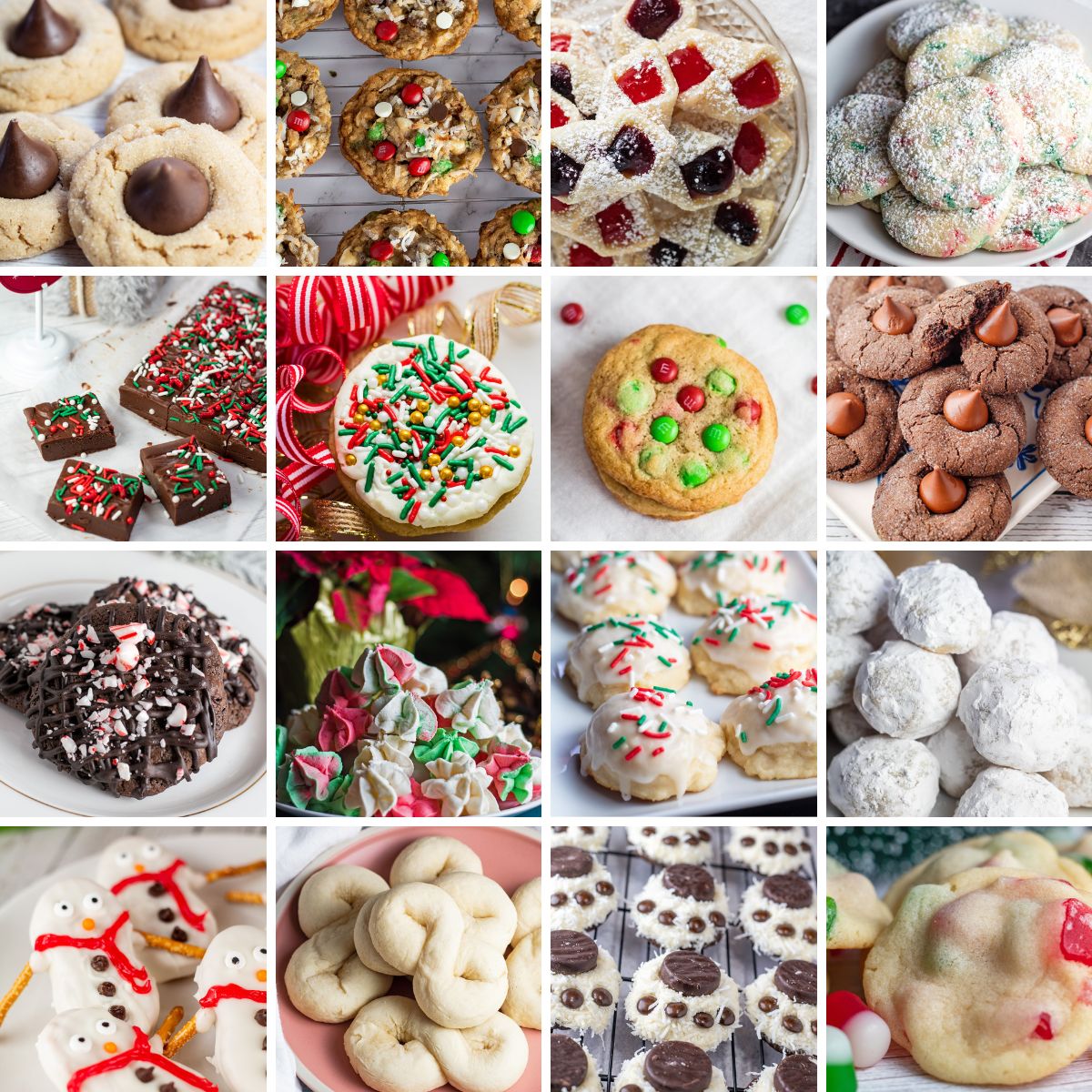 Jump to:
If baking gets you in the Christmas spirit, be sure to check out all of my holiday baking recipes! There are cookies, cakes, pies, fudge, candy, and so much more to try!
Popular Holiday Cookie Recipes
These recipes are for the most loved Christmas cookies from the United States. Many can be decorated or cut into fun holiday shapes and some are simple classics that taste delicious just the way they are. After all, any cookie can be a Christmas cookie!
1. Chocolate Chip Cookies
It should come as no surprise that good old-fashioned chocolate chip cookies come in at the top spot on this list!
2. Sugar Cookies
Not only are sugar cookies delicious, but they are the ideal cookie for cutting into festive shapes and for decorating!
3. Peanut Butter Blossoms
Peanut butter blossoms are soft peanut butter cookies that are coated in white sugar and topped off with a milk chocolate Hershey's kiss!
4. Christmas Fudge
Maybe fudge isn't technically a cookie, but you sure won't hear any complaints when rich and chocolatey fudge bars are added to your Christmas cookie platter!
5. Chocolate Peppermint Cookies
The irresistible flavor combination of chocolate and peppermint is always a favorite around Christmastime!
6. Christmas M&M Cookies
Kids and adults will both enjoy a fresh batch of soft and chewy M&M cookies. Red and green M&Ms make these cookies even more festive!
7. Shortbread Cookies
Sometimes simple is a good thing, and these buttery, tender shortbread cookies prove it! You'll love their simplicity, and their rich buttery taste is amazing!
8. Butter Cookies
Butter cookies are so, well, buttery! These soft cookies are incredibly versatile but I like to bake them up so they look like the Danish butter cookies in a holiday tin!
9. Brookies
These indulgent dessert bars are the best of both worlds: brownie on top and cookie on the bottom!
10. Butter Pecan Cookies
Butter pecan cookies are easy, classic cookies with a tender shortbread base full of slightly sweet and nutty chopped pecans!
11. Sprinkle Crinkle Cookies
These easy-to-make vanilla crinkle cookies are so soft and tender. Toss in some Christmas sprinkles and they practically decorate themselves!
12. Gingerbread Cookies
Perfectly spiced gingerbread cookies are a Christmas staple. Gingerbread men are always fun to make, though these cookies can be made into just about any shape!
13. Christmas Snickerdoodles
The only difference between a regular snickerdoodle cookie and a Christmas snickerdoodle cookie is the festive green and red sugar! It's still full of the yummy cinnamon sugar goodness we all know and love.
14. Macadamia Nut Cookies
Macadamia nuts add texture and a somewhat nutty-yet-buttery flavor to these already delicious cookies!
15. Oatmeal Raisin Cookies
The chewy texture of a homemade oatmeal raisin cookie is a Christmas favorite for many people!
*Fun Fact: Oatmeal raisin cookies are the least-desired cookie at any cookie exchange (though it's hard to see why)!
16. German Almond Cookies (or Vanillekipferl)
These vanilla German crescent cookies are delightfully nutty and they are so soft they practically melt in your mouth!
17. Peanut Butter Balls
These sweet and salty chocolate-covered peanut butter balls are so tasty, you can't eat just one!
18. Gingersnaps
These cinnamon ginger cookies are hard to resist because of their subtle sweetness and satisfying crunch!
19. Thumbprint Cookies
Thumbprint cookies are tender shortbread cookies with sweet fruit jam in the center. They are a classic choice for cookie exchanges and holiday party dessert trays!
20. Coconut Macaroons
The inside of these coconut macaroons is soft and chewy while the outside is wonderfully golden and crisp!
These Italian Christmas cookies are so decadently moist with a slightly tangy flavor from the ricotta cheese!
22. Salted Caramel Cookies
The only thing better than giant sugar cookies is giant sugar cookies filled with chewy caramel and flakes of sea salt!
23. Vanilla Macarons
Vanilla macarons are light and airy cookies that are even more delicious with a warm cup of coffee, hot chocolate, or apple cider!
24. Molasses Cookies
If you enjoy the warm and sweet flavor of molasses, these chewy cookies will definitely hit the spot!
25. Snowball Cookies
These buttery cookies are loaded with chopped pecans and coated in powdered sugar. They look just like snowballs, but taste much better!
26. Red Velvet Crinkle Cookies
These have the same soft texture as the classic vanilla crinkle cookies but with all the flavor of red velvet cake!
27. Oreo Balls
Oreo cookies, cream cheese, and vanilla almond bark together make these more like cake balls than cookies, but you won't hear any complaints!
28. Speculoos Cookies
Also called spekulatius, speculaas, and Biscoff, these gingerbread shortcrust cookies are delightfully crispy and wonderfully caramelized.
29. Christmas Cowboy Cookies
There's a little bit of everything in these cookies: peanuts, oatmeal, M&Ms, white chocolate chips, milk chocolate chips, coconut, these cookies have it all!
30. Whoopie Pies
Two soft cake-like cookies with sweet white cream sandwiched in between. Some people consider whoopie pies cookies while others consider them cake, but no matter what you call them they are delicious!
31. Madeleines
These delicate shell-shaped French spongecake cookies are so buttery and sweet, nobody can have just one!
32. Christmas Cake Batter Meringues
These cake batter cookies are delectably light and airy, and they can be made in bold Christmas colors if you are feeling extra festive!
33. Spritz Cookies
Buttery spritz cookies can be made in all colors, shapes, and sizes. They have a light almond flavor and as long as you don't over-bake them, they are wonderfully soft and a true joy at Christmastime.
34. Pfeffernusse
Pfeffernusse are traditional German holiday cookies that are spiced with white pepper, allspice, cloves, and cinnamon. On the outside, they can be dusted with confectioners' sugar or coated with a sweet egg-white based glaze that hardens as it sets.
35. Anise Cookies
Anise cookies are packed with fragrant licorice-like flavor from a double dose of anise extract. The flavor is mellow enough that the sweetness of the cookie shines through and creates a perfectly balanced treat.
36. Fruitcake Cookies
These tender cookies are loaded with tasty fruitcake mixed peel and glace cherries in every bite! They're easy to make and a great festive addition to cookie trays!
37. Christmas M&M Bars
If you love M&M cookies, you'll love these Christmas M&M dessert bars even more! These cookie bars are great for feeding a crowd and you can assemble them in the baking dish without having to roll, drop, or scoop them.
38. Sugar Cookie Cut-Outs
Classic rolled-out sugar cookies are the perfect choice for making holiday cut out cookies! You can make them into Christmas trees, Santa Clause, ornaments, snowflakes, you name it, then decorate your treats with the rest of your family.
39. Russian Tea Cakes
The dough of these Russian tea cakes is loaded with bits of chopped walnut which adds a satisfying texture and light crunch. A quick roll through some powdered sugar finishes off these tasty traditional Christmas treats.
40. Kringla
Soft and buttery kringla cookies may not be much to look at, but these doughy cookies are so tender and pillowy that no one will care they don't have frosting or sprinkles.
41. Kolaczki
Kolaczki are Polish cookies made by folding cream cheese cookie dough around a tantalizing fruit filling, or jam. Though they look beautiful, they only require 5 ingredients to make so they are totally beginner friendly!
42. Cream Cheese Pecan Cookies
These shortbread cookies are enhanced with the mellow tang of cream cheese and small chunks of pecan dotted throughout!
43. Candy Cane Cookies
To make candy cane cookies, red and white cookie dough is rolled into ropes before being twisted into these undeniably adorable candy cane cookies! They are flavored with peppermint extract, so you get the candy cane flavor, too!
44. Mexican Wedding Cookies
Yes, these cookies are often served at Mexican weddings but the people have spoken and they made the list of the most popular Christmas cookies! These buttery pecan cookies almost melt in your mouth they are so delicate and soft.
45. Chocolate Blossom Cookies
Peanut butter isn't the only flavor you can make your blossom cookies! Try out this double-chocolate version if you prefer a richer cookie.
46. Nutella Meringue Cookies
These pillowy-soft meringue cookies combine the beloved chocolate and hazelnut flavor of Nutella with sweet vanilla meringue.
47. Sprinkle Christmas Cookies
If no decorating required is a holiday baking prerequisite for you, then these sprinkled cookies are exactly what you'll love baking this year!
48. Poinsetta Pinwheel Cookies
These original cookies are simply stunning in any cookie platter, and they taste amazing too!
49. Chocolate Peppermint No Bake Cookies
Quick and easy no-bake chocolate cookies are wonderfully festive with a vanilla frosting and crushed candy cane topping!
50. Christmas Truffles
These cute and tasty truffles are a winning holiday recipe! They're super easy to make and everyone always wants more!
51. Iced Oatmeal Cookies
Traditional iced oatmeal cookies are a personal favorite! The homemade version is so much better than store bought!!
52. Melted Snowman Sugar Cookies
Cute and wonderfully tasty, these holiday cookies are sure to be a favorite for kids of all ages!
53. Cake Mix Gooey Butter Cookies
Cake mix cookies help to make your holiday baking easier, and these gooey butter cookies are a treat you'll be making year after year!
54. Black & White Cookies
Classic black & white cookies are a holiday favorite just as they are - I would argue that a bit of peppermint would be divine!
55. Buckeyes
These easy buckeye candies are an Ohio original that all of your Reese's peanut butter cup fans will love!
56. Christmas Oatmeal Cookies
Tasty oatmeal cookies studded with festive red and green M&M's chocolate candies for added fun and flavor!
57. Biscotti (Cranberry Pistachio)
The classic biscotti gets a hint of holiday flavor with a cranberry-pistachio blend that will impress all your loved ones!
58. Ugly Christmas Sweater Cookies
If you love ugly Christmas sweater fun, then you're sure to love these super cute cookies! They're both tasty and good for a little laugh!
59. Pecan Tassies
Delicious flavors combine in these easy to make pecan tassies! They'll get gobbled up at any time of the year!
60. Chocolate Lebkuchen Cherry Balls
A wonderfully tasty spin on a holiday classic that layers so many delicious flavors together that it's sure to be a hit this Christmas!
61. German Hazelnut Macaroons (Haselnussmakronen)
These hazelnut cookies are a great classic recipe to add to your holiday baking staples!
62. Hot Chocolate Peppermint Cookies
Get creative with these hot chocolate cookies and top them with your favorite stir-ins for a steaming cup of cocoa!
63. Pecan Shortbread Cookies
Pecan shortbread cookies are another great make-ahead cookie that you can whip up then refrigerate or freeze to slice and bake later!
64. Rugelach
Tasty rugelach are a holiday tradition in many homes that you simply won't regret trying out this year!
65. Lemon Snowdrop Cookies
You had me at lemon! 🙂 But all of your lemon fans will appreciate these tender lemon cookies coated with confectioners' sugar!
66. Christmas Icebox Cookies
Icebox cookies are a wonderful way to get some holiday baking prep done in advance! Plus, they're super tasty too!
67. Nanaimo Bars
A favorite of our neighbors to the north, these cookie bars are just so delicious that they have to be included in this list of holiday favorites!
68. Italian Rainbow Cookies
One of the most well-known Italian Christmas cookies that is a holiday must-have for families everywhere!
69. No Bake Christmas Wreath Cookies
An easy holiday treat that has become tradition for many families, this festive no-bake cornflake cookie is fun for everyone!
70. Cranberry Cookies
Cranberry fans have made these simple drop cookies a holiday favorite cookie to bake! They soft and sweet and packed with wonderfully tangy cranberries!
71. Kipplens
These classic powdered sugar coated cookies have many names, but they're all extremely popular during Christmastime!
72. Cashew Cookies
Tender, tasty cashew drop cookies are a hit with or without the easy browned butter frosting!
73. Cathedral Window Cookies
Also known as church window cookies, or stained-glass cookies, these easy cookies are a childhood favorite of mine!
74. Butter Tarts
Another wonderful classic Canadian recipe that is heartily embraced by everyone for their amazingly rich taste!
75. Amish Buttermilk Cookies
Add some tangy buttermilk to these easy drop cookies to see just what makes them so popular for yourself! The flavor and texture are amazing!
76. Jeweled Coconut Drops
I love thumbprint cookies of any kind, and these coconut coated jewel drops are no exception! Add your favorite fillings to customize your cookies!
77. Italian Chocolate Spice Cookies
Italian drop cookies with a tender cake-like consistency that is filled with a perfect amount of warm baking spices!
78. Mint Thins (Homemade Thin Mints)
Make your thin mints at home for an even tastier version than anything you can get in the store!
79. Kourabiedes
One of my favorite Greek christmas cookie recipes! These easy-to-make butter cookies are melt-in-your-mouth delicious!!
80. Eggnog Snickerdoodles
Eggnog + Snickerdoodles = something uniquely wonderful for all of your Christmas cookie trays! Keep them simple, or dip and decorate!
81. Potato Chip Cookies
Did you vote on your favorite Christmas cookies?? Plenty of you shared that this potato chip chocolate chip cookie is a family must-have for all holiday baking!
82. Cuccidati (Italian Fig Cookies)
Another great Italian cookie to bake up this Christmas season! The tender cookie is absolutely tasty and pairs perfectly with the fig filling!
83. Frosted Christmas Cookies
A super easy drop sugar cookie recipe that's topped with rich and creamy vanilla buttercream frosting and a festive assortment of holiday sprinkles!
84. Peppermint Meltaways
A super simple 5-ingredient cookie that 'melts' in your mouth! Top these dainty cookies with a bit of frosting and crushed candy cane for a peppermint cookie hit!
85. Holiday Rum Balls
One of my childhood faves! I always felt like I was sneaking into the adult goodies when I noshed on these tasty treats!!
86. Pistachio Cream Cheese Cookies
Tender, tasty, and pistachio green drop cookies that everyone will enjoy! Add a red Grinch heart if you want to surprise the kids in your life!
87. Christmas Sugar Cookie Bars
Everyone's favorite Christmas cookie baked in a 9x13 pan and topped with plenty of creamy frosting and Christmas sprinkles!
88. Red Velvet White Chocolate Chip Cookies
Tender red velvet cookies that are packed with plenty of white chocolate chips! Add some holiday mini M&Ms for more color or bake them as-is, either way they're going to be a hit!
89. Cranberry Orange Crinkle Cookies
Another personal favorite since I just love the cranberry-orange combination and making crinkle cookies of all flavors!
90. Oatmeal Craisin Cookies
I can never skip these amazing craisin cookies! The dried cranberries are a perfect alternative to raisins and make these classic oatmeal cookies perfect for sharing at Christmastime!
91. Nutter Butter Snowmen
Time to get crafty! Grab some Nutter Butter cookies to make these fun snowmen without actually doing any baking!!
92. Gingerdoodles
Gingerdoodles are an amazingly perfect combination of gingerbread and snickerdoodle cookies! You're sure to love everything about these delicious, easy drop cookies!
93. Christmas Gumdrop Cookies
These fun drop cookies are a festive delight for everyone! Soft, chewy cookies pair perfectly with red and green Christmas gumdrops candies!
94. Haystack Cookies
Another no-bake treat that is well received on any cookie platter at any time of the year! These sweet and salty haystacks are sure to please everyone!
95. Christmas Eggnog Meringue Cookies
Airy meringue cookies made with eggnog are the perfect holiday treat to bake up this Christmas season! Even people that aren't fans of eggnog rave about them!
96. Eggnog Sugar Cookies
Another great eggnog cookie to make! These easy drop cookies are perfectly spiced and topped with an eggnog buttercream frosting!
97. Maraschino Cherry Chocolate Chip Cookies
My favorite Christmas treat is cherry cordials - and these easy chocolate chip cookies have that delightful chocolate cherry combo in every bite!
98. Chocolate Chip Rolo Cookie Cups
Tender, tasty cookie cups that are made with chocolate chip cookie dough and baked in mini muffin tins. The Rolos candies are added after baking to make a soft caramel filling!
99. Christmas Cake Mix Cookies
Fantastically colorful cake mix cookies that everyone can bake, no matter their baking experience! They turn out beautifully!
100. Polar Bear Paw Print Cookies
These polar bear paw print cookies are quickly becoming one of my most requested cookie recipes so they had to make the list!
Chocolate cookies are topped with a dab of frosting, shredded coconut, and the paw prints are made with York peppermint patties and brown M&Ms candies.
🍪 Helpful Cookie Guides
Before you get to baking, be sure to check out all of the useful information in my various cookie guides.
From proper storage to utilizing every last bit of cookie dough, these tips and tricks will help you get the most out of your Christmas cookies!
Be sure to take a look at my Christmas fudge recipes for more indulgent holiday treats!
🎄 Bonus: Christmas Candy
>>>>See all of my recipes HERE<<<<
🎅 More Christmas Recipes
I hope you enjoyed the recipes on this list of the 100 best Christmas cookies! Let me know which cookies are your favorite in the comments below!
📋 Recipe