Learn how to host a cookie swap party so that you can enjoy a fun and tasty event with all of your friends and family! From invitations to cookie ideas and even party supplies, I'm going to walk you through the party planning process every step of the way! I'll even share my favorite cookie recipes for the occasion!
Complete Guide To Hosting A Cookie Exchange
Holiday baking is one of my favorite hobbies during the chilly months. There are so many tasty Christmas desserts to make, but not enough time to make them all! Cookie swap parties allow you to try all of your favorite Christmas cookies without having to bake all of them yourself!
This guide will show you all the ins and outs of hosting this fun, holiday event. It is such a fun get-together that it's bound to become a new holiday tradition!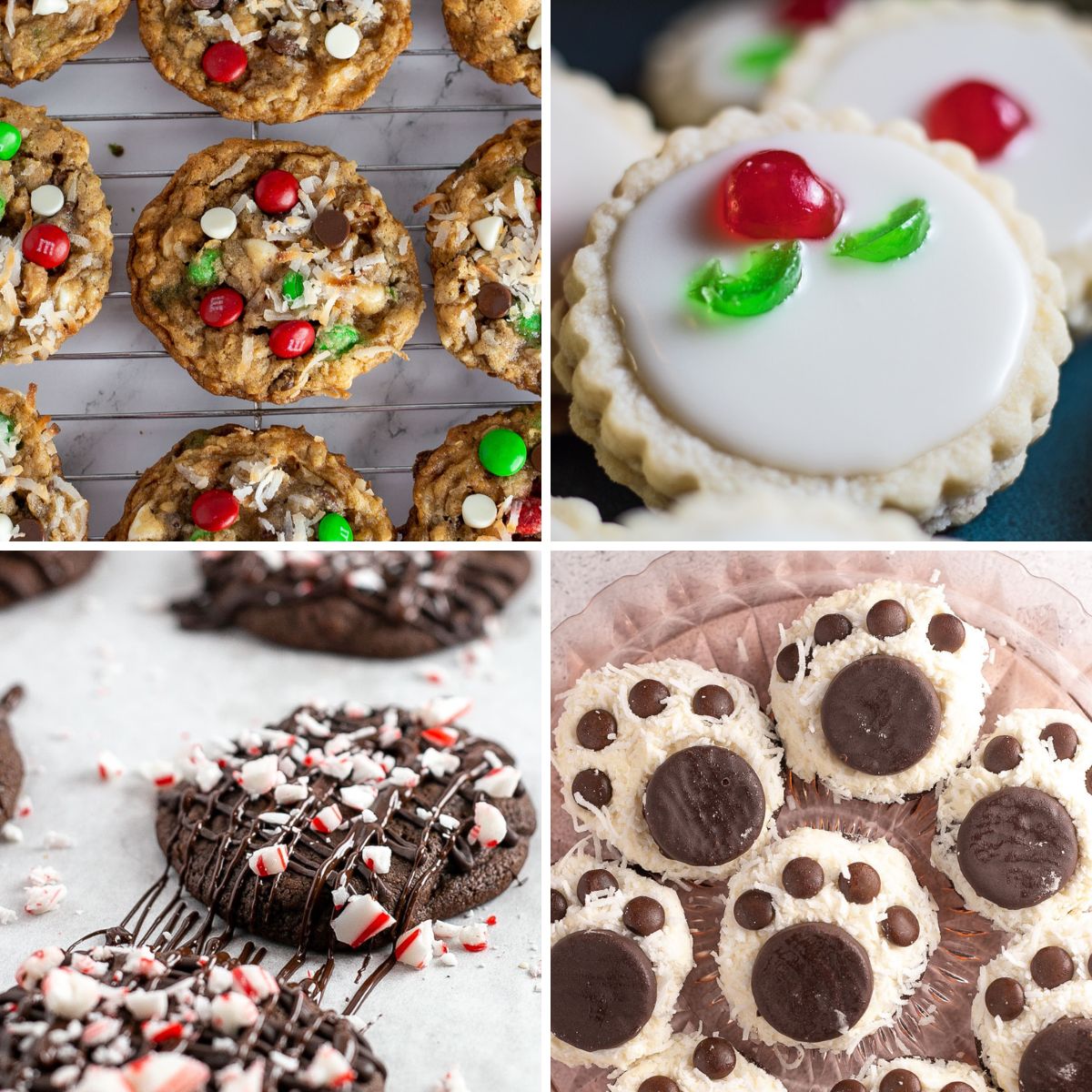 Jump to:
If baking gets you in the Christmas spirit, be sure to check out all of my holiday baking recipes! There are cookies, cakes, pies, fudge, candy, and so much more to try!
What Is A Cookie Swap?
A cookie swap (or cookie exchange) is a festive party in which all of the guests bring homemade Christmas cookies! This gives everyone a chance to try out some new kinds of cookies, as well as some favorites, get new recipes, and even take home a box of all of their favorite treats!
🗓️ One Month Before The Party
All-in-all, you should begin preparing for your cookie exchange about 1 month in advance. This will give you plenty of time to prepare all of the details, make the guest list, and (of course) bake cookies!
Make Your Guest List
While you may want to invite everyone you know to this fun event (hey, more cookies, right?), it's better if you tone it back a bit. Don't forget that everyone will need to be baking for a crowd, so you don't want it to be overwhelming.
In general, cookie swaps work out best when you plan for 8-10 guests (plus yourself). Of course, your living space should also be able to accommodate the number of individuals you will be inviting.
Finally, keep in mind who actually enjoys baking! This is a party where all of the guests participate, so you may want to hold off on inviting friends that may be stressed at the thought of whipping up cookies for a group of people (unless you are okay with store-bought cookies).
Decide The Rules
When it comes to a cookie swap, it's helpful if there is some sort of structure and guidance in place that you can pass along to your guests. This is extremely lenient, and you can decide on as many expectations as you like (or none at all!)
Consider these points when deciding how you want to structure your event.
What qualifies as a cookie? Can your guests bring other finger-food desserts (like fudge, Rice Krispies treats, or candies?)
Are these strictly homemade cookies only? Or, can your guests bring store-bought cookies? Remember who is on your invitation list and whether or not they will want to participate in baking.
Is there a specific number of cookies that your guests need to bring? Be sure to let them know!
Send Invitations
When it comes to choosing a date and sending invitations, try to be mindful of your guests' busy schedules during the holiday season. I recommend sending invitations out a month in advance.
Make sure to choose a date that you think most of your guests will be available (and feel free to ask around before deciding on a date!) Of course, be reasonable with yourself as well. If you would find it easiest to host a party on a Sunday morning instead of a Thursday evening, then do it!
You can choose to do your invitations however you like! You could go old-school and send out paper invitations in the mail, make an electronic e-vite that gets sent to an email address, or anything in between!
Invitation Details
Make sure to include all of these important details on your cookie swap invitations!
The purpose of the get-together (Christmas cookie swap!)
Date & Time (If you have a set end time, be sure to include that as well.)
Location, including the full address.
What your guests are expected to bring.
Specify any rules or expectations.
If any of your guests have allergies (you don't want someone bringing peanut butter cookies if you have a guest with a peanut allergy.)
Whether or not kids are also invited.
RSVP information (as well as a deadline to RSVP).
Plan Your Cookies
Considering the whole theme of a cookie swap party is cookies, you really need to know which kind you are going to make. I like to coordinate my cookies with my guests so that there aren't any duplicates. Simply speak with your guests and ask them what kind of cookies they are planning on bringing, just to make sure you don't wind up with a ton of one kind of cookie.
Of course, you don't have to coordinate this at all, and can leave it completely up to chance!
What Are The Best Kinds Of Cookies For A Cookie Exchange?
The best kinds of cookies for a cookie swap are the ones that you love the most! The point of the party is to share your favorite cookies (and the recipes) with your friends. As long as the cookies can be transported, there are no rules here!
Here are some of my favorite cookies to bring to a cookie swap party.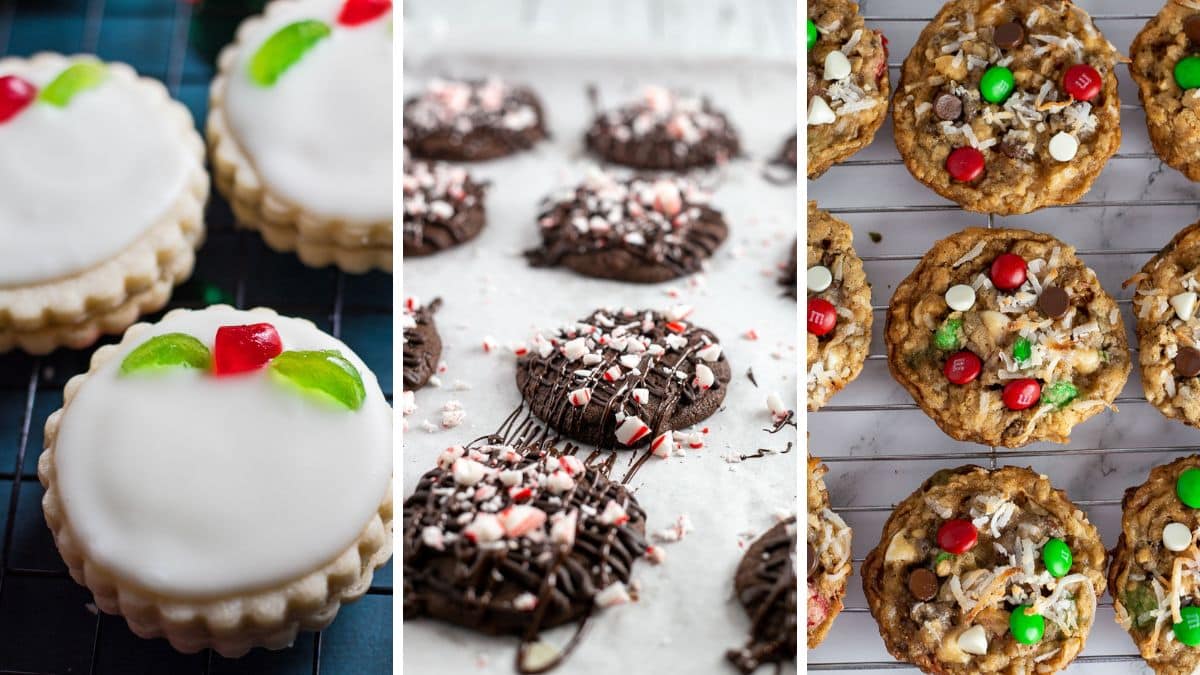 🗓️ 2 Weeks Before The Party
Follow Up On RSVPs
Go ahead and reach out to your guests if they haven't sent in an RSVP. At this point, you should have a good idea as to what cookies everyone is bringing and whether or not there are duplicate ideas.
Collect Cookie Recipes
One of my favorite parts of a cookie swap party is getting to find new cookie recipes! Not only do you and your guests get to taste all of the delicious treats, but you get to take home the recipe so you can make them yourself!
Ask your guests to send you their recipes so that you can print them out for everyone to take home afterward!
What's The Best Way To Share The Recipes?
You can get as creative as you like when it comes to sharing cookie recipes. It can as simple as sending them out in an email after the party. Or, you can print each one out and give them out as a party favor.
You can also make the recipes into a menu and hand that out. If your cookie swap is an annual tradition, you could even assemble the recipes into a fun cookbook!
Shop For Party Supplies
Whether or not you want to decorate for your cookie swap party is completely up to you. However, there are some things you should pick up even if you aren't adding decorations.
Make sure you have some serving trays or plates for your cookies. You can use a tiered cake stand for a sophisticated display or create a long row of platters for a more buffet-style approach.
You'll also need some type of tins or boxes for guests to take home their cookies!
Make A Menu
Depending on the style of party you are going for, you may want to offer other food or snack options alongside the cookies. Plan for some tasty appetizers or snacks as well as refreshments (alcoholic or not).
You can get crafty with this and make a coffee, tea, or hot chocolate station so that your guests can serve themselves. Maybe you want to serve some chilled wine or have a big punch bowl?
Go ahead and plan out all of your snacks and beverages so you'll know what you need to prepare. And remember, always have some non-alcoholic choices (or mocktails) for kids and non-drinkers!
Party Appetizer Ideas
Beverage Ideas
Hot Chocolate Station
Tea Station
Don't Forget About The Kids
If your party includes inviting children, make sure they will be entertained! You can set up some plain sugar cookies that have been cut into different shapes and make a decoration station.
Additionally, you could grab a few gingerbread house kits and let them have fun building and decorating them!
Entertainment
There is no requirement that you have to come up with party games or activities. However, if you want to, here are a few fun ideas!
You could have a cookie decorating station with some sugar cookies and icing. Additionally, you could have some crafts set up so that people could decorate ornaments for their Christmas trees!
Alternatively, if you want a fun activity that doesn't take time away from mingling, you could give out fun awards for things such as 'best tasting cookie', 'most unique', or 'best-looking cookies'! Have your guests vote on the winners and give out a small prize at the end of the party!
🗓️ 1 Week Before The Party
Create Labels
You'll want to make some labels for all of the cookies that your guests will bring! These will need to include the name of the cookies, important allergen information that your guests may need to know about, as well as who the amazing baker is!
You can find some fun templates online where you can type in the information and print it out. Or, you can handwrite some cute labels or even just use sticky notes.
Of course, you can hand your guests some blank labels and have them fill them out themselves as they arrive.
🗓️ 3 Days Before The Party
Go Shopping
Now is the time for your big shopping trip! Make a list beforehand so that you don't forget anything (and have to make multiple trips).
You'll want to pick up all of the ingredients that you will need for your cookies as well as any refreshments, snacks, or appetizers you will be serving. Don't forget to pick up a bag of ice as well for keeping drinks chilled.
🗓️ 1-2 Days Before The Party
Bake
The time has come to whip up your favorite batch of cookies for the party! Make sure to allow them to cool off completely before storing them. Place your cookies into an airtight container and keep them at room temperature so that they stay fresh.
If you are making plain sugar cookies for decorating, now is the time to make those, too!
Prepare Food
This is also the time that you will need to prepare any food that you may be serving. Take a look at each recipe to see how far in advance you can prepare it as well as how to properly store the dishes.
Decorate
If you are planning on decorating, go ahead and throw up all of your festive decor and fun decorations! You can also lay out any tablecloths you may want to use as well as the platters where the cookies will be placed.
🗓️ Day Of The Party
Finishing Touches
Finish up any last-minute decorating that may need to be done (like lighting the fireplace or candles). Make sure all of the serving platters, glasses, and dishes are clean and dust-free.
Bonus tip: Go ahead and completely empty out the dishwasher for a quick cleanup later!
Don't forget to set up the kid's area if you have one!
Get Food Ready
Reheat any dishes that need to be heated and place them in their serving dishes with their proper utensils. Set out your cookies with their label and get refreshments ready as well.
Place Take-Home Items
Prepare your packaging so that guests can take their cookies home and set them out. Place the recipe cards alongside the take-home containers so that everything is ready once guests begin to leave!
How Should You Package The Cookies?
For take-home packaging, you can be as simple or extravagant as you like. You could opt for some plain Ziploc bags, use bakery boxes, or cookie tins. Paper sleeves, ribbons, bows, and treat bags are a great way to add some fun and festive touches!
❓ FAQ
How Many Cookies Do You Need For A Cookie Exchange?
The answer to this question is highly variable. Some people just bring one or two cookies for each guest, while others would rather bring a whole dozen for each person! Whatever you choose, make sure that your guests are aware so that they know how many cookies to bring.
Should You Serve Food At A Christmas Cookie Swap?
Ideally, you want your guests to leave with a stash of cookies and not eat them all while at the party. So, it is a good idea to have some snacks on hand.
Do You Need To Decorate For A Cookie Swap?
Odds are, your house is already looking pretty festive for the holiday season. Whether or not you want to add on some extra decorations (like tablecloths) is totally up to you!
🍪 More Cookie Recipes
I hope this guide showed you everything you need to know about hosting an awesome cookie swap party! Leave a comment down below and let me know what cookies are your favorite to bring!
📋 Recipe
Print Recipe
Leave A Comment
Love This Recipe?
Click On A Star To Rate It!
How To Host A Cookie Swap Party: Chocolate Peppermint Cookies (+Everything You Need To Know!)
Learn how to host a cookie swap party so that you can enjoy a fun and tasty event with all of your friends and family! From invitations to cookie ideas and even party supplies, I'm going to walk you through the party planning process every step of the way! I'll even share my favorite cookie recipes for the occasion!
Pin Recipe
Share on Facebook
Ingredients
¾

cup

butter

(softened, at room temperature)

½

cup

sugar

½

cup

light brown sugar

(packed)

1

large

egg

(at room temperature)

1

tablespoon

vanilla extract

1

teaspoon

baking soda

¼

teaspoon

salt

½

teaspoon

espresso powder

(optional)

1½

cups

all-purpose flour

(spoon and leveled)

½

cup

dark chocolate cocoa powder

(sifted)

1½

cups

dark chocolate chips

1

cup

white baking chocolate

1

cup

semisweet baking chocolate

¼

cup

candy canes

(crushed)
Instructions
Get ready by preheating your oven to 350°F (175°C).

In a mixing bowl with a hand mixer, or in the bowl of your stand mixer, cream together your butter, white granulated sugar, and brown sugar until nice and smooth.

¾ cup butter,

½ cup sugar,

½ cup light brown sugar

Next, add in the room temperature egg, vanilla extract, baking soda, salt, and optional espresso powder and mix until everything is combined and smooth. Then, slowly add in the flour and cocoa powder until a soft dough forms.

1 large egg,

1 tablespoon vanilla extract,

1 teaspoon baking soda,

¼ teaspoon salt,

1½ cups all-purpose flour,

½ cup dark chocolate cocoa powder,

½ teaspoon espresso powder

Gently fold in the dark chocolate chips.

1½ cups dark chocolate chips

Prepare your cookies by rolling the dough into equal-sized balls and then placing them onto your baking sheet. Gently flatten the cookies using the bottom of a cup.

Bake the cookies in the oven at 350°F (175°C) for 7-9 minutes, or until they have puffed up and are no longer shiny.

Remove the cookies from the oven and allow them to cool completely.

While the cookies are cooling, place your white baking chocolate into a microwave-safe bowl and heat it in 30-second increments, stirring in between, until melted. Drizzle the melted white chocolate over the cookies.

1 cup white baking chocolate

Repeat this process with the semisweet baking chocolate. Drizzle it over the cookies and then immediately top the cookies with the crushed candy canes.

1 cup semisweet baking chocolate,

¼ cup candy canes

Allow the chocolate on the cookies to set completely before serving.
Equipment You May Need
Notes
Room-temperature ingredients are the secret to really smooth cookie dough! They also bake more evenly and quickly.
You can crush your candy canes by placing them into a zip-top storage bag and rolling a rolling pin over them or pressing on them with a skillet.
Adding the espresso powder will make the chocolate flavor of the cookies really pop!
To store: In a sealed container, your cookies can be kept at room temperature for up to 3 days. 
To freeze: These cookies are best frozen before adding the chocolate drizzle or candy canes. Once completely cool, freeze them on a baking sheet for 1-2 hours and then transfer them to a storage bag. They can be frozen for up to 8 months. Simply allow them to thaw at room temperature before adding on the drizzle and candy canes.
Nutrition
Calories:
254
kcal
(13%)
|
Carbohydrates:
29
g
(10%)
|
Protein:
3
g
(6%)
|
Fat:
14
g
(22%)
|
Saturated Fat:
10
g
(63%)
|
Polyunsaturated Fat:
0.5
g
|
Monounsaturated Fat:
3
g
|
Trans Fat:
0.2
g
|
Cholesterol:
25
mg
(8%)
|
Sodium:
138
mg
(6%)
|
Potassium:
176
mg
(5%)
|
Fiber:
2
g
(8%)
|
Sugar:
18
g
(20%)
|
Vitamin A:
195
IU
(4%)
|
Vitamin C:
0.1
mg
|
Calcium:
60
mg
(6%)
|
Iron:
1
mg
(6%)
chocolate peppermint cookies, cookie swap, hosting a cookie exchange, how to host a cookie swap, how to plan a cookie swap party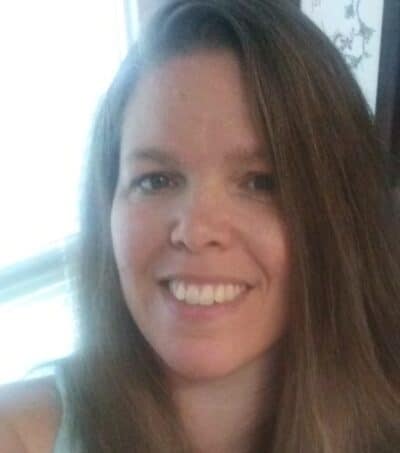 Angela is an at home chef that developed a passion for all things cooking and baking at a young age in her Grandma's kitchen. After many years in the food service industry, she now enjoys sharing all of her family favorite recipes and creating tasty dinner and amazing dessert recipes here at Bake It With Love!