The holidays are here and we're counting down with our 25 Days of Christmas Cookies to get your holiday baking season started right! From classic favorites to popular cookies and cookies that are just incredibly fun - there's something for everyone!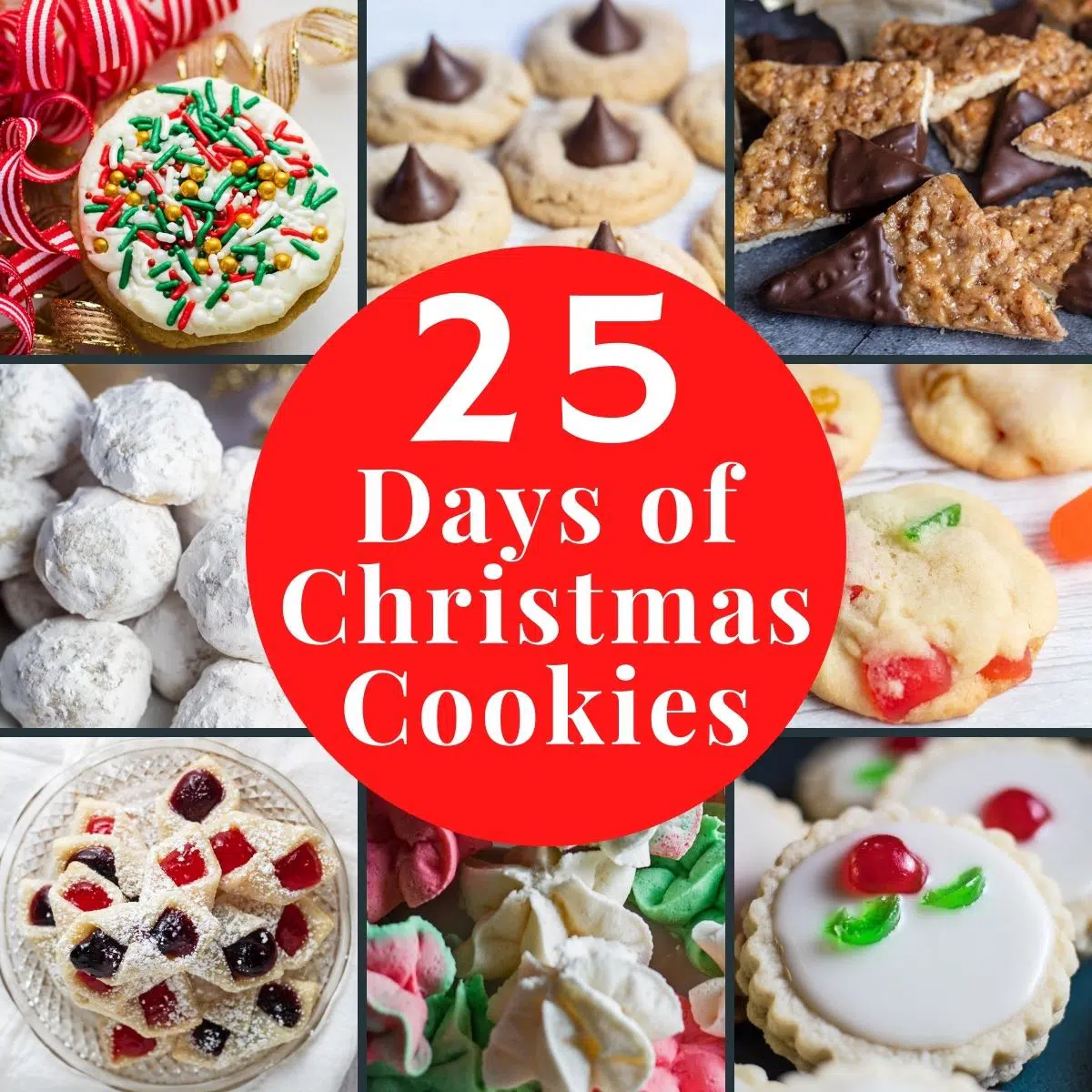 All of the best tried and true cookie recipes that you can bake up to wow family and friends this holiday season!
Get inspired as we bake our way to Christmas day with a wonderful set of 25+ Christmas cookies to help you celebrate! There are so many great cookies to choose from - or don't choose and just bake them all!!
Jump to:
Best 25 Days of Christmas Cookies
Start your holiday baking off now and join in on the festive Christmas cookie countdown as we get closer to Christmas day!
1. Christmas Cookies
Bake up these wonderfully easy drop sugar cookies and top each off with a good portion of frosting. Sprinkle my festive mix or use your favorite holiday sprinkles to add that finishing touch!
They're one of my favorite easy Christmas sugar cookies to make! If you're looking for a great rolled sugar cookie that doesn't require chilling, you can also use my no-chill sugar cookie recipe!
2. Vintage Betty Crocker Sugar Cookies
In case you've missed my tales of baking when I was young, you should know that this was my Grandma's favorite sugar cookie recipe. We baked these perfect sugar cookies up each year when I was young and I have carried this tradition forward for over 30 years!
My classic sugar cookies (an all-butter sugar cookie) are a runner-up and always leave me wondering which recipe I'll use each year!
3. Christmas M&M Cookies
An incredibly easy-to-make drop cookie featuring delightfully bright red and green M&M's candies! No decorating required - just mix and bake!
All the kids are sure to enjoy this familiar favorite!
4. Empire Biscuits
A tasty favorite that you need to try! If you've never had Empire biscuits (also called Empire cookies, or Imperial cookies, plus a whole lot of other names) you are truly missing out!
The incredibly tender shortbread sandwiches are stuffed with jam that soaks into the cookies making these biscuits highly addictive!
5. Fruitcake Shortbread Cookies
I love making shortbread cookies during Christmastime baking! Shortbread requires few ingredients and is always easy to mix and bake to perfection!
The addition of a festive fruitcake blend of candied fruit makes these tender cookies a holiday hit! Be sure to see the equally tasty fruitcake shortbread squares with icing too!
6. Kringla
Kringla are pillowy soft Christmas cookies that I grew up enjoying when visiting my great-grandmother's home during the holidays! Her Norwegian baking was OUTSTANDING and I have yet to perfect a few of her recipes - but I sure love trying!
That's not the case with these Scandinavian Christmas cookies though! They're wonderful, tender, and tasty without being an overly sweet treat.
7. Russian Tea Cakes
Fabulously tasty Russian tea cakes (or snowball cookies) are a quick cookie to make during your holiday season! They're perfect for sharing with friends and family as part of a cookie swap or dessert plate during your gatherings!
These tender cookies feature crushed walnuts in the center for a great flavor and texture! Roll them in confectioners' sugar once cooled to complete this very popular Christmas cookie!
8. Melting Moments
Another wonderfully soft cookie that literally melts in your mouth is these tender melting moments cookies! Whether you dust them with confectioners' sugar or sandwich them together they're just SO GOOD!
Add these to your list of 'must-have' baking ideas and double or triple the batch! They're super easy and they'll disappear fast!
9. Kolaczki
Oh my gosh! Talk about a super tasty cookie that combines tender, tangy dough with convenient ready-to-use pie fillings for a combo made in heaven!
Perfectly sweet kolaczki never last long on a Christmas cookie tray! They're so good that it's just impossible to only eat one, or even two!
10. Italian Ricotta Cookies
Delightfully tangy Italian Christmas cookies are a tender, cake-like cookie that combines so many wonderful flavors! Add some icing and a dash of color with festive Christmas-colored sprinkles, nonpareils, or holiday-shaped sprinkles to make them complete!
11. Peanut Butter Blossoms
This is a holiday favorite for everyone! The classic peanut butter blossom is one of the most loved cookies to make, share, and enjoy during Christmastime that it simply had to be included in our 25 Days of Christmas Cookies!
12. Vanilla Crinkle Cookies
Soft, moist, and loaded with vanilla flavor in a fun-to-make crinkle cookie! Vanilla crinkle cookies are an easy-to-make cookie that everyone will love!
13. Christmas M&M Bars
This is a favorite Christmas treat for packing and traveling to parties! Plus everyone loves the tasty cookie bars that feature festive red and green holiday M&Ms along with white chocolate chips and even more!
14. Nussecken
Hazelnut fans, stop scrolling! These traditional German Christmas cookies are a delightfully tasty treat of tender shortbread cookie base and hazelnut-rich caramelized topping!
As if they could get any better - they're not done until they're dipped into chocolate! How much is dipped is completely up to you!
15. Gumdrop Cookies
Every year I make these fun, bright, and delicious cookies and every year the results are the same - everyone wants the recipe! Since these are an easy drop cookie to make, you'll have no reason not to pop some in the oven too!
16. Oatmeal Craisin Cookies
Take your oatmeal cookies to next level with this delicious twist on the classic oatmeal cookie! I think the cranberry and cinnamon make these perfectly suited for serving starting Thanksgiving Day!
17. Peanut Butter Pecan Cookies
Chewy peanut butter and pecan cookies that are loved by everyone that tries them! These cookies are such a popular favorite for the holidays that they are always requested by friends and family!
18. Snickerdoodles
Some timeless classics have to be included in my Christmas cookie countdown, and this early Betty Crocker cookie definitely has earned its spot! Each tender snickerdoodle cookie is coated with just the right cinnamon sugar ratio!
19. Oatmeal Molasses Cookies
Rich, chewy, and incredibly delicious oatmeal molasses cookies are a family favorite that I have been baking since I was barely able to reach the countertop! It's a family recipe that is treasured (and oh-so tasty)!
20. Chocolate Chip Cookies
The incredible Nestle Toll House chocolate chip cookie is always appreciated when sharing cookie trays and platters! It's a safe bet that pretty much everyone can agree on how good this well-loved cookie is!
21. Eggnog Sugar Cookies
I love baking with eggnog! And these tasty sugar cookies are exactly what they should be - super soft, and ridiculously delicious!
22. Chocolate Macaroons
This is one of those amazing cookies that you just don't appreciate until you make it! Don't just take my word for it - try it, you'll be hooked at the first bite!
23. Christmas Cake Batter Meringues
Easy meringue cookies in holiday colors (or whatever color and flavor combo you like)! They're versatile, easy enough to let the kids help out with, and fun to pop in your mouth and eat!
24. No-Bake Chocolate Peppermint Cookies
Make a little upgrade to your classic no-bake cookie with this rich peppermint frosting that everyone will love! Add crushed candy canes for the perfect finishing touch!
25. Eggnog Meringues
I said I love baking with eggnog (and there's more coming to the blog soon)! These tasty, melt-in-your-mouth meringues are another wonderful reason to whip up some eggnog!
Bonus: Christmas Candies!
I certainly hope that you enjoy this Christmas cookie countdown for 2021 and that you'll be baking with your family soon (if you haven't already started)! Let me know what you holiday must-have cookies are to include in next year's 25 Days of Christmas Cookies!
Merry Christmas, Happy Holidays, Happy New Year's and may 2022 bring you nothing but the best - good health and happiness to all!
📋 Recipe