These Italian Christmas cookies come in a wide variety of delicious flavors that are perfect for sharing with friends and family! They make a great addition to any cookie tray or holiday dessert spread. You can even gift these homemade Italian cookies to neighbors and coworkers to spread some Christmas cheer!
Best Italian Christmas Cookie Recipes To Bake
What better way to show your loved ones you care than by baking up some classic Italian Christmas cookies this holiday season? These traditional Italian recipes include everything from crisp biscottis to soft ricotta cookies!
Not only are these cookies great for snacking, but they make beautiful gifts as well as fantastic additions to any holiday dessert spread. Spread some holiday cheer this year with these unique and enjoyable Italian cookies!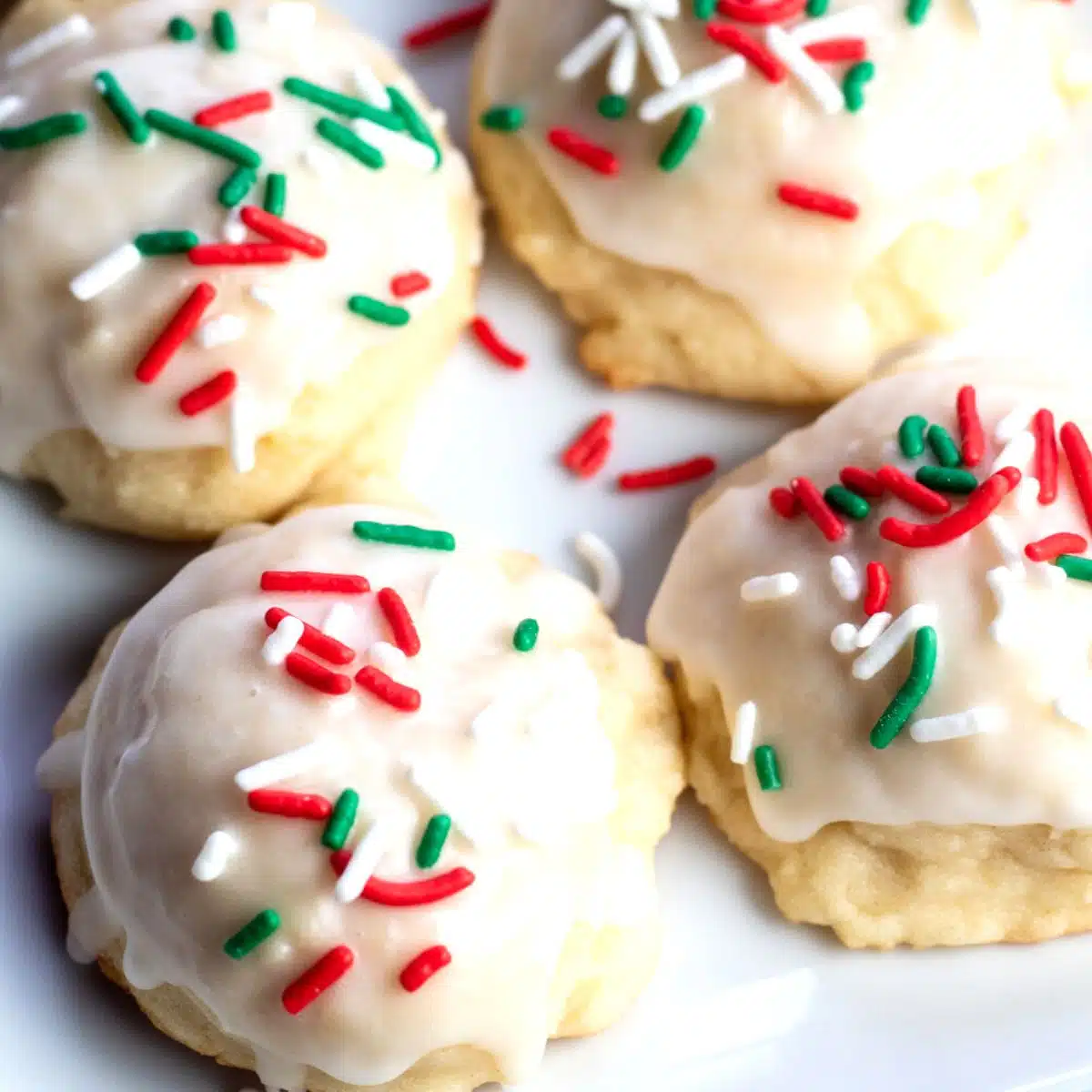 Jump to:
Most Popular Italian Christmas Cookies
These recipes include some of the most beloved holiday cookies from Italy. You may be familiar with some of these recipes, and some may be totally new, but they are all delicious!
If you love holiday baking, take a look at my easy Christmas dessert recipes or try following my 25 days of Christmas cookies challenge!
1. Italian Ricotta Cookies
These Italian ricotta cookies are soft due to the added moisture from the ricotta cheese. It also adds a slightly tangy flavor to the cookies that balance out their sweetness wonderfully!
2. Neapolitan Cookies
Neopolitan cookies don't require any decorating because they are beautiful as-is! There are 3 layers: one layer is chocolate, one is loaded with walnuts, and one has a sweet almond flavor.
3. Pignoli Cookies
Pignoli cookies are a common confection throughout all of Italy, particularly in the south. These cookies are chewy with a lovely golden color and a crunchy pine nut coating!
4. Torcetti
Torcetti are light and flaky Italian yeast cookies. The dough is twisted to give them their signature shape, and just before baking, they are rolled in sugar to give them a sweet crunch!
5. Italian Butter Cookies
These supremely buttery cookies can be found in cookie tins and grocery store bakeries, but they are often sandy and dry. Once you try them homemade, you will never go back!
Oftentimes, you will find jam sandwiched between two of these cookies. They also usually have rainbow sprinkles!
6. Biscotti
Biscotti are crisp Italian almond cookies that pair wonderfully with hot chocolate, tea, or coffee. They come in a wide assortment of flavors. These cranberry pistachio biscotti are perfect for Christmas!
7. Italian Fig Cookies (Cucidati)
Cucidati are traditionally made during Christmastime. The fillings vary in that some include nuts while others do not, some have chocolate added while many don't, and some recipes even call for wine or coffee (and many call for brandy). At their core, they are cookies with a spiced fruit filling and a sweet citrus glaze.
8. Chocolate Amaretti
Amaretti cookies are soft and chewy without being overly sweet. They combine rich chocolate and almond flavors for a delightfully well-balanced cookie! It's hard to believe these Amaretti cookies are dairy and gluten-free!
9. Pizzelle
Pizzelle are beautifully ornate waffle cookies that make an excellent addition to any cookie tray. A sprinkle of powdered sugar over the top makes them look like giant snowflakes!
You do need a pizzelle press to get them just right, but they are easy to find at retailers such as Target, Amazon, and Bed Bath & Beyond.
10. Pizzicati Pinch Cookies
Pizzicati cookies are buttery and crunchy with a sweet filling inside. 'Pinch' cookies get their name because you simply pinch the dough closed!
Pizzicati filling is usually jam, though chocolate or Nutella can also be used.
11. Italian Lemon Cookies
There is no shortage of flavor in these Italian lemon cookies! First, lemon zest is mixed into the cookie dough.
Then, the baked cookies are dipped into a sweet lemon glaze. Finally, you top them off with even more lemon zest! Talk about a lemon-flavored cookie!
12. Italian Rainbow Cookies
These amaretto cookies have 3 colored layers like Neapolitans. The difference is that these cookies are more like amaretto sponge cake than they are traditional cookies. The bottom 2 layers are coated with apricot preserves, and the top is coated in chocolate!
13. Florentine Cookies
Crisp cookies made with chopped almonds, candied oranges, and vanilla. They are crunchy with a flavor similar to toffee that pairs well with coffee or tea.
14. Befanini
Befanini cookies are cut-out cookies that originated in Tuscany. These simple cookies are made with butter, flour, sugar, eggs, and just a pinch of salt. Sprinkle some colored sugar crystals or nonpareils on top for color, and enjoy!
15. Cenci Cookies
Cenci, or Italian bowties, are basically sweet, crispy ribbons of dough. The dough is rolled out nice and thin, cut into these wavy ribbons, and deep-fried. Finally, they are topped off with a dusting of powdered sugar. Be careful, because nobody can eat just one!
16. Italian Sugar Cookies
Italian sugar cookies are soft cake-like cookies with a smooth buttery flavor. A touch of anise is added to give the cookies a lightly spiced element. Top them off with an easy glaze and some nonpareil sprinkles for color!
17. Italian Honey Balls (Struffoli)
Struffoli are small, deep-fried balls of dough that are about the size of a marble. The outside is crispy, and the inside is somewhat soft. They are coated with warm honey before being topped off with sprinkles and sometimes nuts (hazelnuts in this case). Yum!
Was one of your favorite Italian Christmas cookies missing from this list? Let me know in the comments below so I can give them a try!
🎄 More Holiday Baking
📖 Recipe Card