These Christmas casserole recipes are family favorites dishes that are easy to make and perfect for feeding a crowd! They are the perfect way to whip up a last-minute meal for breakfast, lunch, or dinner! Just grab your ingredients, combine them in a casserole dish, and bake!
Best Christmas Casserole Recipes To Make For Christmastime 2022
Casseroles are perfect for the holidays because once you combine the ingredients the oven does all the work! There is usually very little prep time, so they can quickly be thrown together last minute.
There are plenty of options for breakfast, lunch, or dinner. Pop one of these casseroles in the oven and enjoy the holiday festivities with your loved ones while it bakes!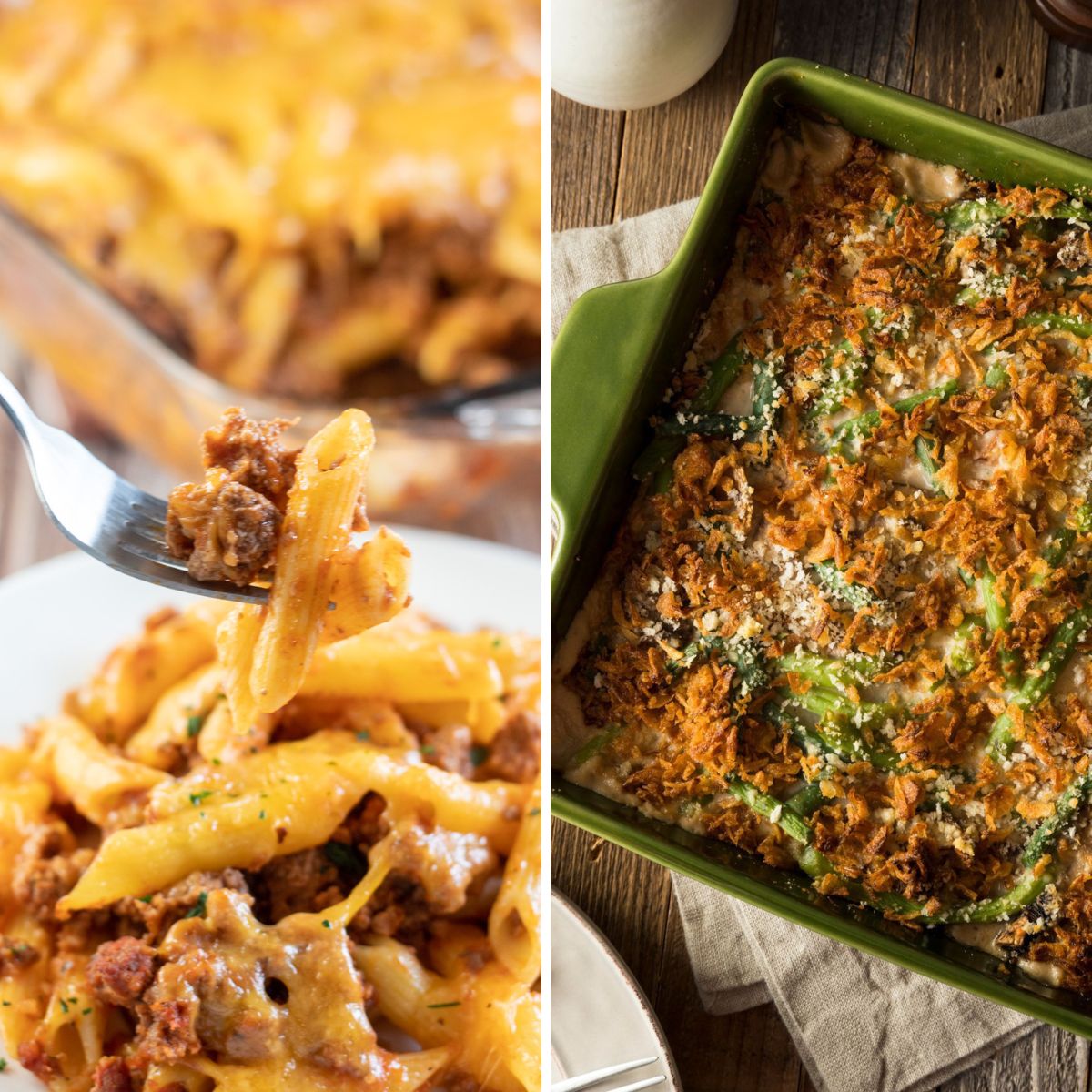 Jump to:
Holiday Casseroles
Casseroles are a beloved way to make a hearty dinner with ease. They generally serve 6-10 people and many times can be prepared in advance so you only need to bake them when you need them!
If this is your first time hosting dinner for the holidays, check out my Christmas guide for a step-by-step timeline for preparing Christmas dinner!
1. Green Bean Casserole with Bacon
Green bean casserole isn't only reserved for Thanksgiving. With tender green beans, a creamy cheese sauce, savory bacon, and a crispy Parmesan breadcrumb topping, it's a hit on any holiday!
You can even make this casserole in advance to cut down on your time spent in the kitchen even more. Build your casserole as directed but leave off the topping until it's time to cook, then cover it with foil and refrigerate until ready to bake.
2. Mashed Potatoes Casserole
This is the perfect day-after-Christmas casserole! Repurpose your leftover mashed potatoes into this creamy, cheesy mashed potato casserole.
Of course, you can make it from scratch, too. It's a nice alternative to regular mashed potatoes and it even has a crispy breadcrumb topping!
3. Potatoes Dauphinoise
Potatoes dauphinoise is an elegant potato side dish that is perfectly suitable for a formal Christmas dinner. These cheesy au gratin potatoes are creamy and indulgent, yet surprisingly easy to make!
Save some time by slicing the potatoes in advance and keeping them submerged in water and refrigerated for up to 24 hours. I often add some nutmeg to make these potatoes extra festive!
4. Cauliflower Mac & Cheese
Cauliflower mac & cheese is just as rich and indulgent as the pasta version, but with fewer carbs! This recipe is made keto by using crushed pork rinds as the crunchy topping, though Panko breadcrumbs may easily be substituted.
To keep this recipe vegetarian, simply omit the smoked sausage and pork rinds.
5. Green Bean Potato Sausage Casserole
Green bean potato sausage casserole will make a tasty lunch, dinner, or side dish! It's very hearty with large chunks of potato, bacon, and sausage intermingled with tender green beans and onions.
You can totally use canned green beans for this recipe to save time and peeling the potatoes is optional. If you'd like, you can even assemble it the night before and refrigerate it covered until you are ready to bake!
6. Ham and Potato Casserole
This is one casserole that is just as tasty at breakfast as it is at dinner time! Hearty chunks of ham and potato are blanketed in a rich and creamy cheese sauce.
To save time, you may dice the potatoes in advance. I also love using leftover honey-glazed ham to make this a fabulous after-the-holiday breakfast!
7. Cracker Barrel Hashbrown Casserole
This copycat Cracker Barrel casserole is one of my favorite ways to serve a crowd at breakfast time. It can easily be served with some scrambled eggs to make a well-rounded (and kid-friendly) breakfast.
All you need are a couple of bags of frozen hashbrowns, cream of chicken soup, butter, cheese, sour cream, onion, and pepper. It can also be made up to 3 days in advance!
8. Jiffy Corn Casserole
Spoonbread, corn pudding, corn casserole, no matter what you call it, it is totally delicious! This casserole is made by combining fluffy cornbread and sweet creamed corn.
You only need 5 ingredients to throw it together. Canned corn, canned creamed corn, Jiffy corn muffin mix, sour cream, and butter!
9. Bacon Cheddar Green Bean Casserole
This is the classic green bean casserole we all know and love. With fried onions, crispy bacon, canned green beans, cream of mushroom soup, and plenty of cheese!
To make it in advance, just combine all the ingredients but leave off the fried onions and bacon. Refrigerate the covered casserole until ready to bake, then add the bacon and crispy onion topping.
10. Zucchini Squash Casserole
This zucchini and yellow squash casserole is an easy way to get kids to eat their veggies. It's creamy and cheesy with a crispy breadcrumb topping!
This easy veggie side dish will pair with any main course. Turkey, ham, lamb, prime rib, you name it!
11. Sweet Potato Casserole
Sweet potato casserole was always my favorite as a kid. After all, what's not to love about a side dish that tastes like dessert?
With sweet potatoes, brown sugar, and marshmallows, this casserole is a holiday must-have.
12. Bechamel Pasta Bake
This pasta bake is a tasty layered casserole that will feed the whole family for the holidays! It's warm and rich with a creamy bechamel sauce that is downright addicting.
You can bake and freeze this casserole for up to 3 months. That way you always have one ready when you need it!
13. Southern Baked Macaroni and Cheese
This baked macaroni and cheese is the ultimate Southern comfort food. With 3 different kinds of cheese, this macaroni is ooey, gooey, and delicious!
It serves a whopping 10 people. So it's the perfect side dish for when you are expecting out-of-town family!
14. Eggplant Parmesan
This baked version of eggplant Parmesan has all the elements you love from a casserole! There are 8 hearty servings and you can make the whole meal in one dish.
Layers of Crispy breaded eggplant, marinara, basil, and a blend of mozzarella and Parmesan cheese make up this comforting vegetarian main course. You can even assemble the casserole in advance and freeze it until you need it!
15. Chicken Stuffing Casserole
There's nothing like a comforting blend of warm stuffing, tender chicken, and mixed vegetables to invite everyone to the dinner table! It tastes like a combination of pot pie and your favorite holiday stuffing,
To make prep even easier you can use pre-cooked rotisserie chicken!
16. Fresh Green Bean Casserole
If you're really aiming to impress your guests, try making a fresh green bean casserole from scratch! There are no canned ingredients here, even the creamy garlic sauce is homemade.
This is a great make-ahead casserole. Just leave off the fried onion and Panko topping, wrap with plastic wrap, and refrigerate until ready to bake! The topping can be added just before you cook it.
17. Chicken Spaghetti
The whole family will enjoy the cheesy deliciousness of chicken spaghetti! The creamy sauce is made with Velveeta cheese, cream cheese, and heavy cream.
You can use pre-cooked rotisserie chicken to make this dish even more simple. Simply add spaghetti and a can of Rotel and you're ready to bake!
18. Beef & Cheese Casserole
This meaty pasta bake is a filling family favorite full of Italian flavors! Loaded with penne pasta, ground beef, melted cheese, and tasty marinara sauce, this casserole is a truly satisfying main course.
You can even bake this casserole and freeze it for later once it has cooled. That way you can spend time with your family and have dinner ready in advance!
19. Chicken Broccoli Rice Casserole
The name says it all, this chicken, broccoli, and rice casserole is a beloved family favorite. With 8 hearty servings, it can easily serve a crowd for the holidays or any time!
You can definitely make this casserole in advance and freeze it, but it is so easy to make that you don't have to! Especially if you opt for using cooked rotisserie chicken.
20. Ground Beef Casserole
You can whip up this hearty ground beef and pasta bake in about 30 minutes! It's a great option for last-minute get-togethers when you need to feed a group of hungry people.
This one-dish meal is filling enough on its own, though a quick batch of oven garlic bread never hurts!
21. Chicken Divan Casserole
Chicken divan casserole is classic old-school comfort food that both kids and adults will enjoy. It is full of white rice, tender broccoli, juicy chunks of chicken, and plenty of melted cheese.
This is another great recipe for using leftover or rotisserie chicken to save yourself a few minutes.
22. Baked Spaghetti
Everyone loves spaghetti and this baked version is no exception. Plump, juicy meatballs and melted mozzarella cheese are everything you could want from an Italian dinner!
You can even repurpose leftover spaghetti to make this casserole. You can also make it in advance and/or freeze it for later!
23. Chicken Biscuit Pot Pie
Chicken pot pie made with biscuits is the revamped version of classic comfort food you didn't know you needed! In place of a crust, this pot pie casserole uses a topping of made-from-scratch cream biscuits.
You can make both the biscuits and the casserole in advance. Just add 10 minutes to the time spent in the oven to make up for it being cold.
24. French Onion Soup Casserole
French onion soup casserole is warm and comforting. It's the perfect meal for colder weather.
Delicious layers of french bread, onions, and cheese make up this hearty one-dish meal. It tastes like the classic soup we all know and love, only better!
25. Shrimp & Crab Casserole
This casserole is for seafood lovers. With wild rice, chunks of crab, and shrimp, it's a one-dish meal that doesn't need any sides!
To make it in advance just assemble as directed and cover. Refrigerate until ready to bake!
🎄 More Christmas Recipes
These Christmas casserole recipes will make hosting during the holidays a breeze! Let me know which recipes you tried by leaving a comment below!
📋 Recipe