How to make sugar cookies: this is the ultimate guide that will walk you through everything you need to know! From ingredients to storing, I will cover every part of the sugar cookie baking process! Plus, I'll even throw in some fool-proof recipes for you!
Ultimate Guide to Sugar Cookies
With so many options of shapes, sizes, and flavors, sugar cookies are a favorite of mine. They are perfect for holidays since they can easily be adapted by using a cookie cutter and colored frosting.
Moreover, they are so easy to make that they can be enjoyed year-round. Whether you prefer a green frosted Christmas tree or a plain round cookie, use my guide to sugar cookies to get the perfect cookie every time!
Jump to:
For some more baking tips and tricks for making sugar cookies, take a look at my guide for making cut out cookies!
Secrets to Sugar Cookies
While there are some different types of sugar cookie recipes, most of them follow a similar basic structure. Therefore, you can follow these secrets to get the best from any sugar cookie recipe.
Aim for All-Purpose Flour
When it comes to baking, all-purpose flour is the standard. This wheat flour has a medium protein content that provides the best texture and density for baked goods – like sugar cookies.
Most sugar cookie recipes will specify all-purpose flour. Moreover, this is the most common type of flour to have at home. Therefore, you don't need to overthink this too much unless you are out of all-purpose flour.
All-Purpose Flour Substitutes
If you find yourself without access to all-purpose flour, then you can substitute it with other types of flour. However, be aware that using any other type of flour will change the texture of your cookies.
For truly the best sugar cookies I would recommend waiting to get your hands on all-purpose flour. Especially if you are making them for an event.
Take a look at some substitutes for all-purpose flour here! Or, you can check out my guide to all-purpose flour!
Can I Make Gluten-Free Sugar Cookies
Yes, gluten-free sugar cookies are a possibility. However, depending on the type of gluten-free flour you choose to use, your recipe will need to be adjusted quite a bit.
If you prefer a gluten-free cookie the best thing to do is find a cookie recipe that has been formulated specifically for gluten-free flour. Therefore, you will get the best possible outcome. Trying to modify a traditional sugar cookie recipe by just swapping in gluten-free flour will not give you the tasty results you want.
Use Butter
When it comes to sugar cookies, butter is the best choice of fat. Butter has the perfect balance of fat and water (80/20) for a deliciously chewy and moist cookie. Possibly more important, it has the best flavor!
Regardless of what sugar cookie dough recipe you choose, butter will provide the tasty rich flavor that we all love in a cookie.
Tips For Using Butter
The key to using butter in sugar cookies is to soften it just right. You want the butter to be soft enough to leave a dent when you press on it gently. However, you don't want it so soft that it is sticking to the paper.
To get the right level of softness, remove the butter from the fridge just before baking. Let it sit at room temperature for about 15-20 minutes while you get all the other baking materials ready.
Do not melt the butter! If you melt the butter it will lead to flat cookies. Unless you want a flat crunchy cookie, resist the urge to quickly zap the butter in the microwave.
Butter Substitutes
While butter is my favorite choice for sugar cookies, it is not the only choice. Some cookie recipes may even call for a different type of fat, like shortening.
Shortening is another great choice of fat for baking and can easily be used in sugar cookies. However, it will have some differences.
Since shortening is 100% fat it does not have the same level of moisture as butter does. Therefore, the texture of your cookies will be denser. In addition, the cookies will not spread in the same way as when made with butter. So, your cookies will be thicker.
Keep in mind that shortening does not have the same rich flavor as butter either. Therefore, the flavor of your cookies will be less rich.
If you don't have butter or shortening, you can use lard as well. Lard will give you similar results to shortening.
Check out my guide to butter substitutes here!
Can I Make Low-Fat Cookies
Using any type of cooking fat that is lower than 80% (like butter) will impact the texture of your cookies. Things like low-fat whipped butter or butter substitutes will result in flat cookies.
Therefore, I suggest indulging in full-fat butter for the best flavor and texture.
Don't Over-mix The Dough
One of the most important tips for making sugar cookies is to refrain from mixing the cookie dough too much. Once you cream the butter, sugar, and eggs you will add the dry ingredients.
The main dry ingredient is flour. When flour is mixed with wet ingredients it creates gluten. Yes, the gluten that makes the yummy texture we all love in baked goods.
While you want to mix the wet and dry ingredients thoroughly to activate the gluten and incorporate all the ingredients, you don't want to over-mix it.
If flour is mixed for too long the gluten starts to bind the ingredients more and more. The result is a tough dough that is difficult to work with. Moreover, it results in baked cookies that are dense and less delightful.
The key is to let the dough mix just until everything is incorporated. Then, remove the dough and chill.
Let The Dough Chill
Unless you are following a no-chill sugar cookie recipe then you need to chill your cookie dough. Chilling the dough is a key part of getting the right texture for your cookies.
Moreover, if you are making cut-out cookies you need the dough to be firm enough to easily roll out.
To properly chill the cookie dough, begin by removing it from the mixer. You will get a better chill by rolling the dough into a ball or disc and covering it that way, rather than leaving it in the mixing bowl.
Cover the rolled ball of dough tightly with plastic wrap. Make sure you cover all the sides – you don't want any of the dough to dry out. Place the covered ball of dough in the refrigerator.
How Long Does The Dough Need To Chill
Let the sugar cookie dough chill in the refrigerator for at least an hour, but longer if possible. Due to the chilling process, classic sugar cookies are ones you need to plan ahead for.
Can I Freeze The Dough
Yes and no. While you can freeze sugar cookie dough to use later you don't want to freeze it for the initial chill. If you toss the cookie dough in the freezer thinking it will speed up the chilling process, you run the risk of getting the dough too cold. Therefore, you end up adding extra time to your baking process while you wait for it to thaw.
If you are in a rush and don't have the time to let the dough chill, try a no-chill sugar cookie recipe instead of a classic one.
For an in-depth guide, take a look at my post on how to freeze sugar cookies!
Rolling Sugar Cookies
Not all sugar cookies are cut out with cookie cutters. Some are simply rolled into balls by hand before baking. Therefore, the best directions for rolling sugar cookie dough will vary from recipe to recipe.
For the best results follow the tips and tricks provided in each recipe.
Baking Sugar Cookies
Just like rolling the cookie dough, baking the sugar cookies will vary from recipe to recipe. However, there are some general guidelines that can help.
While most cookies are baked at 350°F (175°C), the length of time needed will vary from oven to oven. When you first try a new sugar cookie recipe set your timer on the lower suggested time. That way, if your oven runs hotter you will still avoid over-baking your cookies.
Regardless of the perfect time you determine for your oven and cookie recipe, you can't go wrong with removing the cookies when the tops are golden brown, and the center still looks soft. Let the cookies sit on the cookie tray for about 3-5 minutes to finish cooking on top of the oven.
Cool Your Cookies
As tempting as it is to grab a warm cookie off the tray, you will want to let your sugar cookies cool completely. Especially if you are frosting them.
After letting the cookies sit for a few minutes to finish cooking outside of the oven, remove them with a spatula and place them on a wire cooling rack. A plate may also be used if you don't have a cooking rack. The most important thing is that the cookies are moved away from the heat.
If you are making a simple sugar cookie without frosting then, by all means, enjoy a warm one after a few minutes. I won't stop that enjoyment!
However, if you plan to frost the cookies wait until they are completely cool to the touch. If not, you run the risk of the frosting melting.
Frosting vs. No Frosting
Whether you frost a sugar cookie is completely up to you. Many sugar cookies are delicious on their own and do not need frosting. Although, the addition of frosting is never a bad idea.
Buttercream is a classic choice to use for sugar cookies. Another tasty option is a classic cream cheese frosting.
Take a look at my sugar cookie frosting that hardens and my glossy sugar cookie icing that hardens! If you want to know the difference between frosting and icing, check out my guide on frosting vs icing vs glaze.
Both these frosting choices are easy to make. Furthermore, they are easy to add color to when you want to make themed cookies (such as Halloween Cookies or Christmas cookies).
If you choose to add color to your frosting start with a small amount of food coloring. A lot goes a long way, and you don't want to ruin the color. In addition, make several colors by simply starting with a big batch of plain white frosting. Then divide it into smaller bowls and add your desired colors.
Types of Sugar Cookies
Just like with chocolate chip cookies, there is not just one recipe. There are a wide variety of sugar cookies with different flavors and textures.
With any recipe, the best tip is to always begin with what the recipe suggests. However, using this guide in addition to the recipe will help you get the best cookie even easier.
If you need a new sugar cookie recipe to try, check out my favorite recipes below.
Storing Sugar Cookies
Sugar cookies are great for storing in both the fridge as well as the freezer! Not only can the dough be frozen, but the baked cookies can easily be stored for later as well!
For more information, check out my post about how long sugar cookies last!
Storing Unbaked Sugar Cookies
If you have yet to put your cookies into the oven, you can store them as dough!
Form your sugar cookie dough into a disc, wrap it tightly and keep it in the fridge for up to 2 days.
If you want to freeze the dough, form it into the same disc, wrap it tightly with plastic wrap, and pop it into a freezer-safe bag. Keep it in the freezer for up to 1 month. Simply allow it to thaw, roll it, cut it, and bake it!
Additionally, you can freeze sugar cookie dough after it has been rolled and cut (this makes baking extra easy as there is no more prep work!) Place the cut sugar cookies onto a parchment paper-lined baking sheet (you can pack as many as you can onto a baking sheet, no need to spread them out).
Place the sheet into the freezer and allow the cookies to freeze for 2-3 hours before transferring them to an airtight container, using parchment paper in between each layer of cookies. When ready, allow them to thaw to room temperature before baking.
Storing Baked Sugar Cookies
For best results, store your sugar cookies before they have been frosted or decorated.
Baked sugar cookies can be kept at room temperature (in a sealed container) for up to one week. In the fridge, they can last for 2 weeks (although the fridge can cause them to dry out so I don't recommend it).
Keep your sugar cookies tightly wrapped in a container in the freezer for 3 months for maximum freshness!
I hope this guide has answered any questions you might have about sugar cookies! Leave a comment down below and let me know your favorite sugar cookie recipe!
🍪 More Baking Guides
📋 Recipe
Print Recipe
Leave A Comment
Love This Recipe?
Click On A Star To Rate It!
How To Make Sugar Cookies: Classic Sugar Cookies (+Everything You Need To Know!)
How to make sugar cookies: this is the ultimate guide that will walk you through everything you need to know! From ingredients to storing, I will cover every part of the sugar cookie baking process! Plus, I'll even throw in some fool-proof recipes for you!
Servings:
36
cookies (3 dozen)
Total Time
1
hour
16
minutes
Pin Recipe
Share on Facebook
Instructions
In a large mixing bowl (or the bowl of your stand mixer), cream together the butter and sugar. Add the eggs, vanilla extract, baking powder and salt and combine thoroughly.

¾ cup butter,

1 cup sugar,

2 large eggs,

1 teaspoon vanilla extract,

1 teaspoon baking powder,

½ teaspoon salt

Add the flour and stir until all of the flour has been incorporated into your sugar cookie dough. If you are going to roll your cookies out soon, you can place the bowl in the refrigerator to chill for at least one hour.


2 ½ cups all-purpose flour

If it is going to be a while (up to 3 days) before you will be rolling out your dough, wrap the dough in cling film to refrigerate and chill.

Preheat your oven to 375°F (190°C) and line your baking sheet(s) with parchment paper.

After your dough has chilled, work with small portions of the dough on a floured surface. Roll out until ¼ inch to ½ inch thickness and cut into desired shapes. Transfer to a parchment paper lined baking sheet and bake for 6-9 minutes at 375°F (190°C).

Remove your cookies from the oven before getting golden around the bottom edges. Allow them to remain on the baking sheet for 5-6 minutes before transferring to a wire cooling rack to cool completely.

Equipment You May Need
Notes
*Your dough can also be frozen, double wrapped in cling film and then placed into an airtight freezer bag or container. The dough will keep frozen for up to 6 months.
Nutrition
Calories:
91
kcal
(5%)
|
Carbohydrates:
12
g
(4%)
|
Protein:
1
g
(2%)
|
Fat:
4
g
(6%)
|
Saturated Fat:
2
g
(13%)
|
Cholesterol:
20
mg
(7%)
|
Sodium:
70
mg
(3%)
|
Potassium:
28
mg
(1%)
|
Sugar:
5
g
(6%)
|
Vitamin A:
135
IU
(3%)
|
Calcium:
10
mg
(1%)
|
Iron:
0.5
mg
(3%)
classic sugar cookies, guide to making sugar cookies, how to make perfect cut out sugar cookies, how to make sugar cookies, sugar cookies, the best sugar cookies, ultimate guide to baking sugar cookies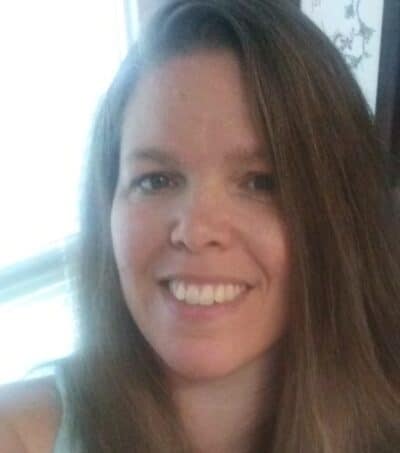 Angela is an at home chef that developed a passion for all things cooking and baking at a young age in her Grandma's kitchen. After many years in the food service industry, she now enjoys sharing all of her family favorite recipes and creating tasty dinner and amazing dessert recipes here at Bake It With Love!