These Italian Christmas dinner menu ideas include flavorful and festive recipes that you would find in any Italian holiday dinner spread. To build your ideal Italian Christmas menu, simply choose one (or a few) of the recipes from each section. Appetizers, main courses, side dishes, and even desserts, you can find it all right here!
Italian Christmas Recipes
The key to a true Italian celebration is to have food, family, and friends, all gathered at one table. That's even more true around Christmastime when they begin the festivities on December 8th and keep on partying right into the new year!
If you ask me, there's no better way to get into the spirit. Celebrate this Christmas Italian style by serving these traditional Italian and Italian-American holiday staples!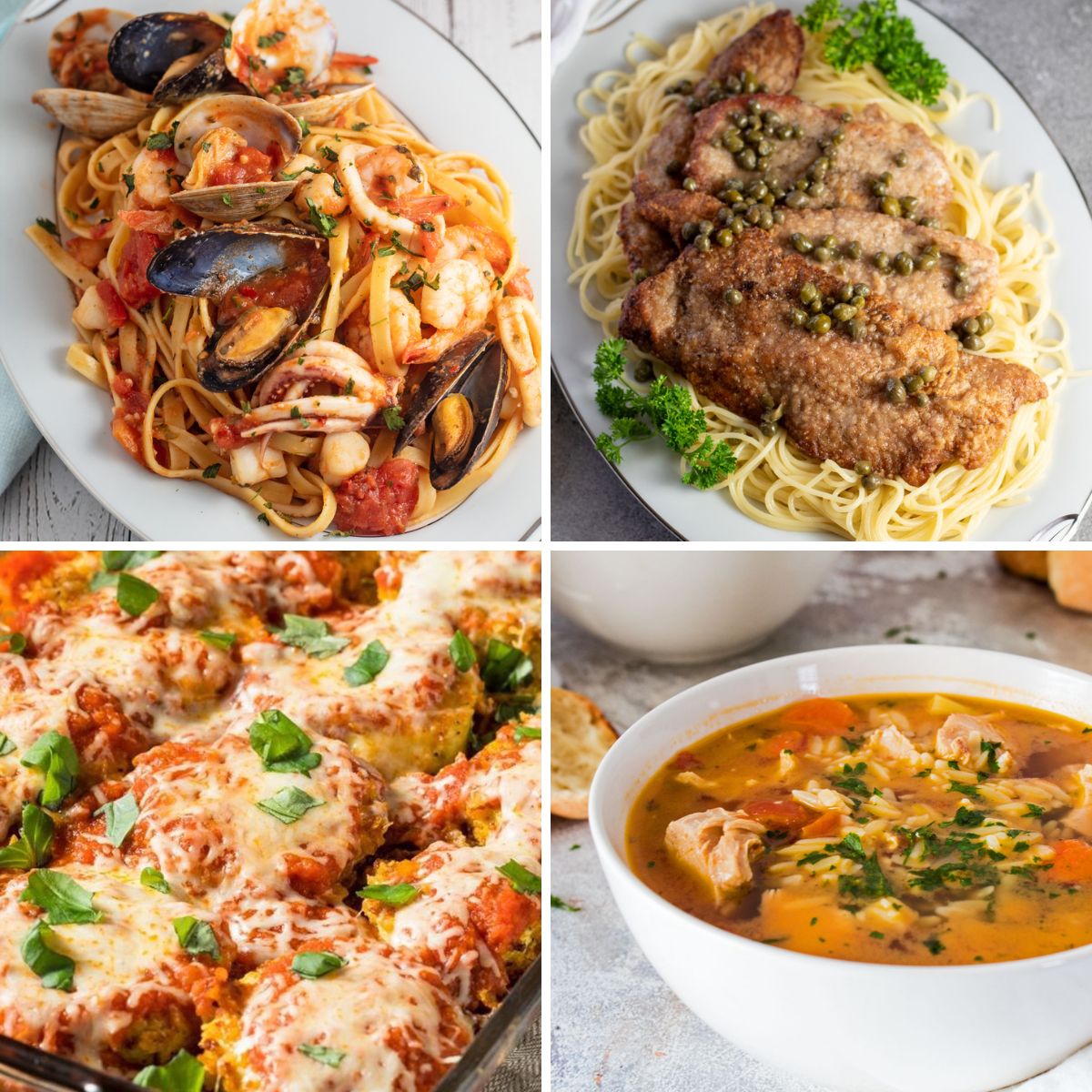 Jump to:
Italian Holiday Dinner Ideas
Use these Italian Christmas dinner menu ideas to build your own Italian dinner spread by choosing a recipe or two from each of the sections below. There are appetizers, entrees, side dishes, and desserts. Each of these recipes will pair wonderfully with anything else on this list.
If this is your first time hosting dinner for the holidays, check out my Christmas guide for a step-by-step timeline for preparing Christmas dinner!
Appetizers
1. Garlic Herb Focaccia Bread
This skillet focaccia bread is soft and warm with plenty of flavor from rosemary and basil. You can even make the dough in advance so it's ready to go on Christmas day!
2. Oven Garlic Bread
Garlic bread is the appetizer that goes with anything! With this easy oven-baked version, you control just how soft or crispy your garlic bread gets.
3. Italian Chicken Pastina Soup
A warm bowl of chicken pastina soup is a great way to start your Christmas dinner. The flavorful chicken bone broth will have your guests slurping up every last drop.
4. Bruschetta
Bruschetta is a classic Italian starter that is easily customizable and well-suited for any special occasion! Fresh, sweet tomatoes with garlic, white wine vinegar, and a drizzle of balsamic on top of a slice of crusty sourdough is about as Italian as it gets.
Be sure to see my Feast of the Seven Fishes dishes collection to make your Christmas Eve meal fantastic!
Main Course
5. Veal Scallopini
Veal scallopini consists of crispy veal cutlets served on a bed of angel hair pasta that's been tossed in a delicious piccata sauce made of white wine and lemon. It's filling and flavorful, not to mention you can have it on the table in just 25 minutes.
6. Lasagna
Lasagna is classic Italian comfort food that has grown in popularity all over the globe. Layers of pasta, meat sauce, and melted cheese will have your family rushing to their seat at the dinner table.
7. Baked Eggplant Parmesan
Eggplant Parmesan is a vegetarian entree that even your steak-loving family members will enjoy. What's not to love about crispy, breaded eggplant over a
8. Frutti di Mare
What time is better than Christmas to indulge in a decadent pasta filled with all the seafood your heart could desire? This dish has mussels, clams, shrimp, scallops, and squid, all tossed in a spicy arrabbiata sauce with tender fettuccine noodles. Yum!
Sides
9. Caprese Salad
Sometimes it's nice to balance carb-heavy dishes with a light and refreshing side like a Caprese salad. The slices of juicy tomatoes and fresh mozzarella are topped off with a drizzle of balsamic, olive oil, and a sprinkle of sweet basil leaves.
10. Butternut Squash Risotto
All risotto is good risotto, but this butternut squash risotto is particularly superb! It's creamy and cozy, perfect for a Christmas night in.
11. Garlic Green Beans
Buttery pan-fried green beans with crispy bacon are one way to get the kids to eat their veggies. It adds a nice pop of color to the table and will help balance out some of the heavier components of your Christmas dinner spread.
12. Ratatouille
Ratatouille is made with a rainbow of thinly sliced veggies that are covered in a flavorful tomato sauce and baked to tender perfection. It's much easier to make than the movie makes it seem.
13. Burrata Salad
A burrata salad is almost the 'fancy' version of a Caprese. Tender, baked summer tomatoes are topped off with a hefty ball of burrata cheese (it's like mozzarella but with a soft and creamy center) and a light dressing of vinegar and olive oil.
Dessert
14. Italian Ricotta Cookies
The ricotta cheese in these cookies keeps them delectably moist. They are almost too easy to snack on, you may want to make extra.
15. Panettone
Panettone consists of sweet bread that is speckled with rum-soaked dried fruits. The bread takes some time to rise, but it is time well spent.
16. Spongata di Natale (Italian Christmas Cake)
This Christmas cake is made with a crisp sugary pastry shell that is filled with honey, nuts, and dried fruit. Traditionally, it is given as a gift to friends, neighbors, or loved ones, and enjoyed with sweet dessert wine or espresso.
17. Tiramisu
Soft ladyfingers are soaked in Italian coffee and then stacked in layers between a creamy filling made of eggs and mascarpone before a sprinkle of cocoa powder tops it all off. It's the most popular Italian dessert of all time for a reason.
🎅 More Christmas Menu Ideas
Did you try any of the recipes from this list of Italian Christmas dinner menu ideas? Let me know how they turned out in the comments below!
📋 Recipe