You only get to make 4th of July food for a crowd once a year so you have to pick the best recipes for celebrating together! When it's your turn to host, you've got to make the appetizers, salads, main course, and the side dishes. Good thing we put together list of the best 4th of July recipes for parties, BBQs, and get-togethers to help you build the perfect menu!
The Best 4th of July Recipes
The 4th of July is an important holiday for all Americans because it's time for us to remember our freedom and those who have helped us achieve it! We gather around and celebrate with fireworks, campfires, and of course, incredible food!
Below are delicious recipes that you can make to create the perfect 4th of July feast for your friends and your family!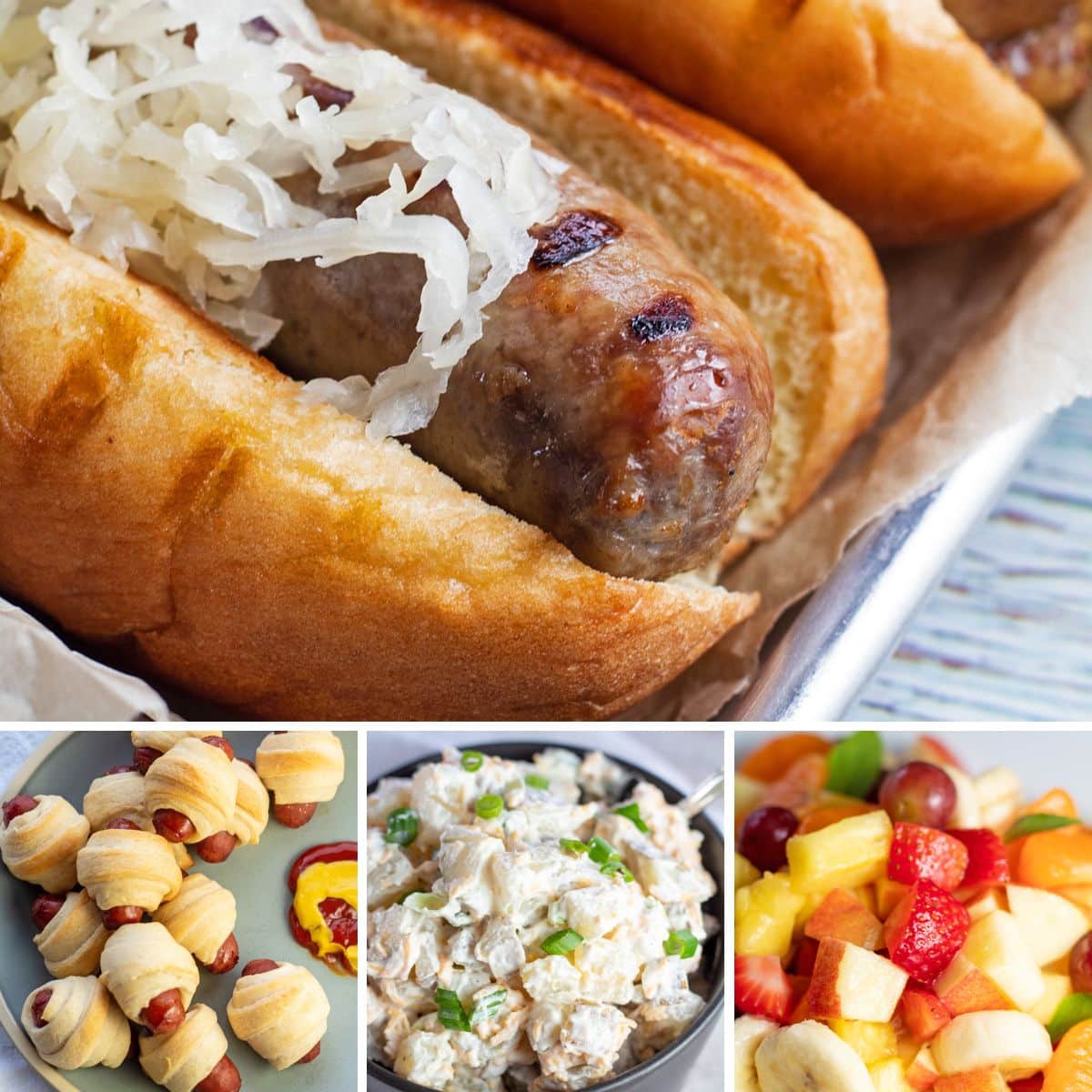 Jump to:
4th Of July Appetizers
1. Deviled Eggs
Deviled eggs are a delicious appetizer that everyone will enjoy. This recipe blends Dijon mustard, mayonnaise, and apple cider vinegar with egg yolk to create a flavorful bite-sized snack.
2. Lil Smokies Pigs in a Blanket
Lil smokies pigs in a blanket are savory and filling which makes them a great appetizer. These pigs in a blanket are made with Hillshire Farms Little Smokies or any other brand of cocktail sausages and canned crescent rolls.
They are an extremely affordable way to serve a crowd. Bake them until golden brown, and dip them in your favorite condiments!
3. The Best 7-Layer Dip
7-layer dip is perfect with chips, crackers, or toasted bread. This recipe is made with refried beans, sour cream, guacamole, salsa, cheese, tomatoes, black olives, and cilantro!
4. Cheese Rolls
Cheese rolls are a great way to start any meal. These homemade rolls are topped with melted cheddar cheese and can be eaten before dinner or with it!
5. 2 Ingredient BBQ Little Smokies
If you want a simple and delicious recipe to add to your appetizer table this 4th of July then you must try our recipe for these bbq Lil smokies. All you need for this recipe are cocktail sausages and BBQ sauce!
6. French Onion Dip
French onion dip is one of my favorite appetizers! It is easy to make and doesn't require any actual cooking.
Simply combine sour cream, onion powder, garlic powder, parsley, minced onion, and salt and mix together!
7. Onion Rolls
Onion rolls are a delicious homemade appetizer that you will want to make for all your dinner parties! These rolls have chunks of sautéed onions in every bite that will leave your mouth happily satisfied!
8. Baked Chicken Wings
Baked chicken wings are a great addition to any 4th of July party. These chicken wings are simple to make and even easier to eat!
Simply toss them in your favorite seasoning and bake them until they are fully cooked and crispy. Serve them with ranch, blue cheese, or your favorite hot sauce!
9. Deviled Ham
Deviled ham is a great appetizer that can be eaten with crackers or chips. This recipe blends ham, mayonnaise, hot sauce, mustard, and spices to create a delicious spread.
10. Charcuterie Board
Not sure of a good recipe for grazing? Try a charcuterie board!
This charcuterie board has a plethora of your favorite meat, cheese, fruit, nuts, dips, and crackers, so there is something for everyone!
11. Air Fryer Fried Pickles
Air fryer fried pickles are savory and delicious. They are crisp on the outside and perfectly moist on the inside!
Serve them while they are still warm with your favorite sauce!
12. BBQ Bacon Wrapped Brussel Sprouts
Want an appetizer that will impress your 4th of July guests? These BBQ bacon-wrapped Brussels sprouts will have everyone asking for the recipe!
4th Of July Salads
13. Loaded Baked Potato Salad
This loaded baked potato salad is robust and flavorful! It has fork-tender potatoes, mayonnaise, sour cream, bacon, and cheddar cheese!
Every guest this 4th of July will be asking for the recipe to this updated potato salad!
14. Caprese Salad
This Caprese salad has the freshest ingredients that are perfect for a backyard barbecue! Combine fresh mozzarella, basil, tomatoes, balsamic vinegar, and olive oil to create this refreshing summer salad.
15. Fresh Fruit Salad
This fresh fruit salad is refreshing and the perfect way to cool off your guests this 4th of July. Combine your favorite fruits such as grapes, apples, bananas, nectarines, oranges, or strawberries in a large bowl.
Top it off with a sauce made from sweet honey, lemon zest, and vanilla!
16. Fruit Cocktail Salad
Fruit cocktail salad is a unique blend pineapple, mandarin oranges, strawberries, red seedless grapes, apples, and bananas! The mixture is light and refreshing for your guests this 4th of July!
17. Mandarin Orange Jello Salad
This mandarin orange jello salad is sweet and refreshing. It's a mixture of orange gelatin, marshmallows, cool whip, pineapple, and mandarin oranges that could be an appetizer, side dish, or dessert!
18. Hawaiian Macaroni Salad
Hawaiian macaroni salad is a nice twist on your traditional macaroni salad recipe. This version has macaroni noodles, mayonnaise, yogurt, onion, carrot, celery, and pineapple juice!
19. Doritos Taco Salad
Doritos are always a hit, that is why I highly recommend this Doritos taco salad! It has taco meat, Catalina dressing, Doritos, lettuce, onion, tomato, and cheese.
Serve in a bowl, or use small bags of Doritos to make individual easy-to-eat portions!
20. Egg Salad
This egg salad is great on top of crackers or toasted bread, it can also be eaten by itself with a spoon!
Alternatively, you could make egg salad sandwiches and serve them as the main course, or cut the sandwiches into small portions and serve them as appetizers! So many options!
21. Greek Pasta Salad
This Greek pasta salad is one recipe that can be made anytime for any occasion, but it is refreshing and perfect for sweltering 4th of Julys.
The combination of pasta, artichoke hearts, cherry tomatoes, kalamata olives, feta cheese, and red onion will really have everyone coming back for a second serving.
22. Ham Salad
Ham salad is creamy and delicious, which is why you must make it for your next 4th of July party! It blends moist ham with creamy mayonnaise, dill pickles, and chopped celery to make an easy appetizer that's wonderful with crackers.
23. Tuna Salad with Pasta
Tuna salad with pasta is a classic summer cookout salad! This salad features tuna, bow tie pasta, mayonnaise, onion, peas, and celery, and it is totally scrumptious.
24. Rotisserie Chicken Salad
Rotisserie chicken salad is the perfect chicken salad for those who don't have a ton of extra time to make everything from scratch!
This simple recipe combines rotisserie chicken, mayonnaise, celery, onion, and Dijon mustard to create a creamy masterpiece that is great on its own, as a dip, or on sandwiches.
4th Of July Main Courses
25. Crack Chicken
This crack chicken recipe could also be served as a 'dip' for an appetizer or on sandwich buns as the main course! Enjoy this addicting recipe that calls for chicken breast, cream cheese, cheddar cheese, ranch mix, and bacon!
26. Traeger Smoked Brisket
Traeger smoked brisket is something that will feed the whole family! This brisket is savory and moist with the perfect blend of spices to keep your party guests satisfied!
27. Slow Cooker Pulled Pork
Slow cooker pulled pork is one of my favorite 4th of July dishes. The blend of paprika, cumin, honey, and brown sugar makes the pork full of flavor and hard to resist!
Pulled pork is perfect for sandwiches or tacos, and can go a long way when feeding a crowd.
28. BBQ Meatloaf
BBQ meatloaf is moist and hearty with the perfect balance of robust flavors. The BBQ spin on classic meatloaf is perfect for summertime gatherings.
29. Sausage Dogs
Sausage dogs are completely customizable and can be made however you want for your 4th of July party! Choose your favorite kielbasa and buns for this savory dish and top with peppers, onions, or a few condiments!
30. Baked BBQ Chicken Leg Quarters
Baked BBQ chicken leg quarters will impress meat lovers everywhere! They are sweet and spicy with a touch of honey and cayenne pepper and have been baked to perfection!
Add this recipe to your 4th of July menu and enjoy them with all of your friends and family!
31. Smoked Hamburgers
Smoked hamburgers are one of my favorite summertime meals! These smoked hamburgers are extra meaty with juicy ground beef and bacon!
Topped with red onion, pickles, cheese, and tangy BBQ sauce to create to ultimate smoky burger experience.
32. Smoked Italian Sausage
This smoked Italian sausage recipe can be made with mild, sweet, or hot Italian sausage depending on which type you prefer! Eat them plain or on top of your favorite hoagie roll and top them with ketchup, mustard, or relish!
33. Baked Chicken Thighs
These baked chicken thighs are just what your 4th of July party needs! They are easy to make (there's just 3 ingredients!) and are always wonderfully juicy and tender.
34. Texas Chili
Texas chili is so thick and hearty that you can satisfy the appetite of a large party by making a pot of it. Top this meaty chili with sour cream, cheddar cheese, green onions, or corn chips!
35. Smoked Meatloaf
Smoked meatloaf is completely underrated and pairs well with most of the side dishes listed on this list! Simply mix ground beef, yellow onion, eggs, minced garlic, breadcrumbs, cayenne pepper, and chili powder and fire up your smoker!
36. Marinated Grilled Pork Chops
These marinated grilled pork chops are so moist that they basically melt in your mouth! They are the perfect meaty main course for when you want to impress a bunch guests.
37. Smoked Brats
Smoked Brats are so easy to make that you will want to make them every 4th of July. All you need is your favorite brand of bratwurst and your smoker.
Eat them plain or put them on a bun and top them with your favorite condiments!
38. Grilled Brats
If you don't have a smoker, grilled brats are a great way to keep your 4th of July guests happy!
These grilled brats are topped with tangy sauerkraut and zesty German mustard! Don't forget the beer!
39. Sloppy Joes
Sloppy joes were served at every holiday event when I was younger. They are hearty and filling with ample amounts of flavor that your friends and family will love!
Serve some good ol' fashioned sloppy joes on your favorite toasted bread this 4th of July.
40. Baked BBQ Chicken Drumsticks
Baked BBQ chicken drumsticks are great for both kids and adults. They are easy to eat and pair well with almost anything!
The flavors of the BBQ seasoning and the moist dark meat chicken are something everyone can appreciate at your 4th of July event.
4th Of July Sides
41. Southern Coleslaw
Southern coleslaw is sweet, tangy, and delicious! Our recipe uses crisp green cabbage, fresh carrots, creamy mayonnaise, tangy Dijon mustard, and sweet sugar to create a perfectly flavored coleslaw.
42. Jiffy Jalapeño Cornbread
Jiffy jalapeño cornbread is great for guests who love a little spice in their life! The added jalapeños give the cornbread just enough heat without overpowering the dish.
43. Smoked Corn on the Cob
Smoked corn on the cob is another great recipe for your smoker! On this 4th of July add whole cobs of corn to your smoker and top with butter and salt!
44. Milk Butter Boiled Corn on the Cob
Milk butter-boiled corn on the cob is tender and moist with tons of flavor. This corn is boiled in heavy cream, milk, butter, and sugar.
Once you try corn that has been prepared this way, you will never go back!
45. Baked Beans with Ground Beef and Bacon
Baked beans with ground beef and bacon are quite an upgrade from your typical baked beans. The added ground beef and bacon make these baked beans meaty and full of flavor!
46. Succotash
Succotash is just as fun to eat as it is to say! Our succotash recipe uses butter beans, corn, butter, red pepper, onion, and bacon!
Pair this succotash with almost any meat dish!
47. Jiffy Corn Casserole
Jiffy corn casserole tastes just as good as it sounds! This casserole uses jiffy corn muffin mix, canned whole kernel corn, canned cream corn, sour cream, and butter.
The flavors blend together to become a moist, delicious side dish that will quickly disappear.
48. Creamy Baked Corn
Corn in any form is a good choice for summertime. Creamy baked corn is made with corn, cheese, half and half, butter, and maple syrup! Yum!
49. Instant Pot Braised Red Cabbage
Instant pot braised red cabbage is a great side dish for any BBQ. This recipe blends unique ingredients together to make an easy, flavorful side.
Add red cabbage, peeled apples, onions, brown sugar, and apple cider vinegar to your Instant Pot and, voila!
50. Macaroni and Tomatoes
Macaroni and tomatoes is a simple Southern recipe that only has a few ingredients. All you need is macaroni, bacon grease, a can of diced tomatoes, and cornstarch and you've got yourself an easy side dish everyone will love.
51. Smoked Baked Potato
This smoked baked potato recipe is one that you will want to make every 4th of July! All you need to do is place the potatoes in your smoker while you smoke your meat.
Add just a dash of olive oil and salt, then load them however you like!
Which combination of dishes do you plan on making this 4th of July? Let us know in the comments below!
📋 Recipe